Camping and outdoors adventuring takes the wanderer off the beaten track, and into the territory of wild animals. While this is the whole point, it still wouldn't hurt to have some odor proof backs for when you go backpacking. And today, I'm here to share the best ones!
The main reason why you need odor proof bags when backpacking is that smell draws in the wild beasts.
Having a campsite haunted by nocturnal beasts seeking to rummage through edibles not only poses a threat to the level of supplies that remain but more importantly becomes a danger to the people, as these beasts are often wild animals, the most common thief being bears. Definitely not something you should invite closer!
While it is extremely important to keep safe and vigilant, it is also important to pay close attention to the well-being of the environment you have entered.
Out in the true wilderness, there may not be facilities such as dustbins to make it easy to dispose of unwanted trash and odor proof bags come to the rescue again. You get bonus points on your way home, as your car won't smell like a dumpster from all that trash!
With all these in mind, let's check out the best odor proof bags for backpacking – and afterwards we'll even go a bit more in depth with additional tips and answers to common questions.
Note: We get commissions for purchases made through links in this article
Item
Details
OPSAK
Best Odor Proof Plastic Bags
2 bags per package
28″ x 20″ per bag
Double zipper design for ideal
odor free use
Click to check price
BOS Disposable Bags
Best Budget Option
Single use large bags
13.8″x19.7″
60 bags in a box
No zipper, you need to tie a knot
to close them
Check price on Amazon
Smelly Proof
Best Small Odor Proof Bags
Size 4″x3″ to 8.5″x10″
10 bags per pack
Single zipper, not transparent
Check price on Amazon
XXXL Smell Proof Duffle Bag
Best Large Smell Proof Bag
Massive size duffle bag
40″ x 20" x 20″
Dual layered zippered compartments
Waterproof
Check price on Amazon
Best odor-proof bags for backpacking
If you need more details on each of our recommended products, you have them below.
OPSAK Bags – Editor's Choice
Dimensions: 28 x 20 inches (smaller options available)
Impressions: These two large bags (or smaller ones if you buy a different size) are perfect for backpacking and offer a variety of uses.
They are odor proof (tested with dirty diaper inside and no smell whatsoever!) but also waterproof, humidity proof and leak proof.
In other words, nothing gets in or out of that bag after properly sealing it – not even the slightest smell.
It's basically a large, transparent plastic bag with a double seal that increases efficiency and durability. We still found them to start "leaking" smells after several uses but despite these, they are our favorite products on the market so far. They last a lot longer than most similar products and with proper care, they can last even longer.
But even so, you're getting two bags in a package and you're getting a great deal. Depending on how often you go backpacking, these could easily last a season (or more). Strongly recommended as the top odor-proof bags for backpacking!
BOS Disposable Bags – Best Budget
Dimensions: 13.8 x 19.7 (smaller sizes available)
Impressions: A pack contains 60 bags and they are dirt cheap! However, you can only use a bag once, so you'll appreciate the higher capacity of the pack.
These odor-free plastic bags are actually created as disposable bags for diapers, pet waste or similar stuff, but in reality there is nothing preventing you to use them for when you go backpacking!
Their biggest con is the fact that they don't have a zipper of sorts for easy sealing, but instead you have to tie a knot. You also have to squeeze as hard as possible to make sure that no odor escapes through that area.
This means that once closed like this, it's difficult (if not impossible) to untie the knot, so you will have to cut the bag if you need access to anything that's inside.
But with a bit of planning, or at least for storing trash only, this shouldn't be a problem since the actual bags do manage to keep all odors inside.
Smelly Proof Bags – Best Small Odor Proof Bags
Dimensions: 8.5″ x 10″ (smaller bags available)
Impressions: If you only need smaller odor-proof bags for storing smaller items such as sandwiches, spices or anything of reduced dimensions, these are ideal for you.
While we usually prefer the larger bags, there's no point in going overboard if you don't really need one.
Each pack contains 15 bags which are reusable and resealable, but also tear-resistant as well as puncture- and leak-proof. And even though they only have a singly heavy duty zipper, once sealed properly, it won't allow any odor to pass.
BPA-free and made in USA, these small bags do get the job done and give you no reasons to be unhappy. Due to their reduced size will also last a bit longer than most since they're not as prone to bending or improper storage. So unless you necessarily need larger bags, these will do a pretty good job at keeping the odors inside.
XXXL Smell Proof Duffle Bag – Best Large Odor Proof Bag
Dimensions: 40″ x 20" x 20″
Impressions: Now we're moving to the other extreme with a really large option – an actual duffle bag that's odor proof and perfect for carrying large quantities of items whose odor you need to keep sealed.
The main body features the area that is smell-proof thanks to the dual layered zippered compartments that are reinforced with a carbon lining and protective mesh. The zippers themselves feature a double seal (that's also water resistant) to make sure that no smell escapes.
And despite the fact that you are actually getting a duffel bag which is really big and makes you doubt that it actually has any odor-blocking characteristics, it actually works just fine, surprisingly so I would say.
So for larger groups or simply larger quantities of food or items that you need to carry around and whose smell you want trapped inside, this one is ideal – although not cheap at all. But totally worth it!
And if you consider that this size is way too big for you, there are slightly smaller models available as well.
How to choose odor proof bags for backpacking
The common shortfalls of odor free bags tend not only to be their odor-stopping abilities, but also their tendency to burst at the seams, and their closing mechanisms to break.
This is unfortunately something that happens relatively often and especially if we try yo squeeze inside the bag too many items or things that are just too large.
So here are some things to consider when deciding which of the recommended odor-blocking bags above you should get.
Odor
A great feature to look for when choosing an odor free bag, is something made out of durable material, such as nylon or polyethylene terephthalate (PET or PETE), which will safely seal in the air and moisture contained in the bag, without transferring any dangerous chemicals into its contents, ensuring that the bad can be used for food storage too.
All my recommendations above tick this box!
Products that are marketed as odor proof but are made from polyethylene (PE) will be mostly ineffective, as they do not prohibit air and moisture from escaping, which will not prohibit odors from escaping either.
Insulation
Good quality bags will also be water and moisture proof, air-transference proof and also completely sealable.
These traits are what will make a bag hold its odor inside. If air or water molecules are able to pass through an item, they will carry the odor with them – it's that simple!
Durability
They should be reusable, durable, and puncture resistant.
Reusable products will ensure that you only need to purchase them once, and after each use they can be cleaned and should hold no odor relating to the contents previously held inside.
A puncture will allow for air and moisture to travel, which will mean odors are also able to travel, ensuring that your odor proof bags are durable will help to prevent punctures and tears.
If you choose one-time use bags, make sure that you get some that are cheaper than the reusable ones (but just as good).
Lining
There is a great variety of different odor-proof bags available, some of them even come in backpack models that are lined with aluminum.
Aluminum is effective in controlling the movement of air and moisture, and these are carriers of odor. If a sealant is able to prevent air and moisture from moving, it will prevent odors from traveling.
Variety
Different shapes and types of bags or canisters and boxes will suit various uses. Some bags are similar to Ziploc freezer bags, and can be disposed of fairly easily.
Some bags are more like toiletry bags or duffel bags, with zips, and can be washed and reused for years to come.
FDA approved
Bags made using plastic, should be made using medical grade material that is FDA approved. Often times these bags are great for storing food.
To avoid a toxic or harmful substance from being shed onto the food, the FDA can examine and approve of the materials used in manufacturing the odor proof bag. You also want them to be BPA free.
Are Ziploc bags odor proof?
Ziploc bags are not odor proof, even though they do seal up really well. However, the material they are made of is not created specifically for blocking odors from exiting the bag and you can easily test this by putting something with a strong smell (like gorgonzola) inside and smelling the bag after sealing.
However, don't mistake Ziploc bags with odor proof bags that have a similar locking mechanism. They are built with a different material and specifically for blocking odors, so they will work.
Conclusion
All of these products promise a similar outcome: the ability to store items without their odor escaping the bag.
Some of these products deliver on this promise better than others, and there are various ways in which this can be achieved.
Some of the bags are cheaper and lighter, which makes them great to use a few times and then replace, while others are very pricey, but should last you at least a few years.
Even if all of your food items are safely stored and sealed in an odor proof bag, it is still highly recommended to keep this bag out of the reach of bears at night.
It is recommended not to test these bags on an outdoors excursion for the first time, but rather to make sure that the quality is adequate for the purpose you bought it.
If you have pets, it's easy to test – place one of their regular treats inside the bag, seal it and leave it on the floor (but not visible). If dogs won't smell it, then the bag is working just fine!
Which bags are you most likely to try, if you have never used one of these odor free backpacking bags? And if you have tried one or two, which bags have you found to be most effective at keeping odors locked away? Let us know by sharing your comments below.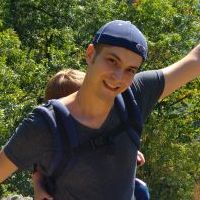 Daniel is a gear freak when it comes to hiking, climbing and camping. He went to REI Outdoor School to meet new people and learn best practices. Don't even try to argue with him about the latest backpack or ice axe, he tried most of them. Daniel's dream is to climb Mount Everest.