Only the best slackline will do when you want to engage in the pastime of slacklining. When you are in search of a quality slackline, you want a product that has dynamic tension, one offering enough bounce and stretch like the type of response you would get if you were jumping on the surface of a tightly-strung trampoline.
You will want to have peace of mind when using the slackline knowing full well it can bear your weight and that it will support you as you cross it.
As you balance yourself on a long, slender stretch of webbing and carefully move yourself over the webbing from point A to point B, the last thing you want to worry about the stretch and durability of the slackline you have invested in for enjoying a pastime filled with one adrenal rush after another.
Reviews of the Top Seven Slacklines
With so many slacklines on the market, it might prove a cumbersome process when it comes time to choose the best line for your slacklining pursuits. Here you will find reviews of the seven best slacklines in the industry. The features of each are examined in full so you can get a full understanding of what you are getting with your product investment.
Some slacklines are sold solo and others come with extra benefits like tree protection and educational DVDs. Out of the seven, there is bound to be at least one slackline that will appeal to you and your need for a durable line for secure slacklining.
Note: We get commissions for purchases made through links in this article
Slackline Industries Baseline Slackline
Weight Limit: Up to 300 pounds
Size: 50 feet and 85 feet
Specifications: Complete kit comes with 50/85 ft webbing, ratchet strap, and a tree protection guide. Comes with a loop that is reinforced for firm anchoring. European and US complaint. TüV (German Technical Association) certified. Static style webbing. Instructional DVD for beginners included.
Best Uses: beginner/intermediate slackline users.
The Slackline Industries Baseline Slackline Is a complete kit featuring a choice between 50 feet or 85 feet, an 8-foot ratchet strap, and webbing measuring the industry standard of two inches. The webbing has a maximum strength of 4 tons, and can hold a weight up to 300 pounds safely.
The line is ideal for kids five and older. You have a choice of getting the 50-foot or 85-foot selection. The line features a thick weave to ensure line durability, and can be used by beginners and intermediates for fun, coordination improvement or the enhancement of one's core strength. The set takes less than 10 minutes to get all set up for use.
The slackline is a two-piece product which is adjustable and can easily be installed between anchor points or trees. The set is for low mounting height and it has low stretch webbing for extra tension.
Related: A similar product can be found in the Slackline Industries 50 Foot Play Line is also a kit suitable for beginners of all ages. The kit comes with the instructional DVD and information about Tree Protection.
Simian Classic Slackline Kit with Carry Bag
Weight Limit: Up to 220 pounds
Size: 50 feet and 85 feet
Specifications: A single slackline of either 50 or 85 feet in length. Two inch webbing. Tree protector units. Carrying pouch. Ratchet included.
Best Uses: beginner/intermediate slackline users.
The Simian Classic Slackline Kit with Carry Bag comes with a convenient carrying bag for ease of transport. The set takes under five minutes to set up. The slackline itself is made of the industry standard two-inch webbing materials.
A complete instruction manual comes with the kit. This line is powerful enough to support up to 220 pounds. The ratchet is sturdy and allows for the user to adjust the tension accordingly. The line can be made tight for the beginner or offer up less tension for the more adept slackliner who wants a bit of bounce in the line.
Can be anchored between two anchor points or two mature trees; the kit helps the user improve core balance strength and balance simultaneously. The webbing is made of polyester and it is flat for a broader foot hold.
Related: The Simian Funline Slackline is an alternative to the above 50 foot line if you are looking for something a bit shorter. This line is 40 foot in length. The kit comes with a helpline, tree protectors, carrying case, two-inch webbing 40 feet long, and a ratchet.
Slackline Industries Trick Line 50 feet
Weight: up to 3 tons in terms of webbing durability
Size: 50 Feet
Colors: Blue, White, and Black
Specifications: Main line featuring sewn loop on one end; ratchet, 8 feet of webbing with reinforced loop, handle grip, custom designed webbing, instruction manual, two-inch webbing.
Best Uses: For the intermediate to advanced slackliner looking to perform tricks on a line.
The Slackline Industries Trick Line 50 Feet comes complete with a ratchet featuring a safety lock feature. The mainline has an extra loop sewn in toward one end of the unit, which allows for greater anchoring and more line tension. The unit comes with a rubberized hand grip for ease of handling.
There is rubberized ratchet release as well. The line has trampoline style bounce thereby aiding the user in some tricks. A full instructional guide makes it easy for the user to learn how to use the trickline. Good for ages 8 and older.
GIBBON Slacklines Jibline 40-Feet Slackline
Weight: N/A
Size: 40-foot line
Specifications: Dynamically woven webbing, two-part setup; German Association for Technical Inspection approved line. 40-foot line.
Best Uses: A line made for beginners.
The GIBBON Slacklines Jibline 40-Feet Slackline is for beginners, freestylers, or those in need of an adrenaline rush. The 40-foot line is so simple to set up and disassemble, the user can just spend time concentrating on his or skills development. Intermediate users will find the line dependable as well.
The weave of the webbing is dynamic thereby allowing for more bounce and more tricks performance. The set comes in two parts for ease of set up and disassembly. The German Association of Technical Inspections find the line safe for use.
Related: An alternative for you when you want more length in a slackline is available in the Gibbons Classicline Red Edition which gives you 82 feet of solid slackline. The latter unit is the most popularly purchased slackline as it is great for beginners and advanced slackliners alike.
Two-inch-wide webbing ensures a stronger foothold. Or you can also opt for the Surfline – the purple webbing comes in 98 feet lines.
Slackers 50-Feet Slackline Classic Set
Weight: 8.35 pounds shipping weight
Size: 50 feet
Specifications: 50-foot slackline; bonus teaching line, ratchet system, super-fast set up and disassembly. Instruction guide. Storage bag included for ease of transport. Nylon webbing.
Best Uses:
The Slackers 50-Feet Slackline Classic Set comes complete with a two-inch wide slackline, a teaching line, and a full-length instruction guide on how to use the setup. The set is perfect for beginner slackliners looking to become an expert in their tricks.
The set has a ratchet tensioning system for ease of assembly and disassembly. The nylon webbing ensures product durability. Used for enhancing balance, and core strength. Two sets of lines included.
Related: You can opt for the Slackers Kit from the same manufacturer: You get a slackline set up ideal for both children and adults interested in the sport. The kit comes with a 52-inch line, two-inch webbing, gear carrying case, ratchet, and rope. The set has instructions for set up too.
Or, you can opt for the Slackers Eclipse Trick Line Slackline Kit, which has UV protected, fluorescent ink designed webbing, a rubberized grip, and a reinforced ratchet for extra safety. The set is ideal for beginners and advanced users alike.
Slackers 100-Feet Fearless Trickline Kit
Weight: 12.8 shipping pounds
Size: 100 foot
Color:
Specifications: 100 foot trickline slackline; webbing is trampoline style. Carrying case included. Two ratchets included.
Best Uses: Beginners and adepts use.
The Slackers 100-Feet Fearless Trickline comes with durable webbing, and two ratchets for superior, trampoline like tension and bounce. Excellent for the neophyte looking for something to train on or the adept to show off some serious skills. The line is 100 feet in length and the convenient carrying case ensures ease of storage and transport.
Related: A great alternative is the Slackline Kit: 52 Foot Classic Trickline Slackline Set which is the Official 2017 Edition of the PRO 2.O line with a travel bag and training line included for beginners. The line comes with 52 feet of webbing.
SLACKERS Slackline 50′ Wave Walker Kit
Weight: 8.7 shipping pounds
Size: 50 foot
Specifications: 50 foot trickline slackline; webbing is trampoline style. Carrying case included. Two ratchets included.
Best Uses: The line is great for the beginning slacker.
The SLACKERS Slackline 50′ Wave Walker Kit includes everything you need to start slacklining; It is a tight, low, and short line suitable for beginners just learning how expert movements on a slackline. The set comes with a teaching line to help along with balance.
The set is ideal for ages five and older. Set up and disassembly in about ten minutes. Used for training in balance and in strengthening core muscles.
Webbing Thickness
Webbing in a slackline features different materials and it comes in different thicknesses. If you are a beginner at slacklining, you might want a certain thickness to ease yourself into the hobby. The thicknesses you can choose from include:
One-inch
This thickness has been available for quite some time, but might unnerve even the adept. The truth is this line would serve a newbie well because it supplies plenty of tension, even if it looks a bit intimidating under the foot. This fact should teach you one lesson at the outset – the thickness of the webbing you buy, while important, does not really define the durability, bounce, and tension adequacy of a slackline.
The webbing's ability to stretch and the tension it offers are far more important. The one-inch webbing is available for purchase in polyester and nylon, and you should really put a stronger focus on the webbing than the thickness of the slackline you buy.
Two-inch
This is the industry standard these days, as many slackliners find themselves quite comfortable with the two-inch thickness. The broader surface makes people covet these slacklines because they give the user the perception of added security while using the line. The surface area is wider and this is likely to make passage over the slackline a breeze.
These lines also feature ratchet rigging systems that are easy for the first-time slackline to use. They are designed in such a way that they are not circular or tubular in design, but consists of woven fabric that is flat to walk on. This gives a wider foot area for the user overall.
The one-inch lines can also be tubular in shape and therefore prove less desirable to some slackliners. These lines are often made of a nylon and polyester blend to ensure webbing durability. Though tougher, less flexible, and offering up a bit less stiffness overall, these lines promise a great degree of bounce.
Webbing Materials
Nylon is used in slacklines because it is highly durable, stretchy, and it supplies a good bounce when the line has tension applied to each end. Nylon is a stretchable material and this is what makes it so ideal as a material for slacklines, and it is hard to beat its genuine strength too.
Bear in mind that with the lack of stretch this line produces there is a mild compromise: it is more difficult to get the right degree of tension in a line. The nylon material can lend to greater sway when you are moving across the line and this may cause the line to bottom out or touch the ground once you end up in the very middle of the line or at the line's weakest point in terms of tension.
With the tubular one-inch slacklines, you end up walking across a tube of a flat style webbing so it is like having two layers of nylon. This might make you feel a bit more secure as you pass them. The tension in the line has mild edges and a soft feeling underfoot. Nylon is an ideal material for webbing because it is soft enough to keep your hands protected from cuts, whereas other materials that are courser have been known to cut the line user.
Systems for Tensioning
Three kinds of tensioner systems you can use when you start out with your slackline. One inch webbing material comes with the primitive tensioning system. The two-inch webbing is usually available with the ratchet system for tensioning. The more complex system for tension is a pulley choice used for highlines or rigging long lines.
Primitive Tensioning
This type of system is easy to transport and is cost-efficient. The system consists of the one-inch main webbing material to create the tight line, some rings, and a few carabiners. A line lock hitch is also part of the system and is available for use so you do not have to put knots into the webbing.
This system is a friction-dependent one, where the friction is what helps create or hold the line tension. The webbing is purposefully wrapped around a couple of carabiners and then the webbing gets passed beneath the wound webbing. When the slack in the line is removed, the material will cinch down and hold tight.
This system is more difficult to work with when trying to keep yourself of the ground as you work toward the middle of the line because of the high level of friction needed. This system is best used by the more adept slackliner who knows how to make use of a climbing or rigging system.
Ratchet System
Ratchets with lever and lock components are used with this system. These ratchets make it easy for you to create the necessary tension you need to make the line tight enough to prevent grounding out as you cross the line. The webbing is pushed through the inside bar on a ratchet and then slack is removed.
The webbing must remain in line with the rest of the webbing as the user cranks down on the slackline. If the material does not line up there is the possibility of the material getting caught up in a cog as you try to make the line tenser or when you try to release the line.
High Tension Methods
The type of high tension pulley system one uses for slackline is dependent on whether the user plans to use the equipment for highlining, longlining, or tricklining. The components within the system are easily replaceable when needed. This system has carabiners, shackles, quick-lines, locking devices, a multiplier, static rope, and main double pulleys.
Keeping Safe While Having Fun Slacklining
The only way you will have a truly good time slacklining is if you take part in the sport safely and you use the top of the line equipment. Slacklining proves to be the most fun when you can still be confident in the slackline to uphold you throughout its use.
As you shop for the proper slackline your need for confidence should stand paramount primarily when making buying decisions and this includes product pricing. It is possible to get high quality slacklines with exceptional features and a great price if you are willing to do your homework and do a bit of comparative shopping.
Some of the top seven slacklines mentioned here are a good place to start with your slackline shopping experience. Please leave your comments about this article and the above-mentioned products in the comment area.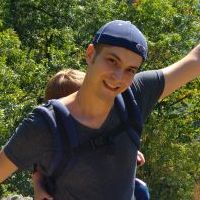 Daniel is a gear freak when it comes to hiking, climbing and camping. He went to REI Outdoor School to meet new people and learn best practices. Don't even try to argue with him about the latest backpack or ice axe, he tried most of them. Daniel's dream is to climb Mount Everest.