We know how hard it can be to find the perfect pair of socks for your favorite outdoor activity. Whether you're prone to hiking, skiing, snowboarding, trail running, or backpacking, your feet depend on proper cushioning and support to get you through the day so you don't have to back down from your next challenge.
Don't settle for pushing through the pain when you can start off on the right foot, pun intended, by purchasing the best cushioned socks from a trusted manufacturer. We've tracked down seven of the top cushioned socks on Amazon and we're excited to explore the pros and cons of each pair.
Join us so you can gain some insider knowledge and make the best decision when buying your next pair of cushioned socks or making a helpful recommendation to your fellow outdoor enthusiasts. We're confident you'll find a pair of socks in our review that you'll can't wait to sink your feet into.
Best Product Reviews
Let's take a closer look at some of the most reliable cushioned socks an outdoor lover like you can buy!
Thirty48 – HK Series Hiking Socks
Sizes: Small to X-large
Design Features: 2% anti-bacterial wicking poly, 85% acrylic (faux) wool, 2% spandex, 1% nylon, elastic arch support, abrasion protection, and a reinforced heel and toe guard.
Best Use: Hiking, Camping & Trail Running
Thirty48's HK Series Hiking Socks are a 3-pack score for optimal performance and the price. These socks are designed to be comfortable for practically any type of foot, thanks especially to their elastic arch support that helps to minimize friction while you move so you can push forward without blisters or irritation.
Their material construction is perfect for allowing your feet to breathe and retain warmth at the same time, with a unique blend of fabrics including spandex, nylon, and acrylic wool. In our opinion, not enough products focus on specific parts of your feet, like your plantar arch, but these do so you can run, climb, or skip without having to worry about sufficient support.
We think the most helpful feature of these socks is their anti-bacterial nylon, because who likes smelly feet even if you have been on your feet all day? The only downside to this product that we can find is that they may not last as long as more expensive, higher-quality socks.
If you wear these and only these, you may want to stock up on extra pairs because you could put those heels to the ultimate test. Last but certainly not least, Thirty48 is so confident in the quality and comfort of their HK Series that they offer a generous money-back guarantee if they don't meet your expectations.
Related: Thirty48 also offers the HKL Series for those serious hikers that prefer cotton to majority wool construction. If you plan on running trails a lot and prefer a lower-cut style, check out Thirty48's CoolMax Running Socks as a solid alternative to high hiking socks.
Fuego – #1 Athletic Cushion Crew Socks
Sizes: Medium to X-large
Design Features: Seamless toe linking, y-shaped heel, deep heel pocket and elastic bands.
Best Use: Running, Basketball & Tennis
If you're still on the fence about cushioning or extra padding, Fuego #1 Athletic Cushion Crew Socks are the happy medium you've been looking for. They were designed by Fuego with a number of practical features, the most useful of which we think is their anatomical left and right foot shape construction.
Each sock is also helpfully labeled, so you know which sock belongs to which foot. The toe seam sits flat, so you won't find yourself annoyed by a bumpy seam while you're up 40 to "love" on the tennis court. Say farewell to sweat, because these are made of wicking materials that keep moisture from building up even on your hotter workout days.
Although these socks cost almost as much for a single pair as you can buy elsewhere for a 3-pack, we think you'll find that their mindful design leaves next to nothing to be desired when you're looking for a reliable crew sock with the right amount of cushioning. We're glad to review these socks, because they maintain their promise of stability and avoid sinking low on your ankle or twisting as you pivot in your sneakers.
We know how debilitating blisters and hot spots can be. Make the smartest decision you can, especially if you're standing on your feet the whole day through or looking for socks you can wear in your athletic pursuits and the rest of the day.
Related: N/A
Nike – Cotton Cushion Crew Socks
Sizes: Medium to X-large
Design Features: 63% cotton, 33% nylon, 2% polyester, 2% spandex, sweat-wicking, reinforced heel and toe, rib cuffs, and arch support.
Best Use: Sports & Everyday Use
Do you have a strict must-need list when it comes to high performance socks? Your feet are so important, especially if you're the outdoorsy type, because you need to protect your feet from the elements so pain and discomfort don't get in your way.
Meet Nike's Cotton Cushion Crew Socks, another great pair of crew socks on our bestseller list for sports or just everyday wear. They feature arch compression and moisture-wicking fabrics to keep you dry even if you're sweating up a storm.
Even with the top elastic bands that adjust well to any foot shape, these crew socks can run a little small, so you may want to consider ordering a size up. If you prefer a lower shaft height when it comes to your socks, you'll probably want to weigh other product options.
If not, we know Nike is a brand almost everyone trusts for quality performance sneakers and athletic gear, and you won't be disappointed with your final decision. Plus, you get three pairs of socks for the same price as many single pairs on the market today!
Related: Nike's Dri-fit Cushion Crew Socks are a great solution if you're accustomed to wearing compression socks. The Moisture Management Crew Socks are very similar to these cotton crew socks, except that the footbeds are cushioned to absorb shock and they have a lower concentration of nylon.
Hanes – Men's FreshIQ Cushion Crew Socks
Sizes: 10 – 13 and 12 – 14 (shoe sizes 6 – 15)
Design Features: Soft cotton blend with polyester, natural latex rubber, and other fibers, comfort toe seam, cushioned sole, and a stay-up top.
Best Use: Yard Work & Walking
Hanes is actually much more than just underwear and t-shirts.
Hanes' Men's FreshIQ Cushion Crew Socks are all about comfort, especially in the areas that count like the toe and the heel. As with many socks, you could start to see some normal wear and tear after months or a year of intense use, especially if you plan to wear these for long workouts.
Due to their simpler construction, we found that these don't hold up as well or for as long as the other bestselling socks in our product review even though Hanes boasts a very durable heel and toe. Never fear, if you're looking for a trusty pair of cushioned socks to get through the day or get the job done, you'll get your money's worth with these.
Related: If you've decided that cushioning may not be the best choice for you, Hanes offers a slightly lighter option with added polyester and other fabrics in their Value Crew Socks. On the other end of the spectrum, the Ultimate Crew Socks are made from super soft cotton and will wick away moisture.
Wanderlust – Premium Knee-high Merino Wool Compression Socks
Sizes: Medium & Large
Design Features: 40% acrylic, 33% nylon, 10% lycra, 9% wool, 8% polyester, seamless toe box, extra soft foot padding, and natural air channels.
Best Use: Hiking, Trekking & Cold Weather
Wanderlust's Premium Knee-high Merino Wool Compression Socks are ideal for the active person who doesn't let pain, old injuries, or sore joints hold him or her back from achieving dreams. Wool is best known for its warmth and, with authentic merino wool, these compression socks are cushioned and insulated for your comfort if you're headed out on the trail in the colder seasons.
The upside to wool is that its warming capabilities don't get in the way of mesh pattern air channels for ventilation and breathability. Wanderlust designed these socks with plantar arch support in mind, and the extra soft foot padding absorbs impact from snowboarding, soccer, cycling, or whatever your heart desires!
The seamless toe box diminishes any slipping and sliding in your shoe, so you won't be plagued by blisters or corns. These socks are not extraordinarily affordable compared to the competing socks on our list. If you're willing to spend a little more, we know you won't regret covering your feet in pure quality.
Related: If you're looking for compression socks to help prevent swelling when you fly to your next destination, Wanderlust has Air Travel Compression Socks. If you're in the habit of only wearing compression socks while you sleep, Wanderlust's PlantarPro Compression Socks are open-toed and specifically designed to tackle Plantar Fasciitis.
Adidas – Men's Cushioned Color Crew Socks
Sizes: Large & X-large
Design Features: 75% acrylic, 17% polyester, 4% nylon, 2% spandex, 2% natural latex rubber, climalite odor-management technology, welt cuff, and extended arch compression.
Best Use:
Adidas is one of the most trusted brands in sports gear and clothing, so it should be no surprise that their socks are supremely cushioned for your comfort so you can keep going without worrying about your feet. Their Men's Cushioned Color Crew Socks come in 15 fun color combinations, so you'll never run out of stylish options to go with the rest of your running gear and outfits.
With ClimaLite construction, the materials wick moisture even during your most intense training sessions or competitions, and you can forget about odor-causing bacteria. Similar to many of the other socks on our list, these crew socks are made of acrylic, polyester, nylon, spandex, and natural latex rubber.
The elastic middle of the sock stretches to form to your foot while fitting tightly until stretching with continued use over time. These socks are known to run just a tad smaller than your normal size, so order with a little caution.
Related: Not everyone's a fan of high socks. If you fall into that category, Adidas offers a Cushioned Quarter Compression Sock for about the same price. If quarter socks aren't your style either, go even lower with their Cushioned No Show Socks.
OutdoorMaster – 100% Wool Ski Socks With Super Warm Plush Lining
Sizes: Large
Design Features: 100% wool, different length options, warm plush lining, elastic band at top,
Best Use: Snow Skiing
As the only 100% wool socks on our list, OutdoorMaster Wool Socks are great for anyone who needs to stand and work on his or her feet all day. These socks are ideal for keeping your feet warm and cozy in colder weather, but they'll also serve you just fine in warmer weather.
The wool is soft to the touch, and they won't shrink when you wash them. One of customers' favorite features about these socks are the length and lining options, with knee-high and normal lengths as well as full and semi-plush linings. One of the biggest complaints for sock enthusiasts, especially those that are active and require socks that can keep up, are that they tend to fall down toward the ankle.
With an elastic band at the top, these ski socks won't fall down. Our only concern with this product is that they may not allow your feet to breathe very well. Wool is designed to keep your feet warm, but the benefit of blending other materials are the air channels that the construction produces, allowing heat to escape so you don't build up sweat.
If you're planning on some intensive outdoor activities in the heat, you may want to consider another pair by another brand. If your work or hobbies revolve around winter, the north, or walk-in freezers, these socks were meant for you.
Related: N/A
Features to Consider Before Deciding on the Perfect Pair of Socks
Socks keep our feet safe and comfortable while burrowed into our sneakers, boots, and any other shoes imaginable. While you may have never thought of socks as carefully as you've thought of your shoes, socks play an integral part in your enjoyment of any activity.
If you buy just any pair, you run the risk of forming blisters, hot spots, bad odor, or a number of other ailments that could cause you short or long-term discomfort. If you pay close attention to the design features of the socks you're looking to buy, you may save yourself a future headache.
We've highlighted some of the most important design features that the leading brands kept in mind:
Material(s)
As with any important item of clothing, the materials of your future socks are extremely important to care and use. Among the socks reviewed, there was a lot of the same materials being used to implement the level of cushioning and comfort consumers are looking for, including but not limited to: cotton, polyester, wool, spandex, nylon, and latex rubber.
Materials such as polyester, nylon, and spandex are highly breathable and can be worn in a variety of weather or working conditions. Wool, on the other hand, is ideal for warmth and protection against the elements. Depending on your ultimate motivations, you'll want to choose a sock with the best materials and fabrics suited to your needs.
Length
Socks aren't always one-size-fits-all. Socks come in variety of length options, including knee-high, crew-cut, and no-show. Finding the right length comes with experience and expectations.
If you plan on exploring the wilderness, a higher pair of socks may be better suited to your expedition to prevent contact with ticks or other threatening pests. If you're shopping for everyday use, no-show and low-cut socks may be just the thing you need.
Durability
We seldom buy socks with the intention of keeping and wearing them for a long time to come. We're typically surprised when socks last more than a year or two, but you should set your expectations before you head toward your shopping cart, because not all socks resist wear and tear like holes or fabric snags.
Threads pull easily, and sometimes that depends on the type of material used. You'll be happy to know that all of the socks we're reviewing appear to stand the test of time from several months to several years.
Should you find a pair of socks that seems to fit everything on your wishlist, we hope that you'll spread what you learn today by reviewing these bestselling cushioned socks with us so you're athletic companions and community can move forward at an advantage thanks to happy and healthy feet.
Conclusion
You may have never realized just how important it is to consider the features of your socks. If you're an avid outdoor enthusiast, you probably already know how important that decision can be.
We hope our review of the seven bestselling cushioned socks helps you on your way to making a more educated decision, because no one should have to suffer while halfway down the slope or halfway up the trail.
Keep your feet in the best condition possible by buying a pair of socks that are closely matched to the type of activities or work you plan to do. If you think we forgot to mention any of the other great products out there, please let us know in the comments below!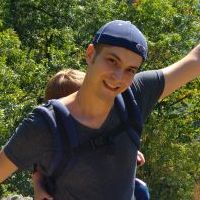 Daniel is a gear freak when it comes to hiking, climbing and camping. He went to REI Outdoor School to meet new people and learn best practices. Don't even try to argue with him about the latest backpack or ice axe, he tried most of them. Daniel's dream is to climb Mount Everest.