When you go camping, the tent is one of the most important items to have with you. When choosing the right gear for your tent, you will need to know which is best to choose between a tent footprint or a tarp.

I will give you all the info you need so you can pick the one that suits you the best. Learning about each of them, what they are good for, and in what situation you should use them, will give you some insight to help you make a decision. So I'll start you off with tent footprints.
Tent Footprints
A tent footprint is camping gear that is attached to the tent to prevent damage. The fabric of the tent footprint can vary, but you'll discover that a majority of them are made from easy-to-clean and durable polyethylene.
You can get some lighter groundsheets that are made from a lower denier polyester or oxford material.
Tent footprints are placed beneath camping tents to add to the tent's resistance against friction with the ground.
If you go camping on a sandy beach or desert sand, the bottom part of your tent will scratch against the ground and will probably experience some wear and tear. Without a tent footprint, your tent will get damaged after a short while.
Types of Tent Footprints
Tent footprints are made with different fabrics and also come in different types, including:
Solid Tent Footprint: A solid tent footprint is a cost-effective option that also provides an extra level of waterproofing during a trip. This type of tent footprint is easier to clean and provides warmth during a winter camping trip.

If you buy a solid tent footprint that's a lot larger than your tent, it may collect rainwater and can encourage condensation as well.
Mesh Tent Footprint: This footprint is an ideal choice because it prevents water build-up near the bottom of the tent. Its screen allows rainwater to pass through instead of being stuck on the top part of the sheet.

However, this tent footprint is a more expensive option. It is also not resistant to poking from small sharp objects.
DIY tent footprint: for hikers who are on a budget, there's an alternative to the solid and mesh tent footprint. You can make your own tent footprint. There are so many ways to do this. Here are some ideas you can consider if you have the resources:


An old tarpaulin can serve as a tent footprint. However, you should make sure it is cut according to the tent size. When the tarpaulin is cut larger than the tent, it may suffice for the purpose. But when it is too small, it wouldn't protect the tent floor during stormy weather.

A window wrap may also come in handy. The ones used to cover the window for extra insulation during the winter season could work.

A duvet or an old blanket can be used as well. However, it shouldn't be used during a storm or when there's water on the ground.
Advantages of A Tent Footprint
If you are an experienced camper who hasn't used a tent footprint, then you may not know how important it is.
However, if you have ever had to struggle with rainwater seeping through a tear under your tent, or you dislike packing a muddy tent, a tent footprint can be valuable.
Here are other advantages of a tent footprint:
Using a tent footprint will give you a patch of dry ground to set up your tent. The footprint keeps the tent's bottom clean and dry. By doing so, packing away after camping becomes a lot easier.

For camping tents that were designed with sewn-in groundsheets, a tent footprint means much less cleaning and also means it's less likely that the tent will need drying or airing when you get home.
If the campgrounds are relatively wet all through your stay, you'll discover that the tent's sewn-in the groundsheet will be wet and muddy when you're packing up. This isn't a pleasant sight and would take more time to clean.

The tent footprint is something that can prevent something like this from happening.
Get rid of pitching problems when you know exactly where to place the corners of the tent. It can be excruciatingly difficult to figure out where to place the corner pegs of the groundsheet before setting the frame up.

A tent footprint shows you exactly where to peg your corners, so your tent will be pitched much more quickly.
During a camping trip, nights could become extremely cold. The ground usually absorbs the heat, but with your tent footprint, you'll have an extra layer of insulation that traps in the warmer air to prevent heat loss.
A tent is an investment, and if you have spent a lot of money on a brand new tent, you would want to ensure that it's in the best condition. You have a few options of tents right here.

The footprint groundsheet helps prevent any rips, damage, and tears to the base of your tent from unseen stones and sticks on your chosen campground. It is a lot easier to fix or replace the damaged tent footprint than the original groundsheet of the tent.
You will find that a lot of footprints are built specifically to different tent models (or fit more than one tent model). They may be somewhat smaller than the floor of the tent to prevent water collection between the footprint and the sewn-in groundsheet.

The 'made-to-measure' style makes it easy to select the right tent footprint.
The cost of tent footprints depends on where and what you buy. However, as stated above, it is possible to build your own tent footprint without paying a lot of money for a tent footprint.
Tent footprints are often more expensive, especially when you buy them directly from the manufacturer.
One popular material that is used to make a tent footprint is Tyvek. This material is inexpensive, durable, and lightweight as well. Most importantly, it's a waterproof material.
Tarp
The tarp or tarpaulin, as it is also called, is a large sheet of flexible, strong, waterproof, and water-resistant material used for camping. It is often made with polyester and a urethane coating. Tarps are quite useful for hikers while camping.
Tarps are ideal for car campers who will be outdoors for a longer period. A skillful tarp user can carry less weight in their backpack and still have a comfortable and flexible shelter.
They also help create a dry hangout space for a group during a cold and wet trip. For more tips on how to choose the best tarp for your camping needs, check out our earlier article.
Lots of backpackers carry their tarps with bug bivy, bivy sacks, or net tents. All these extras add mosquito and weather protection. Many tarp makers build net tents that are made specifically to fit their own tarps.
Selecting a tarp along with a net tent can increase the shelter's flexibility while providing bug and rain protection.
Tarps are made with UVTex and Ultrarig fabrics. The UVTex fabrics are a lot lighter and have a factory seam seal and reinforced eyelets. It provides a great cover despite its weight and small size.
The Ultrarig is a heavy-duty tarp, and it has a higher UV resistance and superior strength. It is made with a 1000 Denier high-density Polyethylene, and it is also coated with a triple layer of polyethylene on the bottom and top surfaces.
This fabric also features UVtex technology to deliver maximum shade, maximum block out, maximum insulation as well as maximum strength.
Types of Tarp
Tarp, like the tent footprint, comes in a wide variety and serves different purposes. They include:
Poly tarps: Poly tarps are quite common, and they are made of polyethylene as the name implies. It has a thick and durable polymer that is waterproof and also similar to plastic. These tarps are considered one of the best and most durable kinds of tarps.

They are available in so many colors, which include camouflage and clear. The blue poly tarps are among the most commonly used and are usually of medium durability.

The heavy-duty poly tarps come in white, red, yellow, green, or silver, while the regular tarp comes in brown or orange color.

You can go heavier by buying a two-ply tarp with double layers of protection. Because of their strength and durability, poly tarps are relatively heavy to carry around.
Canvas tarps: The canvas tarps are usually made from cotton. They feature heavy-duty eyelets which are used for attachments and hemmed edges. Unfortunately, the canvas isn't waterproof. However, it does offer enough protection against the wind.

These tarps are a lot easier to pack and move around than poly tarps. This doesn't make them any lighter to carry. They also come in so many different weights and colors. Some canvases are flame retardant, and they can also be treated using a water repellent.
Mesh tarps: Mesh tarps are airy and lightweight and are mainly used for blocking or shading debris. Since they are loosely woven, they'll let both rain and the wind through the material.

The mesh tarps are made from a small quantity of polymer. This makes it incredibly easy to move around, and it features reinforced corners and grommets.
Nylon tarps: Nylon tarps are extremely lightweight and also very easy to move around. This tarp can be folded, huddled, or rolled into small spaces for easy travel.

Even though it isn't as durable as canvas or poly, nylon does offer wind, sun, and water protection. Most nylon camping tarps are fully waterproof. Some of them are covered with silicone, and this makes them a lot heavier.

On the other hand, they are more equipped to protect you from the elements. These tarps come in various colors and sizes.
Advantages of tarps
When it comes to versatility, tarps are clearly unmatched among other camping gears. As groundsheets, they have a number of advantages. Some include:
When the ground is muddy or wet, you can easily pitch your camping tent on the tarp as an additional groundsheet.

You must be careful, though, to make sure that all the tarp is safely tucked under your tent. When you are ready to take down your tent, the tent bottom would be nice and dry.
A tarp plays multiple roles, and some include giving you somewhere to eat, cook, and providing shelter from the rain. Also, remember that you should only cook outside, and not inside your tent. With a tarp, you can eat outside or cook even when it's raining.
A tarp can be an impromptu shelter before you pitch your tent in case it rains. It'll help keep your gear and other items dry until the tent is ready.
Lastly, tarps can also serve as a play tent for the little ones during the family trip.
Making your decision
Tarps and tent footprints are both useful camping gears. However, seasoned campers recommend using a tarp for car camping in the woods or anywhere else, and tent footprints for backpacking. The reason is that tarps can be a lot heavier and bulkier than footprints.

You can find some nice all-seasons tents here, before making up your mind about which one is best for you:
Footprints are made to measure and fit into tents perfectly. Tarps, on the other hand, may need some extra measurements to fit. When they are too big, they may allow water to seep through the bottom of the tent.

The same thing happens when it is too small. This gives tent footprints an advantage in this aspect. You can pick the best tent to keep you dry here.
During a camping trip, especially during the rainy season, a tent footprint could accumulate water on the surface and then soak it into the tent seams. This will probably increase your chances of sleeping on a wet tent floor on a wet night.

A tarp has an advantage over a tent footprint because it is fully waterproof, and it can keep the tent floor dry if it is set up properly.

Silnylon floors are leakproof, and unless they are scratched or poked, they will not leak. On the bright side, they can be fixed easily using duct tape.
Tent footprints have webbings and grommets to ease the pitching process. You won't have to waste time figuring out what goes where. Tarps do not have this feature. If you want it, you'll have to customize it all by yourself.
When it comes to pricing, footprints are more expensive than tarps. But if the price isn't an issue, it may be a good choice.
Lastly, tarps are more versatile than tent footprints. They have several other uses during a trip to the wild. This is why lots of hikers carry them on all trips.
Things to consider when choosing between tent footprint and tarp
The features of tent footprints and tarp have been highlighted above and their advantages discussed as well. As you attempt to narrow down all the possibilities, ensure that you consider any of the following things:
Weight: As with all camping gear, one important factor to consider is the weight of the gear. You should ensure that the gear is as light as possible. Portability should always be your top priority. This can become an unnecessary burden on your backpacking gear.

Opt for a lightweight tent footprint or make one yourself following this tutorial.
Online Reviews: These will help you if you are not sure which one is best. People that bought them, used them in situations similar to what you are about to use them as well. So they tested the quality for you, and now you can choose.
Material: The materials used in a tarp or tent footprint is also an important consideration because it indicates how functional and durable the product will be. The fabric also needs to be thick enough to last long and prevent any seepage of water.

Thicker fabrics are better when you consider the insulation they provide. However, they may be heavier than usual.
Size: The proper size of a tent footprint or tarp depends on the tent's size. The main goal is to ensure that your groundsheet will cover every inch of the tent's flooring.
Is a footprint better than a tarp?
Yes, a footprint is better than a tarp, as long as you can afford the more expensive ones that fit your tent and that can protect you against the elements. Plus is very light and easy to carry around.
They are made to match your tent's size, which is very important when looking at tent footprints. They can be water proof and they protect the bottom of the tent from the harsh ground. Overall they give you a better experience in the wilderness.
Does a tarp or a tent footprint go inside or outside?
The tent footprint or tarp best go outside to protect the tent's floor from wearing and tearing on the ground. They can be waterproof and keep your floor dry for the night, in case of bad weather.
The ground can be very harsh to the tent's material. The rocks can pierce through, sand can scratch it and wear it down, water can keep it wet and dirty.
So it is best you put a tent footprint or a tarp between your tent and nature, so you don't have to buy a tent every other year.
How big should my tarp or tent footprint be?
Your tent footprint or tarp should be slightly smaller than the tent itself, so the water doesn't gather between the tent and the footprint or tarp. Usually that means it needs to be 2 inches smaller than the tent's floor.
This helps in case it rains outside. If the tent footprint or tarp are bigger than the tent, whatever is left outside can gather water and run under your tent, making the bottom wet.
Conclusion
With a tarp, campers have the option of staying outside when it rains. The tarp keeps the tent and everything in it dry.
Its waterproofing ability has also been proven and tested. While on an expedition, you may also decide to have both tarp and tent footprint in your tent if you want it.
Remember that if you choose a tent footprint, you'll need to study the space you plan to use to set up camp before pitching your tent. Check for bumps, lumps, rocks, and sticks that may pose a problem later if it rains.
I hope I helped you decide on which one is best suited for you. Let me know what did you end up picking.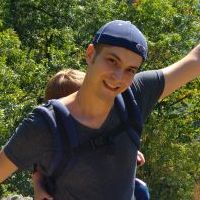 Daniel is a gear freak when it comes to hiking, climbing and camping. He went to REI Outdoor School to meet new people and learn best practices. Don't even try to argue with him about the latest backpack or ice axe, he tried most of them. Daniel's dream is to climb Mount Everest.