When it comes to picking the best infant life jacket, you have to be extremely careful: in the end, it's the life jacket that could end up saving your child's life in case of an emergency, so you must be 100% sure that it is safe and extremely well built.
Today, we're going to look at the top infant jackets (for under 30 lbs) and I am going to help you pick the best one for your little bundle of joy.
One important thing I always look at when considering an infant life vest or jacket is whether or not it is approved by the US Coast Guard. Those that have this approval are definitely high quality and exactly what you need to be purchasing.
I am not saying that automatically those that don't have the US Coast Guard approval are bad choices, but since it's my son's safety in play (your child's too), I only look at those that give this extra layer of confidence.
Never get cheap when it comes to purchasing a life jacket for an infant (they're really not expensive anyway!) and always test a new one you have just purchased to make sure that there aren't any flaws in the product and especially that your child's head is kept over water at all times.
IMPORTANT: The infant life jackets recommended below are Type II PFDs (personal floating devices), meaning that they are useful for near shore usage and/or usage in pools, NOT for rough, offshore conditions.
Also, even after equipping your child with the proper infant life jacket chosen from the list below, always keep an eye on them! It's your responsibility to make sure that the device is working as it should and that your child is safe at all times.
The US Coast Guard says that life jackets for children under 18 pounds might not offer a proper fit and parents should always test the life jackets in a pool to make sure that they keep their heads over water. It's very important for me to repeat this: you're the one responsible in this case.
These being said, let's check out below our recommended PFDs: the best infant life jackets for kids under 30lbs!
Please note: We get commissions for purchases made through links in this article.
Stearns Infant Puddle Jumper – Editor's Choice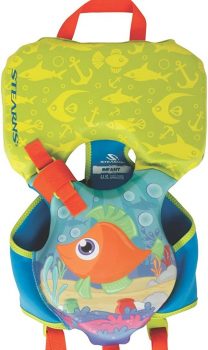 We're starting our recommendations with a brand you've probably heard about already. If not, you should rest assured that this is a good brand known for creating quality products.
This life jacket for infants under 30 lbs is US Coast Guard-approved, so you know from the start that we're talking about a trustworthy device. It also looks really nice and has a child-friendly design, so you get this added bonus too since most infant life jackets are pretty dull, to be honest.
What you will love about it is the fact that you can easily make it a perfect fit for your child: it has a zipper, an adjustable chest strap, an adjustable leg strap and, to make things even better, closed sides which not only make it look a lot safer, but also make it more comfortable for the little fellow who will fit better and feel more secure.
It comes with an oversized head support to provide optimal safety and to allow your child to always float face-up. But I repeat: always keep an eye on your little one even when wearing this jacket!
This PFD also has a rescue handle that allows adults to easily grab and pull the infant from the water if needed. It's a very good device that your child will probably get adjusted to wearing very fast and thanks to its nice design, they will love wearing it too.
All in all, this grabs the "Editor's Choice" award here at My Outdoors Life, which means that it is our top recommendation.
O'Neill Wake Waterski Infant USCG Vest – Best Design Award
Another great and also extremely popular product is this O'Neill infant life jacket. It is also approved by the US Coast Guard and is extremely safe thanks to its nylon shell over closed cell PVC marine foam, large but still comfortable head support and two safety buckles.
It also has the safety belt between the legs to make sure that the little one doesn't slip out of the life jacket, and the design is absolutely top class in my opinion.
It certainly gets my "Best looking" award (but do have in mind that it still is extremely safe – not just good looking! But it is extremely comfortable and that matters too!
As I said, it is a very popular choice among parents: it has a great rating of 4.7 stars out of 5 on Amazon, based on over 700 customer reviews (at the moment of writing this article).
This means that most of the people who tried it were extremely satisfied with this product and this is why I am also recommending it – I'm not the only one who liked it.
We also have a reviewer saying that it appears to be more comfortable than the Stearns model, so there you have it: you can check all the customer reviews here or simply trust my word that it's a great one and click the link below to check the price.
Stearns Infant Classic Series Vest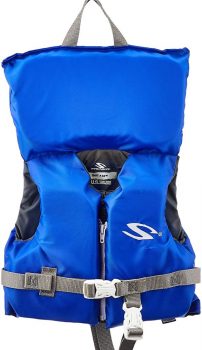 This one is very similar to the previous vest as it is made by the same company. I am not trying to push them ahead of others, it just happens that they make really good products.
Available in blue and red colors, this straightforward vest has a nylon shell with PE flotation foam, leg straps and a grab handle as well as a front-facing zipper.
Made of a durable nylon construction, this is another good PFD for your little bundle of joy, although in my opinion, the model above looks much better and is easier to wear. But you can't go wrong with this one if you just like it better.
Just to sum things up, the Stearns Infant Classic Series Vest has a zipper, an adjustable chest strap, an adjustable leg strap and closed sides for a perfect fit and is approved by the US Coast Guard.
Stohlquist Kids Life Jacket
If the three amazing choices above are not enough for you, here's another great one that keeps the safety and comfort levels high.
The Stohlquist infant vest is not very bulky and the V cut at the neck makes it more comfortable than other choices because the vest won't rub on your child's face or especially under the chin that much.
Just like all the other products on the list, it is approved by the US Coast Guard, it has an adjustable between the legs belt and a quick release buckle over the zipper for added security.
This one offers your child a bit more freedom of movement – especially in the arms area. I personally go over the top and choose those that cover more of the body, but this one has been tested and is also safe.
So if you want something lighter and extremely comfortable, this could be the perfect choice. But, as I said before, when it comes to having kids in the water, even when wearing this vest – always keep an eye on them and never leave them alone in the water, even if it is shallow.
These would be my recommended infant life jackets / PFDs that are US Coast Guard approved.
They are all of great quality and I am sure that, no matter which of these products you'll buy, you will be extremely satisfied with it and your child will be extra safe. But even so, make sure you always keep an eye on him or her!