No matter what kind of trail you hike on you know that the conditions can change quickly. Even without changing weather, predicting your environment can look like a game of chance. This is why getting the proper hiking shoes is so important.
And today we're going to check out the best Gore-Tex hiking shoes on the market. They will surely make your trips safer and more enjoyable.
The Gore-Tex material is perfect for hiking as it is waterproof, but still extremely breathable and light. Having hiking shoes that are built to protect you through any conditions means you can spend more times outdoors.
All the hiking shoes recommended below have exceptional support and traction. You will get the best grip, stability and comfort, allowing you to hike without worries. So let's check the top products below!
Note: We get commissions for purchases made through links in this article
Model
Pros and Cons
Salomon X Ultra 3

Best overall – Editor's Choice
PROs: Great Traction, Ultralight, Great arch support
CONs: Lacing system is a miss for some
Click to check price
Adidas Terrex Agravic

Best for trekking & running
PROs: Great for trekking and trail running, keeps feet dry
CONs: Design a bit outdated
Click to check price
Salewa Wildfire Edge GTX

PROs: Great traction, Lightweight & Comfortable
CONs: Could do with more padding
Click to check price
Vasque Breeze 2.0

Best Budget GTX Hiking Shoes
PROs: Leather & GTX combo, sturdy and lightweight
CONs: Not great for wider feet
Click to check price
The North Face Hedgehog Fastpack

PROs: Sturdy Sole, Great Build, good for wide feet
CONs: Not available in many sizes
Click to check price
Best Gore Tex Hiking Shoes (2023 Update)
Now, let's get a bit more in depth with each of the recommended models above and find out why they made it onto this top list.
Salomon X Ultra 3
The first time you wear Salomon X Ultra 3 GTX Hiking Shoe will be just as comfortable as the last. This is one of those rare shoes that require little to no break in time.
Talk about thick tread, these shoes are mean looking and will have no problem keeping your feet firmly secured to any surface.
The thick rubber soul lifts you off the ground giving you a barrier between the mud. A molded EVA midsole gives this shoe the stability and cushioning to perform on winter snow and rugged terrain.
Despite the mean look of this shoe, it is surprisingly sleek and lightweight. A waterproof design will keep your feet dry in wet conditions leaving you to focus on the trail in front of you. This does not compromise the shoe's breathability giving you the freedom to go on longer treks on hotter days.
This is by far my top favorite – a shoe worth investing in for sure. If I really have to complain about anything, it would be the lacing system – some people love it, but some might hate it. Still a great choice despite all this and I would never think twice if I were to choose them again.
Adidas Terrex Agravic
Not as bulky looking as other trail shoes, you will love the sleek design of the Adidas Terrex Agravic. These work well as trail running shoes and are perfect for trekking. You can safely use them as everyday shoes as well.
They look really well, are durable and lightweight – a really good hiking shoe overall.
Focusing on keeping your feet dry and comfortable, these shoes make sure you have the bounce needed to provide support. A thick rubber sole made from an EVA midsole gives you the cushioning you need for day to day wear. The Gore Tex lining gives you a waterproof design great for rainy days.
Super High traction rubber is used on this shoe giving it a thick tread which hugs the terrain and ensures you stay secure even on the muddiest of trails.
Not recommended for pavement running, these shoes are a bit more than you would need for road running and are best left to rugged trail runs. For that, they are perfect!
Salewa Wildfire Edge GTX
These shoes carry a blister free design providing even more comfort and flexibility than your regular pair. It also drastically reduces the need to break your shoes in.
A breathable mesh foot provides excellent ventilation while the Gore Tex gives you water tight security. This attractive shoe has pops of color giving you a very personalized look and great style overall.
A Vibram traction outsole gives you a unique grip that will be comfortable on pavement and road running.
A specially designed 3D cage combines with the EXA shell to wrap your ankle giving you the structure and custom fit that hugs your foot for added comfort.
Since these are actually approach shoes, they have a bit less padding than we're used to get from our regular hiking shoes, but they are still pretty solid offering a great mix of the two options.
This could make them extremely useful depending on where you plan to go – but do have in mind that for trekking exclusively, for example, the other options on this list might be more suitable.
These work best on tougher terrain and rocks and not necessarily for long walks.
Vasque Breeze 2.0 Low Gore-Tex Hiking Shoe
With a half inch heel to toe drop, the Vasque Breeze 2.0 Hiking Shoe is great for running. A lightweight EVA midsole gives you the comfort to be able to wear these shoes on long distances.
This shoe is built to last you through many seasons with its tear resistant air mesh panels that are sure to handle the test of time.
This shoe is breathable enough for hot climates while its Gore Tex layer protects you from the weather outside. A vibram outsole with XSTrek Compound combine to give you a shoe that will hug your terrain and give you better traction and stability.
These are not very friendly to people with wide feet – they are better suited for narrower feet. But apart from this slight problem for at least some of us, it is a great hiking shoe that you will love.
The North Face Hedgehog GTX Hiking Shoes
Gore Tex, mesh, and leather mix together to create an incredibly lightweight and high quality The North Face Hedgehog GTX Hiking Shoes.
The lightweight design is great for running you won't feel the drag of your feet behind you. A waterproof, windproof and ultra breathable design gives you the best of everything in this shoe. The dark design leaves you looking sleek enough to wear these shoes day to day.
A less bulky design translates seamlessly from the road to the trail. Vibram soles allow you the stability to be able to run in wet or dry terrain giving you even more versatility to wear your shoes anytime.
Unlike the previous pair that we recommended, these are actually better suited to those with wider feet than those with narrow feet. Extremely comfortable and durable, they are that type of shoe that you will become a fan of instantly.
How to choose the perfect GTX hiking shoes
There are many types of hiking shoes on the market. Companies have done research to come up with the perfect balance between technology and materials.
Hiking shoes
These shoes have been designed for hikes that last hours or days. The materials used are highly durable and are almost always waterproof. This is what GTX or Gore-Tex stands for – materials that are breathable, yet waterproof.
Hiking shoes will always be comfortable and keep your feet dry due to material that is moisture wicking and lightweight
Day hiking shoes
Not all hikes have to be hours or days in duration. For a more casual hike, look for shoes that are made of a lightweight material like mesh or nubuck leather that allow you pick up the pace when you need it.
These shoes will not be able to carry large packs for prolonged time but are perfect for hikes around the lake or even everyday walking shoes.
Anatomy of a hiking shoe
Any shoes you buy will have a similar anatomy while the material and technology will be vastly different.
Uppers
This is the part of your shoe that supports your foot which rises up around your ankle. Varying from high end material like high grain leather and breathable mesh material will affect the way your foot feels during hikes.
There are many types of leather that hiking shoes can be made from:
Full grain is a highly durable material that will require some break in. This material is water resistant and exceptionally durable. It will be great for short or long hikes alike, but is slightly on the heavy side.
Split-grain leather is a lighter alternative which is typically used with nylon or mesh for an even more lightweight design. This type of leather is less expensive than full-grain but is less durable as well. The inside of these shoes usually feature a waterproof liner that keeps your feet dry and comfortable no matter how long you hike for.
A nubuck leather is leather that has been made to look like suede. These will take the longest to break in so keep this in mind before you go for a weekend hike. This type of leather is one of the most durable and water resistant materials.
Fake leather, also known as synthetic, is essentially a combination of polyester and nylon that is used to create a lightweight leather feel. These are made to look and act like leather without actually using animal products. This will not take time to break in, but will wear quicker than their real leather counterparts.
Gore tex material is a high quality layer that ensure your feet stay dry. Combined with a breathable technology your feet will stay dry and comfortable. It is said that for every square inch there are over 9 billion areas that are small enough to create a waterproof layer while still large enough to allow moisture out. This technology will make your feet thank you and push your hike to the next level.
Midsoles
This is the part of the shoe that will give you the cushion you need for hikes. Especially rocky and rugged terrain will require more cushion than gravel trails. The trick to this part is to balance cushion and stability. There are two main types materials of midsoles:
Polyurethane is a type of material that is made out of synthetic fabric or leather which creates a comfortable and durable ride. It creates a firm ride that will be ideal for long backpacking trips through rough terrain.
EVA is a softer option that will also provide more cushion for your bank account. This less expensive material can come in different levels of firmness so picking the right one will be crucial for you.
Support
The lower part of the shoe will be where the majority of the support will come from. Plates and shanks work in the chassis to ensure a rigid yet comfortable shoe. This will ensure the shoe doesn't bend and flex in ways your foot doesn't.
Shanks are usually between 3 and 6 millimeters thick. They are found in the midsole of the shoe that create the perfect amount of rigidity for hiking. Each shoe will have a different setup, but this piece of material will usually span ¾ to the full length of the boot.
Plates are not included in every shoe. If they are this technology is found below the shank and ensures your feet are protected even during the sharpest material. If you regularly hike on shale or rocky riverbeds look for a shoe that includes this feature, your feet will thank you.
Outsoles
A fancy way of saying tread, your outsoles are the part of the shoe that give you traction in every type of terrain. More aggressive tread will be necessary when hiking on less stable material like mud and sand.
Each shoe will have a different pattern of ridges and valleys that create, what the manufacturer thinks is the best pattern for traction.
Lugs are essentially rivets on the bottom of your shoe that will increase your traction. A widely spaced setup will be best for mud as it won't get stuck between the studs. Use these if you are planning on travelling on material that is loose or icy conditions.
There will never be studs in the arch as that would make the hike uncomfortable and allows your foot to flex and bend naturally.
Fit
It is suggested that you go into stores to try on shoes as these boots may fit differently than regular shoes.
Also, if you live or hike in cool temperatures regularly look for a half size bigger to fit your wool socks comfortably.
In warmer temperatures you may want to try low profile moisture wicking socks that would mean you need a size smaller. Keep this in mind when shopping for your hiking shoes.
Different brands can fit differently. If you are shopping online we recommend looking at the sizing chart to see how the shoes fit others.
This will give an accurate idea of what you should expect when purchasing and will allow you to pick a size that will fit.
If you end up getting a pair that fit a little small remember that boots will take some time to break in and can actually increase in size.
Final Thoughts
Running or hiking outdoors is more than just a summertime sport. And by choosing one of the best GTX hiking shoes recommended in today's article, you know you always will get the best out of your hike.
Being completely wind and waterproof, these shoes will keep your feet dry and safe and comfortable. Exactly what you need during your adventures!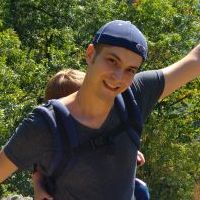 Daniel is a gear freak when it comes to hiking, climbing and camping. He went to REI Outdoor School to meet new people and learn best practices. Don't even try to argue with him about the latest backpack or ice axe, he tried most of them. Daniel's dream is to climb Mount Everest.