As ladies have started to level the playing field in outdoor adventure activities such as hiking, camping, kayaking and even bungee jumping and mountaineering, the retail world has jumped to try and keep up. Many ladies can outdo the average man on almost any level of sporting these days.
However there remains one critical area in which they are handed the short end of the stick, without a doubt. Up until recently, there have been no real options for ladies, but with new products like the female camping urinal, we are finally seeing some alternatives to the infamous squat.
Now that a few manufacturers have made such a concerted effort at handing females a bit of help, we can review a few female urination device reviews, and find out what is the best female urination device, according to the ladies out on the field.
Note: We get commissions for purchases made through links in this article
Reviews the Best Urinals Available For Women
Zhihu Travel Urinal
Weight: 0.1 pounds
Dimensions: 1.3 x 5.4 x 7.7 inches
Specific features: reusable, disposable, fits easily in a purse, medical grade silicone, comes with two wet wipes for your device.
Best Use: Camping, hiking, anywhere away from toilet facilities
The Zhihu Travel Urinal is very affordable. This device is considered to be fairly effective and easy to use. Made from a soft silicone, the product can be molded to suit almost any body type. It is also very lightweight and comes with a travel pouch for easier storage.
This product has no external attachments or extensions, but is a funnel-like shape and ends in a tube, which users can also maneuver to direct the stream of urine. The quality overall is decent, as a one-piece item, with less likelihood of problems arising later on due to missing parts.
It is recommended that this device be taken for a test run in the shower before taking on your camping trip so that you can get accustomed to using it and where your stream will go (the last thing you want is urine on your leg when you're out in the woods).
When on your trip, be sure to have the device pressed tightly against the body, or you will end up with spillage. If you still experience leaking after following these instructions, it is highly recommended that you contact the manufacturer, as there may be a defect in your product.
Portable Camping Travel Urinal
Weight: 1.1 ounces
Dimensions: 4.75 x 2 x 4.38-Inch
Specific Features: made from silicone, flexible, soft, spill-proof, reusable, comes in a variety of different colours.
Best Use: Camping, hiking
The Portable Camping Travel Urinal benefits ladies on long drives (provided you can pull over), ladies wanting to avoid the famous squat outdoors, or ladies wishing to avoid portable toilets or dirty bathrooms.
This product is very cheap, so you'll never feel guilty about buying a handful of these. It also seems fairly effective, but a few leaks are experienced by those who have not dedicated a decent amount of time practicing in the shower.
Made of slightly stiffer silicone, you may have trouble folding this up and fitting it into your purse for discrete carry, but it is available in a wide range of fun colors for you to pick from. Don't worry about hygiene either; this device is easy to keep clean, so it won't smell, won't get grimy, and will keep your bladder happy.
Shewee
Weight: 0.18 pounds
Dimensions: 1.46 x 5.98 x 11.22 inches
Specific Features: lightweight, reusable, can be easily carried in your purse, made of recyclable polypropylene, available in three colours, comes in a discrete carry case.
Best Use: Camping, outdoor activities, music festivals, traffic jams, and use in the car.
Considered to be the original female urination device, thе Shewee boasts a high standard of quality, with a hardened plastic that is recyclable. For that reason, it should get recognition for its attempt at being more eco-friendly. The quality and use of this product is approved by NATO and used by women in the military, so you know that it's made to last.
While the product is generally commended more for its concept than its design, it has added great benefit to the lives of many users. Quite a number of users feel that the hardness of the plastic is very uncomfortable. If the user has a hard flow of urine, the device overflows, so care must be exercised when eliminating.
This product also retails for an affordable price. It offers a better set-up of three pieces for that price, but the lack of flexibility due to the material it's made of may be off-putting to some.
Thee Home B01KU
Weight: 0.15 pounds
Dimensions: 0.8 x 1.2 x 1.2 inches
Specific Features: drawstring pouch, comes with four devices, medical grade silicone, spill-roof, reusable, easy to clean, soft, flexible.
Best Use: Patrons of music festivals and lovers of outdoors
You'll have no problem fitting the Thee Home B01KU in your purse, as the manufacturer boasts that it has near-perfect memory, meaning after being folded it squashed it should bounce back into shape to be used perfectly. It comes with a convenient carry pouch, and the buyer will receive 4 devices in one package.
That makes it easy for you to keep one in different purses or backpacks, so you'll never forget to take one with you on your trip. It's very flexible so it's very easy to use, but it's recommended that you get some practice in the shower first so that you can get used to the feel of it and how to hold it against your person.
The feelings about this device, in general, seem to indicate that the design is lacking in terms of how it directs the stream of urine. It needs to have some sort of attachment to it in order to funnel the urine correctly.
Some users have noted that the near-perfect memory that was promised was not delivered on, as three devices squashed into one pouch resulted in defective shapes. The product seems to be great value for money, which includes three devices, as long as they arrive in good condition. This price includes a carry pouch too, which is convenient and discreet to carry.
P Ez Travel Urinal
Weight: 0.9 pounds
Dimensions: 2.6 x 5.83 x 6.61 inches
Specific Features: Made from silicone for better flexibility, Reusable, Spill-proof.
Best Use: Outdoors, or as an alternative to toilets. People wearing skirts or dresses.
The P Ez Travel Urinal has no extension, and once again, pointing the urine into a desirable location is problematic. It is made from a flexible silicone which is better than a harder plastic, as it can be molded onto the body for better fit.
Its bulky size greatly inhibits ease of use, as any pants with a zipper will require the user to remove the clothing as the device takes up a large amount of space. The overall quality seems on par with other devices. It is somewhat flimsy and narrow, and therefore leakages seem to be much more common.
This product seems to fair less well than other models. Spills and leaks seem more common. It does not come with a carry case or pouch and is indiscreet due to its large size. Considering the low price, the value is equal to the cost.
pStyle
Weight: 0.3 ounces
Dimensions: 7.7 x 1.4 x 1.6 inches
Specific Features: Lightweight, Reusable, simple to clean, easy to use while clothed, discreet, designed to eliminate the need for toilet paper.
Best Use: Plus sized ladies, transgender users or for use by any ladies without access to toilets.
The pStyle has a unique design, wherein the device requires to be cupped beneath the crotch and is used to direct the stream of urine as desired. Its discreet size makes urinating with clothes on much easier than some of the larger devices, so there's the decreased need to actually drop your jeans to your ankles.
This product is very popular, as its usability seems simple and easy to understand, and is very affordable. It's available in six colours, and even comes with a discrete carrying pouch, making it easy to store in your purse or backpack.
Freshette
Weight: 0.13 pounds
Dimensions: 6 x 1.75 x 6 inches
Specific Features: Comes with a director, carry bag and 6″ retractable tubing.
Best Use: Medical needs, traveling, or anywhere away from toilets.
The Freshette is a little more difficult to place, and will also require some practice at home first. The general tone of users sways towards positive notes with minimal criticism. Spills and leaks seem minimal, although because not all female anatomy is exactly uniform, there are people who may battle to get a perfect fit.
However, you won't have to ensure a perfect seal with the device, as the handy hose will prevent any overflow from taking place. The considerations made by the manufacturer make this product a worthwhile buy. Overall, decent value for money if budget is not too much of an issue. It is a bit pricier than other devices, but the quality is definitely worth the price.
KleanGo Disposable Urinal
Weight: It is made from paper, so minimal.
Dimensions: No information available.
Specific Features: Disposable, wax-covered waterproof trifold paper design. Packs of 5, 10 or 25. Comes with a tamper-evident pouch.
Best Use: Athletes, Travelers, Pregnant users, Medical/post-op users, elderly users.
The KleanGo Disposable Urinal is designed to be used and disposed of immediately. There is no need to undress, and the product is made from recyclable materials. The product is discreet, hygienic and convenient.
This product makes the hassle of cleaning and transporting a used device much easier, as it can be left under a rock to biodegrade, or tossed into a rubbish bin.
The main aim of these devices is to allow a woman to urinate without having to squat, and while this would be a true blessing for most of the ladies, it is recommended by all of the products to test them out at home in the shower first, as they obviously require a little maneuvering to discover the best posture and position to prevent spills and leaks.
Kinds of Devices
Not many people are aware that these devices even exist, but there is an entire market of various devices that can be used to help you eliminate without having to squat and strain your legs. Here are just a few types of female urinals you can invest in:
Bottles: these are hand-held devices with central openings, and are designed to fit the female anatomy.
Small moldings: these devices fit well between the thighs, and usually consist of a tube connected to a small disposable bag.
Jugs: these devices are deep with various size openings in order to accommodate different people.
These products are designed to be reusable, and so are made from materials that can be cleaned quite easily in order to reduce the risk of infection. Usually, this means that a majority of these products are made from silicone.
Who is this Device Designed For?
The sports activities that proved to be too fast-paced to handle the hassle of using a female urinal include sports such as cycling, kayaking or hiking. These sports do not require complicated or layered levels of gear to be stripped off, and fumbling about for a device and getting your posture just right in order to prevent spills just seems pointless and counter-productive to effective time-keeping during a race.
Adventure sports such as skiing, which require heavy layering of thick gear and a great effort to undress, will see its participants benefit greatly from a device that can successfully allow a woman to stand and keep most of her clothing on during urination.
Activities that take place in excessively tropical conditions, such as hiking through rain forest terrain, or camping for prolonged periods will also have users that experience a degree of greater comfort by not need to crouch close to the earth, exposed.
Being bitten by mosquitoes or invaded by insects can create great discomfort, and for that reason being able to perform elimination in a standing position as often as possible has proven to enhance the outdoor experience somewhat.
Some countries require a person to squat in order to eliminate, and for the new traveler, a device to direct urine and allow for standing can be a helpful transition tool. Dirty bathrooms can also be improved by the ability to stand, rather than having to hover uncomfortably over a toilet seat and risking the loss of balance and an outright tumble.
Without needing to sell the concept of standing to pee any further, let's look at some of the devices claiming to offer this in their product, and how effectively a product is able to deliver on this claim.
To Device, or Not to Device?
While these devices all require a number of trial runs, once the user manages to find the right position and modus operandi, they are able to provide relief in some dire situations. It is also recommended to try more than the model, as some models may suit certain people better than others.
Most of these products come in a variety of colors for ladies to choose from and all sport a very similar shape. A few of the models claim to be spill proof, and while such an invention could bring much-needed relief, they are of course inventions that come with their own drawback and extra work.
Even so, it may well be worthwhile to many people to do a little extra work for that added convenience, if it outweighs the added cost, work and time involved. Decide on your budget and your needs and try out a few devices.
Whichever model you decide on, remember to keep caring for the environment by using eco-friendly products, and ladies, if you are using a female urinary device in a lavatory, remember to put the toilet seat back down!
Have you tried any of these devices? Give us your input in the comment section below!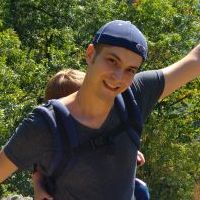 Daniel is a gear freak when it comes to hiking, climbing and camping. He went to REI Outdoor School to meet new people and learn best practices. Don't even try to argue with him about the latest backpack or ice axe, he tried most of them. Daniel's dream is to climb Mount Everest.