When it comes to winter activities, snowshoeing is a bit less extreme than skiing or snowboarding – but it's still a dangerous thing to do if you don't have the right equipment. This is why today we're talking about the best snowshoes for beginners – to make sure that you start your adventure on the right foot.
Beginner or not, the pair of snowshoes you're wearing is extremely important: it has to be the right size, the perfect fit and most importantly it has to offer perfect flotation and traction.
The recommended products below are extremely safe, durable and offer everything you need for a flawless snowshoeing experience. Check them out in the table below (and/or the extra details after) and pick the pair that fits your needs.
Note: We get commissions for purchases made through links in this article
Model
Details
MSR Evo Trail

Editor's Choice
– great grip
– comfortable
– easy to put on
– lightweight
Check price on Amazon
Atlas Apex – MTN Elektra

Best Premium Snowshoes
– great, unique features
– very comfortable
– improved grip & traction
– pricey
Check price on Amazon
Chinook Trekker

Best Budget Snowshoes
– very cheap
– lightweight
– decent grip (but not excellent)
Check price on Amazon
TSL Symbioz Elite

Solid Backcountry Snowshoes
– great grip, solid build
– lightweight and comfortable
– a bit pricey
Check price on Amazon
G2 GO2GETHER

Best lightweight
– cheap
– good design
– decent grip (but not more)
– lightweight and comfortable
Check price on Amazon
Best Beginners Snowshoes This Year
If you want to get a bit more in depth with each of the recommended models above, you can read the full reviews below.
MSR Evo Trail – Editor's Choice
MSR is a well-known and highly reputable brand that makes exceptional snowshoes and the Evo Trail is a perfect example of their craftsmanship.
The Evo Snowshoes is made of unibody traction which is steel traction rails and brake bars that were built right into the snowshoe decks, meaning it's highly durable and will give you a strong grip.
The Duofit bindings will give you a freeze-proof and glove friendly accessibility, allowing almost any boot to be secured down.
The all-condition adaptability will provide you on-demand flotation in snow packed conditions.
These snowshoes are ideal for flat or rolling terrain and will be able to withstand a day trip or a multi-day trip through your winter wonderland. They are also acceptable as running snowshoes.
Each pair measures 8 x 22 inches, can hold people up to 180 pounds and can fit almost all shoes sizes (5 – 15).
They are durable, well built, easy to put on and are overall some great lightweight shoes. Our top recommendation for sure!
Atlas Apex – MTN Elektra – Premium Snowshoes
A bit more on the expensive side, they also come with added features, so the extra money is well spent if you choose a pair.
Offering a really nice frame, built to offer both an elliptically-formed nose (for extra mobility) and the perimeter traction of a serrated t-frame. This allows them to maximize grip on uneven terrain and work really well with ice too.
The pair is really easy to put on and has a great feature that you'll surely love: the BOA Fit System which comes with a dial that allows you to adjust the fit as needed when the terrain changes. This way, you will always feel and be secure.
Apart from the solid, steel-grade crampon that offers great grip on packed snow (but still does well in powder too), it has a spring-loaded suspension and the heel lift bar that make it extremely comfortable and offers them a more natural feel.
All in all, this is a really solid pair of snowshoes that ticks all the boxes for recreational or backcountry hiking. They are lightweight, easy to put on, comfortable and offer solid grip. A really good choice indeed!
Chinook Trekker – Best Budget
If you don't have a generous budget for your snowshoes, worry not! This cheap pair is still really good and offers a serious bang for your buck.
Made in China, the pair does have a cheap look and feel to it – but it gets the job done and that is all that matters!
They don't offer too much in terms of grip and traction, as they come with a limited number of aluminum teeth so only consider them for some shorter, recreational hikes and nothing more serious.
They can also be fit for running, although there are more comfortable pairs out there. As long as the terrain is as flat as possible, they will be OK. Those straps seem like they're about to break at any moment – but they're actually durable!
However, have in mind that they can't support heavier people! I wouldn't suggest to use them if you're over 150 pounds as they might bend or break.
It might seem that I am only listing negatives here, but the truth is that as long as the terrain is right, there's not much (ideally none!) ice of the track and you don't weigh over 150 pounds (officially, the max allowed weight is 120 pounds), they are a good, budget choice, suitable for beginners who might not be 100% sure that snowshoeing is for them.
And as a bonus, they come with a nice looking carry bag for easy transportation.
TSL Symbioz Elite – Great snowshoe alternative
First off, the TSL Symbioz Elite is highly modern and trendy in design, in comparison to traditional snowshoes.
However, there are more to these shoes than just the look. This pair of snowshoes is one of the most technologically advanced snowshoes on the market, so a great alternative to the choices above.
It features HyperFlex technology which actually allows the frame to mold to any terrain while still providing superior grip.
The toe adjustment binding system allows users to easily and quickly adjust their fit within a couple of minutes.
The extra grip makes them perfect for recreational snowshoeing, but you can also take them higher up the mountains. They are comfortable, flexible and easy to put on.
The ratcheting instep strap also provides you extra comfort and security. What's great about this pair of shoes is that they also come with a storage bag, so that won't be an additional cost for you.
G2 GO2GETHER – Best Lightweight budget alternative
We're rounding up the list with another budget-friendly alternative. This one also has a really nice design and performs pretty well for beginners.
Just like the Chinook Trekker, they don't offer next level grip and traction like the more expensive options out there, so only consider it for short, recreational hikes and/or running.
They are easy to put on and lightweight, but the strapping mechanics are definitely on a budget.
The shoes are made of aluminum and Polyethylene, but seem to be slightly more durable. If you choose the 25″ variant, you can weight up to 200lbs and still use them safely – so definitely an alternative to the other budget choice out there.
Overall, as I said before, these are good for beginners who want to test out snowshoeing – but make sure not to go too high up the mountains wearing this, as the grip they offer is better suited for shorter, recreational hikes.
It's also worth mentioning that they come with a carry bag included in the price. They are also in the top 10 best selling snowshoes category on Amazon at the moment of writing this article – so I'm definitely not the only one who considers them a good choice, all things considered!
What types of snowshoes are there?
Even though in general you can just pick any pair of snowshoes and use it for any activity, if you know that you will perform one sort of special activity mostly, it's good to get a pair that's created with that particular activity in mind.
The build of the snowshoes differs slightly from model to model as we already saw in the reviews above – so always choose the right one for what you're planning to do most of.
1. Hiking / Recreational Snowshoes
These are the most common and popular snowshoes, especially for beginners. You'll be able to wear these snowshoes for recreational use. They're ideal for flat or rolling hills due to their simplistic design.
They have aggressive traction, providing less binding than backcountry snowshoes. They're definitely the least expensive snowshoes because they're for beginners and recreational use.
2. Backcountry Snowshoes
If you're into a more challenging hike through the wintery mountains, then you should consider backcountry snowshoes.
These snowshoes are specifically designed for more rugged terrain including ice, deep snow and steep slopes.
The snowshoes are designed with aggressive crampons and stronger binding which are meant for more heavy duty snow boots. With these snowshoes, you'll be able to walk through almost anything.
3. Running Snowshoes
As you read above, snowshoeing has so many amazing health benefits, no wonder it's becoming so popular.
So, if you're into running, but can't handle the concrete, you can opt for running snowshoes. These snowshoes are not directed at flotation but more so based on giving you speed.
They're ideally made for flat or rolling terrain that is usually groomed, so they're not recommended for backcountry snowshoeing.
These snowshoes tend to be shorter and narrower in comparison to your classic snowshoe and they should not be used for more difficult hiking routes.
Essential features to look for in your snowshoes
Now that you figured out what kind of snowshoeing you'd like to do, you have one step out of the way. However, you have to keep in mind of some essential features that you'll be needing when out in the snow, listed below.
1. Snowshoe Bindings
Snowshoe bindings are what keep your boots connected to your snowshoe. They typically come in two forms: rotating bindings and fixed bindings.
Rotating Bindings: have a pivot point where they attach to the decking, which is under your feet. This gives you more of a relaxed fit and allows you to walk more naturally. They are ideal for when you're in deep snow or going down steep slopes.
Fixed Bindings: they're connected with a sturdy rubber or neoprene band. They're not as flexible and decrease the pivot. You'll be able to walk comfortably with fixed bindings and you'll be able to walk over logs with ease. However, they do kick the snow up the back of your legs.
No matter which type of binding the snowshoes have, they need to be extremely secure. If they malfunction or are broken, you should not use the shoes anymore in order to avoid any potential accidents.
2. Snowshoe Frames and Decking
Snowshoes typically come in aluminum frames with synthetic decking. These materials allow the snowshoe to be lightweight and highly responsive, two things that you'll definitely want in a pair of snowshoes.
3. Snowshoe Traction Systems
Your body weight will provide your snowshoes traction, but they also come with cleats or crampons which give you a sturdy grip.
Naturally, flat terrain hiking snowshoes give you moderate traction and increase with aggressiveness if you're doing backcountry snowshoeing. You have a couple various traction systems that are available.
Heel lifts: they're also known as climbing bars, televators or MSR models. These are wire bails that are placed under your heel. They prevent calf strain while you're walking up steep slows. They're ideal for those with calf pain and Achilles tendon issues.
Heel crampons: these are placed on the undersides of your deckings. They're typically shaped as a V, which fills with snow, allowing you a slowly and safely descend down slopes.
Toe or instep crampons: they're placed on the undersides of your bindings which allow them to pivot with your feet for more flexibility and movement. They're typically the most used form of traction.
Side rails: as known as traction bars, they're placed on the undersides of your deckings and give you more stability, reducing your odds of slipping.
Braking bars: they're a part of your decking's undersides and give you forward traction while preventing backsliding.
Is snowshoeing right for you?
So many people want to enjoy winter but, for one reason or another, they're not able to ski or snowboard.
For some people, skiing and snowboarding can cause a fairly large dent in the piggy bank, as you'll need season passes, ski/snowboarding equipment and proper apparel.
Other people are unable to ski or snowboard because of health issues. If you have weak joints or bad knees, well, these two activities are definitely out of the question.
Snowshoeing comes as a relatively budget-friendly alternative, with lots of benefits, including health related ones. Here are some good things about snowshoeing:
It's an inexpensive activity, you don't need special apparel and you can purchase a pair of snowshoes for relatively little money.
Snowshoes are long lasting, so if you buy a pair, you'll have them for years to come.
It's an amazing fat-burning workout, burning between 420 – 1000 calories per hour.
There are a variety of trails available for beginner to advanced snowshoers.
It builds muscles, working out your hamstrings, quads, and calves.
If there's snow, you can snowshoe. You don't need a certain amount of snow to be able to take part in snowshoeing.
It's a low impact sport. This is because the snow acts as a cushion and absorbs the shock. It's great if you have knee issues or back problems.
You don't have to stay on trail unlike skiing or snowboarding, you have the freedom to snowshoe wherever you like. (But still – practice extreme caution!)
Conclusion
You now know the importance of snowshoeing, the types of snowshoes available and the features to look for when buying a pair. But most importantly, you have above our list of the best snowshoes for beginners.
Remember – if you don't really know what to choose, opting for our top recommendation, the MSR Evo Trail is always a good idea.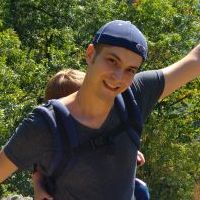 Daniel is a gear freak when it comes to hiking, climbing and camping. He went to REI Outdoor School to meet new people and learn best practices. Don't even try to argue with him about the latest backpack or ice axe, he tried most of them. Daniel's dream is to climb Mount Everest.