When choosing footwear for any given activity, you want to first determine your objective. Is the footwear for casual use, athletic use or intense training, and how often might you wear the shoes? The key here is to first choose your activity and then choose your shoe.
If you're looking for a more versatile shoe that can cover all the bases of cross-training and fulfill any of your activity needs, there is definitely a shoe out there for you.
When looking for the best training shoes for you, you are definitely allowed to be picky. These shoes should fit your needs and fit your foot! You want to make sure you choose the appropriate size, style and durability for your next training shoes; this will make your next hike, run or training activity as comfortable as it can be.
Best Training Shoes Roundup
Note: We get commissions for purchases made through links in this article
New Balance Minimus Trainer
Dimensions: 13 x 8 x 5 inches
Weight: 1.3 lbs
Specific features: Vibram sole & outsole, Revlite midsole, Lace-ups
Best Use: Casual activities, Gym workouts, Cross-training
Description: These shoes are great for everyday use, casual-walking and just your average gym workout. With a vibram sole, providing stability and safety every time you take a step, you're able to cruise through your day without worrying about slipping or losing your grip during a workout.
The Revlite midsole of the Minimus Trainer provides a great cushion to give you the support you need, especially for those with poor arches. These lace-up trainers feature a burrito tongue, ensuring comfort and style. If you're an avid cross-fitter or just looking for a shoe to wear to work, these might be the trainers for you. These cross-trainers are also available in many different colors.
Shimano R088
Dimensions: 13 x 9 x 5 inches
Weight: 1.9 lbs
Specific features: Synthetic leather, 3-hole cleat compatibility, Fiberglass & Polyamide sole, Mesh vents
Best Use: Road bike, Cycling
Description: If you're looking for your next pair of road bike or cycling shoes, you may have found our match. The Shimano R088 cycling shoe features a micro-adjustable buckle accompanied by two hook-and-loop straps that keep you secure on your next ride.
Though these road shoes may come across as a bit hefty with their synthetic leather material, they also include mesh vents which help keep the shoe breathable. Keep in mind that the shoe's material is stretch-resistant, weighing into the misconception that they may be tight-fitting. To balance out the stretch-resistant leather, the shoe provides the rider with a wider base.
This cycling shoe fits all levels of riders and is also very affordable, whether you're a beginning rider or not. This shoe fits as expected and comes in black.
Nike Metcon 2 Cross Training Shoes
Dimensions: 14 x 8 x 6 inches
Weight: 6 lbs
Specific features: Thick rubber sole, Flywire mid-foot technology, Dual-density foam midsole
Best Use: Lifting, Gym workouts, Cross-training, Sprinting
Description: These shoes are the definition of a cross-training shoe. They provide the athlete with a thick, supportive sole for a nice, stable foundation. Recommended for lifting, climbing and quick sprints, this shoe allows you to do it all. I would advise those with wider feet to choose this shoe, as Nike shoes tend to accommodate those with wider feet.
Nike Metcon 2 Cross Training Shoes are designed to be durable, yet breathable. They are made of synthetic material and mesh, combining to fit your foot well and keep you grounded. These cross-training shoes will also add to your style as they come in 28 different color combinations. Start your next lift with stability!
Nike Men's Lunar Caldra Training Shoe
Weight: N/A
Specific features: Made of wool, Lightweight, Durable Midsole
Best Use: Running, Sprinting, Drills, Cross-training workouts
Description: This product is a lightweight, tightly-woven sneaker that keeps you light on your feet when you're running through your workout. It's best used during sprint workouts or speed drills, as the shoe features flywire cables on the forefoot to keep your foot in place during speed intervals and cuts.
This Lunar Caldra shoe also sports a flat heel for traction. Typically a lightweight running sneaker comes off as flimsy and cheap-looking, yet this sneaker is available in 11 colors and provides thick cushioning to support your feet. This shoe is not recommended for long distance running; it is meant to be used for track, gym or speed workouts.
Topo Athletic Sante Training Shoe
Weight: 8.4 ounces
Specific features: Rubber sole, Mesh, Sole Stability
Best Use: Crossfit, Gym workouts, Strength training
Description: This durable training shoe allows the athlete to be in the gym, worry-free. Though you still may need a spotter for those heavy lifts, these shoes sure are stable. They are packing a co-molded 4mm rubber outsole and a 7mm midsole.
These shoes have a whopping stack height of 14 mm with a zero drop from heel to toe. Though the Topo Athletic Sante Training Shoes are recommended for fitness and strength training, the flexible outsole allows the athlete to be lenient with their speed intervals and move through their calisthenics with easy flow.
Winning "gold" at the performance footwear sporting goods show, these shoes are bound to guide you through your next workout with grace. The downside to this shoe is its style. It's not the trendiest looking shoe, but gets the job done in the gym.
Inov-8 F-Lite 250
Dimensions: 14 x 7 x 5 inches
Weight: Light
Specific features: Lightweight, Synthetic, Rubber Sole, True to size
Best Use: Cross-training, Lifting, Gym workouts, Running
Description: It's a low-to-the-ground shoe with a dense heel, enabling the options for explosive power, speed and agility. These shoes have an appealing 360-degree "rope-tec" system which allows an athlete to have the ultimate grip during workouts, especially on a rope climb.
With a "power heel", this shoe has an 8mm difference from the heel to toe, providing an advantage during weight-lifting workouts. Though this shoe is super stable, it's as much flexible; it promotes agility with its meta-flex technology for lateral movements.
Overall, the versatility of Inov-8 F-Lite 250 shoe is what you will fall in love with. It's a specifically designed athletic shoe to meet all of your cross-training needs, and it has the technology to prove it.
Reebok Men's Crossfit Nano 4.0 Training Shoe
Dimensions: 12.9 x 9.3 x 5 inches
Weight: Light
Specific features: Synthetic, Rubber Sole, 4mm Heel-to-toe drop
Best Use: Gym workouts, Crossfit, Lifting
Description: The two features that standout on this training shoe are the traction and shock absorption abilities. With many size and color options and supported by a popular brand, the Reebok Mens Crossfit Nano 4speaks to the basic athlete or the average crossfitter.
Though it sports a common 4mm heel-to-toe drop and a solid rubber sole, its price isn't that appealing for the features it provides. Compared to other training shoes that we have seen, this shoe is lower on the list. If you're looking for a simple, yet expensive, crossfit training shoe, you've come to the right place.
However, if you're a solid gym guru or a crossfit veteran, you might want to look at some of the other options as far as the versatility and unique features go. However, these shoes are offered in the variety of colors, so if you're deciding to take the style route, you just may be in luck.
TYPES OF TRAINING SHOES
You might be thinking: aren't all athletic or training shoes the same? Well, not exactly. Though they all virtually serve a similar purpose, a significant purpose for some of them might be the difference.
Though we may categorize them by our own standards, calling them tennis shoes (that we never play tennis in), running shoes or sneakers, there are a few types of training shoes that can be used for a specific activity or two.
Cycling shoes or road shoes
These shoes typically have a thin frame and are adjusted by velcro rather than shoelaces. Most road shoes have a 3-hole frame on the bottom to clip into a road bike or indoor cycling bike. These shoes are not recommended for everyday gym use or cross-training. Unless of course, the cross-training is on a bike.
Cross trainer shoe
You can make any sneaker into a "cross trainer" shoe by wearing across a variety of activities or platforms. If you run, bike, lift and be casual in your sneakers, then they are essentially a "cross trainer" shoe.
However, an actual shoe that has this name is built for gym workouts, lifting and everyday use, as opposed to running. The sole on these shoes is typically closer to the ground, and the shoe itself doesn't provide as much support as a running shoe would.
Crossfit shoe
These shoes are designed for, just as you could have guessed, the sport of crossfit, or even crossfit-type workouts. With a wide heel to toe drop for stability, these shoes also provide good traction for workouts in the gym. Shock absorption is also a common feature of these shoes and they are built for a variety of activities versus just one or two.
HOW TO FIND THE BEST
Okay, so you're looking for the best gym shoes and you aren't sure where to start. You know that you aren't looking for a specific cross trainer, but you need something versatile. You're hoping to stay in a reasonable price range and you need something comfortable and durable that will give you the best bang for your buck.
Some of the best workout shoes for men can actually be found when you hone in on the specifics of the shoe. Below are some popular preferences that most people look for.
STYLE
The style of shoe you are looking for is extremely important. Some cross-training shoes vary in style, whereas others have a general "look" about them that you can't really shop around. For example, cycling shoes typically all have the same style.
You will not find a "casual looking" shoe with a thick sole that is designed for cycling. These shoes usually have a thinner frame, velcro or hook-and-loop straps and a lack of shoelaces. Cross-training shoes that are designed for the gym or lifting workouts, appear as your normal sneaker, sometimes presented with a thicker sole.
The key here is to find the style that suits your athletic needs and fashion wants. There are plenty of styles to choose from.
DURABILITY
Durability is something that you should always look for in clothing or shoes. It's hard to invest your money into something that is poorly made or will barely withstand the activity you set out to do. Having a shoe that is made well, especially in the gym scene, is definitely important.
These cross-training shoes are built to provide a stable ground for your lower body when completing rigorous activities such as lifting, running, cycling or the like. A couple things to look for, durability-wise, include a wide toe box (for your lifting stance) and thicker shoe heel or sole. These specifications provide stability that will ensure a safe, easy workout.
VERSATILITY
The actual purpose of a cross-training shoe is to be able used across multiple athletic platforms, providing utmost versatility. Cycling or road shoes aren't quite as versatile as the others, yet are still versatile in the sense that they can be used across different cycling or road bikes, whether they may be stationary or not.
If you come across a gym shoe that can be used for gym workouts, lifting, sprinting, among other activities, this is the epitome of a cross-training shoe, and you may just have found your match. Of course, finding the right price and style that suits your needs is important too, however, if the shoe is providing the versatility that you need, you may just have found the golden ticket.
SOLE
This category could almost fall into the realm of the durability of the shoe, yet the sole of a cross-training shoe is one of the most important features. Having a thicker sole on a cross-training shoe will provide the athlete with the stability that is needed to complete their workouts.
Sole thickness often ranges from 2mm to 4mm, with some heel to toe drops in size. The soles on these gym shoes are typically made of a thick rubber, with a foam or hefty cushioning on the inside of the shoe to provide comfort to the athlete.
FIT
Lastly but not least important is fit. If the shoes don't fit on the first try, there's no way you're going to break them in to fit later. When you're trying on shoes, walk around in them for a few minutes, wearing the socks that you work out in to see if there is any abrasions or tightness on any part of your foot. If you don't like how they feel, put them back and move on to the next pair.
Now that we've discussed the important features that you should keep an eye out for, here are some of the best trainers in the market that customers are raving about.
WRAPPING IT UP
Ok, so we've covered all the important features from head-to-toe (literally), when in search of a training shoe that will fit your needs. We've determined that there are a variety of cross-training shoes and that you may want to pick one, rather than the other, depending on your workout.
We have the road bike/cycling shoes, a standard cross-training shoe (for hiking, biking, gym workouts and the like), and we have our obvious crossfit sneakers. After narrowing down your options in the training department, you want to make sure that you're picking a durable, versatile gym shoe with a reliable rubber sole that fits your budget.
If you've got a specific style in mind, you might not fancy the standard look of a crossfit shoe and if not, keep looking for a crossfit stable shoe with a cross-training mindset and style.
Keep in mind that the crossfit-type of shoe is going to be more dense than your average cross-training shoe, primarily because a crossfit shoe is used for lifting and intense body workouts, whereas a cross-training shoe is typically designed for speed interval workouts and the like.
There are many options out there so don't get discouraged if you can't find the right shoe from the get-go. Make sure to check out the reviews on our recommended items and feel free to leave a comment if you've already tried one!
Enjoy your next workout, you go-getter!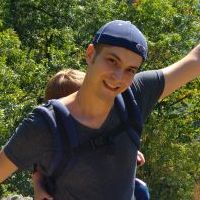 Daniel is a gear freak when it comes to hiking, climbing and camping. He went to REI Outdoor School to meet new people and learn best practices. Don't even try to argue with him about the latest backpack or ice axe, he tried most of them. Daniel's dream is to climb Mount Everest.