Is your oldbushcraft knife dull and in need of replacement? Or maybe you are looking for your first bushcraft knife. Whatever your situation, we're here to help you choose the best bushcraft knife on the market today.
A bushcraft knife is the smallest and most portable cutting tool – but extremely important for outdoorsy people. It is very convenient to bring into the wilderness.
It can be used for protection, for the building of a temporary shelter and for the preparation of food as well as for making makeshift tools.
A good bushcraft knife has multiple functions, is durable and reliable, light and easy to carry around. And these are the exact features of today's recommended products, so let's check them out below (with full reviews afterwards).
Note: We get commissions for purchases made through links in this article
Model
Main features
Morakniv Bushcraft Knife

Best Budget bushcraft knife
Weight: 162 grams (5.7 oz)
Blade Length: 4.3″
Material: Carbon steel
Check price on Amazon
Helle Temagami Knife

Editor's choice
Weight: 155 g (5.45 oz)
Blade Length: 4.3″
Material: Stainless steel
Check price on Amazon
ESEE Fixed Blade Knife

Best small bushcraft knife
Weight: 320 g (11.3 oz)
Blade Length: 3.88″
Material: Carbon steel
Check price on Amazon
KA-BAR Becker BK2

Value for money bushcraft knife
Weight: 453 g (16 oz)
Blade Length: 5.25″
Material: Carbon steel
Check price on Amazon
Condor Tool & Knife
Bushlore

Weight: 200 g (7 oz)
Blade Length: 4.25″
Material: Carbon steel
Check price on Amazon
Best Bushcraft Knives under $200 – Reviews
Choosing a bushcraft knife that is cheap but still durable and perfectly fine is not difficult, as you can see in today's article. You should still double check the prices as you can never know when they go inexplicably high… but all products were under $200 at the moment of writing.
Now let's get a bit in depth and check out all our recommended knives and see why they made it onto our list!
Morakniv Bushcraft Carbon Knife
Best Budget Bushcraft Knife
Weight: 5.7 oz (162 grams)
Dimensions: 4.3″ blade, 9.1″ total
The Morakniv Bushcraft Carbon Knife is one of the most robust knives and is the cheapest on our list, making it a perfect choice for those on a really low budget.
Even though it's not a perfect bushcraft knife, it is really solid and good. It has a thick carbon blade that has been treated with tungsten DLC coating to protect against rust and corrosion.
Made from high carbon steel, the knife sharpens easily and is very tough. Also, the spine of the blade is designed specifically to work with a fire starter, which is great bonus.
The handle is ergonomic and comfortable, with a pleasant (although cheap feeling) high friction rubber grip. But it gets the job done and works well even if you have your hands wet and that is all that matters!
The plastic sheath isn't as impressive, but it comes with a belt loop and holds the knife well – and you can't really expect real leather for this price!
Made in Sweden, this knife is durable and resilient, being very light and easy to maneuver. I personally prefer slightly heavier knives, but I have no real complaints about this one, in all honesty.
In the end, it is a budget knife and you get a really good product for the money.
PROS
Easy to clean and store
Made with thick carbon
Razor sharp, easy to carve with
CONS
Sheath is plastic
Can corrode over time if not cleaned properly
Helle Temagami Knife
Editor's choice
Weight: 5.45 oz
Dimensions: 4.3″ blade, 9″ total
The Helle Temagami Knife has been crafted and hand honed for incredible sharpness and durability. The knife has a sleek design, with a three layered stainless steel blade that is strong, durable and tough.
For all these reasons (and the ones below), this amazing bushcraft knife grabs our Editor's Choice award, being considered the best option on our list.
Described as the beauty and brawn of knives, the Helle Temagami is versatile and can cover almost any task in the wilderness. The handle is curly birch with a finger guard that helps prevent accidents.
The handle is ergonomically designed, with an easy grip. Comfortable and just heavy enough to handle, it's still a bit on the light side, but not too light as the previous model.
It comes with a pouch sheath to help keep the knife in place when it is not in use. The sheath is made of leather and extremely nice to the touch.
Great for all kinds of activities, you will love this knife. You can carve, baton, and process game among other things successfully. While it is a little on the pricey side, this knife is durable, strong, and easy to grip.
Overall, this is a nice bushcraft knife that can be used in various situations safely. We would definitely recommend it as our top choice. You won't be disappointed!
PROS
Finger guard
Durable and strong
Comes with sheath made of leather
CONS
Quite expensive
Can chip and rust if not cared for properly
ESEE Fixed Blade Knife
Weight: 11.3 oz
Dimensions: 3.88″ blade, 8.31″ total
The ESEE Fixed Blade Knife is a military grade bushcraft knife made of durable carbon steel. It has a solid fiberglass laminate handle for a perfect grip.
All this comes with a sharpened glass breaker pommel and a high-quality sheath. A great overall bushcraft knife with a smaller blade.
However, it's not lighter – on the contrary! It's quite heavy and pleasant to hold, at 11.3 oz. I personally prefer the heavier knives to lighter ones as they feel better when you hold them.
Made with great quality materials in the USA, this blade contains ridges to get a good cut into whatever you are using it for. Highly reliable, this knife is great for everyday use and will hold up over time. We were surprised at how well made both the knife and sheath are.
Furthermore, we can freely say that the knife will look like new months after purchasing it. And due to its smaller size, it can always double up great like an EDC (everyday carry) knife.
PROS
Nice sheath
Razor sharp
Holds up over time
CONS
A bit pricey
Only comes in black
Ka-Bar Becker BK2 Companion Knife
Weight: 16 oz
Dimensions: 5.25″ blade, 10.5″ total
The Ka-Bar Becker BK2 Companion Knife is a model best suited for the hard-core survivalist and offers great value for the money.
It is considered the heavy weight of the group at one full pound. Made from 1085 carbon steel, the knife is strong and durable.
This full tang, plain edge knife is mounted in a black Grivory handle that provides additional balance and perfect control. The handle is ergonomic, it has a finger guard and is extremely sharp.
This knife is versatile, it can split wood, skin game, prepare fire logs and easily chop fruits and vegetables.
With a 5.25 inch blade, this knife is long enough to cut deeply into game as you process it. It's tough and can handle most anything outdoors with ease. Perfect for your next outdoor adventure!
Made in New York, this bushcraft knife comes with a nylon sheath that has a hard shell for storing when not in use. We like this knife because its so heavy duty and can be used effortlessly.
PROS
Made in the USA, New York
Heavy duty, good for everyday use
CONS
Coating a bit too thick
Sheath is made of plastic
Condor Tool & Knife Bushlore Knife
Weight: 7 oz
Dimensions: 4.24″ blade, 9″ total
Lat but not least, we have the Condor Bushlore Tool Knife Bushlore Knife which is a full tang, 1075 carbon model.
Its blade is razor sharp and thick. Equipped with a Micarta handle the knife can be gripped easily even when wet. It is a bit on the long side, so for those with smaller hands it might be a bit uncomfortable to hold.
The convex grind provides the knife with more edge strength, sharpness retention and cutting efficiency. It looks good, but doesn't have all the bells and whistles of our previous models. Still, it is a simple yet extremely useful knife.
You can expect a lot out of this knife as it is incredibly durable, razor sharp and is full tang model for extra force.
The sheath is made of leather, which is pretty surprising at its price point. So it has a lot to offer for the money you spend on it!
Made of the finest materials, this knife gets the job done in terms of outdoor activities. It's simple to use, simple to store in the sheath and remains sharp for a long time.
PROS
Leather sheath
Durable and reliable
Made of high quality materials
CONS
Handle a bit too long
Simplistic
And these would be our recommendations for today. If if you choose to go for a different model than the Editor's Choice, you will surely be extremely satisfied with your pick!
How to choose the perfect bushcraft knife
Below, you are going to learn about the parts of the knife, the materials used to make them and some important terms you should know about before you go shopping. This will help you learn how to choose the perfect knife for you.
Parts of the knife
Being able to identify the parts of a knife can aid you in your search for one. Bushcraft knives are composed of two main parts: the blade and the handle.
Blades are mostly made of steel. The cutting edge of the blade is known as the bevel. Opposite the bevel is the spine of the knife.
How far the knife is buried in the handle is referred to as the tang. The handle is the part of the knife you grip or hold in your hand. A full tang knife is usually considered better as it offers more power to the blade, being fully immersed into the handle itself.
The choil is the small flat piece of blade where it meets the handle. The butt end of the knife is referred to simply as the butt or the pommel.
Stainless Steel
As the name suggests, stainless steel is an alloy that is durable and resistant to rust. This resistance was achieved by the addition of chromium to the steel alloy.
Although the presence of chromium decreases the chances of corrosion of the knife blade, it also decreases the strength of the knife. Stainless steel blades are softer and quick to dull usually.
Click here to learn more on how to sharpen a pocket knife.
Stainless steel knives are ideal for use in areas with high humidity or areas near the beach. Their resistance to rust makes them last longer in these regions.
Proper care and maintenance should still be observed because prolong exposure to water could still corrode the blade.
Carbon Steel
This is the most commonly used alloy in making knives. Compared to stainless steel, carbon steel is easier to process and is more readily available.
Carbon steel knives are strong and they do not dull quickly, and they can also be sharpened to your liking.
They double as a flint in case one is not around. One drawback is that this material is very prone to rusting. Proper maintenance such as the application of oil must be conducted daily when exposure to humidity is unavoidable.
Laminated Steel
Steel laminates are a combination of stainless steel and carbon steel wherein carbon steel is sandwiched between two layers of stainless steel.
This steel is more expensive compared to either the carbon or stainless steel.
However, laminated steel employs the strength and resiliency of carbon steel and the rust resistant qualities of stainless steel for a high-performing blade.
The Rockwell Scale
The strength of knife blades can be measured by using the Rockwell hardness scale. The Rockwell scale designates the letter C as its unit for testing the quality of the knives. The higher the RC scale, the harder is the knife.
Standard RC scale for knives is between 56 and 64. A knife with a low RC scale is flexible, but dulls easily while a knife with higher RC scale will keep its edge or sharpness longer but it is more prone to breakage.
Handle Materials
Handles and their materials should also be looked at when purchasing a knife. The form or the design of a handle plays an important role since it should provide maximum comfort. A good handle should be able to retain a good grip in wet or dry conditions.
Bushcrafting knives should have no upper guard for greater freedom of movement when whittling or carving wood. The handle can be made of two types of materials: natural materials and synthetic materials.
Synthetic Materials – Rubber, nylon, Kraton, Micarta and plastic. The durability of synthetic materials can be attributed to their inability to absorb water or moisture.
Synthetic handles do not soften, rot or change shape; however, some of them (nylon and plastic) cannot tolerate heat and would melt when exposed to very high temperatures.
Micarta handles are the most durable, they do not absorb moisture and they are heat resistant. Another type of synthetic material is a paracord wrapped around the handle.
These are beautiful and they come in different colors and designs, but they are difficult to clean due to their fibrous nature.
Natural Materials – Wood handles are quite famous and are even manufactured in big bulks. Wood handles are quite comfortable and durable.
Space for the tang can be carved in the wood and then the pieces are glued together. Other materials such as leather and ivory are stacked together to form a handle.
Natural materials require oiling and polishing to prevent warping and to protect against moisture.
The sheath protects the knife and the bearer. Sheaths are also made from a variety of materials.
Like the handle and blades, the sheath that comes with your knife should be suited to the weather and climatic conditions of your location.
Staying in a humid area, one must purchase synthetic materials that cannot be permeated by moisture.
Important terms you should know
The design of a knife's bevel is called the knife grind. The shape and form of the blade affect its cutting ability.
The grind of a knife determines its best use. It can tell so much about a knife. Four types of grinds are used in commonly manufactured knives: convex grind, sabre grinds, scandi grind and hollow grind. Let's learn more about each of these important terms below.
The Convex Grind – This grind has a rounded blade that ends in a very sharp point. This grind has a strong edge because the knife has more metal on its edge.
It is more commonly used in axes and tomahawks, than in knives. The convex grind is challenging to sharpen. Sandpaper and mouse pads are used to maintain the curved shape.
The Sabre Grind – This grind has a primary bevel and a secondary bevel that is actually the blade of the knife. The most commonly manufactured knives have this bevel. Sharpening this knife is relatively easy.
It is done by holding the knife at an angle similar to the angle of the blade edge as it is pushed against the whetstone. The only challenge when sharpening this knife is finding the right angle to maximize the capacity of the blade.
The Scandi Grind – This one is the easiest to sharpen. It is so called because of its popularity in Scandinavian communities. It is also referred to as the wedge grind because of its unique shape.
The knife consists of only one bevel. Sharpening this knife is relatively easy, you just lay it flat against a whetstone.
The Hollow Grind – The least commonly-used grind. The upper portion of the blade is concave, resulting in less metal on the blade.
Knives with this grind are very light and thin thus they are also weaker. Sharpening of this knife is similar to sabre.
Blades can be fixed or folded. Fixed blades are best used as bushcraft knives. Unlike folding knives, the fixed blade knives are sturdier and less prone to breakage. Fixed blades can also be used even after the handle has been damaged.
There are two types of knife edges, the straight edge and the serrated edge. Straight edged knives are highly recommended for bushcrafting because they are more accurate when performing tasks and they are easier to sharpen.
There are also bushcraft knives that have both the straight edge and the serrated edge.
The tang is the steel portion that is buried inside the handle. The handle is screwed or glued to the tang. The length and the type of the tang determine the durability and strength of the knife.
Like grinds, there are also many different types of tangs but 5 of them are commonly used for bushcraft knives: Full Tang, Skeletonised Tang, Partial Tang, Narrow Tang and Stick Tang.
Full tang – This is the most durable type. The width of a full tang knife is similar to that of the blade all throughout the length of the knife. The full tang knife is also heavy as compared knives of the same length but with different tangs.
Skeletonised tang – This type is a little bit like the full tang, but some portions found beneath the handle have been cut to produce a much lighter knife.
Partial tang – This tang is used in commonly-produced bushcraft knives. They can be depended upon for most bushcraft works.
Narrowing tang – This tang is named so because it slowly narrows or decreases in size as it approaches the butt of the knife.
Stick tang – This tang is a thinner piece of steel, it is uniform in size and reaches the butt of the handle.
Wrap Up
We have reached the end of our article. By now, you should know that a great bushcraft knife should be multifunctional and portable at the same time.
In addition to that, it must also be suitable to the weather and climatic conditions of your hiking or camping area. You have great choices above, with our top pick being the Helle Knife.
Determine the specifications that you want in your knife: would you prefer a straight edged knife or a serrated knife? Would a stainless steel knife or a carbon steel knife be more economical? Do you need a portable folding blade or a durable fixed blade?
Once you have identified the characteristics that you desire for your knife, compare prices online. With proper maintenance and correct usage, a simple, cheap knife would last just as long as an expensive one.
Have more than one option, and compare your selected pieces, then decide on a knife that best fits the qualities of the perfect bushcraft knife.
If you have any comments or feel we have left anything out, please let us know in the section below, and feel free to share this article on social media so that your friends and family can read it and learn something new as well.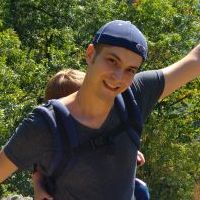 Daniel is a gear freak when it comes to hiking, climbing and camping. He went to REI Outdoor School to meet new people and learn best practices. Don't even try to argue with him about the latest backpack or ice axe, he tried most of them. Daniel's dream is to climb Mount Everest.