Have you ever thought about paracord bracelets and how they work? Well, if you haven't, then you definitely should, because these bracelets can really come in handy when it comes time to head out into the wilderness.
If you ever think you could be in a survival situation you'll want to know how to make paracord bracelet for yourself. And we're here to share you a step by step guide which is very easy to follow!
It's true. Lately, paracord bracelets have become more of a fashion accessory. However, regardless of the situation, you should want to know just how to make them, even if you're not anticipating a survival situation.
They might just be a fun craft to work on with your friends and have on hand just because.
See also: Paracord Survival Belt: Learn How to Make Your Own With Our Easy Guide
Step-by-Step guide to make a paracord bracelet
The first thing you need to understand when it comes to making your paracord bracelet is just how large it's going to be.
This way you can get all the materials you're going to need in order. You don't want to get a piece of cord that's not long enough after you invested all that work, believe me!
So make sure you get all the pieces at the right size and get started from there.
The entire process will actually be a lot easier than you think, though it's going to depend on the specific designs and size you want.
Materials Needed
– Paracord: For a small bracelet you actually don't need a lot of paracord, but you have to remember that the purpose is to have a type of rope if you find yourself in a dangerous or survival situation.
For this bracelet we'll recommend 1/8" diameter cord (at least), that's about 10 feet long. You can use any color or style you want but stick with just one piece at this point.
– Scissors: You're going to need to cut apart your paracord so make sure that you have good quality scissors. You don't want them to shear apart your paracord or break down the fibers. You just want it to cut straight through so you're able to keep going.
– Lighter: You'll need a lighter in order to burn the ends of your cut paracord. If you don't, the fibers will start to unravel and your bracelet will come apart completely.
What's possibly worse is that it could come apart when you're using it for something, resulting in danger for yourself or your entire family.
– Tape Measure/Ruler: The best thing you can do is have both because they're going to help you in different ways.
Just make sure you're measuring everything properly so your paracord is going to be the right size. Though we recommend 10 feet you will want 1 foot for every inch around your wrist.
– Buckle: This isn't required but many people prefer to have a buckle for their bracelet because then it's easier to put on and take off and you can make it fit better to your wrist.
We'll discuss how to make your bracelet with and without a buckle so grab a side release buckle if you want one or be ready to seal it off.
Step by Step instructions
Depending on how you start – with a buckle or not – you will do things a bit differently. We've got you covered for either method, so if you don't have a buckle, simply skip this first step below.
Starting Off With a Buckle
If you're going to be using a buckle, you need it right when you start. That's because you're going to build the entire bracelet off that buckle.
It's very easy to get started because all you need to do is fold your paracord in half and stick the loop through the plastic loop on one end of the buckle.
Now take the free ends and put them through the loop of paracord that you've made and pull tight.
Now you're ready to attach the second half so slide the second half of the buckle onto the cord sticking the free ends through the slot.
You want to make sure you leave 11 inches (or the size of your wrist plus one inch) from end to end. Measure from the edge of the male buckle (the one with the prongs) to the base of the female buckle.
You don't want to count both ends because they're going to overlap when you put the bracelet together and you don't want it to be too small.
Your second half of the buckle should sit right at the end of the size you need for your bracelet. Lay it on its 'back' with the free ends of the paracord coming down the front. You're now ready to start making your pattern.
Starting Off Without a Buckle
If you're not going to be using a buckle you may want to start off a little differently. Instead of taking your paracord and folding it in half you're going to want two strains.
Take one end from each piece and put them next to each other so they are 'facing' each other.
Now melt the ends to fuse them together. This is what you're going to use as a foundation instead of your buckle.
Once you've done this you want to fold it so you have each piece side by side with the melted piece at the top. Wrap it around your wrist and add an inch or two. This spot is going to be like your second buckle. It's where you're going to start the knotting.
The knotting without a buckle is a little more difficult because you don't have anything to stop your knot from sliding where you don't want it to go until you get further along.
Just make sure that you're working from the opposite end as your melted piece and don't increase the side of your bracelet by letting the knot move.
You'll need to carefully tighten each knot but you're going to follow the same process of knotting as you would in your bracelet with a buckle.
Alternate Paracord Bracelet Without a Buckle
This bracelet uses two pieces of paracord with one approximately 2 ½ feet long and one 10 feet long.
You can choose to use the same colors or you can choose different colors to make it more interesting.
The short piece you want to fold in half and tie a knot at the end. Just wrap it around and pull the loose ends through the loop.
Now take the other piece and lay it out flat on the ground or table that you're going to use to build your bracelet. Set the knotted piece on top of it so the loop is overlapping the line of the other cord. Your knotted end should be straight down.
Now you're going to use the non-knotted piece just like the strings on your first bracelet, form your knots around the other piece just so you'll have a base around your wrist rather than the standard wrap.
Building the Chain – the body of your bracelet
The chain is actually going to be quite an easy process once you get the hang of it, because you're going to do the same thing over and over all the way from one end to the other.
As you're looking down at your bracelet take the left free piece in your left hand and slide it under the hooked pieces. You should have a 4 formation.
Now lay it over the top of the right free piece.
Next, take the right free piece, under the left piece, over the top of the hooked pieces and through behind the left piece on the other side of the hooked ones. You should have something that looks like a knot. Now pull it tighter until it fits right up under the buckle.
Now reverse the steps. Take the right free piece and slide it under the hooked pieces to make a backwards 4 and lay it over the top of the left hand piece.
Take the left piece over the top of the hooked pieces and behind the right hand piece and pull them both tight again.
You'll now have a second knot that looks exactly opposite your first one. They'll fit together under the buckle and form a cohesive piece.
As you continue down your bracelet you'll switch back and forth from left to right and back again until you have the entire bracelet filled.
Sealing it Off
When you get all the way to the other end of the bracelet you'll need to seal it off. You should have just a little paracord left over so make sure you finish your last knot and then pull the cord tight.
Use your scissors to trim off the excess. You want to cut very close to the bottom of your knot so you don't have excess pieces hanging off the end. Trim it right to the knot and then quickly take out your lighter and melt the end of the cord.
You want to seal it properly so the cord won't unravel and so your bracelet won't come apart. As soon as the melted material is cool enough to touch push it to the knot so it hardens directly onto the rest of the bracelet. That way you won't have excess ends.
Alternate Bracelet Options
There are a variety of different options for making your own bracelet so make sure you're checking out several to find one that you like best.
Some will give you more paracord or a little less (though not much) but mostly they're just going to be different designs that are entirely up to your own interests.
You can even experiment with your own designs if you prefer to create a paracord bracelet that's entirely new and doesn't look like anything you've seen before. It could be really interesting, as long as you can pull it apart easily enough to use the cord.
King Cobra Knot
If you're looking to use even more paracord and make a bracelet that gives you when you're done you might want to turn your standard paracord bracelet into a king cobra. This is actually quite simple.
Instead of starting with 10 feet of cord you want to start with around 25 and when you make your way all the way down to the end from tying your knots you turn it around and go right back the other way.
That way you have a double layer of the same knots and your bracelet is going to be larger. It's also going to contain more of your cord just in case you need it for anything later on. That could turn out to be a great thing and it's just a little extra work.
Rattler Knot
This knot is actually really easy to make and you can use two different colors if you want to create a unique look. You'll tie off your cords on the buckle like you would normally but then you'll take each strand on its own side.
Take the left piece and wrap it behind the center pieces and then over, pulling it tightly through the loop you've just made.
Now repeat with the right side strand. Next, take the left strand again and wrap it over the center pieces and behind then over itself and pull tight.
Repeat on the right side again. Keep alternating sides and positions all the way to the end. This one looks pretty interesting, but it is smaller with closer to 6 feet of paracord.
Conclusion
The key when making your own paracord bracelet is making sure that you are evaluating your bracelet. Think about your own skills when it comes to making it.
You may need to spend a little bit of time and practice on your bracelet, whether you have made them before or not. You'll also want to think about the different knots and which one is going to work best for you.
You need to be able to take it apart relatively easily, but you don't want it to fall apart either, so consider that as you're making it and evaluating your own quality. You could even try out different ones to see which you like the best.
Another important point to remember is just how much paracord you're actually going to have. You don't want a bracelet that's going to be too short or too small. What you really want is something with a decent amount of paracord in it that's going to allow you to do anything you need when it comes time to tear it apart.
Six feet may seem like more than enough cord for anything but you'll be surprised how much cord you could really use when it comes down to it. The larger your bracelet the more cord you're going to have. For more insight on how to make the different paracord knots, read our article to find out about this topic.
Remember that you can always cut the piece you have to make it smaller, but you're not going to be able to grow a short piece to make it longer.
Learning how to make a paracord bracelet a couple different ways and making your own is definitely going to be important to deciding just how you'll be able to use it when you're done.
For more information on where to use paracords, see our engaging article to find out.
Now, hoping our instructions prove helpful to both beginners and skilled braiders, please let us know how difficult the first paracord bracelet was for you. Did you manage to make it from the first try?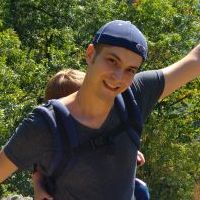 Daniel is a gear freak when it comes to hiking, climbing and camping. He went to REI Outdoor School to meet new people and learn best practices. Don't even try to argue with him about the latest backpack or ice axe, he tried most of them. Daniel's dream is to climb Mount Everest.