Shelter – check, warm clothing – check, water – check. Well, there really is only one critical consideration on any camper's mind – food and cooking. And the best campfire cooking equipment has come a long way from the days when we raided the kitchen for cooking utensils and table ware.
Today, I am here to share with you 12 must have campfire cooking equipment to ensure that you have a perfect experience when you go out again. You might have some already, but do go through them all to see what you might be missing.
Thankfully, nowadays, there is a wide range of campfire cooking aids, which are available in a variety of sizes, right down to just dinner for one. So let's just jump straight into checking out the products below!
Note: We get commissions for purchases made through links in this article
12 Best Campfire Cooking Equipment
The best campfire cooking tools should be able to remain useable and effective over flames, not to mention also cleanable. This is how the products recommended below will behave!
GSI Outdoors Halulite Tea Kettle
One of the GSI kettle's defining characteristics is its broad base, and whilst this may present some challenges atop a small cooker or fire grid, the benefit of quick heating does outweigh this.
Constructed from a proprietary aluminum alloy (called Halulite – hence its name), it heats water quickly and evenly. Plus, it has a solid capacity of 1,8 liters (60oz) so you can easily prepare larger quantities if needed.
This high quality kettle is light, weighing in at just under 9 ounces, so this one is ideal for the backpacker.
The hard anodized surface, it is claimed, withstands scratches and abrasions, while the large inside allows you to fit in a 110g fuel cartridge. Now this is some solid space optimization here!
Whilst the bright orange coated handle and lifter looks cool (and should insulate a little of the heat), it will burn off if flames start 'licking' up the sides of the kettle. So make sure to always keep those up when cooking!
All in all, this is a must have for all camping trips from now on.
Click here to check it out on Amazon.
Outdoors Glacier Stainless Steel Percolator
If tea is not necessarily your thing, then this stainless steel percolator is the perfect item you need when camping to prepare your delicious dose of caffeine.
It comes in various sizes, from 8 to 24 cups, so you can handle large gatherings of people (or just prepare a ton of coffee for yourself).
Any equipment made from stainless steel is likely to be long lasting and this is the case here. You're actually getting marine-grade stainless steel here, which is the best of the best, sir! (please excuse my sense of humor!)
Now, it's important to get the right size, since it is not possible to buy the 36 cup unit and expect to only brew a couple of cups – simply put, the unit needs to be at least half-filled in order to push the hot water up and through the ground coffee beans.
The base is recessed (to be expected with any utensil which is 'welded' as opposed to being produced in a mould), and so this unit would be ideal for a butane burner or campfire, and not so effective on a flat top cooking surface.
Expect a bit of trial and error when determining the right grind of coffee, to ensure that you don't end up with too much coffee sediment in the pot.
And always bear in mind that any stove top percolator will burn the coffee if left over heat for too long. Gauge your desired coffee strength by the color of the coffee when viewed through the glass knob. Because, yes, it does have a glass knob so you can look at your coffee boil. Perfect!
Click here to check it out on Amazon.
OuterEQ Camping Cookware Outdoor Mess Kit
You're getting a set of 8 pieces here, perfect for your backpacking adventures. And all for great value, too!
The manufacturers really have thought of it all, including a ladle and cleaning pad. This outdoor cooking set is designed for one or two people and it also includes a non-stick pot and frying pan, two plastic bowls and a large soup spoon.
Anodized aluminum construction gives you a robust cooking set, and foldable handles make packing a breeze.
Some would say that the handles are a little short and, as with most cooking equipment they are plastic coated. So extra care is required when cooking over a campfire!
The images may create the impression that the components lock together; they don't, and so a mesh bag is important.
The free swinging handles can also be a bit of a problem, manufacturers should consider a handle lock-in-place mechanism, but for its low price, there is only so much that can be provided and overall this is a good, cheap set to have around.
Click here to find out more on Amazon.
Texsport Black Ice 5 pc Camping Cook Set
If you are ready to spend a little bit more on a cooking set (but without busting the bank), then this 5 pieces outdoors cookware set might be a better choice for you.
This is an awesome backpacking cooking set, made from hard anodized, non-stick aluminum, which makes for easy cleaning and quick, even cooking.
This pack contains a 7″ fry pan, one 1 quart boiling pot and another larger one at 1.5 quart, the later two coming with two lids. It also includes a mesh carry bag. All in all, the whole things weights 26 oz, so not difficult to carry around.
As with most of the designs in this category, the folding handles can present a problem when folding back against the pot during cooking.
Click here to check it out on Amazon.
STANSPORT Deluxe 24-Piece Enamel Tableware Set
This tableware set has everything you need for four people when camping: plates, bowls, mugs and utensils. All of them looking great and of a high quality.
This tableware set provides a very effective steel coating for tableware, and cookware for that matter, but it does have one drawback: enamel is very prone to chipping, particularly along the edges, and this exposes the underlying steel, which quickly oxidizes and results in rust forming over the exposed areas.
Stansport has definitely thought this problem through and has manufactured this tableware set with a stainless steel edge.
The cutlery is little on the 'cheap' side, and is not likely to endure too much wear and tear, but they won't be ruined after your first (or first few) camping trips, so they're still good.
Add a bit of nice color and style to your next outdoors adventure with this must have set. (It's also available in green if you're not fond of the blue color I picked).
Click here to check its price on Amazon.
Lodge Combo Cast Iron Cooker
Now, I know that cast iron bit of equipment are not really the kinds you toss into your backpack unless you really want a good work-out, but this one is really worth the trouble. Yes, it is heavy at 12 lbs (5.6 kg) but it's a really god product.
The thing is that you are either a fan of cast-iron cooking or you are not, and if you are not, it is likely that you haven't tried it yet (and I suggest that you do).
But if you are already a fan, you should know that this cast-iron combo is a fantastic option since the shallow skillet also serves as a top for the deep skillet, and yes this is also handy for baking!
You can use it on all cooking surfaces, grills and campfires, it is made in the USA and it's absolutely brilliant. Heavy, yes – we've already discussed that – but brilliant. So if you're not going to carry this around over large distances, do give it a try!
Click here to check its price on Amazon.
Coleman 12 Cup Stainless Steel Percolator
We're back to percolators with another big brand name. You'll absolutely love this one if you prefer to choose it over the previous recommendation. It's basically a matter of which one looks best for you, so it's good that you have options!
It's completely understandable that when one sees the Coleman brand, one expects a fair amount of product quality. And this is exactly what you get from this percolator that kept improving in quality and design over the years.
Easy to disassemble does mean easy cleaning, but it also means that a bit of extra care is needed to keep all the components together. Not a big problem though!
Click here to check its price on Amazon.
Campfire Grill Cooking Stand
Now, this is really next level cooking and preparation! Yes, you can always try to improvise or cook directly over the fire, but if you're serious about your outdoors adventures, you really need a cooking stand.
I am a big fan of this product here, as it has enough bells and whistles to accommodate any type of cooking that you might be planning (or not) for the trip.
Made of high quality carbon steel, this cooking stand is relatively light for the beast that it is (just 22/3 lbs or around 10 kg). The grill grate that you see hanging there is 16*11″/41*28cm, and it's really easy to install and very stable. You will love it!
But you also have other options for your different types of pots and cookware in this must-have item. Sure, it's not suitable for backpacking, but otherwise it's perfect!
Click here to check it out on Amazon.
MSR Titan Ultra-Lightweight Camping Kettle
We have covered cast iron, aluminum, stainless steel, and now it's the chance of the premium material – titanium. MSR Titan Kettle will take care of weight and strength concerns, at a price of course. If you have the money though, it's all worth it!
Big enough to cook in, store a fuel burner in, and small enough to use as a cup. It is very light at 4.2 oz. (118 g) and holds up to 28 oz (850ml) of liquid. So not really for cooking a feast, but perfect for a single person. Extremely durable and multi-use. Just perfect.
And yes, you are going to find a far cheaper alternative, but the pouring spout and lid is a real plus. You are also going to need a can of non-stick spray for anything other than heating water.
Click here to check it out on Amazon.
Weber Grill Tongs
A pair of tongs with a long handle are necessary for most types of outdoors cooking. No need to burn all your hair off your hand using short forks, sticks or other improvisations. Play it safe with a high quality set of tongs.
And this one made by Weber is exactly what you need: it has a long handle (18 inches) and has a perfect design that allows for precise and easy handling of your food.
Made of durable stainless steel, with a non-slip, soft-touch handle, it will become your best friend really fast.
Click here to check it out on Amazon.
Reusable Roasting Sticks
Why you can definitely survive out there without this set of roasting sticks, the entire experience will be much more pleasant if you have them around. Especially if kids are around, they will be greatly appreciated.
This is a set of 10 high quality roasting sticks which are perfect for roasting marshmallows, sausages, Hot Dogs or whatever you want to grill over the fire. They can double up as barbecue forks, so they can really come in handy!
Not only that they look good thanks to their nicely colored anti-slip handle, but they also offer extra protection thanks to the removable rubber tops.
Made of stainless steel, they can extend up to 45.28 inches, but have the shortest length of just under 12 inches. Perfect for cooking from a distance but do make sure that you don't stick anything heavier than 1 pound when cooking as they might snap.
Click here to check them out on Amazon.
Comsmart BBQ Gloves
While gloves for cooking are not really the first thing you think about when it comes to campfire cooking – nor the one that many would recommend, it's enough te get burned once in order to appreciate their real value.
And this pair that I am recommending is perfect for that purpose: the gloves are comfortable to wear and don't restrict movement too much, while also being able to withstand temperatures of up to 1472 Degree F.
They are also made from a stretchy material to fit all adult hands and I have to say this: they look absolutely amazing! Definitely must have, no matter what others might say.
Click here to check them out on Amazon.
What Should You Looking for in Campfire Cooking Equipment?
The recommended products above definitely check all the boxes in terms of quality and actual usability when you go out camping, but let's quickly sum up the things you should consider when choosing your campfire items.
1. Anyone who has spent any time bent over the campfire knows that one of the most irritating and painful experiences, apart from getting smoke in your eyes, is burning your fingers or hands on handles and lids.
And since you won't always have a pair of gloves on, you need to make sure that the manufacturers offer protection against overheating.
2. We're also looking for equipment with a sturdy base. Not only does this generally help the item or utensil retains its form, especially when banged around, but it also creates a large heating surface, good for quick cooking.
Sure this adds to the weight, but it does eliminate 'hot spots' typically associated with thin bases.
3. Packing space is generally at a premium when camping, and even more so when hiking, so equipment and utensils with large openings are ideal for packing other stuff into.
And it is more often than not that we rely on the robust construction of cooking equipment in which to store breakables.
4. Lastly, the material from which the equipment and utensils are made from is becoming increasingly important, and whilst at a premium as far as cost is concerned, stainless steel is ideal, if we can't afford titanium.
But cast iron, yes as old as the hills, still gives the best cooking result – as long as you don't have to carry it around in your backpack or at least you have nothing against the extra weight (trust me – you will!)
How to properly maintain your cast-iron cookware for camping
Since we didn't talk about cast-iron cookware yet (but I did have some cast-iron recommendations below), here are a few steps on how to season and maintain it in order to fully enjoy this usually overlooked, underdog-type of cookware for camping:
Cast-iron cooking equipment needs to be seasoned, and it gets better the older it gets. In time you will get an effective non-stick surface.
Don't be afraid to use a bit of sand paper to polish off the rough edges at the bottom and sides of your pot or pan. As long as you properly clean it afterwards and before cooking, it'll all be good!
If the cooking surface of your utensil is already smooth, simply scrub out any wax which may have been added prior to shipping with a household detergent.
Next, wipe on some cooking oil and 'bake' the utensil in the oven for a couple of hours. We're looking to bake it until the pot or pan starts to smoke, then switch off the oven and leave the utensil to cool to room temperature before removing, and wiping away the excess oil. After this, you are ready to cook!
What Do We Need to Know About Campfire Cooking?
There really is only one piece of really helpful information (or just a great tip) when campfire cooking; and that is the type of heat source.
Orange flames do not necessarily provide the best heat, and generally do little more than leave black residue on your equipment.
It is ideal to cook over a blue flame (this is where the heat energy is at its peak) and will generally produce very little black residue (soot).
Apart from the black residue problem, orange flames also tend to burn plastic coated handles, or worse, your hands.
Now, if you need extra help, make sure to check out my previous article on how to start a campfire.
A Bit About Handles
There was one point that I mentioned earlier and that was the bit about 'handles' which are prone to getting really hot.
Now I get that there is a bit of a trade-off between designing handles which are made of ceramic and not wanting to add too much weight and cost to the cooking utensil.
It would appear that we are still far away from designing the perfect handle, which is not costly, nor adds too much weight. Until then, a bandanna makes for a good insulator, if you don't have gloves.
Having said this, campfire cooking equipment has come a long way indeed. Lightweight (for the most part), durable, occasionally non-stick, and most importantly produced by reputable manufacturers who are competing aggressively for your hard-earned cash.
The items I have reviewed cover the five essentials: heating water, brewing coffee, cooking, tableware and protection.
There is just one thing left to do, since you know you have to get out into the wilderness. And that is to plan your next adventure! Only this time, ensure that you have one or more these items in your kit.
And if you still don't know what to bring on for cooking, check out my article about the best camping food ideas. Don't do it on an empty stomach, though!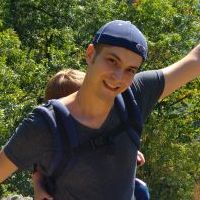 Daniel is a gear freak when it comes to hiking, climbing and camping. He went to REI Outdoor School to meet new people and learn best practices. Don't even try to argue with him about the latest backpack or ice axe, he tried most of them. Daniel's dream is to climb Mount Everest.