Enduro biking is taking the sports world by storm. Enduro is a form of mountain bike racing that involves climbing mountains and timing your descents. It is an adrenaline-pumped race that will keep the riders and those watching in suspense.
Enduro biking is a combination of bike racing and uphill and downhill antics that is physically demanding and also demanding on the bike you are riding. Getting a head start into this sport will require some basic understanding of competition and knowledge of the best enduro mountain bike that will carry you to the finish line.
Enduro mounting biking consists of a series of downhill racing trails that are timed and then those are linked together by untimed climbs up the side of another mountain. The race is full of rocks, mud, holes and more of the things that one might normally avoid on a bike.
Thousands of racers each year flock to the biggest, longest, and toughest races to show off their skills and their super tough enduro bikes and race for the top marks in the country.
A Closer Look: The Best Enduro Bikes
From all the information above, let's take a specific look at each bike and weight the pros and cons of the weight, frame material, seat angle, and wheel size to make an education decision on which enduro bike will carry us to the finish line.
Note: We get commissions for purchases made through links in this article
Cannondale Jekyll Carbon 2
Weight: 26.7 Pounds
Frame Material: Carbon
Seat Angle: 73 Degree Seat Angle
Wheel Size: 27.5 Inches
Suspension: Front: 160mm & Rear: 160mm (Long-Travel)
Best Use: Enduro Biking, Biking, Outdoors, Sports & Exercise
Description: The Canondale Jekyll Carbon is one of the best bikes out there. With its sleek carbon body and weighing in at about 26.7 pounds, this bike is light and fast. It is also a wide bike sitting on 15mm axles that make it a little hard to get around on skinny trails or on edges.
It has Enduro and tune updates to ensure control and stability. The rear shocks are dual travel and dual geometry for strong yet giving on the rugged downhill climb. With 27.5 inch wheels, the speed is maintained throughout the decent well while still natural to maneuver.
The 73 degree seat angle works well for downhill control and help you sync with the movement of the bike.
Yeti SB5.5 Carbon Complete Mountain Bike
Weight: 29.6 Pounds
Frame Material: Carbon
Seat Angle: 73.6 Degrees
Wheel Size: 29 Inches
Suspension: Front: 160mm & Rear: 140mm (Mid/Long-Travel)
Best Use: Enduro Biking, Biking, Outdoors, Sports & Exercise
Description: This Yeti SB5.5 carbon mountain bike is a beast on the hills. With it's larger wheels at 29 inches, it boasts more power and speed, but it will take some getting used to in order for those to feel natural.
Those big wheels paired with tough suspension will make powder out of the dirt and mud on the trail to the bottom. With a Yeti custom saddle and the seat angle at 73.6 degrees, seeing everything in front of you will be no problem.
This bike is know to power through and plow over anything in it's path and with the added stiffness on the lateral sides from the frame and suspension it makes it possible.
Ibis Mojo HD3 Carbon Mountain Bike
Weight: 26-27 Pounds
Frame Material: Carbon
Seat Angle: 73.1 Degrees
Wheel Size: 27.5 Inches
Suspension: Front: 160mm & Rear: 160mm (Long-Travel)
Best Use: Enduro Biking, Biking, Outdoors, Sports & Exercise
Description: The Ibis Mojo HD3 carbon mountain bike is a solidly built racing machine. It is now equipped with the most advanced version of the dw-link suspension that most bikes see. This is such a key element when going downhill at such speeds and maintaining control without damaging the bike.
It boasts a tough and sleek carbon frame design that holds tight to 27.5 inch wheels that allow for natural handling and control. Its relatively narrow bar and longer middle stem gives it exceptional abilities to bob and weave through trees and rocks.
They can hold 2.8 inch tire width which makes them one of the most versatile bikes out there along with the fact that it is nearly the lightest we will see.
Canyon Strive CF Mountain Bike
Weight: 28.4 Pounds
Frame Material: Aluminum
Seat Angle: 73.5 Degrees
Wheel Size: 27.5 Inches
Suspension: Front: 160mm & Rear: 150mm (Long-Travel)
Best Use: Enduro Biking, Biking, Outdoors, Sports & Exercise
Description: The Canyon Strive CF mountain bike is one of the only bikes made from aluminum and other alloy metals. It's not carbon, but it is still a very strong frame that supports two 27.5 inch wheels with ease but sits low enough to have max stability.
It is one of the heavier bikes that we have seen which makes the handling a little more tough, but not impossible when careening downhill. The seat angle is a little high, but still a comfortable 73.5 degrees that will enable you to control and master what lies in front of you.
It's got specialty trail brakes made for the terrain and sliding it will have to endure. It boasts Ergon slim handle bar grips for control and feed and an Ergon seat for comfortability.
Giant Reign Advanced Mountain Bike
Weight: 27.13 Pounds
Frame Material: Carbon
Seat Angle: 73 Degrees
Wheel Size: 27.5 Inches
Suspension: Front: 160mm & Rear: 160mm (Long-Travel)
Best Use: Enduro Biking, Biking, Outdoors, Sports & Exercise
Description: The Giant Reign Advanced mountain bike is a giant. Created for big climbs and brutal descents it what this bike has been specially designed for. It has a strong carbon frame on top of 27.5 inch wheels and 6.3 inches of smooth special Maestro suspension for the rough ride ahead.
This suspension offers lots of support on the bike but lacks the stiffness which makes the bike super dynamic. It's got an eleven speed drivetrain with SRAM hydraulic brakes which you will be thankful for when you pick up speed.
Everything about this bike is durable and dependable and it's on the lighter end of the bikes we've seen which makes for easy control and maneuvering.
Tracer 275 C Mountain Bike
Weight: 27.7 Pounds
Frame Material: Carbon
Seat Angle: 70.5 Degrees
Wheel Size: 27.5 Inches
Suspension: Front: 160mm & Rear: 160mm (Long-Travel)
Best Use: Enduro Biking, Biking, Outdoors, Sports & Exercise
Description: Tracer 275 C is a mountain bike to watch for. It's got strong carbon monocoque chassis and is super lightweight at only a little over 27 pounds.
It's easy to handle with a natural 27.5 inch wheel set and one of the lowest seat angles that make it one-of-a-kind to control and ride over the rugged mountainside.
It boasts a water bottle mount along the center structure and has internal cable routing to avoid twists or snapping cables during the rough descent. It's got a super stiff frame that helps to take the front tire aggressively through particularly rocky sections of the trails without worrying about too much bouncing or loss of control.
Pivot Mach 6 Carbon Mountain Bike
Weight: 26.4 Pounds
Frame Material: Carbon
Seat Angle: 71.5 Degrees
Wheel Size: 27.5 Inches
Suspension: Front: 160mm & Rear: 155mm (Long-Travel)
Best Use: Enduro Biking, Biking, Outdoors, Sports & Exercise
Description: The Pivot Mach 6 is making its way into the modern era of Enduro biking. One of the lightest bikes on the market at just over 26 pounds, this bike is tough and becomes one with the rider.
The strong, sleek carbon frame design makes this bike one tough and great-looking mountain bike. The seat angle is a low 71.5 degrees and nearly perfect for sight, control, and maneuverability over the rocks and rubble you will encounter.
All of this set up on two 27.5 inch wheels that will shred the dust and dirt along the way. It features SRAM hydraulic brakes and a Fox suspension package which are known for their good quality. Topping off with a double wishbone rear triangle of the frame allows for serious downhill travel.
Qualities of The Best Enduro Bikes
There are a lot of things to think about and consider when making a purchase this extensive.
Doing the research and knowing which qualities to consider for your own preferences and the price is just one part of the choice you have to make when you're ready to take your Enduro racing to the next level.
Weight
Flying downhill on a bike is one thing, but when you consider the weight of that bike the whole conversation changes. This isn't the same bike as a leisure rider or road races by any means though the weight is still such an important factor.
As the bike is careening down a hill and trudging back up that hill, the weight of the bike under the rider is important. It has to be heavy enough to pack power and stability while still being light enough to maneuver easily from the handlebars.
Enduro biking is a full physically strenuous sport with lots of balance, pushing, and pulling and you need a bike weight that is right for you.
Frame Material
The material that the bike frame is made from is also a key detail in choosing the best enduro bike. There are materials that are stronger and heavier or weaker and lighter. The best case scenario is that the compromise will provide a material that is both strong and lightweight and will shred the mountainside while never breaking, bending, or cracking.
In most cases, the material will be a strong carbon or a solid aluminum. With aluminum frames, it's actually more of a mixture of 95-98% aluminum and other metals mixed into the rest of the mixture and is commonly referred to as alloy. The biggest benefit to an aluminum frame is that it is easily adjusted and added to.
This highly-weldable material is also easier to customize. When you consider carbon frames, you are considering a highly durable option with technology that has been developed and changed to ensure it stands the test of time. Carbon is often a bit more expensive than aluminum but also allows for interesting shapes and molds unlike the versatility of aluminum.
Seat Angle
This is a specific quality for enduro bikes that a rider has to consider in the best bike. The angle of the seat and the attaching pieces will make more of an impact on your ride than you think. It needs to be steep enough but leveled enough to ensure you are in a comfortable position of control.
Ideally you need to be up and over the bottom bracket of the bike a little bit to ensure you have the best control and view of what is in front of you while still allowing you full control of the handlebars during the rough and speedy downhill trail while still maintaining a good position while pedaling uphill as well.
This angle will change for every person and even from size to size in the same bike style. This has also proven to make pedaling easier and more efficient during the ride.
Wheel Size
The wheel size goes in two different directions. One size is the diameter of the wheels. This will change based on the size of the bikes but is also a necessary consideration to ensure that the stability you want on a steep downhill trail will be there with you every inch of the way. Predominately, wheel sizes come in a range of 26-29 inches.
There are outliers but there are also specific benefits to each size between that range that makes them so keen for the riders.
A wheel that is about 26 inches can be altered to be light and still strong in comparison with other sizes. There are tons of tires that size so finding or changing the tire on your 26-inch rim will be a breeze.
One issue is that since they are smaller, they don't handle quite as well on rough terrain. A wheel around 27 inches benefits the riders acceleration. They are usually stronger and stiffer than other sizes while still allowing for loads of control. They are smoother than the 26-inch wheels and is often most natural compared to a larger wheel.
Finally, a wheel that is 29 inches is smoother yet, grippier, and much more stable than smaller wheels. These are usually best on rough terrain but can feel tight and unnatural if paired with a tight or short suspension system on the bike. These are slower starters but maintain speed very well on rough terrain.
Suspension
The suspension system on a bike is used to suspend the rider and bike to alleviate some of the terrains rugged bumps and bruises. It is basically supposed to make you feel less of the terrain below and allow you to flow over various terrains smoothly.
Using suspension is something that is found on almost all bicycles these days but there are stark differences in what size suspension is needed for the type of riding you are doing. There are three main types of suspension, short-travel, mid-travel, and long travel. Each distance change is a mechanism of differing lengths.
Short-travel is made up of between 80-120mm of suspension and are mostly used on cross country bikes. This is specified for super long distances with a mild surface, mainly not many bumps, rocks, or the like. This type of suspension doesn't do well going down, but is great on the uphill. The mid-travel family hosts suspension that is between 120-140mm in size.
This will give you the best of two worlds, both climbing and downhill riding abilities. It gives you a great balance of control and stability while still giving a moderately smooth ride over terrain that isn't highly rigorous.
The average trail-rider would be pleased with this size suspension system. Long-travel is the final suspension system coming it between 150-170mm in size and is specialized for Enduro and mountain racing.
This is the best of the best when it comes to the maneuvering necessary for the killer downhill race, but is a lot less efficient moving back up the hill. This is best known for a tough system that plows through all terrains and will get you to the bottom safely and quickly.
Let's Ride, It's All Downhill From Here
The race is on. Making a decision this big requires a lot of research and diligence. Asking yourself a few key questions about your needs will help narrow down the hundreds of options and choices you have to make when you're looking for the best Enduro bike.
Making sure that the bike you choose is lightweight, yet tough and durable is the first part of the decision. Knowing who you are as a rider is a close second. Give a try to tires from 26 inches all the way up to 29 inches to find which feels more natural for your height and weight.
That will enable you to know what kind of control and dynamics you will be working with on the bike you choose. Also making sure that the seat angle is one that keeps you comfortable and in control of the bike at all times is a big consideration.
Each bike has its own pros and cons, but each bike will yield great and victorious results with the right rider. Is that rider you?
If you learned something new in this article or found value, then share it! Share, post, and comment and let us know what you thought about the article.
Do you have an Enduro bike you are proud of or are you ready to make a change? How did you make the decision on the bike you have or is this your first Enduro mountain bike purchase? Let us know in the comments or share this article with your friends.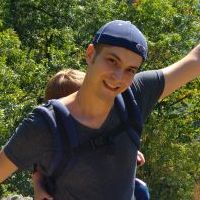 Daniel is a gear freak when it comes to hiking, climbing and camping. He went to REI Outdoor School to meet new people and learn best practices. Don't even try to argue with him about the latest backpack or ice axe, he tried most of them. Daniel's dream is to climb Mount Everest.