Hikers, backpackers, and campers never know what kind of weather might unexpectedly come their way. No one wants to sleep in a tent that fills up with water when it rains, nor withstand buffering from a wind.
Furthermore, no one wants to sleep in a tent that becomes unbearably hot or cold. Therefore, it is extremely important for campers to have a tent that will keep them comfortable when they have to bunker down for the night. This is why products like the Hilleberg Anjan 2 Person Tent are worth consideration.
Note: We get commissions for purchases made through links in this article
Product Specifications
Super light tent for hiking adventures in warmer and snow-free environments and well protected terrain
Great for 3 season backpacking or hunting trips
Able to withstand strong wind conditions – features Kerlon 1000 outer tent fabric and 9mm poles
Features 3 season construction – outer tent walls do not extend to the ground and the mesh areas have no backing fabric panels to keep a nice airflow in hot and cold environments
Everyone needs a reliable tent for sleeping in. Tents that are dry and comfortable are not just for experienced hikers sleeping in mountains or forests. Even individuals just planning on camping in their backyard want to sleep in something that won't send them running back inside.
Therefore, it is important to really understand how a tent works and how well it will protect those inside of it before deciding to purchase it.
Hilleberg Anjan 2 Person Tent: Product Specifications
Hilleberg designs a large variety of tents that have are well known for delivering on their promises. The Anjan Tent specifically, is a unique lightweight 3-season tent. While it meets the qualifications to be considered a lightweight tent, it has the reputation of having the durability of a 4-season tent.
The redesigned Anjan Tent offers protection against harsh weather without sacrificing breathability. The Anjan is a great option for serious backpackers during warmer weather, as well as enthusiastic campers who want to sleep in the backyard.
Packaging
The packaging for the Hilleberg Anjan Tent is compact and light. The dimensions for the packed tent are 6.1 x 7.8 x 20.2 inches and the weight is approximately 4 pounds. A packed tent includes the tent, tent bag, two 9mm tent poles, one spare pole section, a pole bag, 12 pegs, and a peg bag.
Customers can order a green or red tent. While instructions are most likely included in the package, set-up instructions can also be downloaded from the manufacturer's website. YouTube videos are also available for customers to watch and learn how to set up the tent once they receive it.
Design & Durability
This tent was recently redesigned. While the tent already had a reputation for being lightweight and sturdy, the creators decided they wanted to address some concerns and make it more user friendly.
During the redesign, the creators added single-opening pole sleeves, catenary patterning, and altered the outdoor tent entrance. These features will be examined in more detail in a just a little bit.
Made with Kerlon 1000 outer fabric, this tent was designed to be breathable, durable, and light. However, it is considered to be heavier than many other tents in the lightweight category.
Different than many other Hilleberg tents, this Hilleberg tent is a 3-season tent, perfect for camping in warmer climates. While it may not be designed for snow and winter climates, it can still hold its own against high winds, rain, and sometimes even hail.
Overall, campers and hikers should be able to get many years of use out from this tent. When cared for and used properly, it should last a long while. Anjan even includes an extra spare pole so individuals can conduct repairs when they are needed.
Multiple-Person Tent
Both two-person and three-person variations of this tent are available. Keep in mind that multiple person tents are categorized by their ability to snuggly fit multiple people. This means that a two-person tent has room for two people to sleep next to each other without a lot of room available for gear and other things.
Therefore, a two-person tent snuggly fits up to two people and a three-person tent snuggly fits up to three people. Some gear can be stored towards the back of the tent, but most gear will have to be left outside.
Those who plan on using this tent for backpacking trips may want to purchase a two-person sized tent per person; individuals traveling in a group should consider purchasing a three-person sized tent per two people. This way gear, can be kept inside the tent instead of being exposed to the elements.
Purchasing a larger tent will also be more comfortable for taller people. This is because a six-foot tall individual may end up with their feet touching the end of the tent where some condensation can form. The peak height of this tent (approximately 38in.) allows only one six-foot person to sit up straight.
Overall, this tent is considered to be roomier than other single-door tents. The dimensions of the two-person tent are approximately 51in. wide near the door, 41in. wide near the back, and 86in. long.
While it is not designed to hold a lot of people or gear at one time, it does allow two to three people to move around comfortably. It may be a snug fit, but it doesn't make individuals feel claustrophobic.
Single-Door Tent
Despite being designed for multiple people, this product is a single-door tent. However, it was designed with a single door for specific reasons. Since the tent is designed like a tunnel it would be difficult to include more than one door without compromising breathability and weather resistance.
Therefore, having a single door should not cause any problems when it comes to entering and exiting the tent. Typically, two-door tents allow individuals to enter or exit a tent without having to step over other people. However, during the redesign of the outer tent entrance, the single door was widened so individuals can enter and exit the tent without bothering anyone else.
The redesign of the outdoor tent entrance addressed the problem of not having enough space to enter and exit the tent without having to step over other people.
3-Season Camping Capability
Three season tents are used during spring, summer, and fall. This tent is designed to be used as a three-season tent. While the durability of the tent could probably endure winter weather, it is not designed to keep individuals warm in colder climates.
Instead it has plenty of ventilation built into the tent, which creates excellent air flow throughout the tent.
For example, when the tent is pitched, there is a gap between the outer tent and the ground. This allows air to flow continuously through the tent. The inner tent entrance is made from mesh and there is a triangle mesh vent located in the back of the tent.
None of the inner tent mesh have backing fabric panels and the outer tent walls do not extend all the way to the ground.
Therefore, this tent really isn't a good option for the winter, as individuals will have a hard time keeping warm when cold winter air moves through it.
However, it is a great option for the rest of the year. It will keep individuals cool on warmer summer nights and carry a nice breeze throughout the tent in the spring and fall seasons.
Weather Resistant
Despite being considered a lightweight tent, this product was designed to withstand all types of weather.
During the redesign process the creators added catenary patterning, which gives the tent extra protection against weather without interfering with its ventilation and breathability. There are a few aspects of this tent that help it endure rain, wind, hail, and more.
The tent has a bathtub floor, which helps prevent water from seeping through the side of the tent. It also helps prevent splashback and mist from making the inside of the tent wet. The fabric is nylon, making it tear resistant.
It also provides protection from wind, sand, and other particles that could work its way into tiny holes in the tent. This tent has even been strong enough to resist hail. In some instances, it has kept individuals dry the morning after snow, from an unexpected snow storm, melted and formed a puddle underneath the tent.
Individuals who find rain seeping into their tent have most likely pitched their tent incorrectly, as very few individuals have this problem. For individuals having problems with water and condensation pooling inside their tent, pitch the tent in areas with vegetation. Another tip is to pitch the front of the tent into the wind.
Easy Set-up
This may not be a step-by-step instruction guide, but it is still worth mentioning the features that make pitching this tent easy. Beginners may have to practice a few times to learn how to pitch the tent properly, but it shouldn't take long to get the hang of setting it up. There are a few different features that make pitching the tent easy.
There are not many parts to this tent. The inner and outer tent are already connected. Basically, the entire tent, minus the poles and pegs, is already put together. There are no flaps, additional coverings, or ropes that need to be attached.
This makes it a lot easier to pitch the tent when it is windy or rainy outside. The poles and pole sleeves are color coded to make it easy to determine the proper sleeve to put each pole through.
After the tent is laid out and the poles are placed into the sleeves, all that is left to do is to place the pegs into the ground at a 45-degree angle and tighten up the adjustable peg loops. Individuals who purchase additional accessories, such as the mesh inner tent and the footprint, will have additional set-up steps. Overall, this tent is one of the easier tents to set up.
Value For Money
It may be considered a bit heavy in terms of costs for a lightweight tent, but it has more durability than many other lightweight tents.
It can be pitched easily and provides protection against wind, rain, and hail. It is a good tent for camping, backpacking, or just sleeping in the backyard. This means customers are getting a good value for their money.
The Anjan is a great 3-season tent. However, compared to its competitors, is it the best choice?
Main Competitors: Similar Products To The Anjan Tent
To determine if the Anjan Tent is worth its expensive price tag, it should be compared to the competition. The Anjan's competition are similar tents that fall within the lightweight category, but have slightly different designs and price tags. Here is the Anjan's biggest competition:
Hilleberg Jannu 2 Person Tent
The Jannu 2 Person Tent, like the Anjan Tent, was designed to be a lightweight tent that can provide protection in a variety of weather conditions.
Similar to the Anjan Tent, it has a bathtub floor and is made from nylon fabric. It is also a single-door, 2-person tent that is easy to pitch.
However, that is where the similarities between the Jannu and the Anjan Tent end. Unlike the Anjan, the Jannu is a "red-label" tent, meaning it is a 4-season tent that is still considered to be lightweight.
Although, lightweight can be loosely interpreted in this case. It is considered lightweight because it weighs less than the heaviest Hilleberg tents; however, this tent still weighs approximately 7 pounds.
Unlike most lightweight tents, this tent is a 4-season tent. In fact, this tent was specifically designed to be used for mountain climbing and alpine climbing. Unlike the Anjan, the outer tent walls extend all the way to the ground.
This tent can be pitched in small spaces, such as knife-edged ridges and other small ledges. It provides protection against heavy snowfall, high winds, and other harsh weather.
It can be used year-round and offers excellent protection in all types of weather.
Therefore, individuals who want a slightly lighter tent that can be used the entire year will want to consider purchasing the Jannu Tent. Individuals who want a true lightweight 3-season tent will prefer the Anjan Tent.
Hilleberg Nallo 2 Person Tent
Yet another tent manufactured by Hilleberg, the Nallo 2 Person Tent is the middle ground between the Anjan and Jannu Tents.
Like the Jannu Tent, the Nallo Tent is a red-label tent, meaning it can handle all weather conditions. However, it only weight 5 pounds, which is only one pound heavier than the Anjan Tent.
The design of this tent is similar to the Anjan tent. It has a tunnel design with a single-door entry. While it does not contain as much mesh ventilation, the rear outer wall can be rolled up to fix this problem.
Similar to the Jannu Tent, the outer walls extend all the way to ground and the mesh is backed with adjustable fabric panels. These features protect individuals from harsh and cold weather, such as snowstorms.
While this tent may have less ventilation than the Anjan tent, rolling up the rear outer wall will help with ventilation. It costs about the same as the Anjan tent, but has more to offer.
It can be used year-round, instead of just in the summer, spring, and fall. It also provides the same, if not more, protection from harsher weather than the Anjan Tent.
MSR Hubba Hubba NX 2-Person Tent
The MSR Hubba Hubba NX 2-Person Tent has a different design than the Anjan Tent. Unlike the Anjan Tent it is not a tunnel-designed tent. Instead, it looks more like a typical tent with two entry doors.
While it is designed to feel roomy, even when two people use it, the peak height is only one inch higher than the peak height of the Anjan Tent. It is two inches shorter than the Anjan Tent; since it is not a tunnel tent it does not narrow towards the back like the Anjan does.
The MSR Tent weighs 3 pounds, which makes it slightly lighter than the Anjan Tent. However, the biggest difference between the two tents is the price.
Some customers may worry that the significant difference in price means that this tent is inferior. However, there doesn't seem to be any major differences between the desired functions of this tent and the Anjan.
It is a 3-season tent designed to be used by backpackers. Therefore, it shouldn't be used in the winter as it won't provide much protection against colder climates. There are four different tents, which fit 1 to 4 people. The tent has a rainfly attached, which protects individuals from the rain and keeps out moisture and condensation.
Unlike the Anjan, there are no mesh vents. Instead, the rainfly has kickstand vents to allow air to flow through, and ventilate, the tent.
Overall, there doesn't seem to be much difference in the design and function between this tent and the Anjan Tent. Despite this tent being cheaper, it may be worth spending the extra money to buy the Anjan tent. The Anjan tent has a slightly better reputation for providing better protection and comfortability against high winds and rain.
Anjan Tent: Reliable For All 3-Season Camping Adventures
For backpackers, hikers, and camping enthusiasts searching for a tent that will keep them dry, warm, and cozy during the spring, summer, and fall, the Hilleberg Anjan is a good choice. Considered a lightweight, but durable, tent it is a good option for those looking to lessen their load on backpacking trips.
Since in comes in two different sizes, it is a good option for individuals traveling alone or for individuals traveling in a group. The new 2017 design allows the tent to protect users from unwelcome water and weather without compromising its ventilation and breathability. While it is a bit pricey, customers know they are purchasing a tent that will last for years.
Here are the pros and cons potential customers should consider before purchasing this tent:
Pros:
Lightweight and compact
Protects campers from rain, wind, hail, and other harsh weather
Can fit 1 to 3 people
Easy to set up
Durable, will last for years
Cons:
More expensive than some lightweight tents
Slightly heavier than other lightweight tents
Only a 3-season tent; cannot be used in the winter
Single-door entry
Every tent is going to have its pros and cons, but in this case the pros seem to outweigh the cons. Purchasing a tent with an excellent reputation for being sturdy even in the toughest weather conditions probably makes the extra cost and weight worth it.
Hilleberg Anjan 2 Person Tent
Packaging

Design & Durability

Multiple-Person Tent

Single-Door Tent

3-Season Camping Capability

Weather Resistant

Easy Set-up

Value For Money
Summary
As a 3-season tent under the lightweight category, Hilleberg Anjan 2 Person tent is one of the best choices out there. Regular backpackers, even the seasonal campers choose Hilleberg Anjan because it comes in two-person and three-person tent variations. Though the tunnel-shaped tent comes with a single door, it is large enough for individuals to enter and exit without the problem of stepping over the other. Another unique feature of the tent is its bathtub floor, which helps prevent the water from seeping in. The tent comes with user manual for the complete instructions on how to pitch it. You can also download the manual from its website, in case, you lost your copy. Alternatively, you can check video tutorials on YouTube on how to setup the tent. Correct pitching of the tent can really reduce, even eliminate common discomfort on your tent while camping. Weighted at approximately 4 pounds including tent, tent bag, two 9mm tent poles, one spare pole section, a pole bag, 12 pegs, and a peg bag, indeed it justifies its being lightweight.
Have you had experience camping in the Hilleberg Anjan Tent? Share your thoughts, concerns, and experiences with other readers in the comments section below.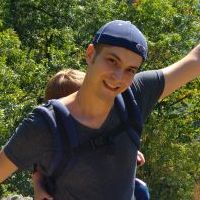 Daniel is a gear freak when it comes to hiking, climbing and camping. He went to REI Outdoor School to meet new people and learn best practices. Don't even try to argue with him about the latest backpack or ice axe, he tried most of them. Daniel's dream is to climb Mount Everest.