The NEMO Nocturne sleeping bag is one of the most uniquely designed sleeping bags currently available on the market.
The sleeping bag does not feature your standard mummy design and has been designed in a spoon shape to give you more space for your knees and shoulders.
This sleeping bag asserts itself on a higher level when comparing it to other sleeping bags due to the larger and more functional design.
Note: We get commissions for purchases made through links in this article
Product Specifications
Hourglass shape design
2-way zipper for easy ventilation
15D ripstop nylon shell and features an additional 30D taffeta nylon lining
DownTek technology – ensure that it stays dry in some of the harshest of conditions
700 down fill power – for you to survive some of the coldest temperatures
Temperature Rating: 23 degrees Fahrenheit
Water-resistant, lightweight and compressed
An outdoor hobbyist will definitely like this sleeping bag for all of their outdoor adventures, this includes camping and backpacking, but the sleeping bag can even be comfortable to have around the house if you plan on having a guest over in the middle of the winter.
Since it has been designed with a down filling inside, the sleeping bag will fluff much more and if you add a decent sleeping pad underneath, you will be sleeping in the utmost of comfort every night.
We have decided to give this sleeping bag a try and do some more research into all of the important and unique features that will accompany the sleeping bag if you decide to make the investment.
We will show you exactly why this sleeping bag does work and why the unique spoon-shaped design should keep you much warmer and more comfortable at night.
With that being said, here is our in-depth review of the Nocturne sleeping bag from NEMO.
Review
Whether you are camping or backpacking, choosing a decent sleeping bag is a must. This is even truer if you plan on going outdoors in the winter months.
This review will give some more insight into the NEMO Nocturne and show you exactly how intricate the features are and how you could benefit from using them in your outdoor endeavors. Here are the top features of the NEMO Nocturne as well as how it stacks up to a few of its competitors.
Packaging
The sleeping bag is quite heavy compared to many of the other down-filled sleeping bags you will find on the market today. This is due to the massive design and dimensions of the sleeping bag.
Whilst the packaging is heavy, the sleeping bag does fold up into a compact ball that can be easily stuffed into your backpack for your all of your backpacking outings.
While space is always limited for backpackers and 2lbs. might be a little heavy for you to carry along if you are planning a very long journey.
The Nocturne sleeping bag will be ideal for campers as it can still be compressed into a small enough bundle, not larger than the average-sized water bottle, to allow you to carry along more essential pieces of equipment on your camping trip.
The packaging is also ideal for keeping the sleeping bag in your car whilst traveling if you need to turn off the road and have a quick nap.
Design and Durability
If you find yourself to be an avid outdoor hobbyist or someone who loves to enjoy camping and backpacking more often than not, the durability and the design will be fundamental parts of the sleeping bag for you.
The NEMO Nocturne definitely does not disappoint in any of these aspects and should exceed a few of your expectations as well.
The design of this sleeping bag is unique as we have already mentioned, but how will this benefit you from the standard mummy sleeping bags widely available in the market today?
The Nocturne features a very large overall design that will keep you extremely comfortable from the start, but the shoulder girth is an impressive 64 inches, while the knee girth is almost 70 inches.
This means that should you turn on your side, or even on your stomach, you will be sleeping much more comfortably and not feel as boxed or clustered in.
The feet area is still a little boxed in and this is where you will see that the mummy design was used as the basis of this sleeping bag.
Many people do feel quite frustrated with the boxed in feet and this could really be a little frustrating, but NEMO has added a 2-way zipper to the feet are and this will allow you to unzip the feet area and keep allow the air to pass through to keep you ventilated on those hotter summer evenings.
In terms of the durability, the sleeping bag is designed from a 15D ripstop nylon shell and features an additional 30D taffeta nylon lining. This ripstop will ensure that the down does not get penetrated on the inside and ensure that your sleeping bag does not easily get ripped. The sleeping bag will definitely resist most stubborn rocks and bumps that you might come across.
The sleeping bag has also been treated with anti-microbial properties and this will keep the sleeping bag odorless to ensure that you do not need to sleep in an odor filled and dirty sleeping bag after a few days of backpacking.
Additionally, the foot box is also quite tough and should ensure that your feet are fully protected.
The one problem we did find with the foot box, however, is that it does have a few cold spots that might allow air to peer through and this could potentially cause the whole body to become cold.
The sleeping bag will also work perfectly with a standard 20 x 72-inch sleeping pad to keep you elevated off the ground and also ensure that the heat cannot easily escape downward.
Insulation
The sleeping bag is well insulated, except for a few cold spots near the feet area, but this could potentially be due to the manufacturers spending a lot of time to try and ensure that the foot box gives you the option of ventilation as well.
Since you already know that you get two types of down fillings; namely, goose and duck, the NEMO Nocturne is designed from a combination of these two.
In terms of the down filling, the NEMO Nocturne is treated with DownTek technology to ensure that it stays dry in some of the harshest of conditions and it has a down fill power of 700. This down fill power will make it possible for you to survive in some of coldest of temperatures and it has a temperature rating of 23 degrees Fahrenheit.
The sleeping bag is recommended for both men and women, but for women, it is recommended at a minimum temperature of 30 degrees Fahrenheit according to EN standards.
The great thing about having a down sleeping bag with this fill power is the fact that it will never really fall flat. The sleeping bag will stay lofted and become like your very own type of cocoon that you could nestle in when you need to get some sleep after a long day of work.
Warmth
The 700 down fill power is quite standard and will definitely keep you warm in the coldest areas of the arctic. The design is quite sophisticated and with the extra space you might think that the heat will easily escape, but this sleeping features a taffeta nylon lining that will ensure that you need not worry about the heat escaping and your body temperature dropping.
The hood is fully attached to the sleeping bag and cannot be removed, but it can be tightened around your head with the drawstring to give you a hoody-like effect and keep your head and ears insulated and warm.
This is extremely helpful since most of the heat we lose is through the head and if you do feel like you are overheating, you could simply slide off the hood and it can serve as some sort of an additional pillow to rest your head on.
The overall warmth is decent and with an EN rating of 23 degrees Fahrenheit, the cold weather should not bother you on your backpacking or hiking adventure into the wilderness in the middle of the winter.
Comfort
Down has always been known for the loft and the extra cushioning it provides and this should surely keep you elevated and provide a little more comfort if you choose to not invest in a sleeping pad.
The loft does not fall flat and will provide added comfort on the sleeping pad as well and you will be feeling like you are sleeping in soft, but still warm feathers.
The 2-way zipping on the sleeping bag has been nicely incorporated to make it easier for you to give yourself some ventilation and let the air pass through if you need it. This can be done for almost any part of the sleeping bag, but be sure not to fully unzip the two sides.
The sleeping bag can be quite tricky to get back together if you decide to fully unzip both of the sides and this will leave you with multiple holes that will allow the heat to escape whilst you are sleeping.
Value for Money and Guarantee
We generally believe that although the price is heavy, most of these features will be very handy on your outdoor trips. The added room does make this sleeping bag much more comfortable than the standard mummy sleeping bags you will find and the durable design is ideal for when you do need to sleep on the floor, or you manage to snag the sleeping bag somewhere.
This investment will be all about personal preference and if you are able to afford this price.
Unique Features
The NEMO Nocturne is not the standard sleeping bag that you will find in every store or around every corner and this does make it quite interesting.
There are a few features that set this sleeping bag apart from some of its closest rivals and gives it the edge when looking for an expensive sleeping bag:
Water-resistant/proof: The NEMO Nocturne has been treated with a DWR to ensure that water cannot get through the outer shell and onto the down filling on the inside. This is great for people looking to use it as an all season's sleeping bag. The foot box is also completely waterproof, which should keep the entire bag dry and allow it to also dry out faster than normal.
Lightweight and compressed: Backpackers are always looking for the next light, but still warm sleeping bag to use. This sleeping bag might be a little heavier than most of the other you will find, but it can be compressed into a size of 9 x 12 x 18 inches. This should be quite easy to put in your bag and carry along on your journey.
Hourglass shaped design: Most mummy sleeping bags are quite basic and they are also quite small on the inside. The NEMO Nocturne features an hourglass design that will give you additional space to move your feet and to move your body. This should be ideal for people who love to sleep on their sides.
DownTek insulation: The sleeping bag is not the best-suited for getting completely wet and down does have a reputation of falling flat when it gets wet. The DownTek nanotechnology will ensure that you need not worry about mistakenly getting the sleeping bag wet and will definitely keep it lofted and you warm as much as possible.
Main Competitors
Sierra Designs 800-Fill 3 Season Sleeping Bag
The Sierra Designs DriDown 800-Fill 3 Season Sleeping Bag is a decent competitor to the NEMO Nocturne sleeping pad it has a little more down fill power to ensure that you do stay warm in those cold temperatures.
The design is also smaller and it features the traditional mummy design with a small foot box that should keep you fairly insulated during your backpacking trip. This sleeping bag also includes a comforter and will be very well-suited for the arctic.
This sleeping as is ideal for extreme temperatures and you will definitely be kept warm by the added loft power. In terms of comfort, we also like the added loft, but if you are looking to have some ventilation in your sleeping bag, this one might not be ideal.
NEMO Sonic Down Sleeping Bag
The NEMO Sonic Down Sleeping Bag is actually another decent, but very expensive alternative that you could choose from.
The sleeping bag features decent thermo grills that will allow you to regulate the warmth of the insulation and the added synthetic materials will also help to eliminate any possible cold spots that you might have.
It also features a narrower fit and will not be ideal for those planning to toss and turn inside the sleeping bag. We do; however, highly recommend this sleeping bag for the coldest of temperatures and with an EN rating of 15 degrees Fahrenheit, you will definitely stay warm.
Hyke & Byke Snowmass Down Sleeping Bag
The Hyke & Byke Snowmass Down Sleeping Bag is one of the most compact and lightweight sleeping bags you will find. The sleeping bag weighs in at under 4 lbs. and while this is twice the amount of the NEMO Nocturne, it will still ensure that you do stay warm at sub-zero temperatures in the arctic.
One thing about this sleeping bag that does catch the eye is the colorful designs used, but in terms of functionality, this sleeping bag does match up to the NEMO Nocturne and you will probably have a hard time choosing between the two of them.
Overview
The Nocturne sleeping bag from NEMO is one of the most essential pieces of outdoor equipment that you could possibly invest in.
The sleeping bag will ensure that you stay insulated and warm and the DownTek will keep the down lofted on the inside no matter the conditions that you find yourself in.
Unfortunately, the pricing is quite high and you will definitely be paying for that hourglass shape that will give you some additional space.
The extra space does become handy and the ventilation features do ensure that you have multifunctional use, but it will come down to you and your finances when selecting this sleeping bag.
Backpackers should find great use for this sleeping bag, but campers will definitely enjoy it for the decent weight and the little space it does take up on your camping trip. If you are a backpacker and you are willing to carry the extra size, you will definitely be grateful once the extreme cold does start to set in.
Pros:
Lightweight design
Added DownTek nanotechnology to keep the down lofted
Water resistant in damp conditions
Larger space to improve sleep and comfort
Decent durability
Gives you multifunctional use that you might not otherwise find
Antimicrobial properties will help keep away bacteria and reduce odor
Small and compressed size when folded
Allows you to choose if you want ventilation
Cons:
A few cold spots can be found in the foot box
Tough to reassemble once the sides are fully unzipped
Really expensive price
If you love either camping or backpacking or a combination of the two, this sleeping bag will be ideal for you.
The sleeping bag will even be perfect for all seasons with the capabilities that you will have to allow ventilation to pass through. We highly recommend this sleeping bag for those who love camping and backpacking and switching between the two.
NEMO Nocturne Sleeping Bag
Packaging

Design and Durability

Insulation

Warmth

Comfort

Value for Money and Guarantee
Summary
The NEMO Nocturne sleeping bag is one of the most uniquely designed sleeping bags that will give you a great combination of space and insulation on your outdoor trips. The sleeping bag can also be modified with the well-designed zipper and this will allow you use it during the winter and summer months. Whether you plan on going camping or backpacking, this down-filled sleeping bag should keep you warm and the most strenuous of conditions and give you comfortable cushioning that you could sleep on if you do not have a sleeping pad.
We would like you to also share your stories in the comment section below if you have any experience using the NEMO Nocturne sleeping bag. Also, let us know which sleeping bags you do prefer for the cold winter months in the comments section and we may review them in the future.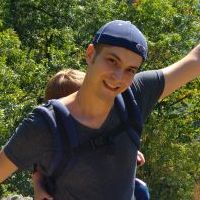 Daniel is a gear freak when it comes to hiking, climbing and camping. He went to REI Outdoor School to meet new people and learn best practices. Don't even try to argue with him about the latest backpack or ice axe, he tried most of them. Daniel's dream is to climb Mount Everest.