There is a simplicity to hiking that is wonderful, whether you are just out for a few hours, or backpacking for a week, hiking is one of the most fundamental outdoor activities that there is. No matter what kind of hiking you love, be sure to be prepared for anything with the best hiking pants for women.
When you are shopping for hiking pants, there are a few things that you should look for that you are not going to find on a normal pair of jeans or khakis. When you are outdoors, you are not going to have the protection that the urban life offers you, and it makes sense to buy clothing that is going to stand up to being exposed to the elements.
Another factor to consider is that you are going to want your pants to be designed for lots of movement, and made from materials that will help you enjoy your time outside. There many options for the woman who wants to hike over land, and no matter what kind of terrain and climate you are going to face, there is a pair of pants for you.
Best Pants for Hiking for Women
When you get out on the trail, you are going to be happy that you spent some time looking for a pair of pants that was built for your adventurous lifestyle. There are a lot of options to choose from, and you are going to need to consider your needs carefully.
With a little bit of careful thought, you are going to get a pair of pants that will be perfect for you and last you years.
Note: We get commissions for purchases made through links in this article
Columbia Sportswear Women's Saturday Trail Pant
Material: 96% Nylon / 4% Elastane
Features: Active fit, roll-up bottoms for ventilation. Articulated knees, zipper pockets, Omni-Shade SPF 50 for sun protection. 2 way comfort stretch.
These are a great choice for an all around out-door activity pant. The Omni-Shade sun protection is a great feature for more serious hikers, and the way these pants are cut will allow you the mobility you need, no matter what kind of hiking you plan on doing.
They are made from nylon, so they will be lightweight, and the elastane will help the fabric stretch to fit your needs. The bottoms are made to roll-up, and this pair of pants quickly converts into a pair of capris for warmer weather. Many times you will start hiking, and after an hour or two it will seem like a different day altogether.
They are offered in a wide range of colors, so you are sure to be able to find something that fits your personal style. These pants feature a zippered security pocket, and that is perfect to help you keep your things safe while you are out on a hike. The fully articulated knees are a big plus, and will accommodate many kinds of movements without restricting your range of motion.
Marmot Women's Lobo's Convertible Pant
Material: Abrasion Resistant Nylon
Features: Tough Nylon construction, make to convert into shorts. Water and sun resistant. Large cargo pockets. Moisture managing waistband, and inseam gusset.
Marmot is known for its attention to detail and quality, and these pants are a great example of their workmanship. These convertible hiking pants are made from a lightweight yet very durable nylon fabric, that gives you a SPF factor of 50, and also is water repellent. The waistband is made with a single button closure, has thick belt loops for added strength and is made to help manage moisture.
For someone who wants to get the most out of a single garment, these pants are a great option. If you need a pair of shorts, all you have to do is unzip the legs, and you have a great pair of 9 inch long shorts. The are made with two large cargo pockets, that are stitched into the legs for added strength. The inseam has a gusset, and this is going to really help with mobility and durability.
The nylon used to make these pants is abrasion resistant, so you don't have to worry about getting out in the bush and scuffing them up a bit. They can take it!
These would be a great choice for someone who is traveling, or hiking over long distances. Although they are a little bit on the expensive side, you are basically getting two pairs of pants, and they are made from a very durable material that will last a long time, even under trying conditions.
prAna Women's Halle Pant regular inseam
Material: 97% Nylon / 3% Spandex
Features: Made from Zion stretch fabric, relaxed fit with roll-up legs. Water resistant, reinforced knees and moisture managing fabric. Hidden zipper pocket. Three inseam choices for perfect fit.
The prAna Women's Halle Pant Regular Inseam Pants are made for some rough and tumble outdoor adventure. Made from Zion fabric, a proprietary blend of nylon and spandex, these pants are made to be water repelling, and will help you manage moisture while you are running around outside. They have reinforced knees for added durability, and are offered in three different inseam choices, so you can find the perfect fit for your body.
They legs are made to roll-up to the knees, and there are snaps to hold them in place, which will really help you if you start to overheat. If you like to hike or climb up and over rocky hills, these are a great choice, and really offer you a lot of durability and versatility for the money.
This model is offered in three different colors as well, so you can choose one that you love. They are made with regular side pockets, and also have a secret interior pocket that zippers closed for your valuables. They are for sure a nice pair of pants that will last a long time, and be ready for whatever you want to throw at them.
Arcteryx Women's Parapet Pant
Material: 100% Nylon
Features: Lightweight Nylon fabric, breatheable, durable. Articulated pattern for mobility, fast drying, four pockets. Wide hemline and gusseted crotch for flexibility. Zippered cargo pocket.
Arcteryx is another respected manufacturer of quality outdoor goods with a history of great products and these pants are no exception. Built of a tough, lightweight nylon, they are made with the active woman in mind.
The fabric is made to be easy to care for and is both quick drying and durable, so if you need to wash them quickly or you get caught in a shower they will dry in a hurry. They are made to be moved around in with fully articulated knees and seat, and the wide hemline and gusseted crotch will help them move with your body no matter what you are doing outdoors.
These pants feature four exterior pockets, two on the side and two on the back, with an additional zippered security pocket so you don't have to worry about losing your valuables out in the field. These tough go anywhere pants are a good choice for any woman who is outdoors a lot, and needs a great pair of pants to keep up with her.
The North Face Paramount 2.0 Women's Convertible Pant
Material: Water Repellent Nylon
Features: Made from durable water repellent nylon. Fully convertible to to shorts. Cargo pockets with hidden snap closure, in addition to regular side pockets. Articulated knees for mobility.
These pants will accommodate a host of outdoor activities, and are made to be versatile. They feature the ability to be fully converted into shorts, and are made from a very durable form of water repellent nylon. The zippers that allow you to convert them into shorts are hidden under fabric, so than when you are using them as pants, you don't have to worry about anything getting into the zippers.
They are made with a great water repellent nylon, so getting stuck out in a drizzle is no problem, and you will be able to dry them easily once you rain stops. These pants are built to be moved around in, feature fully articulated knees, and are cut to accommodate whatever outdoor activity you want to get into.
There are standard side pockets, and in addition they are built with two mini-cargo pockets, with concealed snaps for added security. These pants are a good option for someone who needs the ability to adapt to rapidly changing temperature conditions, and wants to be able to get around without their pants getting in their way.
Fjallraven Women's Vidda Pro Trousers
Material: 60% Polyester / 40% Cotton
Features: G-1000 hybrid fabric for durability, waxed for water resistance, naturally windproof. Reinforced knees, many pockets, optional knee-pads. Articulated knees and seat.
These pants are made for a woman who is going to be outdoors and active. They wold be great for trekking, and the cotton in the fabric will add a lot of durability. These pants are naturally wind resistant, and use wax to be water repellent. The upside to this is that it is a highly effective way to maintain a moisture barrier, the downside is that you have to buy wax, and wax your pants.
These pants would be perfect for a woman who is going to be working outdoors as well, as they are made with reinforced knees, and include an ax pocket, among six others. If you plan on being on your knees a lot or moving around on the ground, you can use knee-pads to protect yourself, as these pants are built to hold them.
If you need a tough pair of pants that will last a long time, and stand up to being used outdoors for work or play, these are a great option for you.
Outdoor Research Woman's Ferrosi Pants
Material: 100% Polyester / 86% Ripstop Nylon
Features: Made from lightweight, durable Nylon. Water resistant, draw-string waist with zipper and button closure. Standard pockets in front, zippered rear pockets and zippered thigh pocket.
These pants are straightforward and ready for your next outdoor adventure. The Outdoor Research Woman's Ferrosi Pants are made from a tough, wind-resistant Nylon blend, and are cut to move with your body. Built with five pockets, three of them with zippers, they are perfect for hiking day-trips, or any outdoor activity.
One neat feature is the drawstring waist, which is really handy if you are going out to canoe or kayak, and makes these pants just a little bit more versatile. The cut of the waist was also made with backpackers in mind, and is designed to accommodate a harness.
A great choice in hiking wear, and also a versatile outdoor pant that looks great, breathes well and will keep the wind off you too. These pants are sure to earn their keep, and last you years out on the trail.
Singbring: Women's Outdoor Waterproof Hiking Mountain Pants
Material: Polyester
Features: Tough Polyester, adjustable waist for maximum comfort. Waterproof and built with articulated knees. Zippered pockets.
These pants are designed for the woman who likes to get out into the bush, up a mountain or trek overland. They are designed to be waterproof, and offer articulated knees to help you get up, over or across anything that might be in your way.
The Singbring Women's Outdoor Pants have fully zippered pockets, and the waist is designed to be adjusted so that these pants fit you perfectly. They are made from polyester, so you don't have to worry about them holding water or taking forever to dry.
Priced right for any woman who need some purpose-built outdoor pants, they will be with you no matter where you go, and stand up to anything you want to do in them. Also, they are offered in three low-key colors for you to choose from.
Some Things Make All The Difference
While hiking pants may look similar to a pair of khakis that you might buy to wear around town, when you get a little closer, you will see that there are some major differences.
The major things to look at when you shop for hiking pants are:
Material
Ergonomics
Versatility
Pants that are made to be outdoors will be constructed from materials that are far more advanced than cotton, and also they will be made to be moved around in.
You will also notice some features that are not common for a pair of everyday pants, and in the field, these features can add a lot of versatility. Most hiking pants will have legs that either roll-up or come off, and this can help you from overheating or having to carry extra clothing.
Material
When shopping for hiking pants, you are going to want to concentrate your search on synthetic fibers, like nylon. There are a few reasons that synthetics work better for adventure wear:
Synthetics don't absorb moisture
Synthetics can be made to be sun-resistant ( UV )
Synthetics are far stronger compared to a natural fiber of the same weight
Just because nylon doesn't absorb moisture it doesn't mean that your pants will be waterproof, though some models are water resistant. But when they get wet, synthetic pants will dry much faster than a pair of cotton pants. This can be very useful if you get stuck in a downpour, or if you have to wash your pants while you are on the trail.
One of the big advantages that modern nylon offers hikers is UV protection. When you are out in the sun all day, even fabric can be penetrated by non-visible ultraviolet light. If you are hiking at higher altitudes this is even more of a danger, due to the lessened ability of the atmosphere to help protect you.
While not all nylon is made to have UV protection, many of the fabrics that are used for hiking pants utilize this technology, and it is invaluable.
When you compare nylon to a natural fabric like cotton, nylon is the winner when it comes to strength to weight ratio. In most cases cotton can not even come close to nylon when it comes to making light weight and highly durable clothing.
Ergonomics
The way a pair of hiking pants is cut will make all the difference when it comes to your comfort out on the trail. Look for pants that are fit to your body, but not too tight. You will also see that the knees are a little more baggy than normal. When you are walking all day, bending and climbing up over obstacles, articulated knees will help you maintain a range of motion and not have to fight with your pants to do it.
You will also find that pants that are made for hiking will have a lot more zippered pockets than a normal pair of pants. This is a great feature to look for, and we help you keep your things safe and under control when you are out hiking.
Versatility
When you are out in the bush, having a pair of pants that are made to adapt to changing conditions will be a huge help. Many models that you will find have bottoms that can convert to capris to help you vent that extra heat, or some may have zippers that allow you to convert them to shorts.
Think about what kind of hiking you are going to be doing, and what kind of climate you are likely to find yourself in. For some women, the ability to change your pants into shorts will be a big plus, and they can also be used when traveling, it's like having two pairs of pants in one.
The Perfect Pair for You
Every woman is going to have different needs, and there is no reason to buy a pair of hiking pants that does more than you require from them.
If you are out on the trails a few times a month, and you don't go out in bad weather, buy something that fits your style. You won't be paying for more than you need, and the pants you choose will be perfect for you.
If you are out in the wilderness for days at a time, spend the extra money, and get a pair of pants that will last a lot longer. Buying higher quality will end up being cheaper in the long run, and you will have a garment that is built for your demanding lifestyle.
And please don't forget to leave a comment down below. We'd love to hear from you.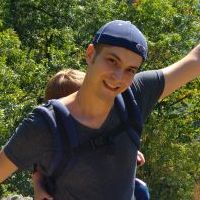 Daniel is a gear freak when it comes to hiking, climbing and camping. He went to REI Outdoor School to meet new people and learn best practices. Don't even try to argue with him about the latest backpack or ice axe, he tried most of them. Daniel's dream is to climb Mount Everest.