There are times when even the most avid of runners find an excuse not to workout. Some of these reasons usually revolve around the weather. Now that the seasons are turning, don't let the wet or cold stop you from running.
The best running jacket can keep you warm during a workout, wick out sweat and moisture to keep you comfortable, and protect you from a stiff breeze or unrelenting downpour.
When you're looking for a good running jacket there are so many manufacturers and choices in the market. There are also different features which sound the same and can be confusing. How do you know what kind of running jacket is best suited for your needs and what features do you need to look out for?
Best Running Jacket Reviews
Note: We get commissions for purchases made through links in this article
Outdoor Research Deviator Hoody
Weight: 10 oz (men's medium)
Specific Features: Shell 1: 100% Nylon; Shell 2: 84% Polyester, 16% Elastane; Lining: 100% Polyester, thumb loops, Polygene Active Odor Control, lightweight, quick drying
Best Use: Cool weather running, backpacking, camping
Description: The Deviator Hoody from Outdoor Research is one versatile jacket. It can be used not only for cool weather running and hiking but can also be worn when camping or backpacking in cold weather.
What makes it different is the Polartec Alpha, a lightweight, synthetic insulation fabric that has the ability to wick away moisture, be breathable and dries fast. The back, sleeves and hood of the jacket features the Polartec Power Grid fleece that stretches and breathes while wicking away moisture to keep you warm and comfortable during a cold run or while sitting in camp.
Runners will love its close-fitting design that gives plenty of stretch but without inhibiting your movements. The hood fits like a helmet so you don't need to worry about the rain or wearing a hat while running or hiking.
The pockets lack zippers but can still keep your hand warm. The jacket also features thumb loops for extra coverage. The chest pockets are horizontal and deep perfect for warming your gloves or as extra compartment for mobile phones or cash.
Aside from being versatile, the Deviator also packs down small so you can put it in a backpack when you're running long distance but don't know if the heavens are going to open up.
Thanks to the Polartec Alpha, the jacket also provides good insulation from the wind while providing good breathability. Overall, this is a good jacket for people who want something light but has the ability to keep them warm.
Related: The Outdoor Research Men's Helium II Jacket is a more expensive albeit a more lightweight version than the Deviator Hoody. It can be packed to a very small size so you can clip it on your harness and forget about it.
New Balance NB Heat Hybrid Jacket
Specific Features: 100% polyester material, athletic fit, Cire finished ripstop, Contrast thermal knit insets, reflective logo, 2 stylized hidden zip pockets
Best Use: Winter Training
Description: New Balance's Heat Hybrid Jacket is perfect for runners who want to run even in cold temperatures. This NB jacket features good wicking system to keep sweat and moisture away from the body.
This enables runners to stay warm despite the low temperatures while making sure that you don't get soaked in your own sweat. The jacket is lightweight so you can pack it up when you don't feel like using a jacket but want the security of having one around, just in case.
It has 2 zipped pockets you can use to keep your hands warm or for storing things like your phone, keys or wallet. The NB Heat Hybrid features a hood to keep your head warm and dry. The jacket sports an athletic fit so that the fabric skims the chest, waist and hips to prevent it from getting snagged on trail runs or hindering your natural movement.
It has a quilted ripstop nylon shell to keep you warm on cold days and reflecting logo for added visibility and a bit of style.
Related: The New Balance Men's Kairosport Jacket features internally brushed performance fleece and laminated shell to keep warm and protect from the elements. It also sports reflective details for better visibility when running in low light conditions.
Saucony EXO Jacket
Weight: 4.5 oz
Specific Features: 47% nylon, Wind and waterproof flex shell Ultra laminate for stretch and dry interior feeling, Slim, runner-specific fit, drop tail hem, and deep, scuba-shaped hood with high collar keeps you warm, dry, and covered, taped seams to keep away rain, bonded chest pockets for waterproof storage
Best Use: Running in the rain, cool weather running, backpacking
Description: The primary purpose of the Saucony EXO Jacket is to keep the rain and wind out. If you like running in the rain at around 40 degrees, this jacket will do an excellent job of keeping you comfortable. The jacket has a slim runner specific fit but does not feel restrictive.
This is perhaps the best waterproof running jacket with the seams taped and sealed to prevent water from seeping inside. It is also wind-resistant to keep you extra warm when running during cold windy conditions.
The jacket also sports a reflective trim to make you visible as the days get shorter, making it a good jacket to use during the autumn and winter seasons. The bonded zippered chest pocket is a good place to store keys, phones and cash while keeping them dry.
The flex shell material feels dry against the skin keeping you comfortable when you're sweating inside the jacket. Keep your head dry thanks to the scuba hood that fits comfortably around your head while keeping it dry and protected against the elements. This jacket is great for running in the rain or in cool weather temperatures. It can also be used for backpacking and hiking in cool weather.
Related: The Saucony Mens Razor Jacket has a zipper plus interior draft flap for extra protection. It is ultra-lightweight with waterproof membrane material for running in the rain or cold.
Ultimate Direction Ultra Jacket
Weight: 6.3 ounces (men's XL)
Specific Features: Fastbreath Ultra nylon material, fully sealed seams, visored hood
Best Use: Running in the rain, cool weather running, backpacking
Description: The Ultimate Direction Ultra Jacket can be packed to the size of a water bottle and weighs even less. The lightweight design is very breathable and has fully taped seams so that you stay dry no matter the weather.
The mesh along the underarms and hood allows air to pass through the jacket to keep you cool as you pound the asphalt or conquer the trail. Talking about the meshed hood, this is one of the jacket's beast features because it was designed with the Tunnel Effect in mind so your head doesn't get sweaty as you run or hike.
Another great feature is the integrated hand covers which can be pulled over your cold fingers so you don't have to bring your gloves along. The waterproof inner pocket is big enough to carry an iPhone, your keys or some change.
The jacket is comfortable enough to run in the rain when the temperature is in the 30s. It is very protective for a waterproof, breathable jacket. However, it can overheat you when used in warm temperatures, but is great for summer mountain runs.
Related: The Ultimate Direction Men's Marathon Shell is lightweight at just 3.3 ounces. It can provide amazing warmth and comfort despite its weight. The jacket also has back vents that supply air flow for cooling.
Marmot Fusion Jacket
Specific Features: 79% Polyester 21% PU, Marmot M2 Softshell, Zippered Hand Pockets, Windproof Body and Sleeves, Breathable Side Panels, Zippered Chest Pocket with Media Port, 360 Reflectivity, Stretch Cuffs, Elastic Drawcord Hem
Best Use: running in wet windy weather, trail biking
Description: Wind resistant and waterproof, but breathable with a soft shell design to keep you comfortable while running or biking under moderate weather. The Marmot Fusion Jacket also features 360-degree reflectivity so you will be able to run or bike in low light conditions.
The jacket protects your core heat by using a stretchy water resistant soft shell fabric with moisture-wicking interior to keep you comfortable even while doing strenuous activities. While doing so, it is breathable thanks to Marmot's DriClime Mesh fabric which helps with ventilation.
Fusion also sports Marmot's Angel Wing movement that allows users a full range of motion without the jacket riding up, as well as elastic bound cuffs with thumb holes to keep arms and fingers warm. The hem has a draw cord to keep your body snug and dry during wet and windy conditions.
Other great features include zippered hand pockets, zipped chest pocket and media port so you can listen to some tunes while you run while protecting your device.
Related: The Marmot Rom (Range of Motion) Jacket is made from Gore-Tex Windstopper Softshell fabric with a wicking backer. It's a bit pricier but it is waterproof, wind resistant and breathable.
Adidas Supernova Storm Jacket
Weight: 8.8 oz
Specific Features: Made for Comfort, breathable, made for athletes, thumb loops
Best Use: cool weather running or training
Description: Adidas has athletes and runners in mind when they designed the Supernova Storm Jacket. They want you to succeed, and with this jacket, you will be able to run or train in cool weather conditions. This is thanks to the jacket's climate controlling abilities.
The thin stretchy panel at the back helps the runner to dump heat to keep you cool while running due to its moisture-wicking abilities while the wind-blocking polyester sleeves and soft shell nylon front keeps you warm and comfortable from icy gusts.
The Supernova jacket is also ideal for running in low light conditions because of the static-like graphic on the sleeves and shoulders that lights up when they are hit by headlights. The jacket also sports thumb loops for extra coverage during cool weather.
Related: The Adidas Supernova Storm Running Jacket – AW16 is basically the same as above but with full zip instead of half-zip. It sports a sweat resistant pocket so that you can keep your keys, cash or phone dry.
Features of A Running Jacket
The running jackets of today are a far cry from the sweaty nylon models of the 1980s. As technology has improved, so have running jackets. Today's running jackets now have ventilation panels to make them breathable.
There are also those made from reflective material so that runners can be spotted easily at night and lightweight materials so that it doesn't feel like you're wearing a jacket.
A good running jacket is a key component of a runner's wardrobe. Here are some features you need to consider when choosing a best running rain jacket.
Breathability: Running causes your heartbeat to accelerate and you're heart to pump faster. This causes your body to sweat in order to cool you down. Running is an aerobic activity that causes you to sweat more which is why you need a running jacket that is breathable.
Even if the jacket is waterproof and protects you from the elements really well, you will still be soaked in your own sweat if your jacket is not breathable.
Breathability does not only depend on the fabric used to construct your jacket but also on its ability to vent. There are fabrics that wick away moisture. If the manufacturer does not use this kind of fabric, then breathability is dependent on strategically located mesh panels.
However, poorly positioned mesh panels can also let the rain inside your jacket.
For runners that sweat a lot, you might want a running jacket that is made from fabric with good wicking material or a piece that has big ventilation panels with zippers to keep out the rain.
Waterproof and Windproof: The second most important feature to consider for your running jacket is waterproofing and wind resisting abilities. If you want to go running no matter the weather, you need a jacket that will protect you from the elements.
There are jackets that are advertised as waterproof but you will discover that as you run, no jacket is completely waterproof because you will be sweating in your jacket.
Most manufacturers use a DWR finish for waterproofing but it requires some maintenance. After some time the DWR will wear off and you will need to reapply the coating via a spray on or wash-in product.
Wind resistance is also another factor to consider for your running jacket. Runners who run during the winter will need a windproof jacket.
However, if you don't plan to run in the cold or don't run long distances during this season then the extra insulation will just overheat you. For runners who like to run no matter what the season, try to find a jacket that has good ventilation design.
For example, does it have open mesh or zipped mesh design? Winter runners need a ventilated design that has good airflow but doesn't let too much wind inside. Remember you don't want a jacket that will soak you. If you're going to be wet, you're going to feel cold anyway.
Weight: When it comes to running, less weight equals faster run. If you're a long distance runner or run marathons, weight can be a big factor when considering a running jacket.
If you're running a long trail or long distance, you want a jacket that's lightweight because the lighter it is, the less you'll feel tired and weighed down. However, if you're just stepping out the door for a short run, then a 15-ounce or 5-ounce jacket won't make any difference.
If weight does not matter to you, you can check out other features like hoods or extra pockets which you might find useful during your run.
Insulation: How can you run when it's freezing outside? The answer: insulation. For this factor, you will need to consider the climate where you run. If you find that the temperature is usually below 40 for a large part of the year, you might want a jacket that has built-in insulation.
This will keep you warm when it's cold while wicking away moisture from your body. However, if the temp is usually above 40 degrees where you run, the extra insulation could cause you to overheat. Running is an aerobic exercise so it heats up your body as your heart rate gets going.
Material: Manufacturers use different fabrics for their running jackets. Some of the most popular include polyester because it is moisture-wicking and quick drying.
Polyester is usually marketed in different names depending on the maker. Another popular fabric is nylon. Like polyester, it is also moisture wicking and quick drying. Some manufacturers make all-nylon jackets or a blend of nylon and other fabrics.
Merino wool is very versatile but a bit expensive compared to the other 2 examples. It also shares the same above-mentioned abilities as polyester and nylon with added natural anti-microbial properties to keep away bad odor.
So which running jacket is the best? Here are our reviews of the best running jackets you might want to consider for your winter run.
Conclusion
Running in cold weather is more comfortable when you're wearing the right kind of clothes. When choosing the best running jacket, always consider its moisture wicking abilities and breathability so that you remain dry and comfortable all throughout your run.
For running during the winter, go for a jacket that has a soft shell with good insulation and wicking so that you don't freeze or drown in your own sweat. Make sure to bundle up with gloves if your jacket does not have thumb holes and to use hats if you're without a hood. With the right kind of gear you can enjoy all weather running, hiking or backpacking.
And don't forget to leave a comment with us below!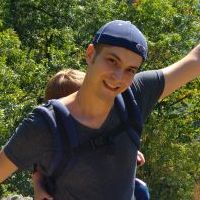 Daniel is a gear freak when it comes to hiking, climbing and camping. He went to REI Outdoor School to meet new people and learn best practices. Don't even try to argue with him about the latest backpack or ice axe, he tried most of them. Daniel's dream is to climb Mount Everest.