When it comes to overall performance for hiking, backpacking, kayaking, or wherever our adventures take us, a major consideration is the clothing we wear while enjoying the great outdoors. The key to making the most of your outdoor activities is finding outdoor recreation wear that offers comfort, mobility, moisture management, and durability.
Join us as we discover dynamic features and unique fabrics in pursuit of the best quick dry pants for any upcoming adventure.
With our help, you will gain expertise comparing high-performance pants in order to choose the best pair of pants for you and your lifestyle as well as the capability to pass on worthwhile buying advice to your athletic companions and friends.
Note: We get commissions for purchases made through links in this article
Top quick Dry Pants for Adventurers
Let's take a closer look at some of the finest quick-drying pants on the market.
Columbia Silver Ridge Convertible Pants
Sizes: XS – XXL
Design Features: Zip-off legs convert pant to short with 10″ inseam, Omni-Wick advanced evaporation technology, Omni-Shade UPF 50 sun protection, nylon rip-stop, side cargo pockets, partially elastic belted waist, rear flap pocket, and gusset detail.
Best Use: Warm Weather Hiking
The Columbia Silver Ridge Convertible Pants were designed for outdoor enthusiasts that like versatility. These durable, quick-drying pants are an excellent choice for all-day hikes. The temperature never stays the same while we're navigating terrain from sunrise until sunset. Combat heat and perspiration with a quick zip just above the knee and your pants will turn into shorts.
The Omni-Shade UPF 50 sun protection competes with a lot of the pants in our review, which can come in handy even on cloudy days. Better yet, you can stow all your day hike essentials, including your keys, driver's license, an energy bar, and much more thanks to the convenient side cargo pockets.
The greatest advantage to these pants is the nylon construction, offering lightweight and long-lasting comfort that wicks moisture while you're outdoors. However, you could consider investing just a bit more money for pants that are more versatile for high elevation hikes and offer a more lenient fit in the leg and crotch areas.
Related: If you can do without the convertible feature and you'd prefer a rugged pant, the Silver Ridge Cargo Pants may be better suited to your needs and retain the Omni-Wick and Omni-Shade technology. Need a little bit of a stretch? The Silver Ridge Stretch Convertible Pants include many of the same great features but with an articulated knee for superior range of mobility.
Jessie Kidden Quick Dry Convertible Cargo Pants
Sizes: XXS – 3XL
Design Features: UPF protection, water-repellent fabric, zip-off pant legs, zipper closure, side cargo pocket, security pocket, slim fit, and seven color variations to choose from.
Best Use: Kayaking & Camping
The Jessie Kidden Quick Dry Convertible Cargo Pants are an ideal choice for outdoor activities such as hunting, hiking, or kayaking. The full gusseted crotch allows a wider range of mobility. With only four pockets and some rear slash pockets, these pants lack the adequate storage needed for multi-day hikes or intense excursions. However, we loved the Teflon treatment implemented in the design to combat stains, soil, and spills.
An obvious advantage to choosing these pants is the stretch fabric that provides more comfort and versatility. The major disadvantage to choosing this product is that these tend to run very small. Double check your sizing requirements before making a final decision.
Another innovative feature is the hip-mounted D-ring, which can hold your keys or license for safekeeping while bouldering, abseiling down a rock face, or perfecting your forward stroke in an idyllic stream. Though these pants may not be as hardy and durable as their competitors, you'll still enjoy an excellent value and plenty of adventures along the way.
Related: Impressed with all the convenient features but looking for extra cargo pockets? Jessie Kidden's other version of the Quick Dry Convertible Cargo Pant features double side cargo pockets for extra storage. If you can do without the convertible pant leg, we guarantee you'll also like the Loose Cotton Cargo Pants for casual or everyday wear.
Nonwe Convertible Cargo Pants
Sizes: 30 – 39 (Regular vs. Long Leg)
Design Features: Nylon and Spandex material, partially adjustable waist, straight-leg design, convertible zip-off legs, two front pockets, back and side cargo pockets with Velcro, water-resistant, and Omni-Shade sun protection.
Best Use: Fishing & Adventure Cruises
The Nonwe Convertible Cargo Pants feature a dual nylon and spandex construction for exceptional elasticity and range of movement. Much like its competitors, this pant is convertible and can transform into shorts if the weather's warm or depending on the activity. From a cost perspective, these pants offer a great value and guarantee lasting quality.
You'll enjoy the fact that the convertible shorts don't sit too high above the knee, providing an appealing option for casual wear or an everyday ensemble. If storage is a deal breaker for you, these pants only feature two front pockets and side cargo pockets.
However, the pockets do feature a deeper design for larger stuffs. The straight leg design is appealing and slimming on many body types. Offered in several neutral and monochrome shades, you'll have no trouble blending into your surroundings or stocking up on a few pairs to last an entire journey.
Related: Nonwe also offers more storage opportunities and a polyester/cotton combination in their Multi Pockets Outdoor Cargo Tactical Pants. Can you do without the convertible pant leg? The Casual Quick Dry Lightweight Cargo Pants are ideal for running errands, lounging around the house, or doing chores.
Makino Convertible Quick Dry Pants
Sizes: XXS – XL
Design Features: Polyester and Spandex material, zipper closure, zip-off legs, elastic waistband, straight hip, water-resistant, and Omni-Shade UPF 50 sun protection.
Best Use: Rock Climbing & Camping
The Makino Convertible Quick Dry Pants are wear-resistant and durable, thanks to a polyester and nylon fabric that is waterproof and features quick-drying technology. Whether you're expecting rain or sunk, these convertible pants will keep you dry and protected.
Enjoy Omni-Share UPF 50 sun protection, which is especially useful in humid areas. The waterproof technology wicks away moisture and perspiration, providing all-day relief and keeping you dry. Looking for a comfy pair of pants for your upcoming flight or vacation?
Look no further. The lightweight construction is ideal for tropical climates. Enjoy protection from underbrush or other abrasions while roughing it in the backcountry. These pants are an excellent choice for backpackers and rock climbers on-the-go, especially for enthusiasts that want to avoid packing two different articles of clothing. Keep your pack light and simple by choosing this all-in-one option.
Related: Looking for the same convertible feature with less pockets while touring the backcountry? Look no further than Makino's alternative Convertible Hiking Pants. Their Lightweight Quick Dry Pants, on the other hand, feature breathable mesh panels that are ideal for running and climbing, allowing your body heat to escape.
The North Face Paramount Peak Convertible Pants
Sizes: S – XXL (Short – Long Leg)
Design Features: Abrasion-resistant nylon, low-profile buckled belt, front webbed belt closure elastic waistband, large pocket space, convertible zip-off pant legs, and durable water repellent finish.
Best Use: Hiking
The North Face Paramount Peak Convertible Pants are durable and they're made with the standard of environmentally responsible production practices. The North Face is no stranger to athletic apparel. Feel good about your clothing and indulge in larger pocket space so you can stow your gadgets, energy supplements, a compass, and other essentials for an unforgettable trip.
These pants are the ultimate transitional hiking pant and short combination, offering protection against water and perspiration. Not only is the fabric resistant to moisture, it's also resistant to abrasion so you can say goodbye to chafing and discomfort.
Enjoy the same UPF rating as many of the other products in our review, which helps prevent any damage from prolonged exposure to the sun. Dare to explore untraveled trails while remaining comfortable, thanks to the low-profile buckled belt and elasticized waistband. You may even choose these pants for your upcoming flight, road trip, or vacation.
Related: Do you find yourself ice climbing or hiking in the colder months? Enjoy a durable waterproof exterior for all-day weather protection with The North Face Freedom Pants. Their Seymore Pant offers the best of both worlds: the versatility to hike or ski with waterproof protection.
Outdoor Research Ferrosi Pants
Sizes: 30 – 38 inches
Design Features: Abrasion- and wind-resistant nylon/spandex material, button and zipper fly, zippered thigh pocket, two front and two back pockets, low-profile waistband, and brushed tricot lining for comfort.
Best Use:
The Outdoor Research Ferrosi Pants are one of the pricier options in our review. Offered in several appealing and neutral color options, these pants can easily transition from casual wear to recreational wear. They look and feel like jeans or casual pants, complete with a button and zipper fly. Looking for pockets? These pants feature front slash pockets, back pockets, and a zippered pocket on the thigh for secure storage.
What truly sets these pants apart from its competitors is that they go beyond the convertible option and feature a roll-up cuff with a draw cord to customize the fit and experience. At the middle of the pack when it comes to price, you can't go wrong considering the rip-stop construction made of nylon and spandex for ultimate comfort and mobility.
Although the fit doesn't provide a lot of leeway when it comes to length, they are extremely mobile and will accommodate most outdoor activities. If ultimate longevity is your motivation, you may want to take a look at more durable pair of pants.
Related: Find all of the same great features in Outdoor Research's zip-off pant leg alternative, the Ferrosi Convertible Pants, for warmer days.
White Sierra Trail Convertible Pant
Sizes: S – XXL
Design Features: Nylon construction, UPF 30 sun protection, water-repellent, zip-off convertible legs, hook and loop secure front, back pockets, vertical side cuff zippers, two front and two back pockets, rip-and-stick adjustment tabs, elastic waistband, and removable webbing belt.
Best Use: Thru-Hiking & Bushwhacking
The White Sierra Trail Convertible Pants Sierra feature lightweight nylon with UPF 30 sun protection against ultraviolet rays. You'll also enjoy the water-resistant construction that allows you to dry quickly for lasting comfort. We love the expandable leg opening featuring a zipper and Velcro closure for superior customization.
The most convenient feature is the rip-and-stick adjustment tabs that let you secure the cuffs around your ankles to keep the pant legs up and away from mud or debris while exploring unchartered territories.The elastic waistband and webbing belt is another appealing feature suited to multiple body types. The only caution we can offer is that the button seams to flail under pressure.
If you're looking for a resilient pant at a more affordable price point, you may want to consider competing alternatives with the same sun protection and water-repellant durability. Otherwise, these pants are an affordable option for any outdoor enthusiast looking for pants that can crossover from the weekly routine to the weekend adventures.
Related: White Sierra's Toboggan Insulated Pants are the perfect alternative for any ice climber, mountain hiker, or winter outdoor enthusiast. Another great quick drying pant is their Glacier Softshell Pants, providing a microfilm laminated fabric for breathability and superior water repellency.
Bienzoe Convertible Cargo Pants
Sizes: S – 2XL
Design Features: Polyester/cotton rip-stop fabric, straight-leg fit, side cargo pockets, front and back pockets, zip-off convertible pant legs, waterproof, and Omni-Shade sun protection.
Best Use: Distance Hiking
The Bienzoe Convertible Cargo Pants are available at an excellent price and can compete with some of the more expensive pants in our review. Featuring a mixed polyester and cotton rip-stop construction, you can count on lasting quality for endless trekking and adventure.
Modern men will enjoy the straight-leg fit, maintaining the same width from the knee to the ankle for optimum mobility and comfort. You'll also enjoy the side cargo pockets, perfect for storing your keys, smart phone, a compass, or any essentials for a long-distance hike. The greatest advantage to these shorts is how breathable they are.
Although you need appropriate clothing and preparation to enjoy the outdoors in the dead of winter, these pants are ultimately three-season if not all-season. The slightly stiffer construction may not be ideal for casual wear, but you can certainly take advantage while daring more strenuous activities.
Related: N/A
Features to Consider Before Buying Quick Drying Pants
We wear pants as part of our everyday routine, and yet, they play such a significant role in our well-being while enjoying nature and climbing, camping, working, or relaxing. There are certain design aspects that no outdoor enthusiast should live without. We've narrowed them down to a few:
Climate
Perhaps the most important decision or determination for you to consider is the primary climate in which you will be hiking or enjoying most often. Your needs may change depending on the type of trails, landscapes, and seasons you plan to endure.
Most of the bestselling pants are designed with to accommodate moderate temperatures and climactic conditions. If you dare to venture into deeper, colder, or more dangerous conditions, you'll need to protect your legs from cold temperatures, wind, rain, and the sun.
Water Resistance
The last thing you need while miles into a trail or downriver is that your pants aren't up to snuff at protecting you from moisture or perspiration. All the pants in our review feature some degree of water repellency or resistance, though the climate in which you intend to hike can play a large role in your final decision. Consider overall weather resistance as a determining factor.
UPF Protection
Clouds do reduce the amount of ultraviolet radiation from the sun, but more than 80 percent of the sun's rays can penetrate clouds, mist, and fog. Protect yourself, even when it seems that the sun is hiding. The UPF rating system is similar to sunscreen's SPF rating system. Many of the pants in our review ranged from UPF 30 to 50 protection.
There are several factors that can affect an article of clothing's protection rating, including weave, color, weight, stretch, and wetness. The key to enjoying any great outdoor adventure is safety. Remember to stay properly hydrated and avoid prolonged exposure to the sun at all costs.
Conclusion
No matter which pair of pants you decide on, it is important to recognize the value you expect and the conditions in which your pants will be put to the test. Get back to doing what you love most in comfort and safety by adhering to several simple rules of thumb.
Decide which materials offer the level of performance you hope to achieve as well as the benefits of that material. Also remember your body's unique needs.
Consider ventilation and internal temperature to avoid overheating. Lastly, remember your expectations for storage. If you stay true to your wish list and your budget, we are confident that you will find a pair of pants to love and use for many years to come.
We hope that we helped you get a clearer view of the pants that hikers and backpackers trust the most. Do you know of any high-performance pants or brands that we missed? If so, please let us know in the comments below!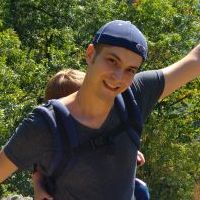 Daniel is a gear freak when it comes to hiking, climbing and camping. He went to REI Outdoor School to meet new people and learn best practices. Don't even try to argue with him about the latest backpack or ice axe, he tried most of them. Daniel's dream is to climb Mount Everest.