It's safe to say that hydration is one of the most overlooked aspects of health and fitness. The more you run, the more you sweat. The more you sweat, the more the volume of the blood decreases.
The more the decrease in blood volume, the harder the heart needs to work in pumping oxygen to the working muscles. Any self-respecting fitness enthusiast knows that hydration is something that you can't afford to overlook – especially for runners.
One step to make sure that you're properly hydrated while running is to carry a water bottle that you can sip through before, during and after running. For any serious runner, you'll need no less than the best water bottle for running.
Running makes you thirsty but you're not exactly a camel. You can't exactly carry gallons of water with you. However, don't drink and you risk dehydration. This is a conundrum that many runners know all too well.
It's a good thing that there is no shortage of options when it comes to hauling your hydration. One of the most obvious one is to bring a water bottle. In this post, we'll share some tips on how to choose a water bottle and review some of the best products that you can buy.
Top 7 Water Bottles for Running
If you are in the market for a water bottle that you can take while running but just can't be bothered with scouring the market for the best one, here are the top products that comes with our highest recommendation. It's safe to say that you can't go wrong with any of these sports water bottle.
Note: We get commissions for purchases made through links in this article
Embrava Best Sports Water Bottle
Weight: 0.4 lbs
Dimensions: 3.2 x 3.4 x 11.5 inches
Specific Features: 100% BPA-Free Plastic, Leak Proof and Dust Free Lid, Single Walled and Light Weight, Fast Water Flow from Narrow Mouth Piece, 1-Click Opening for One Handed Use, Fits Most Cup Holders and Bike Racks
Best Use: sports, fitness, running, jogging, outdoor recreation, workouts, camping, hiking
Description: Right off the bat, let us say that this water bottle by Embrava is one of the most popular products that you can find out there. Such popularity can be attributed to the fact that it provides pretty much everything you need from a great water bottle.
It's small and lightweight so you'll certainly have no problem carrying it during your run. Despite its small size and weight, it's durable enough to withstand even the most intensive use. Another thing we love about this bottle is the design, as it looks good enough to be a fashion statement.
Another noteworthy feature is the fast water flow via the narrow mouth piece which makes hydration fast and easy – you don't even need to squeeze.
Like all good water bottles, this product is made from 100% BPA-free plastic. It's about as basic as it gets but don't let that fool you because this bottle delivers on all fronts.
CamelBak Arc Quick Grip Handheld Bottle
Weight: 0.18 lbs
Dimensions: 3 x 4 x 6.5 inches
Specific Features: Single Podium Arc handheld system, Self-sealing Jet Valve, Lightweight, BPA-free, Essentials pocket fits most phones, front and back reflectivity, adjustable cinch strap
Best Use: running, jogging, outdoor recreation, sports, fitness
Description: CamelBak is a company famous for its innovative hands-free hydration systems.
Unlike the product that we have featured before this, the Arc Quick Grip comes with a weight strap that features a velcro-secured pocket. The pocket is of course designed to carry smartphones, keys, cash and more.
With the strap and pockets included, it's easy to assume that this bottle will be quite heavy. Well, you'll be glad to know that even with the straps, the whole thing only weighs a mere 0.35 oz.
Most people will surely love the padded handheld strap as it sits comfortably and fits snugly in the hand. The strap is adjustable to ensure the best fit. The patented Jet Valve technology ensures that your run will be leak-proof from start to finish.
Ultimate Direction Fastdraw 10 Hand-Held Bottle
Weight: 0.1 lbs
Dimensions: 2.5 x 3 x 6 inches
Specific Features: Ergonomically shaped, Cool Wick Air Mesh strap, Soft and thin chafe-free edge binding, Easy access pocket for keys, cards, or gels, Adjustable hand tension strap
Best Use: running, jogging, outdoor recreation, sports, fitness, workouts, camping, hiking
Description: The best handheld bottles are those that feel that they're not even there. In the regards, the Fastdraw 10 by Ultimate Direction certainly fits the bill. The streamlined ergonomic design ensures that the bottle fits snugly in your hand while you're running.
The air mesh strap along with the ultralight fabrics brings the ultimate comfort by eliminating moisture absorption and chafing. It also comes with a handy pocket where you can store running essentials like keys, gels, cash or cards for easy access.
At only 0.1 lbs and with a small profile, it's a perfect hydration solution for quick runs. The bottle features your standard nozzle which is nothing fancy but gets the job done. It's quite apparent that Ultimate Direction really focused on making the strap comfortable and chafe-free which is just the way most runners like it.
Overall, it's a solid water bottle that's great for quick runs.
Nike Sport Water Bottle
Weight: 127 grams
Dimensions: –
Specific Features: Leak-proof valve, 20 oz. / 600 ml. Capacity, Asymmetrical one-hand design
Best Use: running, jogging, walking outdoor recreation, sports, fitness, workouts
Description: If you want a simple, no-fuss water bottle that won't fail you, Nike's classic product will live up to your expectations.
The Nike Sports water bottle comes with a lid that's really easy to drink from, which comes in handy if you want to hydrate quickly without having to stop whatever activity you're doing.
The asymmetrical designed grip enables you to hold the bottle with one hand which is of course a great feature for runners. The overall look and design of the bottle itself is sleek and effortless, giving it a really strong fashion statement. It comes in 8 different colors, works great and looks good.
O2COOL ArcticSqueeze Insulated Mist 'N Sip Squeeze Bottle
Weight: 3.2 oz
Dimensions: 3.3 x 2.9 x 11.6 inches
Specific Features: Official Mossy Oak Break-Up licensed print, 2-in-1 Mist 'N Sip function, Double-wall insulation, Flexible, easy to squeeze bottle, No leak, pull top spout
Best Use: running, jogging, walking outdoor recreation, sports, fitness, workouts, hiking, hunting
Description: O2COOL has a wide range of water bottles and one of its most popular lines is the Mist N' Sip catalog. Right away, you'll be drawn to the Mossy Oak camo pattern which makes you think that it's perfect for outdoor activities like camping and hunting.
Aside from its great aesthetics, there's the O2COOL ArcticSqueeze Insulated Mist 'N Sip Squeeze Bottle which seems like a gimmick at first but it's actually a very well-executed idea.
The mister works wonders and provides a very fine mist which results in a very refreshing sip. It goes without saying that this is a great bottle for athletes and runners. The bottle itself is your standard BPA-free plastic and is quite durable even with regular use.
The double wall insulation ensures that your drink stays nice and cool for hours. Overall, O2COOL did a good job with this bottle and it's worth picking up for any runners.
Ultimate Direction Reservoir
Weight: 14.2 oz
Dimensions: 10 x 9 x 4 inches
Specific Features: Patented Slide Seal, Hydraflex tube made from 100% TPU tubing, PVC and BPA-free throughout the entire reservoir, Single seam welding, Patented High Flow Bite Valve
Best Use: running, jogging, walking outdoor recreation, sports, fitness, workouts, hiking
Description: Here's something different from Ultimate Direction as it is a reservoir and loaded with neat features. Ultimate Direction Reservoir is actually the redesigned reservoir that took shape by giving customers what they want.
First, it's a leak-proof design which is a great thing to have when you're out on your daily runs. While the hose is a neat feature for quick and easy hydration, many customers have complained that it's a pain to fill and clean.
Ultimate Direction took this feedback and used it to improve the new reservoir which is now easier to clean and fill. The reservoir is now actually reversible for easy and thorough cleaning.
The entire reservoir is BPA and PVC-free and even with subsequent use, there is no plastic taste. As far as reservoirs go, this is one of the best products that you can get.
Futurepace Tech Insulated Water Bottle
Weight: 0.63 lbs
Dimensions: 9.84 x 2.95 x 2.95 inches
Specific Features: Narrow mouth, Small sized to fit most cup holders, Leak proof, No spill cap, BPA-free, Sweat-proof sealed
Best Use: sports, fitness, workouts, hiking, camping, yoga, running, jogging, walking outdoor recreation
Description: Many runners choose to go down the rabbit hole of BPA & Phytate avoidance by completely disregarding any plastic containers when choosing a water bottle. If this is the case with you, then this stainless steel water bottle from Futurepace Tech might just become your favorite thing.
Despite being made from stainless steel (it's 304-food grade stainless steel), the Futurepace Tech Best Stainless Steel Double Walled Vacuum Insulated Water Bottle still manages to be lightweight as it only weighs about 0.6 lbs.
Durability is a non-issue as well. It's an insulated bottle which means that you can keep your drinks cool or warm for extended periods of time. The no-spill cap and leakproof design will ensure that your drink stays inside even when you do those rigorous runs.
The cap itself is plastic but it's still eco-friendly and BPA-free if that's a concern.
The best running water bottle are those that you can comfortably take with you while running and provides a hassle-free way to hydrate. Take it from us when we say that these are some of the best products that you can buy when it comes to running hydration.
Why Water Bottles Are Better than Hydration Packs?
All in all, hydration options are a matter of personal preference. Each has its own pros and cons. Hydration packs are quite popular among runners but you'll find that going minimalistic with just a running water bottle has its advantages.
Here are some of the reasons why it's better to use water bottles than hydration packs:
Visual reminder to hydrate: When you are holding the bottle right in your hands, you tend to drink more because the fluids are right in front of you. The same can't be said when you're wearing a pack.
Plus with a pack, you will have a hard time knowing how much you've had to drink or how much water you have left. This is simply a huge benefit to any runner because hydration is a key to running success.
Minimalistic: Just the idea of carrying nothing but a handheld water bottle can be quite liberating. This minimalistic approach will not only lighten your load but de-clutter your mind as well.
Since you significantly have less room for packing, you won't be obsessing about things that you might have forgotten. That and the fact that you don't need to carry unnecessary gear with you.
Less risk of overheating: On a hot day, wearing a hydration pack will cause your back to sweat profusely. Over time, you run the risk of overheating. By switching to a water bottle, you lessen the feeling of overheating.
There is simply more room for air to circulate, making it easier for you to stay cool. On top of that, you can drastically cool yourself down by opening up your bottle and pour cool water on yourself.
Less chafing: Wearing a hydration pack or belt can lead to chafing which can be quite uncomfortable. Reducing the risk of chafing means finding a pack that perfectly fits which is easier said than done.
A handheld water bottle is more of a universal fit, so there's no chafing at all.
Easier to fill up: If you are running very long races, you'll need to make a top-up at water stations in order to refill your water supply. If you wish to save time and keep moving, a water bottle is much easier to fill up when compared to a hydration system.
Many hydration packs and bladders can be quite cumbersome to maneuver which can cost you an extra minute or two. With just a water bottle, you'll be in and out of the water station in no time.
As you can see, there are many attractive advantages to using just a water bottle for running as opposed to wearing a hydration pack or bladder. Admittedly, using a handheld water bottle while running can feel out of place at first but there's no turning back once you get used to it.
Considerations When Choosing A Water Bottle
While water bottles may seem like a mundane everyday item, you can't just buy one and be done with it, especially if you're planning to use it for running.
Water is vital for the body to perform at any level, so it's not surprising that there are many different water bottles that cater to many different needs and activities. When choosing a water bottle for running, here are things that you should consider:
Determine the usage: With many different types of water bottle to choose from, it's important that you first determine what you will be using it for. You don't exactly use a water bottle designed to store hot beverage for running long distances.
There are bottles that are specifically designed for running, even for long distance marathons. Identify its main purpose and start from there.
Size: Once you have identified your usage, it's time to choose the bottle with the right size or capacity which should coincide with your preferred activity. Water bottles for running typically range from 16 to 32 ounces.
If you're planning to run very long distances, you will want a bottle with larger capacity. As a rule of thumb when running, make sure you drink about 4 to 6 ounces of water every 20 minutes.
Shape: Again, the main usage for the bottle will be a primary factory when choosing a water bottle. For running in general, you will want a bottle that's slender enough so you can comfortably grip it in your hands.
This is especially true if you're going to hold your bottle as opposed to using a hydration pack or belt.
Materials: Since you will be running, you want a water bottle that's made from a light material. With that said, stainless steel bottles are out of the question unless you enjoy running with weights on your hand.
Save those types of bottles for storing hot or cold beverages. This leaves you with water bottles made from plastics. However, there are many concerns about plastic bottles with regards to them containing a chemical called bisphenol A (BPA).
Fortunately, most bottles made from plastic nowadays are labeled BPA-free and those are highly recommended.
Nozzles: The nozzle of the bottle is another factor to consider especially when you need a drink on the go like when you're running. It's more of a convenience thing because the last thing you'll want is to interrupt your run to stop and take the lid off every time you need a drink.
A great bottle with nozzle will also prevent all that sloshing and spilling which is common with wide-mouthed bottle. It's a good thing that there are many bottle systems in the market that feature great nozzles.
Being sufficiently hydrated while running is a must especially if you aim to run long distances. With these factors to consider, you should be able to find a water bottle that's right for you and your intended activities.
In Conclusion
Many people dismiss the idea of using water bottles for running but that's likely because they haven't used a bottle that's designed specifically for the activity. Use the right running water bottle, and you'll find that it's a great addition to your runs with regards to hydration.
Be sure to check out all of the products we highlighted above and you'll sure find one that best fits your requirements.
Have you used a running water bottle before? If so, what's the best bottle you've used? Share your thoughts in the comments. Also, feel free to share this article with your running buddies and they might end up switching to handhelds.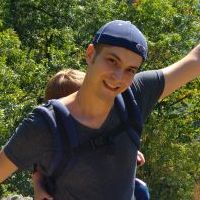 Daniel is a gear freak when it comes to hiking, climbing and camping. He went to REI Outdoor School to meet new people and learn best practices. Don't even try to argue with him about the latest backpack or ice axe, he tried most of them. Daniel's dream is to climb Mount Everest.