If you've decided to take the plunge and go for a fixed gear bike, or a Fixie as they're known, then you are probably already a fairly skilled cyclist. Originally designed for velodrome racing, these super-fast bikes are the latest craze for racers and adrenalin enthusiasts.
The ability to go both forwards and backwards and perform a whole range of stunts has taken the cycling world by storm and is now considered a heavy competitive sport. Almost all fixies are lightweight, fast, and flexible in terms of the adjustments and personalization you can make to them.
We've come up with a selection of what we consider to be the best fixed gear bikes on the market.
Note: We get commissions for purchases made through links in this article
Top Fixed Gear Bikes: Our Reviews
Here are our top picks for fixed gear bikes. The selection covers some of the most diverse choices on the market.
CRITICAL CYCLES FIXED GEAR URBAN ROAD BIKE
Weight: 25 lb
Dimensions: Small (49 cm), medium (53 cm), large (57 cm).
Specific features: Hand-built steel fixed gear single-speed track frame; bar-spin clearance; flat top tube; no toe overlap; horizontal drop outs; super deep-V double wall rims with flip-flop hub; freewheel and fixed-gear cogs on wheel set; Neco headset and bottom bracket; Wanda tires; KMC chain; Well-Go pedals; Pro-Max brakes Protek 3-Piece crank with lightweight alloy chainwheel; more than 10 color combinations; includes tools to build and maintain bicycle.
Best use: Urban road riding, track or speed racing
The Critical Cycles Fixie Urban Road Bike is designed for dashing around cities at high speeds and track racing. This is a popular choice fixie that has super thin wheels and comes with Pro-Max brakes for added control.
The design of the frame and the wheel base are such that there should be little or no toe overlap which enhances your safety on the road. The forks and frame on the Critical Fixie make for a smooth ride even over bumpier surfaces and the overall design means you can ride in snow with a good amount of control.
The bike comes ready to build with all the tools that you'll need to not only put your bike together but also to perform almost all future maintenance and basic upgrades. It is available in either single or two-tone colours. Almost all the parts on the Critical Fixie are brand name pieces, this means that upgrading and swapping out for customization is pretty easy.
Related: For racers or people who want to increase their speed, try out the Critical Cycles Classic Fixed-Gear Single-Speed Bike. You can use the drop handle bars to lean your torso lower for a more aerodynamic, and thus faster, ride.
RETROSPEC MANTRA FIXIE BICYCLE
Dimensions: X-small (43 cm), small (49 cm), medium (53 cm), large (57 cm), x-large (60 cm)
Specific features: Sealed bearing hubs; integrated seat clamp; platform pedals with included FGFS straps (removable); water bottle mounts; kick stand mount; integrated seat post, bike tools included; super deep-V rims;horizontal drop outs; no toe overlap; Retrospec FGFS straps and reflectors; hand-built and tig-welded UrbanComfort high-tensile strength steel frame and fork;equipped with Kenda Kwest tires.
Best use: Road riding, beach riding, racing
This is one of the few fixies that is designed not only for high speed usage but also for in town commuting. The Retrospec Mantra Fixie Bicycle is a sleek but comfortable bike that has Kenda Kwest tires as standard to allow good suspension, grip and deep grooves for water dispersion. Because of the unique design, it works well not only for racing, but is comfortable enough for day-to-day use and even rides well on the sand at the beach.
This fixie comes complete with a flip-flop hub which lets you ride fixed-gear or single-speed on a freewheel. All components on the Retrospec are brand names so if /when you want to switch out parts, they are easy to get and change by yourself. Assembly is easy with the provided tools and doesn't take long to set up. The Retrospec comes in a range of colours both single and two-tone.
Related: If you enjoy a retro look, the Retrospec Fixie Style Siddhartha Single Speed Bike is one stylish machine. The mustache handlebars are a nice alternative to the straight ones of the Manta, with leather grips and saddle for an extra touch of elegance. This hybrid bike is the ultimate in minimalist riding, with not a single cable in sight.
PURE FIX ORIGINAL FIXED GEAR BIKE
Weight: 22-40 lb.
Dimensions: Xx-small (43 cm), x-small (47 cm), small (50 cm), medium (54 cm), large (58 cm), x-large (61 cm), xx-large (64 cm).
Specific features: Deep-dish 50mm wheels;flip-flop rear wheel hub; high-tensile, fully Tig-welded steel frame; removable front brake; Kenda Tires and Tubes; Oury Grips; KMC Chain; Wellgo Pedals; v drome saddle; 60 mm Presta valves; Neco threadless headset; fix riser bars with Oury grips on a pure Fix stem; custom Pure Fix lasered KT quando hubs; Wtb thick slick tires 700cc x 28 tires;lifetime manufacturer's warranty on frames; one-year manufacturer's warranty on components.
Best use: Road riding, track racing, urban cycling
The Pure Fix Original Fixie is a simple-to-use, simple-to-enjoy bike suitable for high speeds, easy freewheeling and track. It comes with a flip flop hub that can be engaged whilst cycling and a front brake that can be easily removed and reattached for added safety and driving control.
As standard, it comes with Deep-dish 50 mm wheels and branded Kendra tires and inner tubes. The frame is lightweight and flexible and actually comes with a manufacturer's lifetime guarantee and the components have a one year warranty.
The gear ratio is 44:16 with 74.25 gear inches chain which give the Pure Fix Original good geometry and dynamics. It is available in a range of colours and all parts are brand names. The bike can be easily fitted with a Pure Fix rear brake to give you added safety when using the bike as a basic commuter and removed for the pure fixie experience.
Related: The Pure Fix Premium offers the benefits of the original, plus added features and drop handlebars. The frame is superlight chromoly, weighing in at only 19 pounds. This premium model is perfect for people looking for an upgrade or just a really fast bike.
STATE BICYCLE CO. FIXED GEAR SINGLE SPEED BIKE
Dimensions: 6 frame sizes (46 cm, 49 cm, 52 cm, 55 cm, 59 cm, 62 cm)
Specific features: Flip/flop hub; lightweight 4130 Chromoly frame; front and rear radius brakes included; bullhorn handlebars wrapped with bar tape; Wellgo alloy pedals; 1 year Manufacturer's Warranty against any defects
Best use: Road riding, town biking, track racing
This fixie comes with a standard flip-flop hub for simple switching between fixed wheel and single speed. The State Bicycle Co Single Speed Bike has a chromoly frame for flexibility and a super light balanced geometry and both front and rear radius brakes that can be attached and removed easily and quickly to allow you to experiment with your cycling style.
The handlebar options are varied and include the classic bullhorn style which are wrapped with bar tape for added grip and comfort. Because this bike has two sets of breaks, it is easy to use this as a standard fixie or town bike with all the added safety that involves.
It has a three-piece forged aluminum alloy crankset and comes standard with Wellgo alloy pedals. The bike is easy to assemble and all o the components are simple to swap out. However, all included components come with the State Bicycle Co. one year warranty.
Related: If you're looking to take your fixed gear bike to the track, the State Bicycle Black Label 6061 Aluminum Fixed Gear Bike might be worth a go. Its no-frills design and drop handlebars promote an aerodynamic ride. This lightweight bike is good enough for the track, but the stiff aluminum frame and substantial wheels are tough enough to handle road rides.
TAKARA SUGIYAMA FLAT BAR FIXIE BIKE
Weight: 36 lb
Dimensions: Small, medium and large sizes available.
Specific features: 54 cm Tig welded steel frame and fork; 700c alloy wheels; flat bar style handlebar; front and rear hand brakes; flip flop hub; fixed ; freewheel included.
Best use: Road riding, freewheeling, racing
The Takara Sugiyama Flat Bar is a solid choice for a fixie bike that can be easily converted to town usage. It has a steel frame and fork which is Tig-welded and comes with comfortable flat bar handlebars for easy riding. It has a standard flip flop hub for conversion between fixed and freewheel riding and 700c alloy wheels.
This bike comes with front and rear handbrakes to give added security when in use as a commuter bike and is easy to engage and disengage between styles. It's a stylish bike that is great for those of you who want the best of both worlds.
Related: The Takara Kabuto Single Speed Road Bike is also a good option, especially for road or commuter riding. It has drop handlebars, rather than flat ones, and side pull brakes.
VILANO FIXED-GEAR FIXIE SINGLE-SPEED BIKE
Weight: 41 lb
Dimensions: Small (50 cm), medium (54 cm), large (58 cm).
Specific features: 700c fixed gear frame; high-tensile steel frame; alloy seat post and stem; 700c 1 1/8″ threadless fork; flip-flop (fixed cog / freewheel) rear hub; 700c x 23c wheels; free pedals, non-branded paint job.
Best use: Road riding, track racing, comfort riding
This is a very cool looking, sleekly designed road bike that is made for the fixed gear purist. It has a high tensile steel frame and threadless forks. As standard, the Vilano Fixed Gear has a rear flip flop hub that allows you to easily switch between fixed cog and freewheel.
The alloy crankset has a replaceable 46T chainlink. The wheels are standard 700c 1 1/8 inch which are just right for high speed track racing and smooth sailing on city streets.
The geometry lets you sit low in the seat and focus on your speed while the handlebar arrangement lets you really drive your power through the pedals. It comes with the tools for assembly and full easy to follow instructions.
Related: The Vilano Attack Fixed Gear Bike Track Bike is great for use on the street or on the track. It features an urban geometry frame, drop handlebars, and deep-v anodized hubs, plus 28c tires for better control on urban streets.
PROJECKT FIXIE STEEL FIXED-GEAR BIKE
Weight: 24 lb.
Dimensions: 57 cm.
Specific features: 700 x 28c Kenda tires and tubes; Grips and KMC Chain; Front radius brake with radius lever; Ultra-strong forged alloy 44T crankset; Classic pin-riveted BMX pedals, SUPER DEEP-V double-wall 700x28C rims, Quando hubs (F 100-millimeter, R 120 fixed/free cogs, 16T).
Best use: Road riding, recreational riding, commuting.
The Projekt Fixie Fixed Gear Bike is sleek and minimal bike for people who just want to get out there and ride the roads without any fuss. The handlebars are a versatile pursuit-style bullhorn shape, which allow for several riding positions, from upright to very forward leaning. They are almost like mini drop handles, and offer racing ability, while still being able to accommodate recreational postures.
The frame is track-style, allowing for an aggressive ride, as you transfer track speeds and aerodynamic design into an urban setting. All wires and cables have been removed from the design, except for the front brake, making for a refined silhouette, without sacrificing the safety of a simple and effective brake.
It comes partially assembled, and gives you the option of placing the front rakes on either the left or right hand side during assembly, according to your preference. The paint job is available in plain black, or black and silver, which adds to the overall style of urban minimalism. This bike was made for to attack the road and look serious doing it.
Related: Projekt offers a does have other customizations available that you can find on their official website.
HAVANA SINGLE SPEED FIXIE BIKE
Weight: 36 lb
Dimensions: 52cm, 56 cm, 60cm.
Specific features: Race-inspired track geometry; front and rear dual caliper brakes; 43mm Deep V Rims; bullhorn bars; flip-flop hub.
Best use: Road riding, racing, aggressive riding, fast riding.
Start out your racing or fast-riding journey with a basic bike that doesn't break the bank. The Havana Single Speed Fixie Bike from Big Shot Bikes is a basic fixed-gear option which will suit beginners or anyone looking for a simple yet fast ride.
The frame is lightweight, making it not only faster, but also easier to carry if you need to take it aboard trains, up and down stairs, and so on. The bullhorn handles allow for varied seating positions, and the saddle is positioned high to accommodate racing postures.
This bike isn't designed for recreational use; it very much places you into an aggressive riding position for speed. The parts aren't brand-name and there are few extra features included, but that is to be expected with the low price. If you're interested in speed without the need to worry about excess maintenance, give Big shot a go.
Related: Big Shot Bikes essentially sell one standard model, with any changes being aesthetic. The Blackout has a black matter frame with gold accents; the Dreameris chrome plated, with blue anodized rims, stem and crank. There are other colours available.
FEATURES TO CONSIDER
Fixies are great fun to ride and more fun to customize. Many of the parts can be swapped out to suit your particular style. Because fixed gear cycling is a little more risky than standard cycling there are a lot more things to think about when making the smart choice. Much of the decisions will be based on your style of racing or tracking, but there are a few key concepts you should bear in mind.
Sizing
Fixies are built for speed and fun not for long haul journeys. The size of a bike is more often than not chosen for comfort based on the amount of time on the road.
With a fixie, the performance tends to be more key than the comfortable long hours of other bikes. With this in mind, many people recommend buying a slightly small size than you would get with a regular bike. This will give you more control and help you enjoy your time more.
Geometry
Fixed gear bikes are not built like a regular road bike. Because they were originally made for going round and round in circles on a track the actual shape may not be quite what you're used to. The standard fixed gear will probably have a very short wheel base which can mean that when you go into hard turns, it is likely that you'll clip your toes.
Remember that Fixies were never designed for daily riding to the shops. They are performance machines first and transport second.
Can Parts be Changed?
Many people who get a fixed gear bike really like to customize them. Because fixies are by their nature stripped back to the essentials, the parts that remain are quite easy to both repair at home and personalize.
When choosing the right bike or you, make sure that you check out if the parts can be swapped out. Hardcore fixed gear riders have different sets of handlebars and pedals for different styles of riding.
Is a Fixie right for you?
Remember that fixies are not your basic road bike for riding around the town. Sure you can get to the store and back on them, but if that's your goal you should probably get a town bike. They are speed machines that have the most direct transfer of power from you to the wheels. If that's the kind of speed and control you're after then definitely consider a fixed gear bike.
IN CONCLUSION
There a lot of great fixed gear, regular and hybrid bikes on the market, making the right choice is a very personal decision that should be well researched. Think about what kind of cycling you want to do and what bike will best suit your needs. With fixed gear bikes, the range is great and they are truly one of the most enjoyable ways to get out on the road.
The main advantage of fixies is that they can change and develop along with you as the rider. Let us know your opinions and experiences with fixies in the comments below.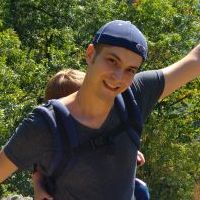 Daniel is a gear freak when it comes to hiking, climbing and camping. He went to REI Outdoor School to meet new people and learn best practices. Don't even try to argue with him about the latest backpack or ice axe, he tried most of them. Daniel's dream is to climb Mount Everest.