Sometimes when you discover a broken zipper on your tent, jacket, sleeping bag, or backpack, you might already be in your camping spot. I come to your rescue once more to give you a complete guide on how to fix a zipper while out camping.
You should have your emergency tools with you, they might come in handy to fix your zipper. A zipper repair kit is best, of course, it has everything you need in it, and no need to improvise.
A broken zipper is a big deal, it makes the difference between a comfortable camping trip and a bad experience in the wilderness.
You have the option of sending your camping equipment back to the manufacturer to fix it, but you will have to pay for postage on top of any repair bill, as zippers aren't covered by your warranty.
Due to the amount of wear and tear that zips are exposed to in relation to the rest of your kit, it's inevitable that they can wear out quickly. Luckily most problems are easily fixed, and you don't have to deal with bad weather, bugs, and so on.
How to Fix a Broken Zipper
First, take a look at the zip and see if you can spot the problem straight away. Sometimes, the problem can be sand and dirt getting into the zip and causing it to get stuck.
If you can't see anything straightaway, try brushing off or rinsing down your zip to see if that will fix the problem.
Things to look out for to see what is wrong with your zip:
Check the retaining box is still at the bottom of the zipper, on both sides. This is usually made out of plastic or metal. See if it's clear of any debris, and give it a clean-out.
If the box is missing or cracked, then you'll need a full zipper replacement rather than a simple repair.
Check to see if any teeth are broken on a plastic zipper, or if the coil is misshapen on a coil zipper.
Check the tape next to the insert pin (on the opposite side of the zipper box) to see if it is intact.
If the zip appears to be closing but then the teeth split apart which then opens along the whole length of the zipper, the cause will likely be a worn zipper puller, that you can change easily.
All these methods can be done while out camping as long as you have some basic equipment with you. You want a small sharp object such as a safety pin from your first aid kit and a pair of pliers.
Many camping tools such as Leatherman or Victorinox have pliers on them which will be perfect for this task. However, I recommend that you buy a small zip repair kit to pop into your backpack.
If you don't think you can fix your broken zipper with camping tools, then a repair kit is the way to go. You can find one online or in camping stores.
Select a kit that includes a variety of different zippers, replacement keepers, repair tools, and even a manual on how to fix most zippers, so things can't get easier than that.
I'll give you some easy instructions on how to go about fixing some different zipper problems.
Problems and How to Fix Them
Squashed coil zip
Suitable for: Coil zips.
Description: If an item with a coil zip has been stored tightly folded for a long period of time, or anything else has happened to cause the coil zip to be misshapen, you'll have a hard time zipping it up.
Method: Use a sharp item such as a sewing needle from a small sewing kit, or a safety pin from your first aid kit.
Insert the pointed end into the small spaces between the coils, exerting gentle pressure to try and return the coils to their original shape.
It's unlikely that the whole zip will be affected, so use an undamaged section of the zip as a guide.
Material jam
Suitable for: All types of zips.
Description: Sometimes, the lining of your rain jacket or tent inner can get caught while zipping and jam the zipper, stopping it from sliding up and down smoothly.
Method: In this case, try to gently ease the material away from the zipper. To do this, pull the zip up slowly, whilst gently pulling the material away at the same time.
If you try to use tools like pliers in this case, then you may end up ripping the material, so it's better to go slowly. It might take a while, but this problem is easily fixed with a bit of patience.
Lost zip pulls and pull tabs.
Suitable for: All types of zips.
Description: Pull tabs are plastic toggles attached with a small piece of cord, to the zip pull of your camping gear, including tents, rain jackets, and backpacks.
The idea behind these is that they make it easier to locate and open or close the zip quickly and easily. Easier to grab if you're in a rush or have your hands wet.
Method: If the rest of the zip is working fine but you're missing the pull tab, you can buy replacements from the manufacturer of your equipment.
Sometimes, the entire zip pull can break off, making it very hard to zip open and shut. You can replace this with a small piece of ribbon or cord but thread it through the metal arch on the zip.
If you have a zip repair kit that has zip pulls, use a small pair of pliers to lift up the metal arch on the zip just enough to slide the new zip pull into place. Then push the arch back down to secure it.
Zip not closing properly
Suitable for: All types of zips.
Description: One of the most common problems with a broken zipper is when the slider can go up and down the zip but the teeth don't connect behind it, so the whole zip is left open.
This happens when the zip slider gets worn out or bent out of shape.
Method: Have a look at the zip slider from the top, and you will probably notice that it may be a bit distorted, and likely one or both sides will be slightly bent out of shape.
Use a small pair of pliers to gently and slowly re-shape the zipper until it is back to its original shape. Once the shape of the zipper pull is back to normal, your zipper will work again.
When fixing with pliers, don't squeeze the puller together too much, this will not fix your sipper. Start off gently and adjust in small increments, checking after each one.
Zip slider has been re-adjusted, but the zip is still not working
Suitable for: All types of zips.
Description: If you have tried to re-shape your zip slider and the zip is still not working, check the condition of the entire zip. If it still looks in good shape, you might need to replace the zip slider itself.
Method: First, take a look at the keepers at the top of your zip to see if they are metal or plastic, then follow the corresponding steps.
Use your pliers to remove the metal keeper at the top of the zip, on the same side where the zip slider is located.
Make sure you save the keeper as you will be replacing it later.
Take the zipper puller off by pulling it off the zip at the top.
Take a new slider of the correct size and replace it on the zip itself. 
Carefully replace the metal keeper at the top of the zip.
Secure it into place by squeezing it gently with the pliers.
You will need a zip repair kit with new replacement keepers (usually metal). 
Carefully cut away the keeper on the same side as the zip slider is located.
Be careful not to cut the fabric.
Take the zipper puller off by pulling it off the zip at the top.
Take a new slider of the correct size and replace it on the zip itself.
Take a replacement keeper from your repair kit.
Position at the top of the zip in the same location as the plastic one that you cut away.
Use pliers to secure the keeper shut over the fabric.
When you're fixing a tent zipper, bear in mind it will be a lot easier to do before you put up your tent, as there won't be as much tension on the fabric.
What if my zip is still broken?
There are a few problems that will require a replacement zip. These include:
Broken or missing box at the base of the zip, which gets inserted into the zip slider when doing up your zip.
Unraveled coil on a plastic coil zip.
Missing or damaged teeth on a plastic zip.
If your zip is affected by one of these but the rest of your camping equipment or outerwear is in good condition, consider getting the zip replaced either by the manufacturer or a professional seamstress in your local area.
Why do Zips Break?
Usually, zips break in one of two ways. Either the zip pull comes off, or the teeth of the zip aren't connecting properly anymore. Either way, the issue is usually with the zip puller, and can usually be fixed reasonably easily.
So rather than sending your gear off to get fixed, or replacing an otherwise still functioning tent or jacket, just follow my instructions on how to fix your zipper, and you'll be good to go.
Types of Zips
Zips can be roughly broken down into three different categories:
Plastic-toothed zip: These have individual plastic teeth and are hardwearing so likely to be found on your outerwear.
Metal-toothed zip: Usually found on items such as denim jeans, you're unlikely to find a metal zip on your camping gear.
Plastic coil zip: Coil zips are also made of plastic, but the teeth are formed by a long strand of thin nylon plastic. These are often found in many different types of camping gear.
Conclusion
Consider investing in a zip repair kit along with those all-essential pliers and safety pins so that if you do find yourself out and about with a broken zip you should easily be able to mend those zips and enjoy the rest of your trip.
You can read more about how to repair a tent zipper, for specific instructions in different types of situations.
If you've been out on the hiking trails and successfully fixed a broken zipper, or have some tips for others, please let us know using the comments section.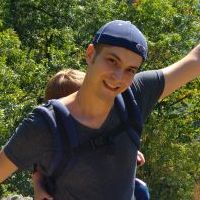 Daniel is a gear freak when it comes to hiking, climbing and camping. He went to REI Outdoor School to meet new people and learn best practices. Don't even try to argue with him about the latest backpack or ice axe, he tried most of them. Daniel's dream is to climb Mount Everest.