A perfect sleeping bag is mandatory if you go camping or planning to spend the night anywhere cold. If you have some extra pounds and/or consider yourself a large person, choosing that perfect bag is going to require a bit more attention as not all are created for the big & tall.
Some of the sleeping bags you can purchase now seem to be made for Victoria's Secret angels and not for regularly built people, let alone for larger ones. But worry not, I've got you covered and today I'm sharing the best sleeping bags for a large person.
I've had my fair share of chattering teeth thanks to poorly chosen sleeping bags and I also had the best nights, tucked comfortably in a warm sleeping bag so I really know the difference.
It's something you don't want to experience yourself (the freezing part, that is) and in order to make sure that never happens or never happens again, I am here to share with you some of the best sleeping bags for a warm night for big and tall people.
I've checked a few dozen sleeping bags so you don't have to and below I have the winners. You don't have to worry about not fitting in the sleeping bag or it looking too awkward if you are a larger build. Any of these are perfect for you!
Please note: We get commissions for purchases made through links in this article.
TETON Sports Celsius XXL – Editor's Choice
This is one of the most popular and most recommended sleeping bags for large people, so we're definitely starting with it. It also offers a nice price/quality ratio and all the goodies and features that you need from a solid sleeping bag.
This is so nice, large and comfy that more petite people use it as a bag for couples. But for a larger individual – or one who doesn't like to be squeezed into their sleeping bag (looking at you, mummy bags!), this is the ideal choice. The TETON XXL measures 39 by 90 inches and you'll love it!
It has a double-layered construction, enforced with a sturdy taffeta shell that makes it extremely durable too. You will feel warm and comfy inside thanks to the innovative fill that the manufacturers use, also matched with draft tubes to keep the warmth in.
It has some nice extra features too, like an internal pocket to store your valuables or the included compression sack for quick and easy storage. You can also order one with a zipper on the left side or on the right one – depending on preferences.
These bags are comfortable and warm even in single digit temperatures thanks to the quality materials used in manufacturing them. They are durable and perfect for larger people – definitely our favorite!
Coleman Big & Tall Sleeping Bag
This is another fan's favorite, and for all the right reasons. We loved it as well – it's indeed large and warm and nice, perfect for larger, taller people.
With dimensions of 84″ by 40″, it is ideal for larger campers up. If you are also really tall, then you should have no trouble with this one. And you won't have to worry about the weather either!
Tested to provide comfort and warmth up to 10 degrees Fahrenheit, it has some additional features to make sure that you are as comfortable and warm when using it.
Apart from Coleman's proprietary insulation that works really well, it has draft tubes along the zipper to prevent heat from escaping, as well as plush material to the edge, so you're as comfortable as possible.
This sleeping bag is durable, created by a reputable brand and easy to wash – it's machine washable.
It does occupy a bit of space when you roll it and it doesn't come with an included compression sack, which is why it ranks second on our list. But it's still a really good product!
ALPS OutdoorZ
If you're looking for a heavy duty sleeping bag that will keep you warm at extreme temperatures, this is the one for you! It's also large at 38″ by 80″ so perfect for larger people or those who prefer a little more wiggle room than they'd get in a traditional sleeping bag.
It works perfect in single digit temperatures, but it is advertised to keep you warm up to -25 degrees! This is what makes it a perfect choice for the more extreme travelers – but maybe a bit too much if you don't expect such rough temperatures.
Either way, it is extremely durable and made of really high quality materials. It has a double-layered build that keeps the warmth inside.
It uses Techloft Insulation which consists of a multi-hole staple-length micro-denier fiber with siliconized finish which offers maximum insulation, even at extreme temperatures. Is is compact and nice, made even more comfortable with its cotton outer layer.
As I said, you don't really need something as extreme as this for your regular camping nights, but if you anticipate camping or spending the nights at very low temperatures, the Alps OutdoorZ is the ideal choice!
oaskys Camping Sleeping Bag
While this is not as wide as the other recommended models, we decided to include it on our list in case it's just wide enough for you. This is, at the moment of writing, the #1 bestselling sleeping bag on Amazon, with glowing reviews from its users – so you know I'm not the only one who says it's really good.
Do have in mind that it is not as wide, at just 31.5 inch by 86.6″. This could be a problem for some of the larger people out there, but it's still large enough by our standards.
This is not a heavy duty sleeping bag – we wouldn't recommend using it if the temperatures fall below 40″ Fahrenheit (the manufacturers recommend using it at temperatures between 50 – 68 degrees).
So it's definitely a more "summer / spring" kind of sleeping bag, not suitable for the coldest and most extreme nights.
But it is cheap and reliable, it is easy to carry around and clean and keeps you warm unless it's really cold outside. And sometimes, this is all that you need – so it's good to know you have this option.
Final Words
These would be my 4 recommended sleeping bags for larger people. They will ensure you have for a comfortable night even if the weather outside is crazy.
You have products for various budgets as well and we are sure that, no matter which one you pick, you will be very satisfied with your purchase.
Out of them all, if I had to choose one, it would be the TETON sleeping bag as it is ticking all the boxes and is indeed worth to be a favorite.
But you have more options and if you're on the larger side, you now have a resource that helps you choose the best sleeping bag for you so you no longer have to suffer when you go camping.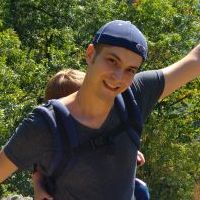 Daniel is a gear freak when it comes to hiking, climbing and camping. He went to REI Outdoor School to meet new people and learn best practices. Don't even try to argue with him about the latest backpack or ice axe, he tried most of them. Daniel's dream is to climb Mount Everest.