Using a tent is the conventional way of camping, but it does have some drawbacks. Which is why I'm going to show you how easy it is to do a camping tarp setup to make a shelter, instead of using a tent.
Tents are heavier for your backpack, especially if you have a lot of walking to do. For minimalist hikers and campers who like keeping things lightweight, a tent is out of the question.
Good thing that tents are not the only form of shelter that you can use when camping. Best lightweight option is a camping tarp, and here are some tips of where to start setting it up.
Tips for the best tarp shelter setup
To get the most out of your tarp tent camping experience, you should know the basics of a proper setup. You can't just throw them up and expect that you'll be properly sheltered from anything other than a perfect weather.
Keep these following tips in mind whenever you're planning to got tarp camping:
Location is important
Location is everything when it comes to camping in general, even more so if you'll be using a tarp. Having a plain floor is great for cooking but you'll get wet eventually.
There are ridge-tops, but they can be too windy, and flat meadows provide no ability to drain water. Search for a high ground area but not too high.
You can use the center pole to accommodate a sloping ground but it's best to go for a flat area.
Good anchors
Unlike traditional tents, tarp shelters rely on building good anchors especially on the corners. For the best stability and durability, you can opt for aluminum tent stakes to anchor your tarp.
Anchors are simply key to making the best tarp shelter.
Center poles
If you are going to utilize the center pole tarp configuration, you will need center poles. If you can, opt for aluminum or carbon fiber poles since they have enough strength to withstand bending and compression forces.
If you are looking to save more weight, a stick, paddles or skis can serve as your center pole. For more usable space, hang the tarp in a tree or in between large rocks.
Positioning the door
The door of the tarp or rather the opening should not be placed in the lee of a prevailing wind. Otherwise, it's a good way to have your tarp blown out or inflate like an air balloon when opened.
Do not dig trenches
Refrain from digging a trench around the shelter. Not only are trenches destructive but it can lead to massive overuse because it encourages other campers to settle there. Always opt for a designated camping ground.
Packing up is easy
Packing up your tarp shelter is about as easy as it gets. Simply pull up the stakes or untie the cords in the corners, remove the center pole and you'll be packed up in no time. Conventional tents just don't offer this kind of convenience.
Common tarp setups
It's best if you learn about the most common setups. I'll give you details about how to get each setup done, and you can choose which one fits you best.
A-Frame
The most basic tarp shelter configuration is the A-frame which is considered a classic because it's really easy and quick to set up. This setup provides decent protection against the weather as well as good ventilation.
For this setup, you will need 4 stakes and a ridge-line. Just tie or hook the ridge-line first, then proceed to stake the four corners to the ground.
You can adjust the angle of the "A" by raising or lowering the ridge-line and staking the corners closer in or further out.
Diamond
If you plan to do hammock camping, you'll find that the Diamond setup is more appropriate. This is because the diagonal distance is longer than the length of the sides, providing more space above the hammock.
The Diamond gives you a nice view of the surroundings and the ventilation is on point. But since the angle is not that steep on the open side, heavy precipitation might accumulate.
There will also be a snag in the middle of the tarp which will catch precipitation as opposed to shedding it.
Plough-point
This setup is named as such because the shape resembles a farmer's plough and it requires 3 stakes. It looks similar to the Diamond with only two sides that are touching the ground.
This is another setup with great ventilation but its concave design and high point can trap air flow which makes it not ideal for windy conditions.
To mitigate this problem, you could opt to pitch the tarp against a boulder.
Pup tent A-Frame
This setup is based on the old pup tents that are popular during the World War II, Korea, and Vietnam wars.
The configuration is very cramped but is an ideal setup for low profile or stealth camping. Using a tarp, you need to tie a ridge-line very low to the ground.
You then peg the next two tie-outs on each corners to the ground. The excess flaps of tarp can be tucked inside and be used as a groundsheet.
These are just some of the many tarp configurations that you can find out there. There are more advanced configurations but these setups are just the basic ones and highly recommended for beginner tarp campers.
More about tarp shelter camping
Tarp tent camping is basically camping that uses the simplest shelter of all: the tarp. Camping with a tarp might be a strange idea for many people but it's actually one of the oldest shelter designs out there.
One of the most simple tarp shelter configurations utilizes just the pole and the tarp. If you manage to find a spot that has a tree or large rock, you could even do away with the pole.
For the simplest setup, you just put all four corners of a tarp off the camping ground. You then take the each corner of the tarp and tie it off to a tree, rock, pole or any other tall structure.
You can read more about tarp tent setups in my article here.
The center of the tarp needs to be raised in order to shed rain. Alternatively, you can raise one corner and lower the opposite to allow the tarp to drain. This is actually quite useful if you're trying to collect water.
Reasons to choose a tarp shelter for camping
Just the thought of a tarp tent setup, as opposed to a full-size tent, might make many people feel uncomfortable.
However, it's not really as uncomfortable as many people would think. A tarp is actually a reliable and legitimate shelter, provided that you actually have the proper tent-erecting skills.
Here are some reasons why a tarp tent could fit your needs better.
You are claustrophobic
For a claustrophobic person, the cozy interior of a nylon wrapper tent can result in a disorienting and uncomfortable experience.
It's a good thing that tarps can be pitched with ceilings that are high enough for you to stand under and open on all the sides.
For a shelter with drastically less weight, tarps can be big enough to house a dozen campers while they're protected from the torrential rain outside.
With a simple tart tent setup, you will also be able to observe your surroundings quite easily.
You love gazing at the stars
We go camping because we want to be one with nature. With a tent, you are zipping yourself up in a shelter that denies you the ability to observe the awe-inspiring night sky.
There's nothing more breathtaking than marveling at the starlit sky on a clear night. If you love stargazing, camping with a tarp might be more appropriate.
You want to pack light
If you want to go the traditional tent camping, you could be adding significant weight to your backpacking load. However, if you're not too thrilled of lugging around a tent and want something lighter, a tarp is a solid lightweight option.
The heaviest of tarps are only half as heavy as the lightest tents. There is one particular type of tarp called cuben fiber tarps which only weighs about two ounces – that's about as light as a chocolate bar.
By going with a tarp, you'll be getting those weight savings which is best for bringing something extra like food.
It can be used as a rain gear
With a little ingenuity, you can use your tarp to protect yourself from the rain as you move. Many manufacturers have made a silnylon poncho-tarp which can be used to take the place of a rain jacket or pants, and even your pack cover.
This type of tarp is also breathable which simply can't be said with normal form-fitting rain gear.
You're a budget camper
Camping can be quite an expensive affair especially if you're planning to go all in, and that includes investing in a heavy-duty tent.
High quality tents can fetch for really high prices which is out of the question for hikers and campers on a budget.
This is why a tarp shelter is a perfect alternative for the budget-conscious campers. For as little as $10, it's possible to fashion a single person tarp from materials that you can get from a local hardware store.
If you fancy a more expensive option, single-person silnylon tarp will only cost you about $70.
It's the minimalist camper's choice
Nothing says you're "one with nature" more than sleeping using a tarp shelter, aside from not having a shelter at all, which could lead to unnecessary dangers.
You seek versatility
Tents need to be pitched in a fixed area where there's enough space and clearance. Finding the ideal camping grounds can be quite a challenge in itself.
On the other hand, camping with a tarp allows for some real versatility and not as restrictive as a tent.
You can easily pitch your tarp with a setup that fits the site. For example, if the area is too small for a full size tarp setup, you can opt to use the smaller A-frame setup instead.
There are many tarp setups out there that you could use for many different situations.
It's not as uncomfortable as most people would believe: Open air camping? What about the bugs? This line of questioning is quite common when it comes to camping using a tarp.
This is quite understandable considering that you're quite exposed when using a tarp shelter. However, it's not as uncomfortable as you might think.
At night, all you need is a bug netting to offset the drawbacks of camping with a tarp. Or perhaps, you can just wear a headnet and cover the rest of your body with a quilt.
If it's a particularly cold night, pitch the tarp in a tight A-frame setup to keep you protected from the wind.
As you can see, there are quite plenty of advantages with using a tarp for your camping shelter.
Final thoughts
It's hard to imagine camping without the traditional tent. However, if you are ready to explore your options and want a minimalist solution to camp shelter, you can see how easy it can be from my article here.
Tarp camping has a lot of benefits and many of them are not found in conventional tents. Tarp shelter camping might just be the idea that will add a new dimension to your outdoor activities.
For more insight on the best camping tarp, see our earlier article on this topic.
Have I convinced you to try camping with a tarp? Or did I help you make up your mind and taught you how to do it? Let me know in the comments section below.
If you have tried tarp camping before, feel free to share you experiences and tips with us.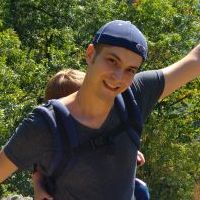 Daniel is a gear freak when it comes to hiking, climbing and camping. He went to REI Outdoor School to meet new people and learn best practices. Don't even try to argue with him about the latest backpack or ice axe, he tried most of them. Daniel's dream is to climb Mount Everest.