Your tent is your "home away from home" when you're camping or backpacking which is why choosing the best can affect your whole outdoor experience. Selecting a backpacking tent can be answered by knowing how, where and when you want to camp.
The weight of your sleeping bag, shelter and backpack need to be considered since you will be lugging them along especially if you're going backpacking. Investing in the Nemo Hornet 2P Ultralight Backpacking Tent can make your load lighter and the trip easier.
Note: We get commissions for purchases made through links in this article
Product Specifications
Large Side door makes entry/exit and access to your gear easier
Luxury Details – Light Pockets, triangulated volumizing guyouts, and watertight compression stuff sack
Hubbed pole intersections – a single pole for quick setup
True tub floor construction
Before rushing to the store to buy the tent, there are factors that you need to consider that could affect your decision significantly. After all, a good tent is an important component of your multi-day trip.
The wrong kind of tent could make your nights uncomfortable. You also need to consider the weather when you camp or backpack so you need something that is adaptable.
If you're going to be walking long distances, you will need something lightweight. Let's get to it and review the Nemo Hornet 2P tent.
Review
The Nemo Hornet 2 person tent is the lightest free-standing tent on the market, specifically designed for backpackers and campers. It can comfortably sleep two people and is ideal for the spring and summer camping seasons.
Though the fabric of the tent is thin in nature, the rain fly is constructed with 10-denier nylon ripstop, making it highly durable to wind and rain.
If you're planning on going to camping the winter, this tent, though is able to withstand the conditions, will need a winter sleeping bag to keep you warm during the cold nights.
What's great about this tent is that it's ideal for all campers and backpackers regardless of their level of experience. If you're looking for a tent that's lightweight and won't be a burden to set up and pack away, you'll enjoy the ease of the Nemo Hornet.
The tent itself is light on features, however, is focused to provide users with the biggest feature they offer with the Nemo Hornet: lightness.
Best Use: Where to set up camp
Before you choose a tent, you need to look at the terrain where you'll be setting it up. This will help you decide whether or not you'll be opting with a freestanding tent or a traditional style tent. The Nemo Hornet is a freestanding tent which means you'll be able to pitch it on any surface that's flat.
Freestanding tents such as the Nemo Hornet are very helpful if you'll be camping in mountainous or rocky areas. However, if you'd like more security, than a traditional tent may be your best option.
Though we won't be focusing on traditional style tents, it's good to know that they're still very popular and an option. Let's go into more detail and break down the features of the Nemo Hornet.
Packaging
The Nemo comes in three separate carrying cases, one for the poles, the others for the tent itself and outer tarp. Though it's lightweight, depending on your backpack, it may all fit inside, however, it may not.
The good thing is that it's light, so, though it may look like a lot to carry it won't weigh you down. However, if you're looking for something that can easily fit into your backpack and you're a single camper, you should consider a hammock instead.
Ease of Set-Up
Setting up and taking down the Hornet is easy thanks to the single hubbed pole with ball-and-socket end tips, which only needs the hands of 1 person.
The lightweight aluminum pole is shaped like a Y. The mount of the Y connects to the tent via a secure ball and socket system called "Jake's foot".
The single end of the Y slides to the grommet at the end of the tent and the canopy is hung from the pole. If it is extra windy, the tent will need staking.
Many campers will like setting up the tent because it is quick and easy compared to other camping utilities like preparing the food, looking for firewood or fetching the water. The person in-charge of camp can enjoy a drink even before the other person finishes boiling the water.
Design and Durability
Nemo prides itself in producing lightweight and durable gear for outdoor enthusiasts. One of the features they are most proud of is the DAC Featherlite NFL pole system, one of the lightest tent poles available.
When held in your hands, the poles feel incredibly light. You will be very surprised to find out that it holds up well in heavy winds and rain not to mention the rigors of trekking and traveling.
The tent itself is made of thin delicate fabric while the rain fly is constructed from 10-denier nylon ripstop. However, the tent holds up well in bad weather.
The canopy is made from lightweight No-see-um-mesh for great ventilation with a built-in privacy panel while the floor is made from 15D nylon.
For ultralight tents like the Hornet, we recommend that you treat your tent with care. The canopy snags so you will want to handle this tent gingerly. This tent needs gentle hands for setup and takedown to extend its lifespan.
The design of the Nemo Hornet includes some specific features which aren't included in other lightweight tents. The Nemo hornet comes with two doors so that your partner does not need to crawl over you to enter or exit.
Many campers/backpackers are looking for interior space and because this tent is triangulated, it increases the interior space by 15%.
Comfort and Space
At just 2 pounds, the Hornet is one of the lightest backpacking tents available. It has 28-square feet of living space inside and can accommodate 2 20-inch sleeping pads very well. However, this leaves very little room for anything else, especially if 2 people are using it.
We do not recommend sharing the tent with somebody you are not familiar with or if you move around a lot when sleeping. However, the 2 doors make up for the lack of space inside. There is no need to crawl over your tent-mate whenever you want to go outside.
The interior of the tent tapers from the waist down while the walls are slanted with a high center point and sloping sides. Nemo designed the Hornet this way to make it lightweight. However, living inside the tent is a bit tight for 2 people.
The double vestibule adds comfort to campers. With not much room inside, you can easily fit packs and hiking boots in the space. 8 square feet is not much but it contributes to less restricted feeling inside the tent.
Weather Resistance
The material of the tent feels a bit flimsy and delicate so many campers were quite surprised to find that the Hornet held up well against strong winds and rain. It is not really a freestanding tent since it needs to be staked down when needed but it did not blow over in substantial winds.
The tent does not have a lot of guy points but the 2 doors help to stabilize it. The fly fabric is made from good materials and is very light. It stretches tight for better wind resistance without the flapping noise. Considering its thinness, the fly is also surprisingly water-tight and does not stretch a lot when wet.
The rain fly also contributes to ventilation. The heavy use of mesh body in the tent and the large air gap between the first wall and rain fly makes it a good choice for sleeping in rainy or humid conditions.
Versatility
The rain fly makes the Hornet a fairly versatile tent. It's not as great as a 4-season tent but good enough to be used in hot, humid and rainy conditions. During hot summer days where there is no rain, use it without the rainfly to enjoy the wilderness better.
The absence of the fly will make the interior of the tent cooler while the mesh paneling will let the cool breeze in (if there is one).
When the rain comes, the rain fly is easy to set up. It will prevent you from getting wet. The design of the fly and mesh are great because it covers the tent very well but still lets the air inside so you and your tent-mate don't overheat. It can also be used in humid conditions like the Appalachian Trail.
Unique Features
The most unique feature about the Nemo Hornet tent is that it's the lightest free-standing tent, making it the best tent to be using if you're going to hiking or backpacking. What's great about this tent is that even with its lightweight feature, it's able to hold two people comfortably.
It also comes with a repair kit which many companies do not include. What's unique about this tent and Nemo, is that they provide you with a fully rounded product with all the tools you need for a safe and fun trip.
Value for money and guarantee
The Hornet is an expensive backpacking tent. However, if you think that the weight savings is important or want a tent with 2 vestibules and 2 doors; this is a good choice for you.
On the flip side, if you want something that is more comfortable, durable or can be used for 4 seasons, there are other cheaper and sturdier alternatives in the market.
Nemo designed the Hornet to be ultralight so that it is easier to carry when backpacking. It is a good investment if you know how to take care of ultralight materials and plan to put in many miles with your tent.
Other user's opinions
Many past users rave about how easy it is to set up. According to one user, he was able to put the whole tent up in approximately 5 minutes. Aside from this, the lightweight feature of the tent is also very popular among users.
The weight is hardly noticeable when backpacking. The divvy sack is also very useful especially when weight needs to be distributed among other members of the team.
However, not too many people are happy about the flimsiness of the materials used. While the materials do stand up to the elements, the need to handle the tent gingerly is off-putting to some reviewers.
This is many because of the mesh ventilation that can get tangled up when you're trying to set up or take it down.
The tent is also not too roomy for some people. Single users of the tent have lots of space but not so much if 2 people are using it. There is also not a lot of room inside if you decide to put your belongings in.
Backpackers and campers who are looking for something with more space but still have the ultralight feature can buy more affordable tents from other manufacturers.
While many people are happy about the Hornet's features and performance, the price can be a big deterrent. But overall, users are happy with this product praising the tent for delivering as advertised.
Close Competitors
Though we feel that the Nemo Hornet is a great tent, you should also know that it's not the only tent out there. Here are some close competitors that are equally as good as the Nemo Hornet and may provide you with some features that better suit your needs. So, here are some of the other tents that you may be interested in.
Big Agnes – Tumble mtnGLO Tent
If you're looking for another lightweight tent, but one that's more designed for backpacking, the Big Agnes – Tumble mtnGLO Tent is a good option.
The mtnglo collection from Big Agnes is designed for campers and backpackers who need a lightweight yet durable shelter. It's a lightweight, easy-to-setup tent perfect for anyone who'll be on the road.
The tent comes with a lightweight symmetrical DAK pole system with press fit connectors. The plastic clips that come with the tent make it easy to attach the body to the poles. What's unique about this tent is the integrated LED light system which creates ambient light for reading or relaxing.
Though you may think that this feature isn't important, you reduce your weight by not having to worry about carrying a bulky lantern with you.
Kelty TN 2 Person Tent
The Kelty TN 2 Person Tent is a compact and lightweight tent. It's slightly different in design compared to its competitors. It comes with an oversized door for easy entry, innovative snap-clip technology for quick assembly and convenient packaging. The unique feature of this tent is the fact that it can be packed into a cube.
Many of the other tents come slightly bulky packaging, however, Ketly found a way to make packing and carrying your tent easy. If you're going to be backpacking and you need all the room you can get in your backpack, then you'll be very happy with the Kelty TN 2 person tent.
Another unique feature of the tent is the stargazer fly, so you'll be able to look at the stars without having bugs and insects flying into your face. If you're looking to use this tent for the winter season, we wouldn't recommend it. Rather, this is simply a summer tent.
Nemo Galaxi 2P & Footprint
This is another feature-heavy tent which gives a little more luxury to those who are camping. The Nemo Galaxi 2P & Footprint is another exceptional tent from Nemo. It includes features such as light pockets, Mag Tie door tiebacks and footprint.
If you want a relatively lightweight tent, but aren't strict on having the lightest tent, this one is a great option. It does weigh a little more than the Nemo Hornet, however, it comes with the features listed above. The Mag Tie magnetic door tie-backs make it extremely easy for you to go in and out of your tent.
Like the Nemo Hornet, it's designed with durable material and easy-to-setup layout. However, if you're strict on weight, you may want to focus on a more lightweight tent as opposed to features.
Overview
Finding a tent that suits your needs isn't easy. With an endless amount of tents on the market, it can prove difficult to narrow down your options and find a tent that's decent quality.
However, we did the research for you and found a tent that is a fierce competitor on the market. The Nemo Hornet 2 Person Tent is one of the lightest tents available, however, is extremely durable and will comfortably support you on your trip.
But we want you to be able to see the quality of the Nemo Hornet on your own. Though we feel the Nemo Hornet is an exceptional choice for a tent, you need to really figure out what your needs are.
Do you want a lightweight tent? Do you want a tent that's easy to setup?
If so, then you should consider the Nemo Hornet. Of course, no tent is perfect and even this one has a few advantages and disadvantages going for it.
Pros:
The tent is ultralight which is very advantageous for multiple-day excursions. The weight can be divvied up among backpackers easily.
It also packs down nicely.
The 2 doors also come in very handy.
The great fly design and mesh canopy make sleeping in hot, humid or rainy weather more comfortable.
It is also very easy to set up even for 1 person.
The Hornet comes in lime green making it an easy-to–spot color.
Cons:
The sloped walls of the Hornet can inhibit movement inside the tent. As a result, only 1 person at a time can sit up comfortably inside.
The tapered end decreases space from the waist down.
It is also not a truly freestanding tent as it needs to be staked down to get maximum volume and to prevent the walls from sloping.
Our overview of Nemo's Hornet shows that it is a capable tent despite its flimsiness. It is also very lightweight making it an ideal choice for extended backpacking or camping trips.
Many users like that it packs down nicely. It is made from lightweight and durable materials; however, care is needed to prevent snagging during setups and takedowns to extend its longevity.
The tent also holds up surprisingly well against light snow, heavy rain and winds. There is not much room inside but the double doors prevent tent-mates from crawling over each other. Use it in humid or rainy weather for a cool and comfortable rest thanks to the mesh canopy.
Nemo Hornet 2 Person Tent
Packaging

Ease of Set-Up

Design and Durability

Comfort and Space

Weather Resistance

Versatility

Unique Features

Value for money and guarantee
Summary
So many campers and backpackers are complaining about the heaviness of their tents, especially when it comes to 2 person tents. So, Nemo responded by focusing on creating outdoor gear which are both lightweight and durable. The Nemo hornet 2 person tent, is one of the lightest tents on the market. Because it's only 2 pounds, you'll be able to carry this tent with ease. Also, you won't have to spend your energy setting it up because it literally needs one hand to have it up and ready to use. If you're a camper or backpacker that's conscious of weight but wants a tent that's durable and going to last, the Nemo Hornet is the perfect blend of all your needs.
So what do you think? Is the Hornet a good choice for your camping or backpacking lifestyle? Let us know by commenting below.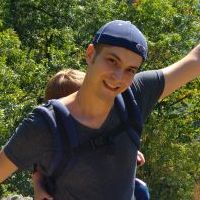 Daniel is a gear freak when it comes to hiking, climbing and camping. He went to REI Outdoor School to meet new people and learn best practices. Don't even try to argue with him about the latest backpack or ice axe, he tried most of them. Daniel's dream is to climb Mount Everest.