The Klymit static V2 Sleeping pad is a lightweight and easy-to-use sleeping pad that will be perfect for minimalists. The pad fully asserts itself from other sleeping pads due to the weight and the easy foldability, which is an essential part of being a backpacker.
Note: We get commissions for purchases made through links in this article
Product Specifications
New and improved – popular camping pad on Amazon
Just got 12% lighter and more backpacker friendly
Weighs only 16.33 oz
Incredibly lightweight – new high end lighter fabrics for smaller pack size and weight
V-chamber design – limits air movement and heat loss
Versatile – great for ground, cot, or hammock sleeping
Sleeping pads are sometimes looked over and not many people actually invest in them, due to the fact that they consider it another thing to carry along. Down sleeping bags are so far advanced that many of them also offer good cushioning, but the sleeping pad is still a quintessential part of having a good night's sleep out in the wilderness.
At less than 17 ounces, this sleeping pad should not take up too much space in your backpack and you will not even feel the extra weight that is carried along. We have decided to look a little deeper at the V2 sleeping pad and uncover some of the secrets that you might not be aware of and also show you how beneficial this sleeping pad could potentially be to you.
With that being said, here is our complete review of the V2 sleeping pad.
Review
The Klymit V2 sleeping pad is designed to be an essential part of the backpacker's equipment. This review will show you in detail how the sleeping pad matches up to each of the most important features that you should consider when purchasing a sleeping pad.
If you consider yourself a real minimalist backpacker, this sleeping pad and its features will be ideal for you to look at and you might even consider buying it after you have a better understanding of the pad.
Packaging
For a backpacker, sizing is everything and the size the sleeping pad comes packed in will make all of the difference. Upon receiving the ultra-light V2 sleeping pad, you will notice the small size of the packaging. The sleeping pad weighs in at only 16.33 ounces and it is packed in the size of about a 32-ounce water bottle.
This lightweight and small size easily fits into any backpack and will not take up that much space when inside. The sleeping pad can even be kept next to your sleeping bag and you will be assured that you never go without the sleeping bag and sleeping pad on your backpacking adventures.
Design and Durability
The V2 sleeping pad features an extremely unique design that you might not commonly find in any other sleeping pad. The design is extremely lightweight when not inflated, but it still maintains this lightweight when it is inflated to make it easy for you to move wherever you need to place it.
The sleeping pad has been designed with the average human body in mind and it features dimensions of 72 x 23 x 2.5 inches to ensure that the average human body will easily fit onto it. The sleeping pad features a V-shaped inner area that will keep mold the shape of your body.
The V-shape also focuses on providing added comfort to the pressure points in the body and this should allow you to have a better night's sleep.
While most other flat sleeping pads will flatten your sleeping bag's fill, the V2 is designed with deep welds that will create expansion zones. This will allow your sleeping bag to fully loft beneath you and provide you with much better insulation and comfort.
The sleeping pad can also be used in conjunction with a good sleeping bag since it should fit inside the sleeve given by most top rated sleeping bags for a sleeping pad.
In terms of durability, the sleeping pad does really excelled and you will have 30D polyester at the top to provide you with some added softness and comfort. The rest of the sleeping bag is constructed from 75D materials and it has also been tested to be puncture-resistant against various objects.
The manufacturers do not claim that the sleeping pad is 100% puncture proof and therefore, they have included a minimalist puncture kit that is easily stored in the same bag as the sleeping pad.
Blowing up the sleeping pad can easily be done with the mouth and it takes around 10 to 15 breaths, with many people claiming that they needed 20 breaths to have the sleeping pad fully inflated. The rugged design will be perfect for the rugged outdoor terrain, and since the sleeping pad is extremely flexible, you will be able to even place it inside your hammock.
We were also quite intrigued by the quality of the air tube and the fact that it can be double sealed. This means that the air will not escape during the night and you will have the all the air that you have blown inside to sleep on and provide you with a comfortable sleeping experience.
Finally, the sleeping pad features anti-microbial properties of the material and since our bodies are sometimes subjected to perspiration and heat, this will ensure that we do not contaminate the sleeping bag with odor from sweat during the night.
After using the sleeping pad, you can simply fold it back up and you will be ready to take it to your next destination.
Warmth
Warmth is one of the main reasons people decide to buy a sleeping pad and use it in conjunction with their sleeping bags. The V2 sleeping pads center you on the pad and you will not find yourself on the sides having to deal with the cold breeze coming in.
Since most of our body's heat does escape through the ground, the V2 sleeping pad will trap the warm air from your body inside the baffles and this should reflect back to you to keep you warm throughout the night.
With an R-value of 1.3 this sleeping pad might not be the best choice for the extreme winter conditions of the arctic and you might need to invest in a well-designed and thicker sleeping bag if you want to use it in snowy areas, but it should do just fine in the fall and spring months to keep you warm and insulated.
Comfort
Comfort is another important aspect and reason why people buy sleeping pads and this where the Klymit V2 sleeping pad certainly excels.
Sometimes you might find that vertically baffled sleeping pads will feel bounce and horizontally baffled sleeping pads will fall flat once you are readjusting. The sides are also commonly known to fall flat once you turn a few times.
The Klymit V2 has really solved this problem with the V-shaped baffles in the construction. The V shapes have also been perfectly spaced to target the pressure points of your body and ensure that they are kept as comfortable as possible.
This is actually a nice addition as many people have complained about back problems from sleeping on sleeping pads.
While the sleeping pad is quite and you might not hear it on every to and turns, occasionally it might sound like a farting noise as the air moves to the inside while you are readjusting yourself on the sleeping pad.
The sleeping pad will take some getting used to, especially if you are used to sleeping on a flat surface, like a bed or even on the floor, but it is much more comfortable than the rugged terrain outdoors and it will be fine even for uneven surfaces.
Value for money
This sleeping pad offers you a great cost to value ratio and is certainly one of the top budget sleeping pads on the market today. There are many other sleeping pads with higher warmth and comfort ratings, but they are all really expensive.
This pad offers great value for money if you look at the design and the technology included and while you might sometimes have a snag here and there, you should be able to patch it up in no time and at absolutely no additional cost. This sleeping pad should be looked after and we believe that it will look after you.
The manufacturers have also included a lifetime warranty for this sleeping bag and this does show some extreme confidence from the brand.
This lifetime warranty is limited, but the damage is definitely covered, and should your sleeping pad not hold up on the rugged terrain, or you experience some problems with the valve, they will happily replace the sleeping pad.
For this price and the lifetime warranty, this sleeping pad is definitely the way to go for the enthusiastic backpacker.
Unique features
The V2 sleeping pad is quite an interesting pad and while it might not be as full of features as some of the other winter-specific sleeping pads; it still does have a few unique features that set it aside from the rest of the field:
Lightweight: The Klymit static V2 sleeping bag is one of the lightest you will find on the market today. The sleeping bag is designed to be easily folded up and carried along on your ventures and it can also easily be refolded and packed away, taking up the absolute minimum in storage space.
Deep weld patterning: The pad features deeper baffles than most of the other rectangular sleeping pads and this will ensure that your sleeping bag does not fall flat once you place it inside the sleeping bag. The welds will create expansion zones that will allow your bag to stay fully lofted beneath you.
Body mapping technology: The V-shaped baffles will ensure that your body is in a comfortable position no matter how you sleep. The sleeping pad itself will not move, but the air will just re-inflate the baffles to keep you sleeping comfortably all night long.
Rugged outer layer: The outer layer is quite rugged and this will provide you with somewhat more durable than some of the other sleeping pads. This durability is thanks to the 75D materials used in the construction.
Main Competitors
Airlite Sleeping Pa
The Airlite Sleeping Pad is a very similar model to the Klymit V2, but it features horizontal baffles when fully inflated. The sleeping pad is also quite light in terms of weight and will be perfect for backpackers and campers alike.
The Airlite sleeping pad is a little more durable and it has been covered with diamond ripstop materials to resist any tears and scratches.
While this sleeping pad is in the same price range as the V2 sleeping pad, it does make it much easier and faster for you to have it inflated. The sleeping pad features a built-in pump and the thick tubular design does make sleeping feel a little more like your bed at home.
The Airlite does not focus as much on providing you all-around comfort, but it should still allow you have a good night's sleep out in the wild.
Fox Outfitters Self-Inflating Camp Pad
The Fox Outfitters Self-Inflating Camp Pad is another great alternative to the V2 sleeping pad and it features a flat surface for those not comfortable with bigger baffles to deal with.
The sleeping pad also features a built-in pump to make it easier for you when it comes to inflating and much like the Airlite, it also features diamond ripstop materials.
While the V2 is rugged, this sleeping pad looks a little better when facing tougher terrains and the chances for a puncture are less likely. You will also have some peace of mind with the included patch kit if an accident does happen and you need to repair it.
This sleeping pad will also be great for any outdoor adventurer and it is highly recommended for backpackers since it is very lightweight. The sleeping pad is also available in multiple different sizes for you and your children and it is around the same price as the V2.
Klymit Static V Luxe Sleeping Pad
The Klymit Static V Luxe Sleeping Pad is extremely similar to the V2 sleeping pad. They both feature the V-shaped design that will focus on providing you a comfortable sleeping experience no matter which type of sleeper you are.
The sleeping bag is a little heavier and weighs in at roughly 35 ounces, making it a little heavy for minimalist backpackers.
The sleeping bag is also bigger in general and takes about 20 to 30 breaths to fully inflate, but it is a little thicker than the V2 and if you are a heavier person, this sleeping bag should be the one you choose. Unfortunately, the sleeping bag is much more expensive than the V2, but you will definitely be sleeping in much more luxury.
Overview
The Klymit V2 sleeping pad is one of the top additions to your outdoor kit. The sleeping pad is designed for the absolute minimalist and it will definitely keep you elevated off the ground and combine with your sleeping bag for a decent sleeping experience.
The sleeping might not have the highest of ratings when it comes to keeping your warm, but it will work perfectly in the backcountry for your backpacking adventure.
Compared to many of the sleeping pads in the same price range, the sleeping pad does excel in terms of comfort, allowing you to sleep in virtually every position without any fear of not having enough comfort.
The sleeping pad is great for any minimalist situation and we do highly recommend that you use it in conjunction with a good down sleeping bag to compensate for the lack of warmth provided.
Blowing up the sleeping pad might also be quite tricky at the start and it will definitely take some practice to get it fully inflated the first few times.
Pros:
Extremely lightweight design
Molds to the shape of the body
Very small in size when folded
Easy to set up and to inflate
Includes antimicrobial properties to reduce any odor
Does not let the loft of a down sleeping bag fall flat
Really affordable
Very durable for the price
Cons:
Does not feature a self-inflating pump
Lacks good insulation when used in the winter months, but this can be compensated for with a decent quality sleeping bag
The valve lock is sometimes hard to operate and this could potentially lead to some of the air escaping when you sleep
If you love backpacking in the summer months, this sleeping pad will definitely do the trick. It is also really affordable when compared to many other more insulated sleeping pads and it is much more compact in size.
We hope that you now have a better understanding of this sleeping pad and how it could potentially benefit you on your next backpacking trip.
Klymit Static V2 Sleeping Pad
Packaging

Design and Durability

Warmth

Comfort

Value for money and guarantee

Unique features
Summary
The Klymit static V2 sleeping pad is a great budget choice for those who like to go backpacking in the summer months. The sleeping pad is really easy to use and will provide you with a decent night's sleep when you are exploring nature. For a low price, you will be able to enjoy the camping or backpacking experience in the summer months.
We would like to thank you for reading this article and we would like to know more about your outdoor experience with this sleeping pad if you have ever used it before. Please share your story with our readers and how you would rate the sleeping bag.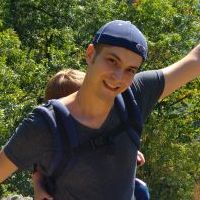 Daniel is a gear freak when it comes to hiking, climbing and camping. He went to REI Outdoor School to meet new people and learn best practices. Don't even try to argue with him about the latest backpack or ice axe, he tried most of them. Daniel's dream is to climb Mount Everest.