You step outside, open your umbrella and brace for the rain. However, this storm has more in store for you when a huge gust of wind turns your umbrella inside out, rendering you defenseless and wet.
There are many different umbrellas out there that are made to withstand large gusts and heavy rain, but what is the best windproof umbrella and what makes it invincible.
When searching for a more stable umbrella, don't let the price alone guide you. There are many factors to consider when you want to buy the best umbrella for wind protection.
Best Windproof Umbrellas on the Market
Note: We get commissions for purchases made through links in this article
Blunt XS Metro Windproof Folding Umbrella
Diameter: 37 inches
Protection: Up to 55mph winds.
Features: Patented BLUNT tips and radial Tensioning system; No sharp points; Polyester canopy; Aerodynamic structure; Folds into compact size; RDS.
With patented rounded corners to keep you from poking nearby people, the Blunt XS Metro Windproof Folding Umbrella is innovation with style. The stretchers keep the polyester canopy tight and secure in place so that the wind won't blow it inside out.
Fitted with an automatic opening for quick coverage, so that you can be protected with the push of a button. The Radial Tensioning System (RDS) was created to redirect, transfer and then distribute the tension from the ribs of the canopy to the stretches. This feature ensures that the umbrella has the tightest fit when open, which stabilizes it and keeps it from turning inside out.
When opened, it stands 19 inches high, from the handle to the top center. This umbrella comes in many assorted colors to brighten rainy days. It comes with a one year workmanship warranty that will protect you if any defects arise, however, this will not cover normal wear and tear damage.
DrizzleDuck Automatic Open Windproof Vented Umbrella
Diameter: 37 inches
Protection: Resistance to strong wind, rain, hail and snow
Features: Unique reinforced vented design; Fiberglass ribs; Auto open and close; Water repellent pongee fabric; Folds into compact size; Lifetime Guarantee.
This lightweight and compact DrizzleDuck Windproof Vented Umbrella packs a major punch of protection from the elements. A reinforced frame holds this umbrella in place to withstand high winds. Fiberglass ribs allow the umbrella to move and bend without fear of breaking.
The durable and water repellent pongee fabric canopy lets the water roll off with ease so that it doesn't pond and leak. The automatic open and close gives you full control of your umbrella with the push of a button. When not in use, the umbrella folds down to a compact size, perfect for bags.
This umbrella comes with a DrizzleDuck Lifetime Guarantee, which means if anything breaks then you are covered by the company.
Fulton Men's Windbreaker Super Strong Folding Umbrella
Diameter: 38 inches
Protection: High resistance to strong winds.
Features: Two stage automatic steel frame; Rubber finished handle; Automatic open; Slim design; High performance polyester pongee canopy; Folds into compact size.
You will feel sleek and safe in harsh weather with the Fulton Windbreaker Super Strong Folding Umbrella. The unique structure design is made to withstand strong winds. This umbrella has been fitted with a high performance polyester pongee canopy.
This type of fabric is very durable, water repellent and does not rip or tear easily. The rubber gripped handle will keep the umbrella from slipping and sliding out of your hands. A two stage steel frame with 8 ribs is designed to be the ultimate defense against high winds, making your umbrella stable and locked down.
An easy automatic open makes getting it up a breeze. Fulton umbrellas are well known and highly sought after in the UK.
Senz Smart S Umbrella
Diameter: 34 inches
Protection: Up to 60 mph winds
Features: Made from steel; Unique aerodynamic design; Foldable to fit in your bag; Budget friendly design; Available in a variety of colors; One year limited warranty.
The heavy duty yet compact design of the Senz Smart S Umbrella will keep you dry and confident in harsh weather conditions. The unique aerodynamic design give this umbrella a longer backside to better cover a carried bag or backpack, while offering a shorter front so that you can see while walking.
This umbrella is engineered with a steel frame to handle wind gusts up to 60 mph. The unique design allows you to direct it towards whichever way the wind is blowing for the best protection. When not in use, it will easily fold down into a compact size that fits in your bag.
Available in a variety of colors, this umbrella allows you to pick a color that matches your style and personality. The Senz brand umbrellas come with a no nonsense warranty on their products.
Collar and Cuffs London Windproof Extra Strong Storm Defender Umbrella
Diameter: 43 inches
Protection: up to 50 mph winds.
Features: Standard-sized umbrella; Strong and lightweight fiberglass frame; Large vented canopy; Automatic open; Traditional wood curved handle; Exceptional customer service.
Dedicated to making the best, the Collar and Cuffs London Storm Defender Umbrella has been researched and tested for years to find the best formula for excellence. The frame is made with fiberglass to give strength and flexibility without adding weight.
This umbrella has a large canopy to completely cover you while your out. Two overlapping layers conceal vents that allow wind to pass through to reduce the risk of the umbrella turning inside out. The traditional wooden curved handle adds a flare of style and sophistication.
Collar and Cuffs offers a 30 day money-back guarantee on this umbrella and boasts an exceptional customer service satisfaction rating. If anything happens to your umbrella outside of the 30 days guarantee, then they will try to still find a way to help.
ActiveUmbrella Pro Compact Travel Umbrella
Diameter: 41 inches
Protection: High wind resistance; UV protection
Features: One second open-close; One hand operation; Folds into compact size; Aluminium shaft and durable ribs; Uv sun protection; 100% guarantee on product.
The ActiveUmbrella Pro Compact Travel umbrella offers an easy to use yet effective way to protect yourself from the elements. With a strong aluminum shaft and extremely durable ribs, this umbrella was made to last.
This umbrella pops open in one second, so you aren't left fumbling in the rain. Automatic open and close technology allow you to only need one hand to close your umbrella when your done.
The water repellent and mildew resistant canopy also offer UV protection from the sun, so you can use this umbrella in rain or shine. When not in use this umbrella folds down to only 11.5 inches, allowing you to carry it without taking up much extra room.
ActiveUmbrella offers 100% satisfaction guarantee. If you are not happy with this umbrella, they will work with you to find a solution.
Opening up the Umbrella
Let's start by looking at the basic makeup of a sturdy umbrella. What keeps it from breaking and going inside out when gusts blow? How strong is the frame and will it keep you protected from the elements?
A standard umbrella is made up of a lot of small parts that all work together to open, keep open and close it. Each part has a name and a function.
Handle – Starting at the bottom, the handle is the best place to grip and hold your umbrella. Whether straight, grooved or curved, this piece is made to fit your hand comfortably. If this is an automatic umbrella, the open and/or close button will be placed on the handle within easy reach.
Shaft – This is the long and sometimes adjustable metal pole. Compact sized umbrellas have a short shaft that will extend as the umbrella is opened. Standard sized umbrellas do not have collapsible shafts. There will be notches on the shaft to hold the umbrella closed or to keep it open.
Runner – The runner is a small ring that slides up and down the shaft. This is the key part to a smooth umbrella opening. When using a non-automatic umbrella, the runner is what you use to push the umbrella up.
Stretcher – These are the thin spider-like arms that reach out at the top of your umbrella. They work to keep the umbrella upright and to hold it's rounded shape. If a stretcher breaks or malfunctions, a part of your umbrella will lose tension and begin to sag.
Canopy – This is the top of your umbrella that covers you and keeps you dry. Canopies come in a variety of colors or can be completely transparent. Different materials are used for canopies. Polyester is a popular and durable fabric.
Rib – Also slender in design, these long thin pieces are enclosed in the canopy. The ribs are shaped to arc the umbrella into a curved shape. This allows the rain to easily slide off the top instead of pooling and causing damage.
Now that you are familiar with the basic parts of an umbrella, lets take a look at what materials go into making an umbrella and what makes it sturdy enough to protect you in heavy rain and high wind.
Materials
Most umbrellas will be made from the same or similar synthetic fabrics. The frames are generally created with aluminum, not to be confused with common kitchen aluminum, but a more titanium and durable version. Some of the more advanced umbrellas will be make with a steel frame.
Width of the canopy
This measurement is from one tip of the umbrellas rib to the opposite side. The number should be measured straight across and not include the arc of the canopy. It should be noted that wider numbers result in better coverage.
However, you also should factor in the depth of the arc. While a shallow arc will provide a wider area, a deeper arc gives you a more enclosed feeling of protection from the rain.
Frame design
The frame is the shape of the umbrella from the handle shaft all the way up to the stretchers and out through the ribs. Not all umbrella frames are created equally or exactly alike. As the world evolves, so does the standard round frame and canopies.
An odd shape or design should be considered since it could be a new innovative way to shield you from the weather outside. When it comes to having a windproof umbrella, the more aerodynamic the frame is, the better you are able to stay protected without having your umbrella turn inside out.
Handle
There are many different designs to the handle. Some are basic and straight. The handle might include grooves for your fingers to offer a better fit. Some handles are curved.
In the 17th century, the curved U shaped handle was created. It was designed for attendants to be able to hold the umbrella at an angle to better shield their employer. In the years since it has become a fashion statement and a preference for being able to hang the umbrella on a rail when not in use.
Size
Does it really matter? In more recent years, as the compact umbrella has become a household staple, there really is little difference in the protection it offers versus the tall standard sized umbrella.
A compact umbrella is preferable for easy toting and storing away, while a tall umbrella is a good statement piece or can be used as a cane or walking stick when not in use. When choosing a size, it is all about what your preference is.
Price
When it comes to the price, the most expensive is not always the best choice. Sometimes you are paying more for a name brand and not getting as many features and stability as another brand.
However, the same can be said of buying cheap umbrellas. You shouldn't always choose the cheapest option, since you run the risk of repeatedly buying an easy breking umbrella. When shopping you should look at the pros and cons of each item to find one that you can invest in.
Also, check into what type of warranty the umbrella offers. Some companies offer no hassle warrantees on their product, so if it breaks they will ship you a new one for little to no cost.
What makes it windproof?
Various factors come into play when making a windproof umbrella. There isn't one single formula that works, but instead different companies have made their own designs to help combat and protect against mother nature.
Vented- These umbrellas will either have a mesh liner or a gap between two pieces of fabric that will allow the wind to glide through your umbrella without getting under and lifting it. This concept is successful in keeping your umbrella from flipping inside out, because it helps flow with the wind and not against it.
Aerodynamic canopies- This type of canopy has been aerodynamically engineered to withstand wind gusts and allow it to not be damaged. This type of windproof technology is mostly about the shape and contours of the canopy, making it more streamlined so that the wind will glide over and through it.
Reinforced frames- This refers to more steel and fiberglass manufactured frames. The steel is a hard substance that reinforces the canopy and holds it tight to ensure that it will not flip. High tension is a great combatant when it comes to wind.
Fiberglass ribs allow the canopy to move and bend a little without fear of breaking, this allows the umbrella to be moved by the wind without fear of damage. If the umbrella does accidentally flip inside out, the fiberglass allows you to flip it back and protects against the ribs breaking from the impact.
Durability- Certain canopies are made with more durable fabrics that can last for many seasons of use. The pongee fabric is a well known favorite since it is water resistant, medium weight and very durable. This fabric is also easy to add color and design to without harming it's effectiveness.
These are just a few of the many different formulas to make a windproof umbrella. Now that you know more about the umbrella, the properties of its frame, and what makes it successful in harsh conditions, let's take a look at some of the windproof umbrellas that are currently available.
In Closing
So what is the best umbrella to protect against wind? That really comes down to you and what you prefer when you are buying an umbrella. Would you prefer a lightweight compact option, or a tall standard sized umbrella. Do you prefer the unique aerodynamic shaped styles or would you rather have a traditional round vented umbrella.
There is no right or wrong answer, it all comes down to what you would rather have above your head when the rain begins to fall. If you still can't choose, pick more than one. Keep one at home and one for on the go so that you are always covered. Have any comments or suggestions for us? Please leave a comment!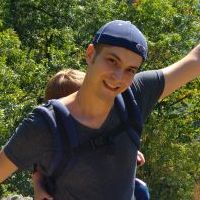 Daniel is a gear freak when it comes to hiking, climbing and camping. He went to REI Outdoor School to meet new people and learn best practices. Don't even try to argue with him about the latest backpack or ice axe, he tried most of them. Daniel's dream is to climb Mount Everest.