Smartphones are not just for calling and texting anymore. They have maps and GPS features, internet access for helpful tips when traveling, camping, and other activities that are far from home, and they are the only camera many people carry anymore.
Tablets, gaming devices and even computers also travel with us everywhere these days, which is why it is necessary to have the best travel charger you can get your hands on to keep these devices running throughout your day, or even an entire weekend on the road.
Best travel Chargers Reviews
Note: We get commissions for purchases made through links in this article
Anker PowerCore 10000
Weight: 6.4 oz
Dimensions: 2.36 x 3.62 x 0.87 inches
Specific Features: High-capacity portable charger, micro USB cable, 1 x 2.4 Amp charging port, travel pouch, welcome guide, 18 month warranty
Best Use: Car trips, air travel, camping, backpacking
This high-capacity portable charger is 27% smaller than other portable chargers and takes up almost the same amount of space in your pocket as a credit card would. But despite its size, this charger still offers the same amount of charges to your phone or other devices as travel chargers twice its size.
The PowerCore 10000 uses a combination of Anker's PowerIQ and VoltageBoost technologies in order to give each device the fastest charge possible, though it does not support Qualcomm Quick Charge. The exterior is tough and durable, able to withstand the rigors of traveling.
Inside, only the highest quality hardware is used, with Panasonic battery cells combined with chips from Sony, all mixed with Anker's own technology. There are also numerous safety features that will help to keep your devices safe when used with this charger. These include temperature control, short circuit protection, output voltage surge protection, output current stabilizer, and power overload recovery.
Only one charging port means you can't charge multiple devices at a time, but this portable charger has the capacity to charge at least four phones before the charger itself will require charging. And if you do need to charge more than one of your devices at any given time, the low price means you could easily buy more than one to meet your needs.
Related: Anker also has a PowerCore 10000 with Quick Charge 3.0 that gives you faster charge speeds, bringing your devices up to 80% in about half an hour. Though the same size, this charger can only charge your phone 3 times before the charger itself needs to be charged, so its speed does sacrifice a bit of the capacity of the regular PowerCore 10000. If speed is more important, the Quick Charge 3.0 is a great option, but for longevity, the regular model is the best choice.
Zendure A2
Weight: 5 oz
Dimensions: 3.7 x 2 x 1 inches
Specific Features: Portable charger, micro USB cable, 1 x 2.1 Amp charge port (only 1.3 Amp in charge-through mode), travel pouch, product guide, 18 month warranty
Best Use: Air travel, car trips, camping, day trips
The A2 is the smallest portable charger made by Zendure. The outer housing is made from crush-proof composite material with a shock-absorbing central rubber belt and is strong enough to withstand extreme pressure, even when run over by a car.
It has a capacity of 6700 mAh and is capable of charging each device repeatedly on just one charge of the portable charger. This travel charger has the ability to detect which device is plugged into it, so it can fine-tune the output for each device and charge it at the fastest speed possible.
The A2 also has a charge-through function that charges the power bank while it charges your phone or tablet, which is a feature that is rarely seen on external batteries of this type. It also turns itself off when your device is completely charged and then turns itself back on again when needed, so you never have to worry about overcharging or wasting the charger's battery supply.
The high-quality battery in the A2 is able to retain at least 95% of its charge even if you don't use it for months at a time. This portable charger can be used with almost all Android and Apple smartphones and tablets, as well as a variety of other devices, using either the included USB cable or your device's own cable. If there are any issues with your charger or its cable, Zendure's excellent customer service is friendly and accommodating.
Related: There are many portable power chargers available from Zendure. The closest models to the A2 are the A3 and the A4. All three are made of the same outer composite plastic, and use the same high-density lithium-ion battery cells. The differences lie in the size and the capacity of each model. The A4 is the biggest charger, with a 13,400 mAh capacity. The A3 is in the middle size-wise, with a 10,000 mAh capacity. Both of these models also have 2 charging ports.
Anker PowerCore+ Mini
Weight: 3 oz
Dimensions: 3.7 x 0.9 x 0.9 inches
Specific Features: Premium aluminum portable charger, micro USB cable, 1 x 1 Amp charging port, travel pouch, welcome guide, 18 month warranty
Best Use: Backpacking, air travel, car trips
This tiny portable charger is Anker's premium lipstick-sized model, the first of its kind. It has a 3350 mAh capacity that can fully charge most items with a bit of juice left over. The charging port detects which device is plugged in and then uses its PowerIQ technology to adjust the amps, so each device gets the fastest charge possible.
The aluminum case is durable and can withstand the bumps and ordeals of travel, fitting perfectly into any pocket or travel bag. The battery is a premium Panasonic cell, giving you the best performance and power possible. To keep both your charger and your devices working properly, there is also Anker's MultiProtect Safety System integrated into this portable charger, keeping them safe against surges, short circuits and other possible dangers.
The LED indicator light lets you know how much charging power you have left, shining green when it's ready to go, orange when it's low, and red when the travel charger is empty. The convenient Micro USB can be used for charging both your devices and the charger, though there is no wall plug included, nor does it come with the lightning cable for IPhones or IPads.
Some have found the power button to be difficult to push, especially with the cable already plugged in, but this will also ensure it won't turn on by itself while in your pocket or bag. This tiny charger also comes in 5 colors to match your devices.
Related: There is another PowerCore mini available that is the same size as the PowerCore+ Mini, though lighter at only 2.3 oz, with the same 1 Amp output. Its capacity is also a bit less at only 3200 mAh. Though still compact and convenient, the lower power may keep you from fully charging your devices, and on longer trips, the PowerCore+ may just have the extra bit of charging power needed to get you to your destination.
Zendure A8 Quick Charge 3.0
Weight: 1 lb 1 oz
Dimensions: 4.7 x 2.9 x 1.6 inches
Specific Features: Portable charger, Micro USB cable, 4 x charging ports (1 QC 3.0 port with 3.0 Amp, 2.0 Amp, 1.5 Amp when connected to devices compatible QC 3.0, and 1 x 3.1 Amp charging port), travel pouch, product guide, 18 month warranty
Best Use: Extended air travel, car trips, running errands, camping, backpacking, outdoor or office work
This heavy-duty yet compact portable charger can keep your phone and other devices running all weekend long, thanks to its 26800 mAh capacity. The Qualcomm Quick Charge 3.0 Technology gives you multiple output levels in one port and Zen+ Technology in the other 3, so you will always have the speedy and efficient power supply you need for all of your devices.
The 3 Zen ports will also detect which device is plugged in and adjust the output level for the fastest charge possible. Unlike many other portable chargers on the market, the A8 also allows you to charge the travel charger while you charge your devices, so you never have to worry about this high-capacity charger running out of juice on the road.
This handy charger turns itself on when you plug in your device and then switches over to standby after completing the charge, so you never have to worry about overcharging or wasting the batteries power. Even if you only use this portable charger occasionally, it will still retain 95% of its charge after months in a drawer or glove compartment. Though it looks like it is made of metal, the silver body of the charger is actually durable ABS/PC Composite plastic, with 3.7V high density lithium-ion cells inside.
Related: The closest model to the A8 QC charger from Zendure is the A5 model, which has a lower capacity of 16750 mAh, is about the same size but lighter in weight, and has only 2 charging ports with a maximum of 2.1 Amp output. For only 1 or 2 devices to be charged over a couple of days, the A5 is a great choice, but the higher capacity and 4 device charging capability of the A8 makes it a better option for longer term trips or for use by numerous people.
Xiaomi 10000 mAh Power Bank
Weight: 6.4 oz
Dimensions: 3.8 x 3.2 x 1 inches
Specific Feature: Aluminum portable power bank, Micro USB cable, 1 x 2.1 Amp charging port, user manual
Best Use: Camping, car trips, air travel, backpacking
The aluminum body of this 10000 mAh power bank is both water- and corrosion-resistant, covering an integrated Lithium-ion battery pack. It has the capacity to charge your tablets once with some juice left over, or your phones at least twice, and sometimes even longer depending on the brand.
It has one output port with the ability to monitor the output current so it can shut down as soon as the device is fully charged to protect it from harm. Other safety features include heat resistance, overvoltage protection at both the input and output, short circuit protection, and improper installation protection. The power button on the side turns the power bank on and can also be pressed to restart the charger if any operational issues occur.
Four indicator lights located on the side near the charging port keep you aware of the status of the charger, letting you know when it is almost empty and in need of a charge, so you'll never be left stranded with a dead charger and powerless devices. This compact power bank is small enough to carry with you at all times and is compatible with a wide variety of phones, tablets, digital cameras and even gaming devices.
Related: Xiaomi also has a Power Bank Pro 10000 mAh available. It is a bit thinner than the regular model, with similar safety features and materials, but along with the normal USB port, it also includes an adapter for the USB type-C charging cables. If you need this feature, the Pro is the better choice, but for those who don't use a MacBook or other device that requires this adapter, the regular 10000 mAh Power Bank is the better choice.
MixMart 24000 mAh Portable Power Bank
Weight: 1.36 lbs
Dimensions: 7.3 x 5 x 1.1 inches
Specific Features: Power bank, 3 x 3.1 Amp USB charging ports, AC outlet, International outlet adapter, interchangeable wall adapter, user manual, 12 month warranty
Best Use: Road trips, air travel, camping, boating, outdoor activities
Though this portable charger is a bit larger than some other models, its multiple functions make it well worth the extra size. Along with the 3 USB ports, it also has an AC outlet that can be used to charge your computer when needed, or even power a small LED lamp or other compact item when needed.
The international adapter allows you to use this power bank no matter what country you are in, so you will never be left with a powerless charger. The high 24000 mAh capacity means you can charge your devices repeatedly, from 3 full charges for an iPad to 13 charges for an iPhone 6s.
A blue LED indicator light tells you the percentage of power left in the MixMart 24000 mAh Portable Power Bank, and when the charging unit itself is running low, it can be recharged in about 2.5 hours. The Samsung lithium-ion battery cells are the highest quality. If you find yourself out in the dark, there is even a built-in flashlight to light your way.
Safety is always a concern, which is why this power bank features overcharging protection, overvoltage protection, short circuit protection, and auto power off protection. There is no carry case included with this portable charger, but it is small enough to place in a bag or briefcase. There are also no cables included with it, so you will need to use the ones that come with your device when it comes time to charge one.
Related: There is also a MixMart 21600 mAh Portable battery pack available that has 3 USB ports, indicator lights instead of the LED percentage meter, but has less capacity, only a maximum of 2.4 Amp from the charging ports, and does not feature the AC outlet or international adapter. It is smaller and lighter, making it ideal for compact traveling, but for those who travel internationally or require the ability to charge their computers or other AC devices, the higher capacity 24000 mAh portable power bank is a necessary item.
Where Can You Use a Travel Charger?
Well, the short answer is: Anywhere. Simply charge your power bank up to full capacity and use it throughout the day or over the course of a weekend. You can take your power bank with you:
For air travel
On long car trips
Camping
Backpacking (though if packing light, you'll have to choose a smaller size, and may need to sacrifice the battery's capacity)
Shopping
When working outdoors, away from outlets
Office work when no outlet is available
Trips to the park or the pool
What to Look for in a Travel Charger
If you need a travel charger for your activities away from home, there are a few things to consider before you add it to your cart, whether shopping online or in a store.
Compatibility
Though most travel chargers can work with the popular brands of smartphones and tablets, do not assume that they will automatically work with every one available. Check out the compatibility of each charger before purchase, to be sure all of your devices can work with it, so you don't need to purchase multiple power banks.
Output
Travel chargers come with anywhere from 1 to 4 charging ports, and each port may have different output levels. They are usually 1 Amp or 2.1 Amp, with the lower outputs for smaller devices like smartphones and the higher numbers for tablets and other larger devices.
You can use whichever port you want, but keep in mind if you are charging a 2.1 Amp device on a 1 Amp charging port, it will take longer to fully charge it. Also, you need to look at the combined output for all ports, to be sure it has the capacity to charge multiple devices at once at its top charging speed.
Input
Having a travel charger is handy, but only if the charger can be refilled as fast as the devices. If it takes 12 hours to charge, that is fine for leaving it overnight, but on the go, you want to be sure it can charge itself in as few hours as possible. There is little use in a charger that is as dead as the devices it is meant to support.
Capacity
If you are only using it for emergencies or for day trips that may require only one charging of a smartphone, a low capacity power bank is a cheap option. But for long term travel or weekends at the cabin with no other power source, a higher capacity charger is necessary, especially if you will be using it with a few different devices.
Size
A travel charger is useless if it can't travel with you comfortably. Compact models come with different capacities and charging port options, and can range from the size of a tube of lipstick to the size of a small e-reader. If using a suitcase or briefcase, you may have room for a larger charger with more features, but for backpackers traveling light, the smaller chargers with only one or two charging ports would be a necessity.
Durability
Because you will be traveling with this external charger, you have to have one that can handle a bit of rough use. Metal housing is best, but there are some made with composite plastic that can withstand a tumble onto solid ground. Also, check out the safety features to make sure it won't overheat or short circuit when in use, since this could not only damage the charger, but also the device attached to it.
Extra Features
Though not necessary, some travel chargers have a few extra features that make them a bit handier. LED indicator lights tell you the level of power left in the charger. Flashlights can also be found on some portable chargers, which can be helpful in emergency situations or even to light your way to the campground restroom.
AC outlets are rare, but can be useful if you need to power a computer on the go. International adapters are great for those who travel the globe, but not necessary for the average user.
Now that you know where you can use your travel charger and what to look for in one to best suit your needs, it's time to start shopping. We've added a few to help you start your search, to make your comparisons a little bit easier.
In Conclusion
In this technology-heavy world, having a full battery on your devices is essential. Whether you use them for work or for play, watching your screen go dark seems to happen at the worst possible time, and having a travel charger can help to keep those devices up and running throughout even the longest trips.
Though we've reviewed some of the top chargers on the market, if you have one that you think could fit in with our list, please let us know in our comments section.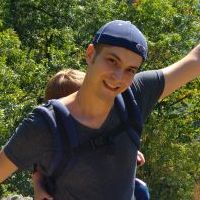 Daniel is a gear freak when it comes to hiking, climbing and camping. He went to REI Outdoor School to meet new people and learn best practices. Don't even try to argue with him about the latest backpack or ice axe, he tried most of them. Daniel's dream is to climb Mount Everest.