A backache, shoulder spasms, lower back fatigue and hip strain are all unwanted, unwelcome, and completely unnecessary sufferings that plague many hikers and outdoor travelers after covering significant mileage on foot. Is it avoidable?
Considering the luggage that your back is required to carry, it seems like a necessary burden that outdoorsmen must simply learn to endure. To avoid this problem, however, you can read on ahead to discover what the best Osprey backpack is and how it can aid in your camping experience.
Osprey has a variety of backpacks that stand out on their own as high-quality products, designed to facilitate and accommodate the pressures and difficulties experienced by hikers due to the weight carried on their backs.
In this article, we will review some of the top backpacks made by Osprey, and examine some of the considerations to take to correctly fit and use these backpacks to maximize their abilities to offer comfort and support while ensuring that all the necessary equipment is safely and conveniently contained.
Note: We get commissions for purchases made through links in this article
Our top picks
Some of the best products that differ in purpose and size, and that are offered in the backpacking range that Osprey has, included these models:
Osprey Men's Aether 60 Backpack
Weight: 4.8 pounds
Dimensions: 25 x 13 x 6 inches
Specific features: IsoForm⁴ CM™ hip belt, stiffness comfort structures, LightWire(TM) peripheral frame, external hydration sleeve, easy access through a J zip.
Best use: Hiking, travelling, carrying heavy loads.
The Osprey Men's Aether 60 Backpack is one of those great backpacks that can be seen as a one-off investment to last you through various adventures without requiring a new backpack. For a 2-3 day hike, a 60 L should suffice just fine, provided you are able to pack wisely. This backpack is very roomy and spacious, and unless you foresee yourself really needing that extra room, the 60 L is generally just fine for standard camping and hiking trips.
The only real possible challenge a user may face with this backpack is the possibility of a winter-weight sleeping bag not fitting too easily inside the backpack; the sleeping bag compartment is large enough, but the opening is a little smaller than it looks. A sleeping bag can fit in from the top with a little-added effort.
Note for the ladies: The female model of the Aether is the Aerial backpack, an equally great quality pack specifically designed to fit a ladies form.
Osprey Packs Daylite Plus Daypack
Weight: 1.19 pounds
Dimensions: 10 x 10 x 18 inches
Specific features: Diamond ripstop materials. Mesh-covered back which assists in better ventilation. Add-ons and extensions can be attached to customize and accommodate its purpose for the unique needs the user may have.
Best use: Camping and hiking.
The Osprey Packs Daylite Plus Daypack is suitable and comfortable enough for daily use, as well as serving hikers and mountaineers exceptionally well. It offers a very snug fit on the body without moving around during a hike. It is important to remember that this pack should be purchased for the use of attaching it to other packs and add-ons, rather than a stand-alone backpack, as it rather small.
It can be used a small pack and easily stored under seats on public transport, therefore it is great on tour to other countries, once detached and used alone. This bag could be better if it contained some inner zippers, or storage compartments to help keep various packed items neatly stored and separate. The front compartment is also rather small.
All in all, this is a great pack to take along on a journey for day trips, as it is small, lightweight, supportive, but not a great bag to organize and pack many items into.
Osprey Packs Talon 18 Backpack
Weight: 1.2 pounds
Dimensions: 9 x 22 x 9 inches
Specific features: This model is the updated version of the Talon series. fit, style and unique features. They have added features that make the pack more adjustable for a more custom fit and have decreased the overall weight of the pack. It contains two exterior pockets and is manufactured using 100% polyester.
Best use: Hiking daypack, farmer's market trips, cycling day trips.
The Osprey Packs Talon 18 Backpack is compact, lightweight, unobtrusive and one of the most convenience and comfortable choices for a daypack and is surprisingly spacious given its size. It's even capable of handling a 3l bladder in its reservoir compartment comfortably, and still, have plenty of room for packing other items too.
The pack remains comfortable to wear throughout the day, as it distributes weight on the back well and fits snuggly against the body. This pack is a top loader, which may be frustrating to some people, but it nevertheless still serves its purpose considering that it is made to only hold a day-outings-worth of items at a time.
The bag does lack exterior attachment points and could use a few more compartments, especially since water bottles and bladders may sweat onto the other contents of the backpack. Due to its great weight distribution and small compact form, it is also a great backpack to take on a cycling tour.
Cyclists who pack minimally may be able to fit their overnight gear and essentials inside the pack too. It also looks appealing, being a very gender neutral and attractive design available in various colors such as avatar Blue, Onyx Black, Shamrock Green and Flame Orange.
Osprey Porter Travel Backpack Bag
Weight: 1.2 pounds
Dimensions: 27 x 14 x 7 inches
Specific features: 420D Nylon Hex Rip / 420HD Nylon, The zipper to the main compartment is lockable. The sidewalls of the pack are foam padded and make use of straight jacket compression to stabilize and protect the contents of the bag, an adjustable sternum strap, as well as padded shoulder straps, reinforced cord loops to pair it with the Osprey Daylight.
Best use: Carry on for flights, casual day packs, cycling, and short hikes.
The Osprey Porter Travel Backpack Bag is really intended to be used as a large carry-on bag. It is very spacious, and the zipper allows the whole case to open up, making the organization of items inside very easy. It also has lots of loops for add-ons and attachments. Provided that the bag is not packed to capacity, it is a compact and convenient item to carry around throughout the day, wherever you go.
It fits well into overhead compartments and under seats without a hassle. The bag is very secure, and near impossible to be pickpocketed while worn, which is great for any users considering using it for an overseas visit. All of the straps are able to be tucked neatly away behind a zip, which makes it more convenient, neater, and less likely to be caught on anything.
The bag does not claim to be water-resistant, but it naturally does seem to protect the contents it holds from rain showers. It is also very durable, and the quality of the bag is easy to feel.
The one challenge that users may find with this product is accessing the outside pockets without any trouble when the cinch straps are tightened. This point may not be made or break to most people, but worth taking into account if this is important to you.
While the loops that are used to attach the Porter to the Daylite pack are useful, they are difficult to use and take some getting used to. It is best to have a few practice rounds and get well acquainted with the intricacy of this mechanism.
Osprey Farpoint 40 Travel Backpack
Weight: 3 pounds
Dimensions: 14 x 21 x 15 inches
Specific features: This pack comes in various gender-neutral colors: volcanic grey, jasper red, brick red, Caribbean blue, and dark grey. It is made from nylon and contains unique features, such as loops to lock the main compartment of the bag, a hip belt and harness system suitable for both genders use, which can be neatly stowed and zipped away to create a more slender profile.
Best use: Weekend getaway, camping, city travel.
The Osprey Farpoint 40 Travel Backpack is the ideal travel buddy. It is designed to hold clothing and other travel items, and not so much camping and outdoor gear. It can hold 5 or 6 outfits comfortably and have room for a few other basic essentials and electronics.
It can be pushed to hold a sleeping bag if it must! It offers decent support around the waist, distributes weight evenly and cushions the shoulders very well. Compression straps help to create a more compact bundle to travel with, and when the bag is emptied, it stores as a flat bag, which makes it convenient to store away.
Some of the challenges that a user may face with this bag are the lack of compartments. The outside compartment is too small to store all of the basics that need to be accessed easily, and needing to rummage in the main compartment each time you require something small is a major hassle. The bag also requires some know-how, as the clips are complicated to operate and the hideaway straps are difficult to get tucked away.
Osprey Sirrus 36-Litre Backpack
Weight: 3.5 pounds
Dimensions: 12 x 26 x 12 inches
Specific features: This pack is available is various colors: Black, Purple Orchid, Ruska Purple, Stealth Grey, Summit Blue and Thyme Green. With dual side compression straps, a loop designed for an ice tool with a bungee tie-off, as well as a Stow-on-the-Go pole attachment and adjustable torso length. Zippered sleeping bag compartment, an internal hydration reservoir sleeve and an integrated rain cover.
Best use: Hiking, camping, ice climbing, mountaineering.
The Osprey Sirrus 36-Litre Backpack is great for long hikes, as it manages to hold everything you need and still be lightweight and comfortable. It provides good ventilation on the back to prevent sweat-forming dampness. The weight distribution over the shoulders is brilliant and the pack provides ample support.
The backpack is highly adjustable, making it suitable for ladies of most sizes. The Sirrus 36 is also suitable to use as a carry-on, so it is also a great travel backpack. Curvy ladies with hips may find the metal frame brushes their lower back and hip areas.
It is recommended to fit one of these backpacks, ensure that it is correctly adjusted, and see if this is an issue or not for your body type. Reaching the water compartment with ease is also slightly challenging. Another shortcoming that is immediately obvious is that this model does not have a front zip pocket.
Osprey Xenith 75 Backpack
Weight: 6 pounds
Dimensions: 14 x 35 x 15 inches
Specific features: Available in Mediterranean blue or Graphite grey in sizes medium or large. It is made from high tenacity nylon (420D), easy to reach and zip-secured storage pockets on the hip belts. The main compartment can be accessed with two zips, dual compartments in the top pocket, the top pocket can be used as a lumbar pack with a built-in hip pack.
Best use: Hiking for extended periods with heavy loads. Great for camping, expedition backpacking and mountaineering.
The Osprey Xenith 75 Backpack is made using a LightWire peripheral frame for great structure and added comfort without the added weight. This pack was made to be loaded up to capacity with all your essentials and still remain comfortable and ergonomic.
The fit can be adjusted to suit various body types and preferences, by use of the BioForm CM hip belt and harness, which also provides stronger support. Unlike some of the other Osprey products, this one has really catered for the need of lots of compartments and great organization within the backpack.
It has a great ability to hold a large amount of gear, once you get acquainted with its usability, which is slightly complicated. The compartments, however, are easy to reach, the straps are adjustable making the backpack highly customizable based on different loads, and the simplistic choice of colors available are gender-neutral attractive variants.
The shoulder straps are padded, and together with the hip belt, this pack can handle loads that weigh over 60 pounds without much hassle at all. This pack also has a curved back, as many of the Osprey products do, to ensure that adequate ventilation reaches the back. A fact that hikers in warmer climates will greatly appreciate.
A fair criticism of the product would be in the sleeping bag compartment; as this compartment opens with a rather small hole, and the zip is a bit sticky. Getting the sleeping bag in through the small gap provided is a bit of hassle.
Osprey Men's Atmos 65 AG Backpacks
Weight: 3.9 pounds
Dimensions: 10 x 16 x 23 inches
Specific features: Made completely from nylon, 5 external pockets which zip open and closed. This model is available in two vibrant colors: Absinthe green or Cinnabar red. It can be purchased in small, medium or large sizes.
Best use: Thru-hiking, extended backpacking, camping and mountaineering.
While Osprey is known for making products of exceptionally high quality, the Osprey Men's Atmos 65 AG Backpacks, in particular, takes the cake. It is an award winning a pack and is well loved in part for its Antigravity Suspension system. This system provides a great freedom of movement and uniquely precise fit against the body.
Taking into consideration its size, this pack is extremely effective at providing god ventilation to the back of the user. The pack also makes provision for a multitude of attachments and add-ons to customize it to suit anyone's needs.
The pack does, unfortunately, come with no instructions, and a novice outdoorsman might feel frustrated by this, as it will take a few hours on the Internet and a number of tutorials to fully understand and become familiar with the proper methods to use this product. The Anti-gravity suspension may have assumed itself to be more of one-size-fits-all than what it actually is, as it may get in the way for somebody types and add undue pressure on the hips.
Features to Consider
A backpack that contains as many as possible of the features listed below will be the better backpack. The trade-off on good features is usually the price, but investing well once could prevent you needing to make multiple purchases that all end in dissatisfaction. Look for a backpack that has:
Pockets and Access
Hip belt pockets that can hold basic items such as wallets, cell phones and keys. This is especially handy for travelers wanting to use their backpacks as carrying on.
Elasticized pockets which only protrude when used, and otherwise lie against the backpack.
A shovel pocket is handy for storing a variety of items, although they were originally used to keep a snow shovel handy. They use a buckle for closure, and consist of a fairly simple design.
As far as access is concerned, there are two main choices. The first one is a top loader, which sounds exactly like what it is. It means the backpack opens from the top. It requires careful consideration when packing, as the items pack in the bottom will be difficult to reach. Items used more often should be packed last.
The other choice in access is a panel access backpack. The means that the entire bag can open to expose the interior in a cross-section manner, making all the items packed equally accessible.
A good backpack that will assist you in having a well-organized will have multiple compartments to allow you to store various items separately from one another.
For an outdoorsman, a compartment that is extremely useful is one specifically designed for a sleeping bag, and another one for a hydration reservoir. The hydration reservoir compartment should be easy to access, and not require you to unpack your bag during a hike in order to rehydrate.
Frame Types
A backpack with a lightweight frame will ensure that the user has good back support and properly placed weight distribution. They achieve this by hugging the figure better and transferring the weight from the shoulders to the hips. A frame should be lightweight to ensure that no extra weight is added to the load carried on the back. This feature is ideal for hikers who will be crossing uneven terrain and need that extra stability assistance.
An alternative option to a backpack with the lightweight internal frame is an external frame. This is a great way to add extra ventilation to the user while carrying odd or unusual loads. They are ideal for those who need help carrying lots of gear, as there are great options to assist in organizing the gear into compartments.
A more lightweight option for those who do not require much support but prefer flexibility and need to minimize the amount of weight they are carrying is a frameless backpack. A climbing backpack is an option within the same category as its frame is removable.
Gear Attachments
A great backpack will also have loops and attachment points for gear and other bags. Some of the attachments for gear include gear loops, a reinforced crampon patch, a daisy chain and loops to accommodate ice axes, trekking poles or snow shovels.
Removable Compartments
Some backpacks facilitate multipurpose use for one pack, by making certain parts detachable. Some of these have top lids that can be used separately as hip belts on day trips.
Backpacks with easily-accessibly water reservoir compartments are a great buy, especially if you are buying a backpack to hike or camp with.
Fit
If you are going on a long expedition outdoors, ensure that the backpack you choose will not only hold all of your gear but provide support correctly for the length of time you intend to need it. Osprey offers great support and assistance with getting your backpack correctly adjusted and fitted, as well as offering a guideline on how to choose the right size, based on the fitting guide offered on their website.
Their unique female designs are created with extra considerations for comfort and freedom around the chest area, as well as slightly upwardly canted hip belts to better hug a narrower, feminine build.
Padding
Some backpacks may also offer greater comfort by providing padding. Pain can occur around the hips and lower back if the use of lumbar pad and hip belt are not strong. In this case, it is advised to make use of a cushier hip belt.
Water Resistance
Very few backpacks come with a rain cover, although most of them are naturally made from water resistant materials, however, a waterproof cover can usually be ordered and added on to ensure that your gear and bedding remains dry, even throughout wet weather.
Osprey Has Your Back
Once you have selected, purchased, and put your new Osprey backpack to use, you will want to take extra care to ensure that it has a long and faithful life and serves your adventures to the best of its abilities. Ensuring proper maintenance procedures are observed will help to deliver your backpack and long and happy life.
Steps to ensuring that your backpack is well maintained include:
Regular washing. It is best to thoroughly clean a backpack after each use, with nothing other than gentle cleaning products, such as Nikwax Tech Wash, that are recognized and recommended by Osprey.
Ensure that wet backpacks are always hung out to dry at the first possible opportunity to prevent mold and dampness from causing damage.
Never put a backpack into contact with boiling water, as this will cause the warranty to become invalid.
Always clean your backpack by hand, and not in the machine.
Osprey Keeps Your Gear, While You Keep On The Path
Being a well-known and highly reputable brand in the outdoor industry, Osprey prides itself on the diversity within their company, in which all of the departments and staff come together on one common basis: their love for the outdoors. It is this same passion that drives them to meet their customers at their needs.
A common love which is so intrinsic to those that feel it, that the outdoors becomes a need, more than just a hobby, a sport of a leisurely past time.
Ensuring that your lust for adventure and love for the outdoors is nurtured while your gear is safe, dry and comfortably resting on your back, is what Osprey takes upon itself to deliver to all fellow adventurers.
Where have you travelled with your Osprey, and what worked great, or didn't work great for you? Tell us about your adventures in the comment section below.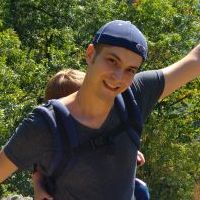 Daniel is a gear freak when it comes to hiking, climbing and camping. He went to REI Outdoor School to meet new people and learn best practices. Don't even try to argue with him about the latest backpack or ice axe, he tried most of them. Daniel's dream is to climb Mount Everest.