Is it time to switch out your purse or backpack? Have you heard of a messenger bag? What is a messenger bag? Do they sell them in purse stores? Is it even a purse? A backpack? Do they go with my outfit? How do you even shop for a messenger bag?
There are so many vital questions to consider when a woman shops for her most adorned accessory: a fashionable bag to carry her essentials throughout her day. You don't really hear of a messenger bag being part of the women's wardrobe or that there are brands out there that tailor their messenger bags to complement the feminine needs and styles.
So, how does one begin to shop for the best messenger bags for women out there? One that is specific to their lifestyle and commuting essentials? Let's begin with this scenario.
Top Products
Note: We get commissions for purchases made through links in this article
Timbuk2 Classic
Material: 100% polyester
Style: Messenger
Storage: Multiple smaller pockets, water bottle pocket
Features: Waterproof, internal multi-organizer, fully adjustable airmesh strap
Description: Timbuk2's Classic Messenger Bag was recently updated to a more refined and sophisticated look with an improved fit and better organization panels. The redesigned shoulder strap features an airmesh strap to maximize comfort and a grab strap to make the bag easier to pick up and go.
The waterproof liner and corner wings are recognized for working incredibly well at keeping water out. The bag also has an internal water bottle pocket for convenience. Other internal pockets and organization are distributed throughout the bag to balance the weight of what will be carried.
The polyester material makes it excellent for weatherproofing. The flap buckles with compression straps secures the closure of the bag. It also features a removable crossbody strap to help stabilize the load. Internal organization adds storage for pens, phones, and other small items. The internal slash pocket is padded to protect files and other delicates.
This bag would be an optimal option for walking, biking, and student use. It is recognized for having the style suitable for a college student and providing the efficiency to carry heavy textbooks across long distances and in torrential weather.
Chrome Unisex-Adult Metropolis Bag
Material: Military grade nylon
Style: Messenger
Storage: External organization, two internal pockets
Features: Quick-release seatbelt buckle strap, padded strap, waterproof lining
Description: This iconic messenger bag made by Chrome is the largest in their metropolis line. Chrome Unisex-Adult Metropolis Bag features a quick-release seatbelt buckle strap made for a strong, secure fit.
The nylon outer lining makes it heavy duty for weatherproofing and waterproof abilities.
It's larger in size compared to other models in this line but its compressed tightly to keep it at minimal bulk.
It has one external organization pocket that is great for storing pens, phones, and other small items. On the inside, it features two slim deep pockets to store water bottles and tools.
The strap is padded for added comfort and grip to the shoulder. The strap is adjustable to help balance the weight more easily.
This messenger bag is best to use for long-distance biking and walking. It can carry your basic necessities at minimal weight for commuting purposes.
High Sierra Tank Messenger
Material: Nylon with ripstop fabric
Style: Messenger
Storage: Zipper pocket, airmesh water bottle pocket and phone pocket, multiple smaller pockets
Features: Adjustable padded strap, two compression straps, internally padded for laptop
Description: The High Sierra Tank Messenger Bag is a recognized daypack for lightweight carry-ons. It features a large external zippered pocket and two compression straps for a more secure closure.
It has a mesh grab handle, making it easier to pick up and go. It has a side mesh water bottle pocket, a phone pocket, and a variety of smaller pockets to store pens and wallets, making it great for storage convenience.
The adjustable strap has a pad for a cross-body option and is also internally padded for laptops and other delicates.
It designed for waterproof and weatherproof abilities and comes in a variety of bright colors, making it a great purchasing choice to store gear for biking or hiking trips.
Brinch 15.6 Inch Multi-functional Suit Fabric Portable Laptop Bag
Material: Suit fabric with a padded polyester lining
Style: Briefcase
Storage: External padded pocket with a vertical zippered pocket
Features: Adjustable padded strap, soft internal lining, laptop protection
Description: This briefcase-style bag is made for the business traveler. This Brinch 15.6 Inch Multi-functional Suit Fabric Portable Laptop Bag is noted for being a versatile laptop accessory that maximizes comfort for hand-free carrying while complementing a polished look.
Its padded interior is specifically designed to protect 15.6 inch laptops, notebooks, and Macbooks. The polyester lining works to reduce shock and scratches on delicate devices that are needing extra protection.
The adjustable strap is padded to provide extra comfort for the shoulder and giving the flexibility to balance the weight of the bag to the person.
It also features an external padded pocket and a vertical zippered pocket for added storage. This affordable option is best for those who travel often with their laptops. This bag is primarily made to protect the laptop and is recognized for being static-proof, shock-proof, and dust-proof while also looking sleek and stylish.
LEABAGS Oxford Genuine Leather Buffalo Messenger Bag
Material: 100% real buffalo leather
Style: Messenger
Storage: Compartment pockets, multiple smaller pockets, zippered slash pocket
Features: Top quality leather, fine stitching
Description: This high-quality leather messenger bag offers a classic, vintage look with a unisex design. The fine leather and stitching make it highly durable and able to withstand damage and scratches for a long period of time.
Its multi-purpose features make it noteworthy among many other top-notch messenger bags.
LEABAGS Oxford Genuine Leather Buffalo Messenger Bag has a multitude of storage compartments such as a large external pocket to store items such as a laptop adapter.
It has many smaller pockets on the inside for pens, wallets, and phones. It also has a zipper slash pocket to protect delicate items such as files and documents.
The strap is adjustable to improve the fit and help balance the weight of the contents stored inside. It is also lined with a nylon lining for added comfort to carry.
This highly-rated messenger bag would be best to use for laptop and paper protection. It easily complements the polished style of any business professional.
Osprey Flapjill Women's Mini Shoulder Bag
Material: 100% polyester
Style: Messenger
Storage: Two interior zippered pockets, three slip pockets, one external pocket
Features: Adjustable shoulder strap, variety of pockets, low-light visibility
Description: This mini shoulder bag is specifically designed to optimize storage for those that are on-the-go all day long. Osprey Flapjill Women's Mini Shoulder Bag recognized key features are securely fit pockets and a reflective trim to enhance low-light visibility.
Its velcro flap offers a more secure closure to better protect the internal storage compartments. The many pockets its features include a full-length side zippered pocket, an interior slip pocket for laptop and paper protection, a water bottle pocket, a zippered slash pocket right under the flap, and multiple smaller pockets for phones, pens, and extra storage.
This inexpensive option would be an optimal option for those who have long days and need to carry their basic essentials. Its lightweight comfortability makes it easy to carry around and go while giving a sleek appearance to any style.
Everest Casual Laptop Messenger Briefcase
Material: 100% polyester
Style: Briefcase
Storage: Internal organizer, external pockets, zippered flap pocket
Features: Casual style, adjustable shoulder strap, organization panels
Description: This casually styled Everest Casual Laptop Messenger Briefcase is highly-rated for its durability, simplicity in storage and organization, and affordability. Its specifically designed for laptop protection and maximizing storage for personal belongings.
It features multiple compartment and organizational panels. It has a spacious main compartment to store a laptop, files, notebooks, and more. Under the flap, an organizational panel is able to store pens, phones, wallets, and other smaller personal belongings.
The zippered flap pocket also provides additional storage and a more secure closure of the interior.
The adjustable strap is padded and gives the option to adjust the balance of weight to the person. This affordable messenger bag would be best to purchase for those who are students.
It is recognized for being able to hold and withstand a sturdy amount of weight, giving optimal storage and protection of belongings, and maximizing comfortability to all-day wear and use.
Chrome Unisex Night Series Buran Laptop Messenger Bag
Material: Military grade nylon
Style: Messenger
Storage: Dual external front pocket, multiple organizational pockets
Features: Weatherproof, abrasion-resistance, reflective trim for night visibility
Description: This heavy duty Chrome Unisex Night Series Buran Laptop Messenger Bag features highly-rated, military grade designs in style, storage, and purpose.
The nylon outer shell of the fabric makes it weatherproof and abrasion-resistance, increasing durability and protection of stored belongings in torrential weather.
The interior has a built-in padded sleeve with a sturdy zipper and is able to fit up to a 13" MacBook Pro. The multiple organizational pockets provide storage for personal belongings and hardy work tools.
It has mounting loops to attach bike light or carabiners. The shoulder strap has an industrial-strength hook-and-loop accessory, a quick-release buckle, and an integrated bottle opener.
The strap also features a reflective trim to assist in visibility at night. This heavy duty messenger bag would be a good purchase for traveling professionals, long-distance biker and walker commuters, and for anyone who takes their work with them all day long in hasty conditions.
Benefits of A Messenger Bag
Messenger bags offer multiple options for storage and organization, giving you easy access to your essentials while also securely protecting them during long commutes and travels. Some messenger bags are more specifically designed to carry laptops, notebooks, and MacBooks.
There are options out there that have heavy-duty weatherproof abilities and others that offer a more stylish leather. Messenger bags are far and wide on the style spectrum. There are unisex designs that give tomboy style to their exterior.
There are ones where you can purchase in a variety of bright or neutral-toned color schemes to accessorize the female wardrobe.
No matter what it is you're looking for, the versatility of a messenger bag makes it a great option to invest in when you're in the market to upgrade your purse or backpack and needing a sturdier organizer as your travel companion.
There are a few things to look at when searching for a messenger bag. When in the market, you might want to consider the style of the bag, the material, the storage and organization it offers, and key features to think about based on your needs and lifestyle.
Features to Consider
Style: Messenger style bag are similar to an over-sized purse. They are more preferable for biking since the straps are higher and sit more above the back. They generally have fewer pockets, a larger compartment capacity, and a quick-release buckle.
Briefcase style bags are preferably designed for walking and offer more organization panels and smaller pockets, integrated laptop pockets, and a grab handle.
Depending on your day, messenger bags are a better option long commutes and briefcase messenger bags are a better option for office-type environments.
Organization: Depending on what you plan to carry in your bag, you want to consider the amount of storage you will be needing. Look into laptop pockets if you need one.
Some messenger bags offer zippered pockets or velcro options, all preferable to how much protection they offer for personal belongings during long commutes. Organization panels are optimal for quick organizing and accessing smaller items such as pens, phones, and wallets.
Compartment pockets are good to protect your files and other important documents. Depending if you're needing a daypack or a more organized bag, storage availability is a vital feature to consider in a messenger bag.
Material: Some messenger bags are specific in their fabric design based on the characteristics they offer. There are military grade fabrics that are good for torrential weather conditions, promising optimal protection for important mechanical devices.
They also are abrasion-resistant and are highly durable, withstanding damage and surface wear for a long period of time.
Other messenger bags can be made of high-quality leather, giving a more polished look for the traveling business professional. Top quality leather is also durable and able to last for a long period of time.
Depending on the conditions you travel in and the items you are needing to store and carry around, find a fabric material that is suitable for your day activities and able to offer protection for all your personal belongings.
Other Features to Consider
There are several other features you should look for, depending on how you travel and what your needs are.
Adjustable straps: messenger bags are equipped with two essential straps: one for the shoulder and a stabilizing strap. The shoulder strap should be padded in order to provide maximum comfort and ensure that it's not digging into your shoulder as you travel.
This becomes more of a hinderance than a help, and can make you resent getting a messenger bag in the first place.
The stabilizing strap is designed to keep your bag tight against your back so that it's not being jostled around and throwing off your balance.
These usually go around your waist or connect to the shoulder strap and go under your arm like a "T"; waist straps help to alleviate some of the weight from your shoulders, which is a good option for hikers, while the "T" straps are more comfortable for those who ride their bikes.
Luggage handle: if you travel often for business, look into a bag that is TSA-friendly and has a luggage handle to make it easier for you to carry your bag around.
Reflective trims: if you are out at night, look into a bag that offers reflective trims for nighttime visibility. The last thing you need is to get hit by a car while you're traveling.
No matter your lifestyle, there is a messenger bag suitable for every woman out there. If the thought of changing to a messenger bag feels like a downgrade to you, don't worry.
We've listed our favorites down below along with their highlights and best uses, so you can get an idea and a good starting point to begin in your search for a messenger bag.
Final Words
We hope these options give you a good start in the search of a messenger bag fitted for your lifestyle. There are a variety of stylish and comfortable options out there for every lifestyle and activity.
It is time to part ways with expensive handbags that offer no comfort and little storage and invest in a messenger bag that holds your life together while keeping you productive, organized, and stylish throughout your day.
And please share your stories and comments with us in the comments section. We would love to hear your thoughts on any of the products we've mentioned.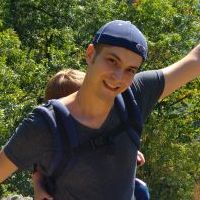 Daniel is a gear freak when it comes to hiking, climbing and camping. He went to REI Outdoor School to meet new people and learn best practices. Don't even try to argue with him about the latest backpack or ice axe, he tried most of them. Daniel's dream is to climb Mount Everest.