You might think that it will be easy to simply choose any backpack to go traveling, but that is not the case. The traditional hiking backpacks are made with more emphasis on durability that allow you the opportunity to carry more items.
The best backpack for air travel will not only provide you with the added space needed, but it is also stylishly designed to ensure your backpack looks good.
Traveling backpacks are designed to make our lives easier and to give us that added packing space needed, while still ensuring that it is durable enough for heavier loads. Most of these travel backpacks are great for almost anywhere in the world and they are also small enough to carry along on the plane.
A quality backpack is not made to be large and durable only, but it also allows you multi-functional use and you will be able to carry these backpacks through any environment. Because these backpacks are made to carry heavier loads, they are designed from high-quality materials to give you the perfect bag to carry all you hand baggage.
These bags can also be used as gym bags and their airtight seal will ensure that none of the excess gym sweat gets on your clothes.
Before we dive into the top air travel backpacks, it is essential that you know exactly what to look for to ensure that you have a top quality product that will give you value for your dollar:
Looking at the Best Air Travel Backpacks
Note: We get commissions for purchases made through links in this article
Tortuga Travel Backpack – 44 Liter Carry-On-Sized, Travel Backpack
Weight: 4lbs
Capacity: 44 liters
Special features: Large interior for easy compartmentalizing, padded straps and hip belt to make the carrying process easier, lockable zipper, added laptop sleeve for computers
The Tortuga Travel Backpack makes life a lot easier when it comes to traveling with most of your items. The bag has a very spacious interior and it has been measured at 44 liters to allow you added maximum space for storing everything you need. The added 17-inch laptop sleeve will make it great for carrying your computer with you, and you will not have to waste an extra arm with an uncomfortable laptop bag.
The bag also features a mid-waist padded strapping the perfectly complements the already comfortable shoulder straps. This will allow you to easily and efficiently carry along your bag without getting fatigue and it will also take some of the strain off your shoulders. The padded shoulder straps also ensure that no abrasions occur and that you have a comfortable travel experience.
Furthermore, the large interior has been compartmentalized to ensure that everything can be specifically placed according to your structure or plan. The zippers have also been designed with an added lock to ensure that pickpockets cannot steal your items. The durable exterior has also been carefully designed to mold to the shape of the interior items, and thus you will not have to worry that the bag will tear.
We definitely recommend this bag for anyone planning to travel and the durable exterior will also make the bag great for everyday use in the city. This will give you great multi-functionality and value for your money.
Timbuk2 Aviator Travel Backpack
Weight: 4.4lbs
Capacity: 30 liters
Special features: Smaller and more compact, great for business travel, built in compartments, padded abrasion resistant strapping, easy access sleeve
The Timbuk2 Aviator Travel Backpack has been carefully designed for business travel and to ensure that you can walk all over the place while carrying all of your working items. The bag is a little smaller and more compact than most bags, but it is still made from durable polyethylene and it features a foam padded interior to make life much easier and to keep your valuables safe on the inside.
The strapping has been expertly designed and the foam padded addition will ensure that you do not have to worry about any abrasions and that it is much easier to carry the bag for longer distances without getting fatigued. You will also have a decent sized laptop sleeve that will be big enough for carrying along your Macbook and you will be able to easily access the item without taking off the bag. You might need to take it off when you are putting it back in.
On the sides of the bag, you will also have enough space for two water bottles and this makes the bag perfect for everyday use in the city and you could even use the bag for work purposes. The small and compact frame will easily fit into the foot space areas in your car and the bag is also not that uncomfortable to carry along on the bus.
We definitely recommend this travel bag for business travelers and you will be able to get a lot of multi-functional use from the bag.
KAUKKO Men's Canvas Army Style Tactical Backpack
Weight: 2.3 lbs
Capacity: 30 liters
Special features: durable canvas material designed, great for multi-functional use, easily converts into carry-on handbag
The Kaukko Men's Canvas Army Style Tactical Backpack has been specifically designed with multi-functional use in mind. The backpack can easily convert into a shoulder strap carry-on handbag that is designed for men and the multiple zipper pockets will ensure that you always have adequate space for all your items. The bag is average in size and it has a capacity of 30 liters, but you will be able to purchase the smaller ones, which start at 15-liter capacity.
The backpack has been designed from quality canvas materials and this will ensure durability. You will also be able to overload the bag and the material will still hold perfectly fine. The bag is great for traveling on planes and should you go with the smaller bag, you will be able to easily fit the bag into the storage compartments and have all of your belongings with you.
Furthermore, the strap locking feature for the front pockets will ensure that you cannot be pick-pocketed, and it will be much harder to open these pockets without the knowledge of the person carrying the bag. The bag can also be used for daily purposes and we even believe that it should make a great school bag for college students, as you will be able to easily place your books inside with the compartments and still carry the bag on your shoulders or on your side.
Osprey Ozone Convertible 22″/50L Wheeled Luggage
Weight: 6.9lbs
Capacity: 50 liters
Special features: Convertible main body, smaller daypack compartments, available in multiple colors, Stretch mesh pockets for water bottles, lockable main zipper compartments
Multi-functionality was clearly the goal when we look at the design of the Osprey's Ozone convertible luggage carrier. The bag has been efficiently designed for traveling and for simple trips down the road or to perhaps even use as a hiking backpack. The durable design has been made from stretchable material and this will allow you to fit more items inside the bag while not damaging the interior or exterior.
For traveling purposes, you will be able to use the larger 50-liter luggage compartment, and the added wheels will make it easier for carrying around your luggage at the airport. Once you get to the hotel room, you could easily convert the large luggage carrier into a smaller and more efficient backpack that will allow you to easily carry around all of your daily items.
The smaller daypack area has been fitted with easy-to-use compartments and this will be an added bonus for travelers. The external mesh pockets are great for storing water bottles and thus it can be used when walking longer distances. The bag is also quite affordable and it provides you with a lot of value.
Finally, the added strapping has been padded and this makes the carrying process easier and also reduces some of the stress that may be placed upon your shoulders. We definitely recommend this bag for the heavy travelers that need a day backpack.
Osprey Farpoint 55 Travel Backpack
Weight: 3.9lbs
Capacity: 55 liters
Special features: Extremely large interior at an affordable price, added hip belt to reduce the stress placed on the shoulders, added loops and zippers to lock the bag, added sleeping pad to be used as a pillow
The Osprey's Farpoint 55 travel backpack has not only been designed for easy and comfortable travel, but it can just as easily be used as a hiking backpack. The bag is quite large and therefore it will be a little bit heavier than most bags when it is fully loaded, but the added hip belt will greatly compliment the padded shoulder straps to take the strain off your shoulders and to allow a more comfortable carry.
The added sleeping pad is great for using as a pillow in the outdoors and this could save you a lot of space when you do not need to carry a pillow along. The bag is also carefully designed to be resistant to any outdoor weather conditions and nature will definitely not be able to damage your bag. To reduce weight, you will be able to easily remove the added sleeping pad.
Finally, you will be able to secure the main compartment of the bag by using the zipper features and the loops. This will make it increasingly hard for pickpockets to try and steal your items and you will be able to walk down the street stress-free, knowing that everything is secure.
REI Grand Tour 85 Travel Pack
Weight: 5.8lbs
Capacity: 85 liters
Special features: Extremely large storage compartment, 13-inch laptop sleeve, convertible daypack, lockable outer zippers, water resistant material with rain cover design
The REI Grand Tour 85 Travel pack has been specifically designed for men and the bag features huge 85-liter interior storage capacity to allow you maximum space for storing your travel items. The outer zippers are also lockable, but unfortunately, you will need to buy your own locks for the locking features.
The bag has the capability of easily converting into a smaller daypack that has been fitted with abrasion resistant strapping to make it easier to carry around. The bag might be a little heavy, but this is only to provide you with more storage space and the internal storage compartments have been perfectly designed to ensure that you have enough space to carefully place all of your items.
The bag also features an added 13-inch laptop sleeve that can be easily accessed without even removing the bag and this will make it great for quickly checking emails while on the go. The bag has also been designed with water-resistant material to ensure that you have the opportunity to keep traveling in the rain, and the added rain cover sleeve will further help to keep your bag dry.
We highly recommend this bag for hikers that love to travel abroad and at the extremely affordable price, you can be sure that this bag will be a lifelong investment.
REI Grand Tour 80 Travel Pack
Weight: 5.6lbs
Capacity: 78.9 liters
Special features: Perfectly designed and shaped for women, bigger storage compartments, 13-inch laptop sleeve, water resistant and durable construction, outer zipper locks to keep pickpockets out
Much like the men's version, the REI Grand Tour 80 Travel pack for women has been designed with multi-functionality in mind and you can be sure that this will be the perfect travel bag for women who like to hike and travel abroad.
The main bag is quite large and you will easily be able to fit all of your travel items inside, while the smaller daypack is perfect for carrying around while you explore. The added zipper locking holes will allow you to place locks and ensure that pickpockets cannot get to your items, while the 13-inch laptop sleeve will give you easy access to the laptop without even removing the bag.
We definitely recommend this to women who like to travel and because of the affordable price, you can be sure that this will be a great investment. The bag has water-resistant features and the added waterproof sleeve is sure to keep you and your items dry in a sudden weather storm.
Top features to look for in air travel backpacks
The price on some of these bags might be expensive, but most of the air travel backpacks are much cheaper than the top of the line hiking backpacks. They are also made from durable materials to ensure that your bag never tears, so they will be a great investment or perfect gift for the New Year.
Quality: In today's economic turmoil, everyone is looking for quality and this is the same when it comes to travel bags. Having a top quality travel bag will be worth your investment and these bags will also be able to last you longer. It is vitally important to take note of the materials that have been used to ensure that you have quality.
Size: Depending on the amount of items that you need to carry along, this will vary between people and having a larger bag will be better for more items, but it will also be more expensive. By determining the amount of space that you will need, you will be able to have the perfect backpack for an affordable price.
Strapping: Deciding on the strap type will definitely increase the overall comfort of carrying a bag. Many of these larger bags have been specifically designed with an added bottom strap that will allow you more comfort when carrying and reduce some of the stress that is placed on your shoulders. Padded straps are also great for ensuring that no abrasions occur and this could greatly enhance the travel experience.
Compartments: If you are someone who is obsessed with order and having everything neatly packed, you need to take note of the amount of compartments that are available in the bag. Larger bags will have more compartments, while smaller bags might give you bigger sized compartments.
Access and zipping features: If you plan on traveling with the bag, you would need to have something that will still give you fast access to the items that you need. The zipper will also be important and people looking to walk in rainy conditions will need to ensure that the zipper has a water resistant sealer to keep everything from getting wet.
By taking note of these features, you will be able to determine the perfect bag for your needs and you will be able to make that investment in a quality product. Sometimes the cheaper bag might look nice, but it is not necessarily more durable and therefore, it might cost you to buy another bag down the line.
It is very important to make sure that you are buying a top quality product. With that being said, let's look at the top air travel bags to start your New Year on a high:
Final Thoughts
We would like to thank you for reading this article and we believe that you should now have the knowledge to choose the perfect air travel backpack. Most of these backpacks are multi-functional and you will be able to use them throughout the year and while at home as well.
We would like to encourage you to let us know what you think of these backpacks and if you have had any experience using them. We would also like to know of any other air travel backpacks that you like and you think we have missed.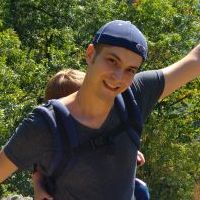 Daniel is a gear freak when it comes to hiking, climbing and camping. He went to REI Outdoor School to meet new people and learn best practices. Don't even try to argue with him about the latest backpack or ice axe, he tried most of them. Daniel's dream is to climb Mount Everest.