Our fingers are one of our body parts which are most susceptible to the cold. They lose heat quickly and are vulnerable to losing mobility and even freezing. Gloves or mittens are some of the most important winter accessories you will need when venturing out into the snow, as they will impact your comfort during a trip, and even your safety.
We've had a look at what's available out there and come up with a list of what we think are the best women's ski gloves to keep your paws snug and cozy in the mountains this winter.
BEST PRODUCT REVIEWS
Here are our top picks for winter hand-wear. We've mainly chosen gloves, but there's also a mitt option for you mitten girls.
Note: We get commissions for purchases made through links in this article
HESTRA WOMEN'S HELI SKI AND COLD WEATHER MITT
DIMENSIONS: Available in sizes 5 – 9.
SPECIFIC FEATURES: 70% Leather, 30% Synthetic; upper section is made of HESTRA Triton 3-layer fabric; palm is made of proofed-army goat leather; removable and replaceable lining; snow lock strap with Velcro closure and Hestra handcuffs; narrow cut women's specific design; Wolf Paw design.
BEST USE: Skiing, cold weather, snow hiking, mountain sports.
DESCRIPTION: Renowned for their high quality gloves, Hestra brings us the best in Swedish design with their Heli Ski and Cold Weather mitt. With a streamline cut and soft leather palms, these mittens are luxuriously soft and flexible. And cozy too, keeping hands warm for hours in alpine temperatures.
Indeed, the Heli Ski line is one of the best on the market for warmth, and if these gloves get too hot you can even remove the lining and keep going with just the outer shells on. The Triton 3-layer fabric on the upper is waterproof and windproof, which keeps out damp and cold, while effectively balancing breathability. The army leather on the palms is water resistant, particularly if you take care of it with a leather conditioner.
This will extend the life of the leather, while maintaining durability as well as suppleness. High end materials mixed with and snow locks keep snow and moisture from getting in, making for a thoroughly warm and snug glove.
Attached handcuffs will make sure you don't lose these babies on the mountain, either. The slim women's fit is good for dexterity, but even so the sizes do run a bit small, so if you are buying, consider going one or two sizes larger than usual.
RELATED: Ladies with longer fingers or wider hands might like to check out Hestra's unisex Army Leather Heli Ski and Cold Weather Mitt. The overall features are similar, but without the narrow cut.
ARCTERYX BETA AR GLOVE – WOMEN'S BLACK LARGE
DIMENSIONS: 3 x 10 x 13 inches
SPECIFIC FEATURES: Drawstring closure; N80P-X GORE-TEX Pro Shell 3L waterproof outer shell with leather palm overlay; Tri-Dex Technology uses a three-lobe pattern; short gauntlet; removable fast drying hybrid fleece liner combines Polartec Wind Pro high loft with Thermal Pro Tweed fleece in the palm; self-adjusting elasticized wrist closure; removable leashes.
BEST USE: Skiing, snow, wet weather, rugged terrain, moderate cold.
DESCRIPTION: Arcteryx's Beta AR glove provides great fit and waterproofing. The 3 layer Gore-Tex shell is of equal quality to that used in high-end jackets and won't allow any moisture to penetrate through to your hands. It also wicks moisture out from your hands through its membrane layer, to keep you comfortable when you get sweaty.
The Gore-Tex does absorb some water and become wet itself, which makes the glove a bit heavy, but doesn't allow any moisture through to the inner layer of the glove. The shell also has leather reinforcements and palm overlay, which makes this glove exceptionally durable.
There is a removable fleece liner which can be worn as a glove in its own right, when waterproofing isn't needed, or for increased dexterity in mild temperatures. Even with the shell on, this glove isn't the warmest. The breathable Gore-Tex membrane allows for easy breathability and temperature regulation, however for really cold climates, you may need to slip in a hand warmer in between the liner and the shell.
This is easily accomplished, but will have to be purchased separately. Overall, this is more of a wet weather glove than a cold weather one; fantastic waterproofing and durability makes this glove a stand out.
RELATED: The Beta AR collection also includes a mitt, for those who don't want separated fingers. Available in extra small-medium sizes, it has the same materials and wrist fit as the glove.
OUTDOOR RESEARCH WOMEN'S ARETE GLOVES
DIMENSIONS: Available in small, medium and large.
SPECIFIC FEATURES: 100% nylon shell; Gore-Tex insert; silicone grip palm; heat pack pocket/shell pocket on back of liner; 100-weight fleece insulation; removable liner; pre-curved construction; removable cord.
BEST USE: Skiing, backcountry skiing, skating, mountaineering, moderate cold, unpredictable weather, vegans.
DESCRIPTION: The Women's Arete Gloves from Outdoor Research are a budget-friendly option with good versatility and plenty of features. These are a moderately waterproof glove – not as much as a full Gore-Tex glove, but with a good degree of water resistance.
We wouldn't recommend using them for a long time in areas where the moisture levels are really high, although they should resist the damp for an hour or two. Luckily, they do dry quickly and you should be fine to use these in areas of average humidity or mild wet conditions. This is not a glove designed for intense cold; they don't provide a huge amount of warmth, but instead offer a very high level of breathability.
There is a built in hand warmer pocket in the liner for extremely cold temperatures, when you will need to add one. In warmer weather, you can remove the fleece liners and wear either them or the shells independently. The Arete glove is a great choice for a sweaty workout in the snow; perfect for backcountry skiing, for example.
These are also good for mountaineering with the grippy palm and excellent dexterity (as well as a carabiner loop). Movement is not a problem in these flexible and non-bulky gloves. The liner also features silicone gripping material proving that it's not just an afterthought, but a usable glove in its own right.
This is the only glove on our list which doesn't feature leather. This does make a less durable glove, but it's ideal for vegan skiers or those who want to avoid animal products.
RELATED: If you are travelling with a male friend or relative, the Men's Arete Gloves have the same basic design, with different color options and sizing.
BLACK DIAMOND WOMEN'S MERCURY GLOVES
DIMENSIONS: Extra small – large sizes
SPECIFIC FEATURES: 92% nylon,8% spandex shell; 100% goat skin palm; 100% polyester lining; 100% waterproof and breathable GORE-TEX insert; Pretext Shield shell with 4-way stretch; removable liner with170g Prim Aloft Gold insulation, 100g fleece on back of hand and high-loft fleece on the palm.
BEST USE: Cold weather, unpredictable weather, mountaineering, ice climbing, skiing.
DESCRIPTION: Black Diamond's Mercury Gloves are a strong performer when it comes to warmth. They have extra padding on the back of the hand for insulation, with thinner padding on the palm so as to keep a good level of dexterity without sacrificing warmth.
It's also beneficial during workouts because our palms tend to be a sweatier area, so having less insulation there will prevent you from overheating or getting the inside of your gloves damp. While a bit bulky in the fingers, the minimal palm padding allows for good dexterity and whole hand movements, like grabbing your ski poles or climbing activities.
A carabiner loop is also handy for mountaineering. These gloves are moderately waterproof, but the goatskin leather palms will need maintenance to keep their waterproofing. You will need to condition them at least once per season to keep them in good condition. Although the Gore-Tex membrane will resist water for a while, once they get wet, they will stay wet for a long time before drying out.
They are better suited to short expeditions or dry conditions where you don't have to worry about wet hands over several days. A bonus feature is the water resistance liners, an unusual perk which makes these liners a practical glove which can work on its own, even in snowy or moist conditions. All in all, these are a cozy and versatile pair of cold weather gloves.
RELATED: Black Diamond also offers the Mercury in a cold weather mitt. The mitt is very similar to the glove; the removable liner is a glove with individual fingers, while the shell is in mitten form.
MARMOT WOMEN'S RANDONNEE GLOVE
DIMENSIONS: Extra small – medium sizes.
SPECIFIC FEATURES: 2L nylon; washable hair sheep leather; DriClime 3-Dimentional wicking lining; GORE-TEX glove insert; Thermal R insulation; Marmot MemBrain fabric; Dexterous Falcon Grip precurved fingers; one-handed drawcord.
BEST USE: On-piste skiing, snow hiking, winter sports.
DESCRIPTION: The Randonnee Glove from Marmot is a good all-rounder for winter sports. This glove will keep you warm and dry in most conditions, while retaining a decent level of dexterity so you can complete most tasks without removing the glove.
The Thermal R insulation technology keeps these gloves warm, with a moisture wicking liner to keep sweat from getting trapped in with your hands. Reserve these gloves for only moderately cold winters though, as there is no place to insert a hand warmer in extreme cold.
The liner is sewn into the glove and very soft. Unfortunately, it can be prone to bunching up so it's best not to keep removing these gloves and putting them on again, especially if your hands get wet before putting them on, as the fabric will stick to your fingers. With its Gore-Tex membrane, these gloves do well against water, and should keep your hands dry.
The leather outer lay may retain water though, increasing weight and reducing flexibility. The Randonee has several features to aid dexterity, including precurved fingers to help you grip or pick things up. The leather palm has been digitally printed for added flexibility as well as grip. With an adjustable cuff and gauntlet to keep out snow and a soft nose wipe, these gloves are high on comfort, in moderate winter conditions.
RELATED: If you are also shopping for a man in your life, have a look at the Men's Randonnee Glove. The men's version is very similar to the women's, but with larger sizing.
POW GEM GLOVES
DIMENSIONS: Sizes small-large.
SPECIFIC FEATURES: Toray nylon shells treated with water repellent; premium leather palms; Hipora waterproof inserts; anti-pill microfleece polyester lining; 100g PrimaLoft Gold insulation; buff thumb material; fitted neoprene cuffs; zipper cuffs.
BEST USE: Snow sports, skiing, snow hiking, moderate cold.
DESCRIPTION: From accompany that specializes in only hand-wear, POW has brought us the Gem Glove. It's a comfortable and stylish glove, suited to moderate cold and wet. The look of these gloves is more feminine and chic than most of the winter gloves out there, though of course cuteness should never be our main buying criteria!
The Gem gloves are fairly minimal when it comes to features, but offer fantastic fit and dexterity. They are non-bulky and low-profile, with a snug fit and an articulated palm to assist easy hand movement. In fact, these are some of the most dexterous gloves around right now; they are nimble enough to cope with most tasks (tying laces, etc) meaning that you will almost never have to take these off in the field.
They are also highly breathable, though sacrificing a bit of water resistance to achieve this. The shell and Hipora inserts perform well enough, though this is not the most waterproof glove o the market. It will keep you dry in moist conditions, but won't stand up against heavy duty water exposure. Once wet, they do dry out quickly, however. The lining is also moisture wicking to keep your hands dry even when working up a sweat.
The breathable material regulates temperature well, while the PrimaLoft Gold insulation keeps hands cozy and warm in fairly cold weather. These gloves aren't for the extreme cold, but do a good job in moderate winters and sweaty activities like trail skiing. Generally the Gem glove is a simple, minimalist glove for mild winters and easy movement.
RELATED: As a glove specialist, POW has quite a few great glove options. If you are more of a mitt girl, though, check out their GEM Trigger Mitt Snow Gloves. They have similar features to the gloves, but in a mitten form.
THINGS TO CONSIDER
Since we use our hands for almost every task, we expect a lot from our gloves to help keep them in good working order. For this reason, gloves have to be precision engineered for warmth, dexterity, waterproofing, and fit. The wrong pair of gloves can ruin your trip, so let's have a look at features to look at when you are shopping.
Snug Fit
One size fits all may be fine for street wear, but it doesn't work for ski gloves. Ski gloves come in different sizes and it's essential that you get the correct one. A glove which is too big won't provide enough warmth and the extra space will make it difficult to grip or maneuver your hands to complete tasks like using a zipper or holding a ski pole.
A loose glove may let snow in, which means wet hands. On the other hand, a glove that is too small will be uncomfortable and restrict your movement, and may leave your wrist exposed. When trying on gloves, aim for one that is snug.
Your fingers should reach almost to the end of the glove fingers, but with enough extra room so that you can pinch your fingers to your thumbs without exerting pressure on the material. If you are buying online, make sure to look at the manufacturer's sizing chart, as each brand has its own cut and sizing.
Dexterity
Crucial for performing basic tasks throughout the day. If you can't move your hands, you will have to take off your gloves to tie your shoe laces and so on. Constantly taking off your gloves will mean cold and wet hands, as well as added inconvenience.
Pre-curved fingers are one feature which aid in easy movement. Be aware though, increased dexterity will often mean less bulky insulation, which may reduce warmth.
Warmth
The main function of gloves is to keep your hands warm. This is usually achieved via a layer of insulation. Different insulation materials and widths will dictate the warmth they provide. Before you choose, think about what temperature you will be exposed to.
Milder winter temperatures will be fine with thinner insulation, so you could look for a more dexterous glove. If you are venturing into truly extreme cold however, make sure to get a glove designed for it. Some gloves also have a pocket to insert a hand-warmer, for truly frigid temperatures.
Waterproof
Snow and ice means water. Your gloves are likely to be exposed to at least some water during any snow sport, and many of them feature some level of waterproofing. Gore-Tex membranes and waterproof coatings are common. These coatings can wear off over time, especially with leather, so make sure to reapply when the original one starts to thin.
Extra features: There are a few bonus features which will take an average glove up a notch into a superior one. A soft nose wipe is always good for runny noses, wrist cords help you to hold onto your gloves when you take them off and wrist cinches help to keep out snow.
GLOVES VERSUS MITTENS
Which is better – gloves or mitts? It really depends on what your needs are. Mitts provide more warmth because all of your fingers are together, so they generate more heat. They have limited mobility though, and although adequate for gripping ski poles, you may need to take them off to perform tasks like zipping clothes.
Gloves give less opportunity for generating body heat, but have similar overall design and materials to mittens. They also have the bonus of increased movement, so go for gloves if you want dexterity.
IN CONCLUSION
There are plenty of great glove options out there, with differing levels of warmth, waterproofing and mobility, depending on your needs. When buying, think about your climate and what activity you will be wearing them for. As you've seen, different features are best for different sports, but extra features aside, you will always need warm, dry hands.
What are you doing for fun this winter? If you have a favorite ski glove or mitten, leave us a comment to tell us what you use to keep your fingers cozy.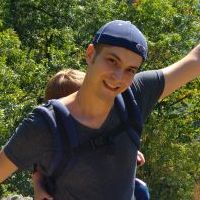 Daniel is a gear freak when it comes to hiking, climbing and camping. He went to REI Outdoor School to meet new people and learn best practices. Don't even try to argue with him about the latest backpack or ice axe, he tried most of them. Daniel's dream is to climb Mount Everest.