Choosing the right skis can be overwhelming, and how can you be absolutely sure that they are suited to your level and that they'll perform as you need them to? If you're looking for advice on how to choose the best intermediate skis, then you've come to the right place.
They are by far the most important part of your arsenal and the range of features and technology available these days is seriously mind-blowing!
There are number of factors to consider before making a purchase, with everything from what kind of terrain you like to ski on to how much you weigh. We've deciphered the jargon and produced a straight-forward guide on what to look for and what to consider.
After giving you a crash course in all things alpine, we've made a list of the best skis for intermediate skiers that you can invest in right now.
THE BEST PRODUCTS ON THE MARKET RIGHT NOW
Now that you know what to look for, check out our top picks.
Note: We get commissions for purchases made through links in this article
K2 Poacher Skis
BEST FOR: All-Mountain
LENGTHS: 156, 163, 170, 177, 184 (cm)
SPECIFIC FEATURES: medium flex, medium width, full twin tip tail, Double Barrel-Fir-Aspen Core, sidewall construction, 19m radius, all-terrain rocker.
DESCRIPTION: The K2 Poacher is a revamp of the ski of the same name released by K2 back in 1996, and has been re-released to celebrate the 20th anniversary of the K2 Factory team. With 20 years of technology now in the mix, these skis deliver cutting edge performance.
They incorporate an all-terrain rocker which is designed for all ability levels and makes for smooth riding on and off trail while the camber delivers further grip, stability and the power to take your ride to the next level. They have a tapered tip and tail which reduces deflection in the tip and turn release in the tail due to the design which directs the contact points with the snow towards the midsole.
The core of these skis is a high density double barrel wood mix over the edges with a lower density core in the center which makes for a winning combination of sturdy durability for high-impact situations while remaining light and flexible.
Rossignol Sky 7 HD Ski
BEST FOR: All-Mountain/Freestyle
LENGTHS: 164, 172, 180, 188 (cm)
SPECIFIC FEATURES: Carbon Alloy Matrix, Rocker-Camber-Rocker, medium width, stiff flex, partial twin tip, sidewall construction, core consisting of basalt, carbon, and wood.
DESCRIPTION: The Rossignol Sky 7 HD Ski is a lightweight product due to Rossignol's AirTip Technology which makes it one of the lightest skis on the market. Its profile is 50% rocker and 50% camber which guarantees the ultimate in control and the maximum in versatility.
The Sky 7 is an ideal ski for you if you wish to go off-piste and try your hand at a bit of off-trail skiing, but also want to be able to carve up on the wide-open slopes. Furthermore, this product benefits from Rossignol's new Carbon Alloy Matrix which uses a combination of carbon fiber and basalt to deliver a decent grip on firm snow, more responsiveness to maneuvers in any terrain and strong control no matter your speed.
The Sky 7 incorporates a centered sidecut which directs the pressure from your weight to the edges of the ski, further contributing to that lightweight and energetic feel while still retaining a sense of stability, making them a pleasure to ride.
Volkl Code Speedwall S UVO Skis
BEST FOR: All-Mountain
LENGTHS: 159, 166, 173, 180 (cm)
SPECIFIC FEATURES: rMotion 12.0 Bindings, Rocker-Camber-Rocker, flat tail, narrow width, very stiff flex, sidewall construction, core consisting of wood and titanium laminate.
DESCRIPTION: The Volkl Code Speedwall S UVO delivers a seriously smooth ride because of the incorporation of Volkl's UVO (Ultimate Vibration Object) Technology which absorbs vibrations while you're riding them. The Speedwall is the ideal carving ski; maneuverability is a dream due to a custom sidecut and narrower waist than comparable products and it handles exceptionally well at high speeds.
It has a rocker in the tip and the tail of the ski which helps when taking on razor-sharp turns and a camber underfoot which bounces you back. Constructed with the ability to carve down groomed slopes as its specialty, this product benefits from a hard and dense wood core that provides additional power and edge hold, supported by a titanium layer that guarantees stability at high impact.
Atomic Nomad Smoke Ti Skis
BEST FOR: All-Mountain
LENGTHS: 157, 164, 171, 178 (cm)
SPECIFIC FEATURES: XTO 12 Bindings, Rocker-Camber, medium flex, narrow width, flat tail, core consisting of wood and titanium laminate, cap/sidewall construction.
DESCRIPTION: The Atomic Nomad Smoke Ti is a great pair of skis for an intermediate skier who wants to polish their skills and push themselves to the limit speed wise without being too aggressive. They can be relied on for optimal grip and stability due to their light wood core with a layer of titanium above and below.
This product is also equipped with Atomic's ARC Technology which allows for the ski to flex more naturally by locating the binding plate in the middle of the ski, resulting in top performance control due to more edge contact, which means a smooth ride on even the toughest of groomers. It has a rockered tip which ensures that you turn corners with ease while the rest of the ski is camber, providing further grip and rebound on a turn.
These skis also benefit from another one of Atomic's signature features; the Stepdown Sidewall 2.0 Construction, a vertical sidewall located underfoot which delivers additional edge hold and a cap construction on the tip and tail for smoothness of maneuvers and turns.
Salomon W-Max Womens Skis
BEST FOR: All-Mountain
LENGTHS: 150, 155, 160, 165, 170 (cm)
SPECIFIC FEATURES: XT 10 Ti Bindings, Camber-Rocker, stiff flex, narrow width, flared tail, sidewall construction, core consisting of wood, carbon, and titanium laminate.
DESCRIPTION: Designed especially for women, the Salomon W-Max is an exceptional carving ski which gives competitors a run for their money when it comes to control, stability and smoothness. They have oversized sidewalls which focus energy directly to the edges of the ski which enhances responsiveness and edge hold.
The W-Max is supercharged by the full Ti backbone which delivers additional power when you want to speed up or the terrain gets icy, without compromising on control. Furthermore, the product is equipped with a powerline carbon construction which absorbs vibrations, resulting in a smooth ride.
The ski is mainly camber which provides rebound back from a turn, while the rocker tip initiates turning in the first place. The lightweight wood core ensures plenty of flexibility and energy, making these skis a joy to use.
Elan Amphibio 84 XTI
BEST FOR: All-Mountain
LENGTHS: 170, 176 (cm)
SPECIFIC FEATURES: ELX 12.0 Fusion bindings, Rocker-Camber-Rocker, very stiff flex, narrow width, flat tail, sidewall construction, core consisting of wood, carbon and titanium laminate.
DESCRIPTION: The Elan Amphibio 84 XTI is better suited for an upper intermediate skier and is designed to effortlessly tackle any conditions you may encounter on the mountain. All Amphibio skis incorporate the Amphibio® profile, which means they have a left and right ski.
In a league of its own, it is equipped with Amphibio 4D technology which combines a rockered outside and a camber inside resulting in faster turns and a stronger edge grip at high speeds. It is like a performance carving ski on the groomers, but with the bonus of being versatile enough to be used off-trail.
Titanium and carbon is used within the core for stiffness, further strengthening edge hold and stability when turning, while also significantly reducing vibration and impact.
Rossignol Experience 84
BEST FOR: All-Mountain
LENGTHS: 146, 154, 162, 170, 178, 186 (cm)
SPECIFIC FEATURES: Axial 3 120 TPI Bindings, Rocker-Camber-Rocker, stiff flex, narrow width, flat tail, wood-carbon core, sidewall construction.
DESCRIPTION: The Experience 84 is a versatile all mountain ski that serves up the ultimate in precision and power, suited to an intermediate skier who is almost at an advanced level. They have been equipped with HD Technology which incorporates a woven carbon fiber in the ski for increased grip, responsiveness and stability. This allows for power all over the mountain, on-piste and off.
They have all the best features of a carving ski with a freestyle and effortless feel. This product benefits from Rossignol's award-winning Air Tip technology which involves a lightweight construction and a longer rocker for enhanced drift and float by keeping tips elevated through powder and initiating turns on the groomers. Camber is also incorporated to ensure a strong edge grip combined with effortless control and maneuverability.
What to look out for and the lingo explained
CORE: The core is between the top sheet of the ski and the base, and it determines the feel and control of the skis; lighter materials such as fiberglass and polyurethane foam make skis lighter and more flexible, while denser materials such as wood make skis heavier but smoother due the dampening of vibrations.
SIDEWALLS: Sidewalls assist with grip and stability, adding strength and protecting the core.
SIDECUT: This determines how straight or curvy your skis are. Older style skis were pretty much straight up and down, while modern designs now have narrower waists than tips giving them an almost hourglass shape, which makes turning easier. As a general rule, on-piste skis will have narrower waists which allow for better grip, while off-piste skis will have wider waists. Sidecut is indicated by ski width at tip, waist and tail in millimeters and this is determined by the length of the skis.
RADIUS: The radius determines the size of the turn skis would make naturally when tipped on the edge without pressure. The radius is also determined by the length of the skis.
ROCKER: Put simply: with a rocker, the center of the skis will lay flat on the ground and the tip and tail will curve up. This is great for turning in powder, so you will find that most all-mountain and freeride skis will have some form of rocker. This design is not ideal for stability however, so many skis will have just a partial rocker combined with a more traditional camber construction to improve grip.
CAMBER: Camber is pretty much the opposite of rocker, so it's when the tips and tails of the skis lay flat on the ground while the center rises off the ground. This design benefits grip, so most on-piste skis and park & pipe skis will have a higher proportion of camber.
BINDINGS: Bindings are what attach your ski boots onto your skis. Most products come with bindings already, however some don't in which case you will need to purchase the recommended bindings in addition.
DIN SETTING: The DIN setting is a clever feature which, if you fall, will automatically release your boots from the bindings to avoid injury. It's set by your height, weight, age, ability level and boot size and it's very important that all this is set accurately in order to prevent unwanted release while turning.
How do I choose the perfect pair of skis?
There is no simple formula for choosing your perfect skis, as there are many factors to consider. The terrain and snow that you ski on, your fitness level, your gender, the ski type, its performance and your skill level are all very important.
SKILL LEVEL
While we're primarily focusing on skis for intermediate skiers here, it helps to have a basic understanding of why and how the various designs are better suited for different skill levels. A ski that flexes easily is more forgiving of mistakes and so is better suited for beginners, so if you're a not so confident intermediate skier, it's an idea to look out for a ski with a bit of flex in it.
For the advanced or expert skier, a stiffer ski is ideal. Furthermore, to ensure your skis react and bend well for you, you may need to jump up or down a skill level based on your weight. If you weigh more than 200 lbs. then you need to consider moving up a skill level, while if you are less than 115 lbs. you'll need to move down a level.
LENGTH
Length is something that always confuses even the most experienced of skiers. As a rule, it is recommended you use a ski which is somewhere between your chin and the top of your head when you stand them upright against your body.
If you're more on the lower end of intermediate, on the shorter side is better and if you're on the upper end of intermediate then you can opt for something longer, though not longer than your head; that's more suitable for expert skiers.
As a guide, some other points to consider to determine if your skis should be shorter (closer to your chin) are;
Your weight is lower than average for your height
You don´t really ski fast
You prefer a camber ski
You want a ski that is suitable for short turns
Things to keep in mind to know if whether maybe your skis could be a little longer include;
You like to ski fast
Your weight is higher than average for your height
You prefer a rocker ski
You like to do a lot of off-trail skiing
GENDER
Does gender really matter when it comes to skis? Yes, it does to a degree. There are differences in how men and women stand, their balance, strength and body mass and so skis are designed to accommodate these factors.
The general consensus is that men's skis can be used by women if they are fitted correctly according to their weight and height. However, a ski designed specifically for women will deliver an additional level of comfort and performance.
TERRAIN
The type of terrain you prefer to ski on and how you like to ski is certainly something to keep in mind when making an investment in new skis. The best choice of skis for intermediate would be an All-Mountain ski due to versatility, but there's several different other terrains which are accounted for.
All-Mountain: As you would expect from the name, all-mountain skis are for skiing the whole mountain. They are incredibly versatile and designed to handle all conditions such as ice, powder, groomers & steeps.
Powder: Powder skis are designed for deep days, however can also handle most other conditions and harder snow.
On-Piste/Carving: The classic ski for making a perfect turn on a groomer, these skis tend to be narrower at the waist and have a shorter turn radius.
Park & Park/Freestyle: Park & pipe or freestyle skis, are for skiers who like to do jumps, rails and jibs, and usually have a camber style to allow for more stability.
Backcountry: Sometimes called alpine touring skis, backcountry skis are normally relatively light for their width and are designed to go uphill as well as downhill. The designs that are better suited to deep snow touring will be wider, while the skis that are better for long distance touring will be narrower.
Final Thoughts
We hope that now you're armed with everything you need to know about what you need to look out for and what those technical terms mean so that you can make an informed purchase.
Maybe you've got your eye on one of the products reviewed here! What do you think makes a great ski for an intermediate level? Let us know in the comments.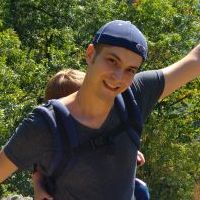 Daniel is a gear freak when it comes to hiking, climbing and camping. He went to REI Outdoor School to meet new people and learn best practices. Don't even try to argue with him about the latest backpack or ice axe, he tried most of them. Daniel's dream is to climb Mount Everest.