If you can't wait for winter to hit your front door, then you're probably an avid skier or snowboarder. The minute the snow hits the ground, you want to get on the slopes as soon as possible. That being said, you also want to show up to the slopes prepared and fully equipped with the proper gear.
So, what about mittens? You don't usually think about it, but your hands touch more snow than you think. This means you'll need to invest in a solid pair of gloves. Let's get started and show you the best snowboard mittens.
Best Mittens for Snowboarding
We did the work for you and found the six bets snowboarding mittens that you need to check out.
Note: We get commissions for purchases made through links in this article
Burton Free Range
Weight: 8.8 oz
Dimensions: 7 x 5 x 3 inches
Specific Features: Gnar guard leather shell, touch-screen control, waterproof DRYRIDE.
Best Used: All-purpose winter activities
Description: If you're looking for a pair of mittens that are slightly more masculine in design, then the Free Range Mittens are yours. Simplistic in design and color, however, they add class to your outfit. Externally, the mittens are made with Gnar Guard leather with DRYRIDE that ensures your hands stay protected and dry.
The mittens are ergonomically pre-curved, giving you superior flex, comfort and protection. At the same time, the mittens come with touch-screen control, so you'll be able to text, snap photos and take phone calls, without having to take off your mittens in the cold winter weather.
The shell is made of durable leather, while the insulation is made of polyester. These mittens are not only trendy, but they're made to last.
Related: If you like the design, Burton has a couple other similar mittens available. The AK leather tech mitts are made of goat leather and polyester. They have extended length cuffs that'll make sure the snow stays out. They're very simplistic in design, making these mittens unisex. They also come with touch-screen control and a Gnar Guard leather shell.
The Burton Gondy Gore-Tex mitts are also another great option for protecting your hands on the slopes. These ones are ergonomically pre-curved and are designed with thermacore insulation.
Burton Starsha
Weight: 9 oz
Dimensions: 14 x 5 x 2 inches
Specific Features: Ergonomic pre-curved fit, DRYRIDE ultrashell, brushed microfiber fixed lining.
Best Used: All-purpose winter activities
Description: If you've touched a snowboard or pair of skis, then you know about Burton. They're one of the most popular brands for winter apparel and equipment. So, naturally, they've come out with a solid pair of mittens that are designed to keep the snow out and the heat in.
The Burton Starsha is made of polyester and goatskin leather, ensuring that these mittens are not only durable but warm. The goatskin palms give you extra grip on the ski poles and prevent your mittens from any wear and tear that may happen on the slopes.
It's ergonomically pre-curved, so your hands sit naturally inside the mittens. The goatskin palms also provide you with a touch screen control option, so you won't have to take off your mittens to reply to a text or answer a phone call.
The DRYRIDE ultrashell is a 2-layer fabric, giving you double the protection against the harsh winter elements. The inner lining is a brushed microfiber fixed lining, so, you won't be able to convert it into gloves. These women winter mittens are ideal if you're looking for durable and warm mittens that'll be able to take you through mild winter conditions.
Related: Burton has a variety of mittens which provide you with different levels of warmth and functionality. The Burton's Gore-Tex are made with thermacore insulation and a removable 4-way stretch thermex liner. This pair of mittens are made for harsher weather conditions as opposed to the Starsha mitts.
Burton's Profile mitts are waterproof mittens made of polyester. They come with a touch-screen palm and thermal insulation.
Dakine Fillmore Trigger
Weight: 8.5 oz
Dimensions: 14 x 7 x 4 inches
Specific Features: waterproof, nose wipe thumb panels, cuff closure.
Best Used: All-purpose winter activities
Description: Dakine is another well-known winter sports line which produces a variety of snow gear and apparel. The Fillmore Trigger mittens are slightly different than your regular mittens because of the lobster design. The lobster design provides users with another finger insert, providing more space between fingers.
The extra finger panel prevents overheating and sweating. The mittens are made of nylon and polyester and also come with built-in insulation. The outer shell is waterproof and the palms are made of leather. Leather palms provide you with extra grip and prevent premature wear and tear on your mitts. Another great feature is the nose wipe thumb panels.
This allows you to wipe your nose simply on your thumb without having to rummage through your pockets to find a Kleenex. It also comes with touch-screen control that lets you text and snap pics without having to take off your mitts.
Related: Oakley has the Trigger 2 mitts which are another great pair of mittens to check out. They're made of polyester and polyurethane, with touch-screen control and Thinsulate 3M insulation. The velcro closure system allows you to also customize the fit of your mitts.
Carhartt Men's waterproof mittens are ideal if you'll be in some wet weather conditions. They're made of polyurethane and polyester, so you'll have both warmth and protection.
DC Juniors Seger Mitt
Weight: 5.6 oz
Dimensions: 13.8 x 5.6 x 3 inches
Specific Features: waterproof insert, touch-screen control, brushed tricot lining.
Best Used: All-purpose winter activities
Description: You've probably heard of DC when it comes to skateboarding, however, they're more than just that. DC is a highly well-known brand in the winter sports community for their snowboards and winter apparel/gear.
DC Juniors Seger Mitts are made of 100% polyurethane and waterproof insert, meaning that these will keep you nice and dry no matter what the weather.
It's made with 3m thiosulfate insulation which will keep your hands extremely warm during your mountain fun. The touch-screen control comes with a compatible PU palm for extra protection and durability.
The goggle wipe thumb panels help you defog and de-ice your goggles after shredding down the slopes, so you won't have to worry about losing visibility. Overall, these mittens will be able to take you up and down the slopes without losing warmth or dryness.
Related: Another junior pair of mittens are Roxy Snow Junior's Jetty Mittens. They're made of polyurethane and polyester and are pre-shaped so that your hands fit comfortably inside the mittens. The Dakine Firebird Mittens are another exceptional pair of mittens that are fully equipped and come with nose wipe thumb panels with a slip on cuff closure.
Celtek Maya
Specific Features: Storm Dry 15k Waterproof insert, polyurethane rubber outline.
Best Used: All-purpose winter activities
Description: The best feature about Celtek is that they combine artwork into their mittens, making them more unique in comparison to other traditional brands. Their brand is all about providing you with all the features, however, also providing mittens that are fun and vibrant.
The Maya mittens are made of 100% polyester with Storm Dry 15k waterproof/breathable insert that'll ensure your hands are kept dry and warm. The water repellent Taslon & Ripstop Nylon make sure your mittens stay dry while you're out on the slopes. The leather cross stitching provides extra durability, making sure that these mittens will last you for years to come.
Related: Like pugs? The Celtek Women's Gallery Mittens are so cute and fun in design. They come will all the features, so you'll be well taken care of in these mittens. They're warm, they're waterproof and they're durable.
Celtek Hello Operator mittens provide you with extra flexibility in your thumb and forefinger while also giving your hand breathability. These mittens are waterproof and made with a ripstop nylon shell. It also comes with Primaloft insulation that provides you superior warmth.
Celtek Bitten By A Mitten
Specific Features: soft Bemberg inner lining, breathable inserts.
Best Used: All-purpose winter activities
Description: If you're looking for a pair of mittens that'll stand out amongst the crowd for its artistic creativity, then this is the pair of mittens for you. However, aside from its funky exterior, let's look at what it's all about. It's made of 100% polyester that'll keep your hands nice and warm.
The outer shell of Celtek Bitten By A Mitten is made of water repellent Ripston nylon will ensure no moisture sneaks its way inside, causing you discomfort. It also comes with a breathable insert to make sure that your hands don't over-sweat which can cause chafing and decreased control.
These mittens also come in women's and youth too, so, anyone will be able to wear the artwork of Matt French. These are Celtek's most popular mittens and are highly in demand, you can see why.
Related: Celtek Bitten By A Lil Mittens are mittens that have a more masculine design, yet keeps your hands dry, warm and trendy. They're made of 100% polyester and Storm Dry 15k waterproof inserts that keep the mittens breathable and dry. It's also treated in a water repellent ripstop finish.
The Celtek Men's Gore-Tex is made with a gore-tex insert, water repellent Oxford and super soft insulation that'll keep your hands super warm and cozy. It also comes with a fun and artistic design which blends perfectly with the technology inside the mittens.
Gloves vs Mittens
If you thought gloves and mittens are the same, you're mistaken. They're actually very different. Picking the wrong type can turn your fun into a miserable and cold time.
Gloves
Gloves have individual finger places which give the rider better dexterity as opposed to mittens. Gloves are usually preferred if you're performing activities that require you to use your hands a lot and to adjust equipment. If you're into cross-country skiing, gloves are ideal because they're typically more lightweight. This means you won't be sweating as much.
Mittens
Mittens are typically designed to be warmer than gloves since your fingers aren't separated by fabric. This lack of separation, of course, creates more heat. Mittens aren't as dexterous as gloves, however, they're still able to grab onto gear such as poles. Many athletes prefer mittens due to comfort.
3-in-1
These mittens are a blend between mittens and gloves. The shell is either a mitten or glove with the removable liner also being either a mitten or glove. This 3-in-1 system provides riders with versatility and gives you the option of either mitten or glove.
Now that you know about the debate between gloves and mittens, it's time to see the different insulation available.
Features to look for
Now, before we show you the best snowboarding mittens, here are some features that you need to consider.
Insulation
For both gloves and mittens you have two types of insulation: down insulation and synthetic insulation.
Synthetic Insulation – If you're looking for a budget friendly pair of gloves, they'll most likely have synthetic insulation. Insulation tends to dry quickly in comparison to down. If you're a skier or snowboard or even just someone who likes to make snow forts, synthetic insulation is better. However, synthetic insulation provides less warmth and is known to be bulkier than down. If you're a downhill skier, cross-country skier or snowboarder, the mittens available will most likely be made with synthetic insulation.
Down Insulation – Down has always been known to be an amazing insulator and is very lightweight and breathable. However, if you're looking for a cheap pair of down mittens, you won't find one. They're typically higher in price in comparison, but is worth the money. Down, when wet, does lose its insulation when wet, therefore, it's not as popular as synthetic mittens. Most nowadays, are protected with a waterproof shell though, so you won't have to worry too much. If you're skiing or snowboarding in a dry climate, down is ideal.
Waterproof
This is probably the most important feature that you'll need to look for. Make sure your mittens have a waterproof shell. It'll retain heat and prevent your fingers from becoming frozen.
What's the point of having mittens if your hands are going to be freezing? Look for Gore-Tex, Marmot MemBrain or The North Face HyVent waterproof technology in your mittens.
Touch-Screen Compatibility
Let's be honest, you're not leaving your phone at home before hitting the slopes, it's coming with you. Instead of having to remove your gloves or mittens, make sure that your phone has touch-screen compatibility. That way, you can take photos or text friends without having to remove your gloves.
Thumb wipes
You may not think about it now, but when you're on the slopes in freezing temperatures, your nose starts to run. If you're tired of ruining your jacket by wiping your nose in it or rummaging your pockets for kleenex, there is a thumb wipe feature that you'll appreciate. It's made of an absorbent material on the outer shell of the thumb that you can use to easily wipe your nose with.
Cuff length
This will solely be based on personal preference when it comes to cuff length. But, at the end of the day, cuff length will help you keep the snow out and the heat in. You have two types of cuff lengths: short and long.
Short – Short cuffs end at the base of your wrists and give you better mobility. You'll also be able to put your jacket sleeves over top of the mittens.
Long – Long cuffs go past the sleeve of your jacket and are designed to give you extra protection from snow. It may slightly reduce the mobility in your wrists.
Size and fit
You need to make sure that your mittens fit you properly. With a proper fit, it'll ensure that your provided maximum warmth and dexterity.
You want to make sure that your mittens fit snug, however, allow you enough room for your fingers to sit comfortably. Make sure that your palm is also fully placed inside the cuff of the mitten.
Leather Palms
If you're the type of person that needs a little more grip with using the poles, than opt for mittens with leather palms. It gives you exceptional grip and is more durable in comparison to synthetic palms.
Now that you know about the features that are available, it's time that you took a look at the six best snowboarding mittens on the market. Let's take a look!
Conclusion
If you're new to the world to winter sports, well, now you know some important information about mittens and gloves. You now know the difference between mittens and gloves and the features you need to look out for before buying a pair.
So, before you hit the stores, take a look at the six best snowboarding mittens we reviewed for you up above. Make sure you try them on and see which one suits you and your needs the best. So, what are you waiting for? Go out and try them on today! And please leave a comment sharing your experiences with us.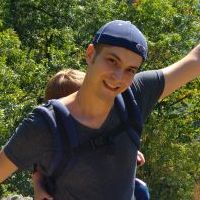 Daniel is a gear freak when it comes to hiking, climbing and camping. He went to REI Outdoor School to meet new people and learn best practices. Don't even try to argue with him about the latest backpack or ice axe, he tried most of them. Daniel's dream is to climb Mount Everest.