There's nothing like a fresh trail on the mountain after a night of snow. We know more than anyone just how amazing it can be, that moment before your board starts its descent and then it's all up to your balance, momentum and the layout of the mountain.
You should outfit yourself with the best snowboarding gear possible so nothing can hold you back from tearing it up and those occasional wipe outs.
With any glory comes some sacrifice. Don't let those falls get you down. Bounce back with a vengeance by hunting for the best snowboard helmet you can buy. Shred that fresh powder in safety and style by exploring our collection of the top-performing helmets for winter sports.
BestProduct Reviews
Now let's take a look at some of the helmets snowboarders and outdoor winter enthusiasts alike trust the most for their high-impact expectations.
Note: We get commissions for purchases made through links in this article
Anon – Endure Snowboard Helmet
Sizes: Small – Large
Design Features: Flex-shell construction, injection-molded ABS exterior, high-density foam liner, Reactive Protection Technology, passive ventilation, removable ear pads, & a Fidlock buckle.
Best Use: Snowboarding
You may know Burton as one of the biggest names in snowboarding, professional or otherwise. Under the brand Anon, Burton's released a series of high-performance snowboarding helmets, including the Endure Snowboard Helmet. This helmet is great for the rider that's a little reckless and won't let a few impacts slow him or her down.
The flex shell construction will surely keep your head safe, and the high-density foam liner adds extra soft comfort and protection. In addition to the liner, there's a thin layer of fleece that's implemented to wick away self-made moisture so you can avoid irritation and uncomfortable chills out on the snow all day.
One of the most convenient features we found was the Fidlock buckle with its magnetic snap that allows you to easily snap it shut with one hand while wearing gloves. With a simple grey-tone design, the Endure helmet is not exactly eye-catching.
However, it retains its sleek form and will keep you riding in safety for years to come without losing any style. If you're looking for a helmet to go with the rest of your gear, check out the other helmets in our review or Anon's similar models.
Related: If music is a must-have while you're riding the ski lift, Anon's Helo 2.0 Helmet is compatible with audio accessories and features that same, dependable shell construction with many more color varieties to chose from. Though it looks very similar to the Endure model, the Rodan Helmet features a 360-degree Boa Fit Adjustment System to ensure a secure fit even in risky situations.
Bern Watts Snowboard Helmet
Sizes: Small – XXXLarge
Design Features: 1.7 lbs., thin ABS-shell construction, EPS hard foam, crank fit adjustability, original visor shape, built-in speakers, & a rear goggle clip.
Best Use: Biking & Snowboarding
The Watts Snowboard Helmet by Bern is a wonderful choice for practically all seasons, because you'll get to rock out to your favorite tunes while blazing the trails or paths on your terms. This product features a thin ABS-shell construction with an EPS foam liner to prevent serious injury from falls or slips.
You can guarantee that the classic visor helmet shape will never go out of style. We love that you don't need to purchase multiple helmets for your hobbies, because this helmet meets safety certification standards for both biking and snowboarding. While we love that this helmet includes built-in speakers, you do have to purchase audio chips separately.
The included ear flaps are equipped for these unique chips, so you'll barely notice you're wearing them! To customize this product for optimized use in the warmer seasons, alternative liners can be purchased separately, too. There's a lot to love in this helmet, and we're confident you'll find the helmet that's right for you from ten fun color varieties.
Related: For half of the price, check out Bern Unlimited Watts EPS Summer Helmet that's perfect for those enthusiasts that like the option of adding a winter liner later. If you can do without the audio liners and adjustability for a truly tailored fit, their Team Baker Snow Helmet utilizes single sizing and fit pads for universal comfort without sacrificing quality.
Giro Ledge MIPS Snowboard Helmet
Sizes: Small – Large
Design Features: Hard shell construction, removable goggle retainer & earpads, audio system compatibility, removable Auto Loc 2 Fit system, MIPS technology, & stack ventilation.
Best Use: Snowboarding
You may have trouble finding a better deal than Giro's Ledge MIPS Snowboard Helmet for all of your recreational activities this winter. Giro prides itself as being at the forefront of research and design.
To prove it, this helmet is versatile and optimally designed to keep you safe, thanks to its advanced brain protection system that absorbs multi-directional impact from a hard hit or fall, as we're all prone to succumb to now and again. With a design inspired by hardcore skateboarding gear, this helmet is also very lightweight. The inner lining is rotational and will serve you well should you take an accidental spill.
The stack ventilation system is great for letting out moisture. Last but not least, this helmet is seamlessly compatible with all models of Giro goggles. With a bonus 11 cool colors to chose from, we really can't find much fault with this helmet. This is a great choice for snowboarders of all levels.
Related: Who says helmets are only for snowboarding? Skiers and snowboarders alike will find Giro's Surface-S Snow Helmet to be a great alternative if you prefer a visor-inspired design when it comes to your headgear. Want more control over your comfort? Their Seam Snow Helmet offers a thermostat vent system.
K2 Stash Snowboard Helmet
Sizes: Small – XLarge
Design Features: 360 K2dialed fit system, convertible full-wrap liner system, baseline audio system, snap goggle clip, passive channel ventilation, snow & bike certified, & in-mold helmet construction.
Best Use: Snowboarding & Biking
If your number one destination is your favorite powder stash or a hidden biking trail, we think you'll love K2's Stash Snowboard Helmet. Thanks to the featured convertible full-wrap liner, this helmet is certified for both snow sports and biking. The liner will keep your head warm in the colder months and will then pop out to help keep you cool in the warmer months.
K2's 360 K2dialed fit technology ensures you have the perfect fit every time you put your helmet to the test. The in-mold helmet shape is very much a round circumference like a typical skate helmet. For riders that prefer an oval construction, you may want to opt for one of the other helmets on our list.
The only concern we have with this helmet is that the available sizes tend to run a little small. Order a size up, just in case, and you should be very happy with this helmet for many winters and summers to come. The baseline audio system is a serious perk and allows you to make calls from the ski lift.
Related: We think it's useful to have an all-season helmet, but strict winter enthusiasts don't necessarily need that capability. K2 Diversion Ski Helmet is an awesome alternative thanks to its Dual Active Matrix Venting System that will help keep your head cool no matter what the temperature is. Like the Diversion helmet, K2's Thrive Ski Helmet has more of a visor-inspired shape than the Stash helmet.
Roxy Love Is All Snow Women's Helmet
Sizes: Small – XLarge
Design Features: Double micro shell, superlight in-mold helmet construction, EPS shock absorber foam, metal passive front & top ventilation, mesh & sherpa fleece lining, & thermoformed removable ear pads.
Best Use: Snowboarding & Skiing
At one of the most affordable prices compared to any other helmet in our review, Roxy Love Is All Snow Helmet is a great deal for dome protection. This product features an ultra-lightweight and durable polycarbonate build in combination with an in-mold construction, so you'll stay safe from some heavy duty impacts.
Roxy's also hooked you up with a rear dial-in adjustment fit system and a cushy fleece lining for added comfort. We love that this helmet was specifically built for women's heads and has tailored, molded construction. The padded chin strap with its Fidlock buckle system is an added bonus.
If you get hot easily, even when you're on top of a mountain in winter, you'll be thankful for the front and top ventilation system that helps keep your head cool. As if Roxy doesn't supply you with enough padding, they also equipped this helmet with removable cushioned ear pads and a neck liner.
The mesh and sherpa fleece lining makes you extra comfy, and the helmet comes with a microfiber drawstring carry bag. We think you get a lot of bang for your buck with this helmet and it's a fine choice for new and skillful snowboarders.
Related: If you ever have the opportunity to take your mini-me out on the slopes or for ski lessons, be sure to give her Roxy's Misty Pack Snowboard Helmet for girls. Their Muse Snowboard Helmet has a little more room for a larger head and features super-strong ABS shell construction.
Shred Slam Cap Snowboard Helmet
Sizes: XSmall – Medium / Large
Design Features: In-mold polycarbonate shell construction, impact EPS foam, Slytech no-shock multi-directional impact absorption, & audio compatibility.
Best Use: Snowboarding & Mountain Biking
Shred Slam Cap Snowboard Helmet is optimally designed for impact. Shred combined EPS and Slytech no-shock foam for impact absorption with odor-resistant X-Static fiber for supreme comfort while you're out on the slopes all day. The in-mold shell construction is durable and dent-resistant, so your falls won't put this dome bucket out of commission any time soon.
Whether you're carving the ice or hitting jumps, you'll soon notice how humid it can get under your helmet and under your beanie if you wear one while you ride. Even in the cold, we work up a sweat. We love the choice to customize airflow, and the foldable vent cap enables you to open or close each vent as you like or to accommodate your environment and needs.
There's an easy-to-use fitting dial for personalized fit. The last thing you need it a sliding or wobbly helmet while you're about to stomp a landing. Don't let poor quality get in your way. This helmet will fulfill all of your needs at a competitive price to the other helmets in our review. Rated for both snowboarding and mountain biking, you get a two-for-one deal, which saves you time and money in the long run!
Shred implemented one final feature that we didn't see in any other helmets: IceDot identifying technology, which helps passersby and emergency responders identify you when you're unconscious. All you need to do is pre-register your information online prior to any emergency.
Related: Shred Half Brain Clarity Helmet has many of the same great features as the Slam Cap helmet, but it also features a soft ear half helmet construction. The Shrastalines Helmet is an affordable solution for snowboarders on a budget, and it provides an integrated ventilation system in its goggle-helmet system.
Smith Vantage Snowboard Helmet
Sizes: Small – XLarge
Design Features: Hybrid SL shell construction, Aerocore technology featuring Koroyd, AirEvac 2 ventilation, adjustable Boa FS360 fit system, 360º halo design, low-profile dual regulator adjustable climate control, 21 vents, Snapfit ear pads, removable ultra light goggle lock, & a performance lining.
Best Use: Skiing & Snowmobiling
While Smith Optic's Vantage Snowboard Helmet may be the most expensive helmet in our review, it's well worth the price point for the peace of mind in safety. This helmet was built the most avid outdoor enthusiasts that know how to push the limit while demanding results.
The Aerocore construction features Koroyd, this new material created by thermally welding miniature tubes together to form a whole that crushes on impact. To put it simply, this material will likely save your head again and again by simultaneously maximizing full coverage protection and increasing airflow. Speaking of airflow, we kid you not, this helmet has 21 vents.
The low-profile dual regulator adjustable climate control technology is amazing for those days you produce extra moisture and want the freedom to adjust how you release excess heat. Want to keep the heat in? Just close the vents! What we like the best about this product is that it's optimized for snowmobiling.
For those that love snow, the convenience of multi-utility helmets don't come around very often. Like K2's Stash snowboard helmet, the Vantage helmet can tend to run a little small. With the quick fix of ordering up a size, you get the highest-rated helmet available on the market. There's no need to settle when it comes to your safety. This helmet is the kind of investment you'll be so thankful you made.
Related: For music lovers, Smith also offers the unisex Vantage Snow Sports Helmet, which is compatible with Skullcandy audio systems. Does the Vantage fall short of your needs for padding? Camber Helmet is great alternative with its X-static performance lining.
Features to Consider Before Buying Your Future Helmet
There are several components to a helmet that diehard winter athletes can't do without. Let's take a closer look at some of the most important features to consider before making a final decision on the the best snowboarding helmet for you and your lifestyle:
Shell Construction
We all love to have fun ripping down the mountain. There's no denying those perfect conditions with sugary powder and the sun gleaming just right. But the shell construction of your helmet can be the biggest factor between you and a painful concussion.
Your helmet must protect your head from every fall, no matter how significant the impact, because anything can happen on your ride down. The construction of a helmet has a lot to do with our next mindful feature.
Impact Protection
When it comes to your snowboarding gear, your helmet is the only thing standing in the way of some hardcore impact hits. Be smart and equip yourself with the best quality protection. In addition to the mold construction, you want to gauge your comfort needs when deciding on padded linings.
All of the helmets we reviewed pass safety inspections and typically provide multi-directional impact protection or absorption. Double check the manufacturer's technical specifications to be sure of the exact materials and technologies utilized in the safety design.
Ventilation
As with any other high-intensity sports that involve helmets, you're going to work up a little sweat beneath your gear the harder you go. If you're super hardcore, you're going to need ventilation to keep up with you. Helmets have a nice variety of ventilation options to keep your head cool.
Custom climate control is excellent for enjoying your total experience and typically allows you to close or open individual vents. Individualize your comfort by having the option.
Whatever features matter most to you and your needs, you must take every precaution you can when it comes to your safety. The only way to keep tackling that mountain is by being prepared and smart.
Conclusion
While we want you to feel your best while you're out achieving new speeds, jumps and tricks, it's important that you remember to keep yourself safe above all else. Stomping the perfect landing may be rad, but the amount of falls it takes to get there will require some serious protection for your dome.
Don't settle for poor craftsmanship that cuts corners. We're confident that you gained a lot of great shopping tips and some insider product knowledge when it comes to selecting your first or next snowboard helmet. Look for signs like shell material, impact absorption and ventilation control to safely choose the best helmet for your future snowboarding expeditions..
Do you think there are any other great snowboard helmets we forgot to mention? If so, please let us know in the comments!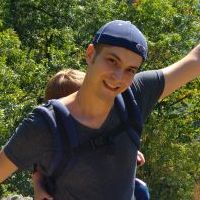 Daniel is a gear freak when it comes to hiking, climbing and camping. He went to REI Outdoor School to meet new people and learn best practices. Don't even try to argue with him about the latest backpack or ice axe, he tried most of them. Daniel's dream is to climb Mount Everest.