When searching for a great ski jacket, it can easily become overwhelming. Ski jackets come in all shapes, sizes and colors. How can you narrow down your search and find the right fit and features to suite your ski trip?
Let's take a look at some of the best ski clothing brands and what features you should look for to match your needs.
Best Ski Jackets
Now that you have a better idea of what ski jackets can offer, from different weatherproof levels to what insulation heats best, let's take a look at some of the popular men's and women's ski jackets that are currently on the market.
Note: We get commissions for purchases made through links in this article
The North Face Nuptse Jacket
Insulation: 700 Fill Goose Down
Waterproof level: Water repellent
Features: Double-layer taffeta on shoulders; Stow-able chest pocket; Secure-zip hand pockets; updated fit.
Description: Get ready for a whole lot of warmth coming your way, the The North Face Nuptse Jacket is packed full of goose down feathers that have been infused with high-loft baffles to give you premium warmth. A baffle is a sewn in structure that keeps your down feathers from shifting. This also allows you to get the most heat since the material will stay put.
This jacket has two external zipped pockets and one internal chest stow. The shoulders have been reinforced so that it can better resist wear and tear from backpacks. Easy to pack down, this jacket is perfect for traveling.
While being very warm, this jacket is not waterproof. It also does not breath very well, so if you are exerting a lot of force you may be damp inside after awhile.
Patagonia Men's Wanaka Down Jacket
Insulation: 600 Fill Duck Down
Waterproof level: Water-resistant; Water proof
Features: Removable, insulated hood; Gusseted underarms; Four external pockets and one internal pocket; stand up snap collar; Hip length.
Description: Made to fit loose for plenty of room for layers, the Patagonia Wanake Down Jacket is made to keep you warm. The 600-duck down (non-live-plucked and non-forcefed) is padded insulation for warmth with only a lightweight shirt underneath, or if you are expecting to be out for long periods in extended cold, then it has extra room for bulky layers.
The outside has one snap chest pocket, one zip pocket, two fleece lined hand pockets. The inside has one security pocket. Under arm gussets have been added to give more allowance for arm movement.
Outdoor Research Men's Stormbound Jacket
Insulation: Synthetic down
Waterproof level: Waterproof
Features: ThumbDrive hook/loop cuff closures; Pocket with media port; Windproof; Removable powder skirt with lockdown technology; Helmet compatible hood; Pit zippers.
Description: The Outdoor Research Stormbound Down Jacket is waterproof and windproof with plenty of breathability. This jacket is made to hold in the heat while allowing perspiration to air out. Also included is a built in RECCO locator that can assist in being rescued if stranded or injured.
It is fitted with a helmet-compatible hood and a removable powder skirt. It also features pit zippers to give you an instant cool down when things heat up. On the outside it has two zipper hand pockets and a zippered chest pocket. Inside it has a shove-it pocket, and a lift pass pocket.
While this jacket is heavier and has a higher price, it proves to have more than enough features to fit it's price tag.
Mountain Hardwear Kelvinator Hooded Jacket
Insulation: Q.Shield 650-fill
Waterproof level: Water-resistant
Features: Dual hem drawcords; Q.Shield technology; Easy to compress quilting; 20D nylon ripstop shell.
Description: Warm and water-resistant, the Mountain Hardwear Kelvinator Hooded Jacket is equipped to keep you warm even when wet. The Q.Shield technology is made to keep you warm even if the down material gets wet.
This jacket has two outside zip pockets. Elastic cuffs seal in your body heat and keep snow and other elements out, while a dual hem drawcord helps you get your custom fit.
While this jacket does not boast having loads of features, it does focus solely on keeping you warm and it does it well. Most down jackets will lose heat if wet, but the Q.Shield technology sets this one apart.
Columbia Men's Eager Air Interchangable 3-in-1 Jacket
Insulation: Micro fleece
Waterproof level: Waterproof
Features: Removable fleece liner; Storm hood; Zip-in and 3-point interchangeable system.
Description: This great three-in-one jacket gives you a choice between wearing the jacket, the shell or both together depending on where you are. The Columbia Men's Eager Air Interchangeable 3-in-1 jacket is fleece and nylon based to keep you dry and warm.
Inside the jacket is a zipped security pocket, outside it has two zipped hand pockets. Also, this jacket breathes well and offers good ventilation while skiing or exerting force.
While it is a thinner jacket and shell combo, it is able to keep you warm in mild to cool conditions. If you will be out in extreme cold and wind, it is suggested to wear extra layers underneath for added protection.
Arcteryx Rush Jacket
Insulation: Nylon
Waterproof level: Waterproof
Features: Helmet compatible hood; Underarm zips; Arm gussets; fully taped seams; RECCO tracking.
Description: The Arcteryx Rush Jacket is loaded with features to keep you warm and well equipped for the outdoors. Featuring quick zip pits to help you cool down, this jacket is also very breathable to ward off excess moisture.
Outside pockets include two zip hand pockets and one sleeve pocket, inside has one mesh pocket and one zip. While the zippers are very water repellant, they are not completely waterproof, so make sure valuables are well contained in waterproof cases or bags when using this jacket in wet conditions.
This jacket can be pricey, but is well worth the cost with it's features and warm fit.

Spyder Women's Timeless Hooded Long Jacket
Insulation: 700 power fill down
Waterproof level: Water repellent
Features: Fixed hood; zipped chest pocket; Beautiful design; Baffle construction; Microfiber chin guard; Athletic fit.
Description: Beautifully designed, the Spyder Women's Timeless Hooded Long Jacket is made to look great while keeping you warm and dry. Spylon technology keeps this jacket water repellent through 50 washings and guards against water and oil-based stains.
This jacket has two zipped hand pockets and a chest pocket on the outside. The pockets have a fun color contrasted fill. The hood is insulated and offers a microfiber chin guard to add comfort and warmth.
Reviewers state that this jacket is more fit for a curvier body and can be tight across broad shoulders.
Eider Manhattan 2.0 Jacket
Insulation: 100% polyester
Waterproof level: Highly waterproof (10,000mm)
Features: Body mapped insulation; Windproof; Adjustable and removable hood; Sealed seams; Snow skirt with no-slip band.
Description: Classy yet effective, the Eider Manhattan 2.0 Jacket offers a sleek look while loaded with features. The faux fur hood is removable or adjustable so you can choose how you wear it. Thumbholes keep your jacket sleeves down as you are out on the slopes.
A smart mixing of padding and lining ensure heat gets to key parts of your body, keeping you warm. The fit is relaxed so you are able to pair layers under without compromising wiggle room.
Included are two outside zipped hand pockets and a small zipped side pocket under the flap. Inside there is a goggle pocket with a lens cleaner and a zipped inside pocket that has an headphone opening.
Obermeyer Leighton Jacket
Insulation: Synthetic
Waterproof level: Waterproof (15,000mm)
Features: HydroBlock Sport waterproof breathable laminate; Thermal zone insulation; removable insulated hood; Interior wind guard with fleece chin protector.
Description: The Obermeyer Leighton Jacket features windproof and waterproof protection that also breathes well. This will keep you safe from the outside elements while keeping you dry inside.
Two zipped hand pockets, two chest pockets and one zipped chest pocket give this jacket plenty of space to store your stuff. Nice touches adorn this jacket, such as the fleece lined collar and cuffs to give you an extra addition of comfort and warmth.
This jacket offers a slim fit, which will be difficult to pair with multiple layers. However it has a high performance and heat rating so you will be warm with lighter layers underneath.
Important features to consider
Of course, if you are skiing you will want something to keep you warm and keep the snow out. Nowadays there are many options being offered in ski jackets, from different materials that are inside to keep you warm to arm pit zippers that allow you to instantly cool down if your feeling over heated.
Let's break down a few of these features to see what they are about and if it is something that you should consider when looking for a jacket.
Waterproofing
Almost all ski jackets will have some level of protection from water and snow. What level of protection will you need? Jackets come in various ranges to accommodate all types of skiers and weather.
| | | |
| --- | --- | --- |
| 0-1,500mm | Water resistant/Snow proof | Dry conditions/Dry snow |
| 1,500-5,000mm | Water proof | Light to average rain or snowfall |
| 5,000-10,000mm | Highly waterproof | Moderate to heavy rain or snowfall |
The level of water resistant protection you will need is largely based on where you will be skiing and in what conditions. If you prefer to only go out once in awhile and on clear days, then a low level will be fine. If you are an avid and aggressive skier that goes out no matter the weather then you should opt for a higher level.
Jacket Breathability
When looking at ski jackets, it is important to consider the breathability rating. Ski jacket materials are made to allow your perspiration to become small water vapor molecules.
They are then able to escape from the jacket to keep you dry. These jackets also have a barrier in place to allow perspiration to escape while keeping water and snow out.
This will keep you dry from excess moisture while you are out on the slopes. Also, a breathable jacket is only as good as the clothes underneath it. Make sure you pair your jacket with wicking or breathable base layers. Cotton is not a wicking friendly fabric, so avoid this as an under layer.
Arm protection
It's important to see what type of arm protection is provided to keep snow from riding up your sleeves. Most ski jackets will come with a cinching cuff. Also available are thumb loops that allow you to loop your thumb through the sleeve, ensuring that the sleeve stays up and in place keeping your arms protected from the elements.
Hood
Even if you will be wearing a hat, a hood is an extra level of protection that should be considered. Make sure that when you are looking for a hood, it is large enough to fit over a helmet.
Ski Jacket Fits
Ski jackets offer different types of fits. This is important to find the right fit for your body and comfort level. Some people prefer their jackets to be tighter and fit close to their shape, while others prefer to have a looser fit.
There are approximately five different fits, while some jackets will not openly advertise the fit, you can try it on to see or read online reviews for more insight.
Slim fit- This styles offers a form fitting jacket. It is made to snuggly fit the shoulders, mid body and waist while still giving full protection and comfort.
Slim/Regular fit- This is a great style for those who want a more fitted jacket, but also want to retain some extra space. It is tailored to give you a closer fit while still remaining comfortable.
Regular fit- A traditional fitting jacket that will come to just below the waist. This still offers a shaped fit without being too constricting.
Regular/Loose fit- Retaining the classic look while giving you more room to move and layer clothes. This is a good option for individuals who like to add a few more layers and still want to be comfortable.
Loose fit- This style will give you the most room. It is loose in the shoulders and chest giving you a baggy fit.
Choosing your fit can be difficult if you don't factor in what you will be wearing. The best way to get insight into what you will need is to try and wear layers when trying the jacket on. That way you can see how it will fit over clothing that you plan to wear.
Insulation
Depending on the price and manufacturer, ski jackets can have a variation of materials that it uses to insulate. Each material offers its own feature, so it really comes down to how you want your jacket to perform while you are out.
Down- This is a great material to look for if you are seeking warmth. Down fill numbers range from 450 to 900. The fill number is the volume in cubic inches that one ounce will fill. A lighter filled down jacket will be great for layering or you can choose a bulkier high fill down jacket for more warmth. The only downside to having a down jacket is that it may not have a higher level for being water proof.
Synthetic- This is the most common level of insulation in ski jackets. It is often referred to as Thinsulate or other branded names. This material will keep you warm regardless if the jacket becomes wet. Synthetic jackets will perform well and won't need to be replaced as often. This is a good option for someone who will be out for long periods and sweating a lot.
Fleece- This material is a great mixture of being warm and lightweight. The fleece can be an inside lining or can be the main material for the entire jacket. If you choose a fleece jacket, make sure that you are layered well, since it is known to be weak against wind protection.
None- There are some ski jackets out there that do not offer any insulation. These are mainly referred to as Shells. They are highest rated for waterproofing and breathability, however, they should be layered under a jacket to keep you warm or paired with layers underneath.
One of the main functions of an insulated jacket is to keep you warm. It will get cold out on the slopes, so choose a jacket that will meet your needs and add warmth.
If you do decide against a warmer variation, then make sure that your under layers will provide warmth.
3-in-1 jacket
This type of ski jacket combo is made up of an outer ski jacket, and inner shell that is easy to connect. It allows you to wear the jacket alone, attached to the shell for more warmth, or just as a lightweight shell alone. \It is a great option for those interested in a warm jacket that can be taken off once inside, but will retain the shell.
Pockets
Pockets are a great feature to consider when looking for ski jackets. What will you need to carry with you all day? Some jackets will offer a water-resistant or waterproof zipper to keep your items dry. Also, more urban model jackets will offer a music pocket that allows you to route your headphones through your jacket with ease.
Color
Do you want to draw attention or blend in. Most ski jacket options come in the basic black or navy color schemes. However, if you want to be noticed then choosing a bold color would be in your favor.
There is no wrong choice when it comes to the color of your jacket, as it is based on your personality and if you want to be seen or not.
Your Choice To Make
There are so many choices to make when it comes to finding a ski jacket. Some are loaded with features and high tech specifications while others focus mainly on having a warm jacket. At the end of the day you need to figure out what is a right fit for what you need.
Do you have a question or something to add? Please leave a comment for us!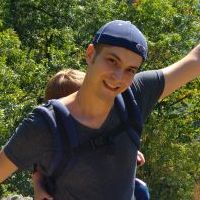 Daniel is a gear freak when it comes to hiking, climbing and camping. He went to REI Outdoor School to meet new people and learn best practices. Don't even try to argue with him about the latest backpack or ice axe, he tried most of them. Daniel's dream is to climb Mount Everest.