When it comes to mountaineering, you want to know that you can rely on your gear, regardless of the conditions. That means having the best ice axe on your side to get the job done.
You may think going to the sporting goods store and buying just any ice axe will do what you need, but you would be making a very big mistake. Do you really want to put your life into the hands of a cheap device that may fail after your first use?
How do you choose a good and suitable one for yourself? Well, let us take a look at a few factors before being able to decide which is ideal for our activity. This way, you'll be aware of the various features an ice axe comes equipped with so that you can make the best purchasing decision of your life.
Best Products: Reviews
Here is a list of product reviews that we think may be a helpful guide for your shopping. You'll be able to make comparisons and find out which may be the gear that you're most suitable to use.
Reading reviews help us understand the different special features that we may not know, and in any case that you are not able to decide which ice axe to buy, we hope these product reviews will help narrow your selections and make it easy for you to decide.
Note: We get commissions for purchases made through links in this article
Petzl Summit 2 Ice Axe
Weight: 1.8 pounds
Dimensions: 24 x 10 x 2 inches
Special Features: toothed steel pick with a thin 3mm tip, anodized finish, head of the axe is equipped with holes along with its spike, upper part is curved, durable stainless-steel spike
Description: Petzl Summit 2 Ice Axe is great for mountaineers boasting an excellent self-arrest performance with a fantastic design that gives it its lightweight, making it great for anchoring.
It has a great balance and because it has great durability, you can use it for hard snowy conditions. The anodized finish of the ice axe offers great protection, along with a handle that makes it easier for mountaineers to grip.
This Ice Axe is most suitable for mountaineering. It can be a little aggressive, however, but it is sturdy. It feels like a good middle ground axe perfect for your mountain-climbing trips. It features a hot-forged curvy design that offers great self-arrest performance.
GRIVEL Air Tech Evolution Ice Axe w/ Leash
Weight: Not specified
Dimensions: ranges of 48cm, 53cm, 58cm, 66cm
Special Features: lightweight design, full-length, adjustable leash, low shaft-grips, rubber spike guard, upper curve of the ice axe comes with a hot forged steel AIR TECH head.
Description: With the GRIVEL Air Tech Evolution Ice Axe, you can compromise between an axe that is light in weight from one that is a solid performer, this incredible ice axe is a combination of both. It is great for steep trails and mountaineering.
It boasts great performance, with a lower shaft that makes it easy for walking on trails and is sturdy for the penetration in hard snowy conditions.
Petzl Sum'Tec
Weight: 1.2 pounds
Dimensions: 20 x 11 x 3 inches
Special Features: lightweight, piolet-traction or piolet-canne modes, thin ALPIX pick (3.5mm), unique screw-lock system, stainless steel spike, hammer version features keys for tightening bolts of 8 to 10mm.
Description: Petzl Sum'Tec is a compromise between a mountaineering and an ice climbing axe. It has the newest feature that allows multiple hand grip possibilities and an amazing tool-free manual adjustment for convenience.
The SUM'TEC adze version of the ice axe is what makes it an efficient gear for the cleaning of snow and ice. It is available in 52cm and 59cm shaft lengths. It allows easy piton placement.
CAMP USA Neve Ice Axe
Weight: 1.8 pounds
Dimensions:29 x 11 x 3 inches
Special Features: removable sliding leash, made of chromoly steel material, steel bottom spike, adze that is great for mountaineering.
Description: The CAMP USA Neve Ice axe is suitable for mountaineering and has a great self-arrest performance. Its features are great for anchor building for snow climbing.
The adze of the ice axe allow easy penetration in the hardest snow as it as an aggressive curve. It also comes with a built-in leash that makes it a great deal of combination of ice axe and lanyard.
If you wish to have the leash removed, you can remove it just by sliding it off the rubber keeper. It is very smooth and delivers great performance.
Black Diamond Venom
Weight: 20 x 11 x 2 inches
Dimensions: 1.8 pounds (528g) (Available in 3 sizes: 50cm, 57cm, 64cm)
Special Features: curved upper shaft, dual-density grip, lockdown leash, aluminum shaft.
Description: Black Diamond Venom boasts a technical design that allows it to go through alpine terrains. Its curved upper shaft allows easy penetration into snow.
Whether its during technical ice or snow sections, you know you can easily use the Black Diamond Venom to handle all rough snowy conditions with its rough and sturdy features.
It has a comfortable and dual-density molded grip and a lockdown leash that comes with it. It is CEN-B certified and it is an essential ice axe quiver. It is light in weight which makes it easy for users to bring it around and works well for big mountain expeditioneering.
Outdoor enthusiasts can use it on steep snow and splitboard mountaineering.
Its slightly curved head features allows more solid placements on ice. If you're looking for one that offers a confident performance, this Black Diamon Venom is an excellent product.
Camp USA Corsa Nanotech Ice Axe
Weight: 281 g
Dimensions: 50.8 x 22.9 x 10.2cm
Special Features: Nanoflex steep tip, ultralight design, textured lower shaft, upper shaft curve, made of aluminium.
Description: The Camp USA Corsa Nanotech Ice Axe brings about an optimum performance for mountaineering has a nanoflex steel tip that adds performance to the aluminium pick. It also has an ultra-low weight of aluminium ice axe with an excellent hard-ice penetration of a steel axe.
The gear is very specific and it is perfect for ski mountaineering as it is extremely light. It has great durability and it can handle just about any ice or snowy condition. The grip tape on the handle is really sticky especially with leather touring gloves.
It is strong and versatile on really steep terrains but light enough for great packability. You can bring this axe with you on your mountaineering trips!
Grivel G1
Weight: 1.4 pounds
Dimensions: 468g (66cm)
Special Features: ergonomic hot-forged, carbon steel head, Carbon Steel spike, strong aluminium allow shaft.
Description: The solid Grivel G1 is great for mountaineering, but its pick is not very aggressive. It is able to climb steep terrains and is most suitable as a T-slot type situation for moderate loads for anchoring.
It can be a little heavy but it is great for steep snow climbing. The Gribel G1 has a reasonable price in the market with its great self-arrest performance and descent steeper snow climbing ability. It also boasts great packability, though is slightly on the heavier side.
Users will have no problem thrusting it as an anchor duing a crevasse rescue and during self-arresting. It is sturdy and it is great for hiking on glacier. We recommend the Grivel G1 ice axe for beginners.
Petzl Glacier Literide
Weight: 320g
Dimensions: 1.97 x 11.81 x 23.62 inches
Special Features: classic curve and straight shaft shape, heat-treated steel and aluminium, light weight construction, made of high quality 7075 aluminum with an anodized finish.
Description: The compact and technical Petzl Glacier Literide is one great tool to have for your mountaineering trips. It is a great choice as it has a great anchoring efficiency thanks to the use of high-quality steel and aluminum.
The head and spike of the ice axe have an anodized finish which provides optimum rust protection, and the handle cut into the shaft allows firm grip, great for ice mountain climbing and mountaineering.
Its features enable great penetration in hard snowy conditions and it is equipped with holes on its head and spike so you can easily attach the ice axe with a sling onto your backpack.
The upper part of the pick offers excellent grip and thanks to its strong steel adze, it is also designed for the cutting of steps. It's definitely a lighter option ad has great anchoring qualities. We would recommend this for mountaineering and ski trips.
Features to Consider
The Length
From a range of different ice axe, pick up one of them and simply hold it while standing in a relaxed state. Ensure that the spike is not able to reach the floor when you're standing straight. For those who are 5'9 may want to go for a 25-inch axe for mountain-climbing.
We recommend that people who are taller should go for axes that are longer in length. Here, you may be able to see that the first step to choosing which length is suitable for you would be your height.
In just any shop that sells axes, you'll be able to find small ones that are between 50cm to 75cm. Depending on your height, some may prefer to go for ice axe shorter in length, as it is easier for the average person to handle.
The type of activity
This is an important factor when it comes to choosing your gears. The type of activity determines the length of ice axe that you'll be needing. For ice-climbers, they will need to consider an ice axe that is shorter than 60cm. Do not choose an ice axe that is too long, as it may be difficult for you to use it.
An axe that is too long makes it difficult to self-arrest, as the spike may get caught in the snow, and that an be very dangerous. It is not that easy to balance with an ice axe that is too long and may cause you to fall off if you do not have a good balance with it. Be very careful and make sure to choose the length that you think you are comfortable with.
It is critical that you are able to find a good balance. Unless you are planning to go for lower-angle terrain, such as glacier traveling, you may consider an ice axe that is a little bit longer in length.
For ice-climbers, alpinists and trekkers, we recommend getting a shorter ice axe as the terrain may be steep and a longer ice axe is too dangerous and unsuitable. As a tip, you can surf the net and find out the length of the axe that is most suitable to your height. You will be able to find helpful charts to help you determine the length of ice axe that is suitable for your height.
Weight
When you have found the best ice axe, you would also be thinking whether it is comfortable to carry it? The primary drawbacks of some ice axe is that they are heavy and it is dangerous to carry a gear that is too heavy especially when you're mountaineering.
CEN Ratings
This is known as the Comité Européen de Normalisation, which is the standard for equipment. For an ice axe, you should be able to see either a B(basic) stamp or a T(technical) stamp.
What's a B(basic) stamp?: Usually, if you see an ice axe with a B stamp, chances are it is lightweight, not on the pricey side, and is less durable. It may not be strong enough for your mountaineering trips unless you're just looking for lighter options with less value.
What's a T(technical) stamp?: The T stamp will show that the ice axe has a more technical design, is sturdier, and usually heavier. You can expect this type of ice axe to be much pricier because of its solid materials, which may allow better ice penetration along with great flexibility and durability. Quality wise, one should go for an ice axe that has a T stamp.
Material of the ice axe
Ice axes are usually made of steel, aluminium or titanium. Each metal has its advantages and disadvantages, and it's up to you which one you prefer to go with.
Weigh these considerably in your mind before purchasing the first one that you see.
Steel: It is one of the popular choices of manufacturers and it is a favourite for ice penetration and pounding pickets. Ice axes that are made of steel are often great at self-arresting, but are slightly heavier than aluminium. You can't really bend it and they're most suitable for snowy conditions because of their sturdy material. It is firm on snow and, in comparison to titanium, is less likely to bend.
Aluminum: This type of material is definitely lighter than steel and titanium. It's best for mountaineering and backpacking.
Titanium: It is lighter than steel but if you were to compare it to aluminum, it is still a sturdy metal and a lot stronger, so it will still be heavier than aluminum. It can bend easily but it won't break.
Curve of the shaft
This is an important factor to consider if you're looking for the type of ice axe that is able to deliver great self-arresting performance. The curve in the shaft should allow better clearance when swinging it into ice.
This is an important part to think about if you are going on an ice-mountaineering trip where there are rough snowy conditions. Shafts that are curved will have an increase in stopping power, as it allows more leverage.
Do you need a spike?
It may be useful to have a spike when you're walking on a firm surface. It actually allows better ice penetration and smoother anchoring. For mountaineers or those who are only thinking of going for a ski on the ice mountain, a spike may be unnecessary. It is only necessary for heavy snow conditions.
Conclusion
Now that you're aware of the various features of an ice axe, how to find the right length for you, and what the best products are out there in the market, it's time to start the search for yourself. Get some recommendations from professionals or ask an assistant at an outdoor sporting goods store.
You're better off getting help from those who have been in the business longer than trying to go it alone.
Keep your activities in mind as well. Ice axes are built differently for different purposes, and it's important that you find one to suit what you're going to be doing. And don't forget to get a feel for the ice axe for yourself before purchasing.
You don't want to end up getting something that's too long or heavy for you to wield efficiently.
Have a product suggestion that we haven't included in this list? Please leave a comment down below with your suggestions for us, and we may include them in a future article.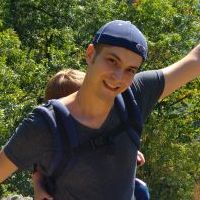 Daniel is a gear freak when it comes to hiking, climbing and camping. He went to REI Outdoor School to meet new people and learn best practices. Don't even try to argue with him about the latest backpack or ice axe, he tried most of them. Daniel's dream is to climb Mount Everest.