Let's face it, little ones grow fast, often needing new clothing and shoes long before they've worn them out.
But that doesn't mean they don't need the best toddler hiking shoes you can buy. Instead, you need to pay more attention to what you're getting, so the shoes and boots you do buy them will be comfortable enough to last through a hike without giving their tender little feet blisters.
Not that such footwear has to be ultra-expensive, either, as long as the shoes you are buying are made with quality material that will last longer than your toddler will.
Reviews on Top Hiking Shoes
Note: We get commissions for purchases made through links in this article
KEEN Chandler CNX Toddler Shoe
Weight: 10 oz
Dimensions: Available in sizes 4M to 10M toddler
Specific Features: Mesh and synthetic upper material, non-marking rubber outsole, Velcro or bungee hook and loop closure, contoured arch, reverse Strobel construction, pull tabs on tongue and heel
Best Use: Hiking, walking, playground, daycare
Description: Not only are these shoes adorable, they come in a variety of colors to suit your little one's taste. Keen Chandler CNX have lightweight synthetic upper material covered with a mesh layer. There is also a breathable mesh lining to keep your toddler's feet comfortable during any vigorous playtime activities.
These materials together mean these shoes are quick-drying, which is great for little ones who love to jump in every puddle they see. The non-marking rubber outsole has multi-directional treads on the bottom, so there will be no slipping when your toddler is running around. The rubber also stretches over the toes for added protection.
There are two types of closures for these shoes, including Velcro straps to make it easy for a toddler to "tie" their own shoes, while the hook and loop closure is easy for bigger kids who have a bit more dexterity. Some have had issues with the laces and Velcro of these shoes breaking after only a few months, but warranty should cover these issues, with replacement laces or shoes being offered. It is also recommended that you buy a half to a full size larger, since these shoes run a bit small.
Related: The closest shoe KEEN has to the Chandler CNX is the Monica CNX Toddler Shoes. These also have the synthetic and mesh upper material, and the mesh lining, with a contoured arch and non-marking rubber soles. The Monica shoes have replaced the bungee laces with elastic lacing and don't have the pull tab on the tongue. They are also designed strictly for girls, so if you have a little boy, the Chandler shoes are colored more suitably for them.
Vasque Breeze WP 2.0 Hiking Boot
Weight: 1 lb 10 oz
Dimensions: Available in sizes 10M toddler to 6M big kid
Specific Features: UltraDry waterproofing system, Suede leather and mesh upper material, contoured EVA footbed, rubber core midsole, Kids Contact rubber cup outsole, rubber toe and heel cap, reflective piping,
Best Use: Hiking, camping, light snow, jumping in puddles
Description: The Vasque Breeze Hiking Boots are designed to meet the needs of rugged little boys and girls who like to spend time hiking or jumping in puddles. They have waterproof Suede leather upper material that is durable enough for rough trails, but with breathable mesh to keep little feet cool and dry.
There is also an UltraDry waterproof membrane, so even if your toddler decides to wade through deeper water, their socks and feet will not be soaked in the process. The rubber cup sole supports their little feet and gives them the traction they need on all types of terrain, though they may still need some help on loose rocks or gravel.
Rubber toe and heel caps add extra protection for your toddler's sensitive foot areas, while adding durability to the front and back of the shoes. Reflective piping on the heel keeps your kids in sight as the sun goes down. These boots are as light as a pair of sneakers, but have the durability and comfort of a regular hiking boot, giving your kids no reason to complain about sore feet when on the trail.
Related: The Breeze 2.0 Hiking Boots are the only pair of kids shoes/boots made by Vasque at this time.
Hi-Tec Renegade Trail WP Hiking Boot
Weight: 12 oz
Dimensions: Available in sizes 11M to 3M little kid
Specific Features: Leather, nylon, and mesh upper material, seam-sealed, EVA sock liner, compression-molded EVA midsole, multi-directional carbon rubber outsole, board lasted with steel shank
Best Use: Hiking, camping, backpacking, rock climbing
Description: These rugged kid's Hi-Tec Renegade Trail Hiking Boots are completely waterproof, with seam-sealed leather and nylon upper material for added protection during wet weather or damp conditions. The EVA sock liner combined with the EVA midsole absorb the shock to keep your little one's feet comfortable on rough terrain.
The sturdy carbon rubber outsole has multi-directional treads for added traction on uneven surfaces, even those littered with small rocks or other debris. There is a moisture-wicking liner on the inside as well, which keeps little feet from getting soaked with sweat. Though these shoes are warm enough to wear in cool weather, the breathable mesh keeps your kiddies from overheating. Abrasion-resistant material on the toe and heel will keep these shoes intact and looking great even on the most active child.
These shoes are pretty stiff when they first arrive, but with a bit of breaking in they will be flexible enough for long hikes without giving your child any blisters. These shoes tend to run a bit small, so it is recommended to buy a larger size than normal, especially if planning to use thicker socks with them. The dark chocolate color with burnt orange accents are great for both boys and girls alike.
Related: There are a few other hiking shoes by Hi-Tec that are similar to this model, including the Altitude Lite and the Aitana Mid JR hiking boots. Though they have many of the same features as the Renegade, these two boots have replaced the leather with suede, have gusseted tongues to keep debris out of the shoes, and include a Dri-Tec waterproof, breathable membrane, though neither are seam-sealed.
Keen Koven Low WP Hiking Shoe
Weight: 1.4 lbs
Dimensions: Available in sizes 8M to 10M toddler
Specific Features: Waterproof leather and mesh upper material, mesh lining, waterproof membrane, non-marking rubber outsole, secure fit lace system, padded collar, removable metatomical EVA molded footbed
Best Use: Hiking, climbing, running, camping, playing outside
Description: Not only are the leather and mesh upper materials on these Keen Koven Low WP Hiking Shoes waterproof, but there is also a breathable, waterproof lining to keep your toddler's feet extra dry when jumping in puddles or playing out in the rain.
The footbed provides the child with excellent arch support while cradling the foot. It is also removable, so if your child has dampened them with sweat or wet socks, it can be easily dried out. The rubber outsole won't leave marks if your little one decides to run through the house in these shoes.
Padding around the collar is comfortable, reducing blisters on the heel. The secure lace capture system keeps the laces tight, allowing them to be tucked in and out of the way. When it's time to take the shoes off, even the littlest hiker can push the button to loosen the laces for easy removal. There are a few different colors to choose from, both for boys and girls, so there should be no complaining about the wrong style.
Related: There are also Koven Low Hiking Shoes and Koven Mid WP Hiking Shoes available. The Koven Low shoes are similar in almost every way to the Koven Low WP's, except they have no waterproofing. The Koven Mid WP are exactly the same as the Koven Low WP shoes, but are higher at the ankle. If your kid likes high-tops, these may be a good option, but for those little ones who prefer a lower collar on their shoes, the Koven Low WP shoes are a great choice.
Merrell Jungle Moc Sport A/C Toddler Sneaker
Dimension: Available in sizes 5M and 5W to 10M and 10W toddler
Specific Features: Suede upper material, M-Select Grip, double Velcro closure, removable EVA footbed, M-Select Fresh treated lining, heel pull-tab
Best Use: Running, walking, hiking
Description: With durable suede upper material, these Merrell Jungle A/C Toddler Shoes will last for as long as your child fits into them. They are easy for a small child to put on, using the Velcro closures on the sides to keep them tight on their feet. The dual closure can also give your child a wider opening if they have chubby feet, so there will be less struggling.
The EVA footbed gives little ones the support they need throughout their adventures and are removable if they get wet for easy drying. The M-Select grip provides these shoes excellent traction on all types of terrain. There is also an M-Select Fresh lining, which not only repels any moisture but also keeps any stinky odors at bay.
Merrell's Jungle Moc Sport shoes are great for almost any activity your child enjoys, though they are not waterproof, so shouldn't be worn in the rain. They are stylish as well and can be matched with any type of casual outfit. These shoes come in a few different colors, making them suitable for both boys and girls.
Related: Merrell has another Jungle Moc available that is identical to the A/C design in every way except one. This version of the Jungle Moc is a slip-on shoe, with no closures of any kind. Though they are easier for kids of all ages to put on, they may not fit as securely as the Sport A/C shoes.
Timberland Whiteledge Waterproof Hiking Boot
Weight: 9 oz
Dimensions: Available in sizes 5M to 10M toddler
Specific Features: Seam-sealed waterproof leather and mesh upper material, padded collar, moisture-wicking textile lining, EVA footbed, nylon shank, non-marking rubber outsole, logos at tongue and outer side of the heel, traditional lace closure
Best Use: Hiking, camping, walking
Description: Though there is waterproof leather upper material, the padded mesh collar and tongue still give your child the breathability they need for comfortable feet. These Timberland Whiteledge Waterproof Boots are seam-sealed for added protection, but the tongue is not gusseted, so if immersed, water could leak into these areas.
The mesh lining and footbed cover keep feet dry on the inside, no matter how much your toddler sweats. The sockliner is removable, allowing you to see how well your child fits these shoes and when it is time to buy a new pair. An EVA footbed absorbs the shock and cushions their small feet on all types of terrain, no matter how far they walk.
Traction will also not be a problem, due to the rugged hiking outsole that has deep lugged treads, keeping slipping to a minimum on any surface. Some little ones have found these boots to be a bit heavy, making it difficult for them to walk for long distances without a piggyback break. The traditional lace closure uses rustproof metal eyelets, which should last through even the wettest conditions. This does mean that you will have to tie these laces for your toddler until they learn to do it themselves.
Related: There is also a Timberland 6" Premium Waterproof Boot available for toddlers that also has waterproof leather material, a moisture-wicking footbed cover and liner, and a cushioned EVA foam footbed. It does not have the breathable mesh of the Whiteledge boots, though, replacing it with 200g insulation. If you plan on your toddler wearing the boots in the colder winter temperatures, the Premium boots are a warmer choice.
Columbia Children's Redmond WP Explore Trail Shoe
Dimensions: Available in sizes 8M toddler to 13M little kid
Specific Features: Suede, mesh, and PU upper material, seam-sealed membrane, cupsole midsole construction, rubber outsole, bungee lace system
Best Use: Hiking, walking, running
Description: The polyurethane outer material is covered with a layer of mesh for extra breathability, while the leather pieces add strength around the shoe. This combination of materials is also waterproof, so your toddler's little feet stay dry all day long, even when walking in the rain. The cupsole construction of the midsole cushions your child's foot, keeping sore feet to a minimum.
There are rubber soles on these Columbia Redmond WP Explore shoes, which extend up over the toe and high on the heel to keep your toddler's sensitive foot areas safe and make the shoe a bit more durable for those rugged kids. Deep treads on the bottom of these hiking shoes give your child the traction they need to stay on their feet during walks on uneven trails.
Because these low-cut shoes run a bit small, it is necessary to buy a size larger than the child usually wears, to ensure a comfortable fit. With 5 different color combinations to choose from, you will be sure to find a pair to meet your son or daughter's taste, even with the pickiest child.
Related: There is another Redmond Explore Trail Shoe available for toddlers from Columbia, which has almost the exact same construction, minus the waterproofing. Though still a durable and comfy shoe, for those who may be traveling in wet weather or damp conditions, the waterproof model reviewed here will keep your toddler's feet nice and dry throughout the trip.
Timberland Pawtuckaway Waterproof Hiking Boot
Weight: 1.2 lbs
Dimensions: Available in sizes 4 to 10 (M and W) toddler
Specific Features: Seam-sealed waterproofing, dual-textured full-grain leather and synthetic upper material, rustproof eyelets, climate control mesh lining, EVA foam footbed, rubber outsole, removable sock liner
Best Use: Hiking, walking, playing in the snow, running
Description: These Timberland Pawtuckaway high-top hiking boots have dual-textured leather, with softer areas on the upper areas and textured leather on the toes, sides, and heels for extra protection. The seams are fully sealed to keep water from leaking through, though the tongue is not sewn to the sides of the shoe. This means that if the boots are submerged, your child's feet will still get wet, though they should remain dry in a bit of light rain or if walking through shallow puddles.
The EVA foam footbed cushions your child's tender feet while absorbing the shock when they run or walk on the hardest surfaces. This footbed and the mesh lining are also climate controlled, for comfy feet that won't overheat. With a removable sockliner inside, you will always tell whether the shoe fits, or if it is time to buy a larger size. The rubber outsole is designed for hiking, with rugged tread that keep little ones steady on all types of terrain. Though only available in brown, these shoes are stylish enough for both boys and girls to adore.
Related: The Timberland Back Road Hiker Boot for toddlers is similar to the Pawtuckaway hiking boots, with dual-texture waterproof leather, protective toe overlays, and the high-traction hiking outsole. The difference is the missing removable sockliner, so the Back Road hikers make it more difficult to tell whether or not your child has outgrown the shoes. Though you can still tell by feel where your child's foot is in the boot while they are wearing it, the convenience of the Pawtuckaway's design makes it easier to know for sure when to buy your toddler new boots.
Timberland 6-Crib Boot for Infants
Weight: 3 oz
Dimensions: Available in sizes 0M to 3M infant
Specific Features: Full-grain leather upper material, EVA footbed, brushed nylon lining and footbed cover, padded collar, fixed bungee laces, soft rubber outsole
Best Use: Crawling, learning to walk
Description: Even the littlest feet need a good boot to keep them safe, and the Timberland 6-Crib Boots meet these needs, thanks to their full-grain leather, which is soft enough to bend with their feet while still being sturdy enough to give a bit of support when the baby is learning to walk. The padded collar also adds some comfort around those sensitive ankles.
No matter how warm your baby gets, these little boots will still stay fresh, since the lining and footbed cover are both made of brushed nylon. The soft EVA footbed will absorb any shock, and the flexible rubber outsole has the traction your baby needs for those first wobbly steps. There are fixed stretch elastic laces that make it easy to get these boots on and off, without having to retie the laces while your child is on the move.
These laces also hold the boot tightly, but comfortably, on your baby's foot, so you won't have to worry about losing one when traveling or taking your baby on a hike. Baby boys and girls alike will look adorable in these brown mini boots.
Related: Timberland also has a pair of Field Crib Booties for infants, which use the same durable full-grain leather with a padded color and soft rubber outsoles. These are styled more like a hiking boot, while the 6-Crib boot has the look of a work boot. The downside of these boots is that they have taslan laces on them that are not fixed.
What to Look for in Toddler Hiking Shoes
Though they will be a fraction of the size of your hiking shoes, you will want to look for many of the same features in toddler or baby hiking boots as you would for yourself.
Lightweight – Your little ones will tire out much easier than you will, so you want to make sure their hiking shoes or boots are quite light. The less weight your toddler has to carry, the longer they'll keep walking, so you won't have to carry them for the entire hike.
Size – Kids grow so fast and often go through more 2 or more different sizes in a year. If you are planning to use the hiking shoes right away, you can easily judge what size they will need based on the fit of their current shoes. Of course, it you plan to take them later in the year, it may be better to wait until a few weeks before the hiking begins, to make sure they are wearing the proper size for their feet. Also, be sure to consider what type of socks they will be wearing on your outdoor adventures, and size up if they need to accommodate thicker ones.
Waterproof – If a kid sees a puddle, there will be little to stop them from jumping in it. This goes for streams as well. And walking in the rain will not be an issue for a child. That's why proper waterproofing is necessary, to keep their little feet and toes warm and dry throughout your hike.
Traction – Because small children are not always steady on their feet at the best of times, it is important to have decent rubber on the outsoles of their shoes, with a good amount of traction to keep their feet firmly on the ground, especially on uneven terrain.
Comfort – If your child is uncomfortable, they will have no problem telling you and everyone else they are unhappy, while refusing to walk another step. Since you may have some difficulty getting them to try on a variety of shoes in the store, buy one, or even a few pairs, and take them home for your toddler to try out. This way, they can wear them in the house, without dirtying or damaging them. If they are no good, the child won't wear them for long and you can test out another pair, saving the discarded shoes to be returned later.
Style – Kids can be as picky about their appearance as adults can, so be sure you're child likes the look of the hiking shoes selected. They won't wear them if they don't, so get their input while shopping.
Now that you know what to look for, let's take a look at some of the best products the market has to offer.
Wrap It Up
Children love to be outside, especially when they can explore areas they have never been before. Taking them on hikes can be a great way to bond with them on an outdoor adventure.
Having the proper toddler hiking boots can make this experience well worth their while, because they will not suffer any unnecessary foot pain, and can instead spend their time checking out the sights on their own two feet.
If you've found a pair of hiking shoes for your little one that you think could be included on our list, please let us know in our comments section.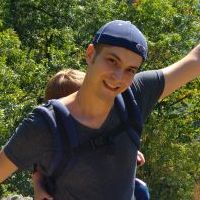 Daniel is a gear freak when it comes to hiking, climbing and camping. He went to REI Outdoor School to meet new people and learn best practices. Don't even try to argue with him about the latest backpack or ice axe, he tried most of them. Daniel's dream is to climb Mount Everest.