If you're a runner or avid outdoors person, you know that one of the most important things you need while pushing yourself through the terrain is water. Without it, you won't be making it far. That being said, what you'll need to get yourself is a running vest or also known as a hydration belt.
So, let's get started by telling you everything you need to know about the best running vest on the market.
Reviews of the Top Running Vests
Note: We get commissions for purchases made through links in this article
IVIM Hydration Belt
Dimensions: 29 inches in length
Specific Features: 2 BPA-free bottles
Best Use: running and/or hiking
Description: The IVIM Hydration Belt is made of neoprene material which is soft to the touch, lightweight, waterproof and tear resistant. It'll allow you to feel like you're not even carrying a hydration belt.
It comes with 2 BPA-free, leak-proof water bottles that'll keep you hydrated and also safe. The belt comes with two large pockets, so you'll be able to hold your valuables safely and securely.
This belt isn't just designed for runners, you can use this for hiking, camping, and other outdoor activities. Another great feature is that the hydration belt comes with zipper reflectors that'll give you extra protection while you're running at night. This is a great option if you don't want a hydration pack that goes on your shoulders.
Related: The Triton Running Belt is another option if you're not looking for an over-the-shoulder hydration pack. You'll be able to carry two BPA-free water bottles, plus a storage compartment for your valuables.
Nathan Trail Mix Plus
Weight: n/a
Dimensions: one size
Specific Features: reflective lights for night runs
Best Use: running and/or hiking
Description: The Nathan Trail Mix Plus is an ergonomically shaped monofilament belt that gives runners a multi-directional stretch, eliminating bounce and providing extra movement. It's designed with speed fit holsters, so you'll be able to quickly, easily and with one-hand have access to hydration.
It comes with two 10 oz insulated flasks with push-pull caps. The belt allows you enough room to store your media, food and valuables as well.
The zip pockets allow your valuables to be safely stored while you're running. It's simple in design and lightweight, giving you the most while also letting you move freely. Many runners love this hydration belt because of the no-bounce and easy access to their water.
You'll also be able to see when you're running low on water, without having to stop and check.
Related: G4Free hydration pack is another option if you're looking for something that won't break the bank. It comes with 2 BPA-free bottles and is lightweight. You can also adjust the waist size up to 47''.
Nathan VaporAir Race Vest
Weight:25.6 oz
Dimensions: 21 x 14 x 3 inches
Specific Features: reflective lights for night runs
Best Use: running and/or hiking
Description: The Nathan VaporAir Race Vest is an over-the-shoulder hydration pack that stores your water on your back, with maximum support, preventing bounce from occurring. The pack is highly breathable and models onto the body.
The pack is designed for a bladder and hose hydration system with 2L of storage with a quick-release valve. It also has two easy access front bottle pockets if you prefer the chest-mount bottle method.
The pack also comes with a stretch mesh stash pocket as well as reflective hits for that early morning or late night run. What's great about this pack is that you're given many storage compartments so you'll have no problem storing all your valuables.
Related: This pack is made for men, however, if you're a woman, then you can go for Nathan's VaporAiress Race Vest, a hydration pack that'll fit the female body nice and snug.
Osprey Running Vest
Weight: 16 oz
Dimensions: medium/large
Specific Features: 1.5L Hydraulics LT Reservoir
Best Use: running and/or hiking
Description: This is a 100% nylon running vest with a 1.5L hydraulics LT reservoir which will provide you with on-the-go hydration. The Osprey Running Vest is designed with a biostretch body wrap harness which allows you to move freely during high activity movements.
The DigiFlip media pocket is a removable drop down compartment which allows you to store and access your devices quickly and with ease. The dual stretch mesh pockets also let you store your food and easily accessible items.
Another great feature is the reverse spacer mesh back panel that is highly breathable, giving you support and eliminates irritation between you and the pack. The minimalistic style and design are ideal for both trail and endurance running. Osprey is known for designing exceptional gear for athletes and this bag is no different.
Related: Osprey makes a variety of hydration packs for both men and women. Another great option is the Osprey Men's Viper 5 hydration pack. It has direct zip access hydration sleeve and as ErgoPull webbing hipbelt.
Salomon S-Lab Advanced Skin
Weight: n/a
Dimensions: xx-small to x-large
Specific Features: Sensifit pack
Best Use: running and/or hiking
Description: If you're looking for a full hydration pack, the Salomon S-Lab Advanced Skin Racing Vest is a full over-the-shoulder vest.
It's made with breathable mesh and comes with 2 front soft hydration elastic pockets, so you'll be able to easily grab your water while you're on the run.
It also comes with the main compartment to easily store your valuables. If you prefer, you can also use this vest with a bladder and hose, which will be inserted in the back inside. It's a great option if you prefer a vest rather than a belt, however, this vest isn't the cheapest one.
However, depending on how much you'll be using it, if you'll be wearing it a lot then it's best to invest in it.
Related: The Triwonder hydration vest is another good option if you're looking for something a little more modest in price. It's designed similar to the Salomon vest and has ergological placed pockets.
Camelbak Lobo
Weight: 16 oz
Dimensions: 16 x 7 x 1 inches
Specific Features: gel pockets on shoulder harness
Best Use: running and/or hiking
Description: The Camelbak Lobo is a minimalistic yet highly durable hydration pack. It has an air director back panel that'll leave your back dry. While it also comes with a redesigned antidote reservoir compartment with Quicklink system.
The gel pockets on the shoulder harnesses provide you extra support and cushion while on the road. It also comes with a removable waist belt, allowing you to decide what's most comfortable. This hydration pack is also great for bikers as it comes with a variety of pockets for bike accessories.
The bladder and hose will allow you to drink while running without having to stop and take a break.
Related: The Tenton hydration pack is also another great option if you're looking for something sleek and lightweight. It has a capacity for 2L of hydration and is fully loaded with a bunch of safety features like reflective trim and webbing.
Camden Gear Running Belt
Weight: 5.6 oz
Dimensions: 5.9 x 3.9 x 11.9 inches
Specific Features: adjustable fit
Best Use: running and/or hiking
Description: The Camden Gear running belt is extremely simplistic and lightweight – perfect if you're not looking for anything fancy. It's adjustable in fit and can expand to a 43'' waistband. It comes with a large compartment which is able to store all your valuables without hesitation.
The belt also has 4 elastic straps where you can items off of. It's lightweight which is what you want in a running belt, so you won't feel weighed down.
This running belt can hold two water bottles that'll be able to sustain medium and long distance runs. More importantly, they won't be jiggling around and they'll be easily accessible.
Related: The Sahara Sailor is an inexpensive option if you're looking for an occasionally-used running belt. It holds two BPA-free 10z water bottles, with adjustable straps and zippered pockets.
Triton Hydration Belt
Weight: n/a
Dimensions: n/a
Specific Features: non-slip, bounce reducing beads
Best Use: running and/or hiking
Description: The Triton Hydration Belt is one of the favorites among runners and hikers. It has non-slip, bounce reducing beads that assist in keeping the belt in place with running.
What's great about this company is that they offer a free water bottle replacement program, so, if your bottle leaks or wears out over time you'll be able to receive a new one for free.
This hydration belt also comes with headphones – that's right, they're included. It's also loaded with a variety of safety features such as a waterproof emergency card, and reflective material. The two 10z water bottles will be able to hold any liquid you choose and will stay snug in place while running.
It also comes with three inner compartments which will allow you to store all your valuables.
Related: The Red Dragon Health hydration belt is another option if you'd like something lighter on your budget. It comes with a large compartment as well as a versatile exercise belt that you can use for other outdoor activities.
What Is A Running Vest?
So, you know that you need one, but you're probably wondering what a running vest even looks like. A running vest is a pack that's clasped around your chest without a waistband. It's built the same way a backpack is, and they're usually hanging onto your shoulders.
Its design is meant to reduce bounce when you run and prevent any chaffing that would usually occur if you had a waist strap.
Factors to Consider
Before purchasing a running vest, you need to look at what you'll be using it for. This will help in narrowing down which running vest is the most suitable for you and yours needs. So, here are some things to think about:
What's the duration of your run? Are you using this for long-distance or short-distance?
How much gear will you be having to take with you?
Do you like soft flasks or bladders?
What's the average hydration capacity you'll need to complete an average run?
After asking yourself these questions, you'll already have narrowed down the specifications of your running vest. But you also need to look at the features that are also available in running vests.
Features of A Running Vests
Likes with anything, they're a tonne of running vests on the market that are full of extra gadgets and features, however, do you really need them? You'll find that many running vests all have their own special design, however, there are some essential features that run through all of them.
Here are the most important features that you should look at when buying a running vest:
Size: For this, you're going to have to look at how long your runs will be. If they're short, you don't really need a larger pack to carry extra clothing and food.
However, if you're going for a long run, you'll need a pack that'll take you through until the end, so it's going to have to be larger in size.
Weight: For every runner, they have one main goal with their equipment: they want it as lightweight as possible. Remember, you're going to be running fairly long distances with this gear on your back.
What's going to weigh you down the most is the hydration pack within the vest, plus the water. So, the best way to find the true weight is to weigh the hydration pack.
Hydration Capacity: You have to choose a pack that has the hydration capacity to support you. If you sweat a lot, you'll end up drinking more water, thus, you'll need a larger hydration bladder. You can find bladders that can carry 1.5L, even 2L of water. It simply depends on your needs.
Hydration System: Well, obviously there'll be a hydration system in your hydration pack. However, the question is which one do you want?
There are three main methods for holding and supplying water to you which is either a chest-mounted bottle, soft flask or a bladder and hose system. Most running vests will allow you to choose either or, it simply depends on your preference.

Chest-mount bottle: This is one of the most popular ways to carry your water. Basically, it's two water bottles that are stored in large pockets on your chest which are connected to the shoulder straps.
You can hold two different liquids if you wish, and you're able to see when your liquids are running low. Also, it's much easier to refill your bottles in comparison to a bladder, which is another reason why this hydration system is so popular.
However, you will hear and feel the sound of your water hitting your chest, so that could cause some annoyance as well. If you're a woman, depending on your breast size, you may not find this one the most comfortable option.
Soft flask: This is a slight modification to the chest-mounted hydration system. Soft flasks are basically mini bladders with a bottle nozzle rather than a hose. They're also soft and malleable.
Users prefer this option to the chest-mounted bottle as it provides less discomfort.
Bladder & Hose: This hydration system is also quite popular and can be seen used by many runners. Essentially, you have a plastic bladder which can usually hold around 2L and mounts on the back of your vest.
A hose then is connected and stretched from the bottom of the bladder either over your shoulder or armpit where then you'll be able to drink from the nozzle. If you're going on long distance runs, this hydration system will be able to support you due to its large hydration capacity.
You won't be able to carry two types of liquid and it's also slightly annoying when it comes to having to refill the bladder as it's time-consuming and leaving you with having to estimate how much water you have left.

Storage Compartment: There are going to be some valuables that are mandatory that you bring along with you, for example, your identification, camera, and your car keys.
These pockets are designed to be at the front of your pack so that you can easily take out whatever you need. The point is that you shouldn't have to stop to be able to grab what you want from your pack.
It's meant to allow you to multi-task while still keeping a solid pace. Depending on the duration of your run, you may also want to look into a pack that has a storage compartment for larger items such as clothing and food.
Woman-specific fit: If you're a female runner, you may want to focus your attention on a women's specific hydration pack. Women are not exactly shaped as men, so having a running vest which is able to fit properly and adjust to the female body will provide more comfort while running.
Now that you know all the features that you need to consider when purchasing a running vest, it's about time we showed you the eight best running vests currently available on the market. Let's take a closer look.
Conclusion
Now that you know what a running vest is and the features you need to look for, it's time you tried out some of the running vests that we recommended to you.
The ones reviewed are the top eight on the market, so, try them out and see which one suits you and your needs. So, what are you waiting for? Go and give them a test run!
Please leave any comments or stories you'd like to share with us in the section below.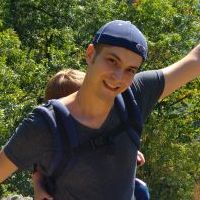 Daniel is a gear freak when it comes to hiking, climbing and camping. He went to REI Outdoor School to meet new people and learn best practices. Don't even try to argue with him about the latest backpack or ice axe, he tried most of them. Daniel's dream is to climb Mount Everest.