Some people do yoga for a physical workout, while others take a spiritual approach. Whatever your reasons for coming to the practice, you are more than likely to build up a sweat at some point.
The beauty of yoga is that you can do it with relatively few accessories or necessary pieces of equipment, but there are a few items which will certainly make a yoga session more pleasant, not to mention safer, for you. The yoga towel is one of these items.
Hot yoga practitioners in particular, or anyone who perspires a lot when they get moving, will probably find that their yoga mat gets slippery after a while, which can be dangerous when you're trying to balance or move into a downward dog. And let's face it; it's gross too, especially if you're using the communal mats at your local studio.
This is when a yoga towel comes in handy. Yoga towels can be placed over your yoga mat to absorb moisture and prevent slipping, as well as provide a hygienic and easily washable barrier between you and the mat. So which are the best yoga towels out there?
Note: We get commissions for purchases made through links in this article
Our Top Picks
Here are some of our top picks for yoga towels. Read on to find out what some of the top features and benefits are of our selection.
Aurorae Non Slip Yoga Towel
Dimensions: 72 x 24''
Specific features: Microfiber material; 80% polyester, 20% polyamide; 2 year guarantee (when sold by Aurorae only).
Best use: Hot yoga, yoga.
Aurorae is a popular brand, with a good reputation. The Aurorae Non Slip Yoga Towel is made of a polyester microfiber fabric, which soaks up sweat efficiently. A lot of people dislike the feel of microsuede style towels, so if you're looking for a more traditional 'towel' feeling, the terrycloth-like texture of this towel will appeal to you.
The microfiber is exceptionally soft and plush compared with many other towels on the market. This means it doesn't fold up as small as some thinner towels, thereby reducing its portability. Depending on the size of your yoga bag, this may or may not be an issue for you.
This towel generally stays in place, without slipping or bunching up. When dry, it can be slippery for your hands and feet, but grip improves as you build up a sweat. For best results, lightly wet it with a spray bottle at the start of your yoga session, as this will reduce slippage.
You can't go too far wrong with this simple, yet effective towel. If you're thinking of getting this towel, make sure you buy it from Aurorae themselves (and not a 3rd party), to make the most of their 2 year guarantee.
Related: Lots of yogis are all around sporty people, and Aurorae seems to realize this. Their larger Sport and Swim towel is great for use after sweating it out in the gym, going for a swim or you can even take it out for a leisurely day at the beach.
Zen Active Non ­Slip Yoga Towel
Dimensions: 72 x 24″
Specific Features: Non-slip design; machine washable, lifetime money-back guarantee.
Best Use: Hot yoga, Bikram yoga, yoga.
The Zen Active Non Slip Yoga Towel comes with 100% lifetime guarantee, offering to replace any unsatisfactory mats, even if the problem is your fault! Now, that's what I call having faith in a product.
According to Zen Active, this towel has been developed to last for a lifetime, thus minimizing strain on our precious environmental resources, not to mention your wallet. One side of this mat has a non-slip coating, which is made to stick to your yoga mat, while the upper side is a soft cloth fabric.
The fabric has a waffle weave design, which some people like and others don't. On one hand, it doesn't have the microfiber feel, which some people find unappealing, but the waffle grid can be abrasive on the skin, especially if you are moving around quickly. This towel is very absorbent, but also quick-drying.
It also doesn't need to be sprayed with water before use, making it a good choice for people who prefer a dry surface, without having to worry about slipping. Convenient to use and wash, it has an extra long design which fits longer mats or if you have a shorter mat, you can use the excess to wipe your face at any time. This towel may not appeal to all yogis, but it's a unique design which fills a niche, and does it well.
Related: Zen Active produce a Non-Slip Yoga Mat. With a non-slip dot design, its foam material is thicker than a lot of mats, making it comfortable as well as safe. It can be layered with the Non Slip Yoga Towel or used in its own right as a non-slip mat.
Yogitoes Yoga Towel
Dimensions: 68' x 24''
Specific features: Made in USA; 80% recycled polyester, 20% nylon; 100% heavy metal, AZO, and lead free dyes; grip dots on underside.
Best use: Hot/Bikram yoga, yoga.
The Yogitoes Yoga Towel is a favourite higher-end option among yogis. It has small grippy dots on the underside, to help it stick to a yoga mat (or any other surface you might use for yoga). This means that it can't bunch up or slide around under you, although some people find the dots irritating.
Like many other yoga towels, it can be a bit slippery on the hands and feet when dry, so depending on how quickly you start to perspire, you might want to spray it down with a little water before use. The stand out feature of this towel is Yogittoes' eco credentials.
The fabric is a poly-nylon blend, with the polyester coming from recycled plastic bottles. In fact, the manufacture of each mat uses eight recycled water bottles. The dyes used are 100% free of heavy metals, including lead.
Yogis who are concerned about their health, toxins in their immediate environment, or planet Earth in general might like to invest in this eco-friendly towel. Although this towel is slightly more expensive, the extra reassurance of non-toxic materials certainly makes this an attractive option, especially for those poses when your face is right down in there, breathing in that stuff.
Be careful though: because these dyes lack heavy metals, they are prone to running or transferring to other materials. This towel is generally durable and comfortable. While you can machine wash, try not to tumble dry, as this can gradually damage the grippy dots and therefore reduce the effectiveness of the towel.
Related: Yogitoes also has a Hand Towel available, for those times you need to wipe away excess sweat fast. If you need to wipe your face or hands between poses, just grab the hand towel then throw it aside quickly when you're finished.
FiveJoy Skidless Yoga Towel
Dimensions: 72' x 25''; 15" x 11" storage bag
Specific features: 100% Microfiber; 3 mm thick fabric; silicone anti-skid layer; 4'' pocket on each end for tucking mat into place; machine washable; waffle pattern cross-weave; includes storage bag
Best use: Hot/Bikram yoga, paired with a 72'' x 25'' yoga mat.
The FiveJoy Skidless Yoga Towel certainly lives up to its name: once fitted on your mat, it simply will not move. If what you're looking for is stability, this may be the towel for you. This towel has two layers: the underside has been coated with a silicone anti-skin layer, which stays in place and stops it from sliding around over your mat.
The upper layer is 100% microfiber, with a waffle pattern cross-weave. The waffle pattern is absorbent and quick-drying, without the need for a water spray or the sticky feeling which some suede-like microfiber towels have. On the other hand, the waffle weave can be susceptible to friction, resulting in abrasiveness on the skin.
Some people find the texture unpleasant and it can leave little imprints on your skin. The unusual feature of this mat is the pocket on each end, into which you can tuck your mat. This is really how the towel achieves its unprecedented grip and stability: in addition to the non-slip coating, it can be directly fitted to your mat, creating a little pouch from which your mat just can't escape.
If you've had issues with slippy mats that slide around all over your mat, this towel is sure to solve those problems for good. The only drawback is that in order to get the most from this towel, you need a mat which is the right size for the pockets.
Before you buy, be sure to measure your mat, or be prepared to get a mat which corresponds to the size of the towel, if you don't already have one. A nifty bonus is that this towel comes with a matching drawstring storage bag.
Related: FiveJoy is not strictly a yogawear company, but a general sports and outdoor brand. For any yogis that love to get out there and experience nature in the outdoors, check out their other products. Why not get in touch with your yogi spirit by taking a yoga camping trip? This Collapsible Nano Silicone Water Bottle can be used outdoors or taken to the studio…then folded up when you are finished with it!
Yoga Mate Perfect Yoga Towel
Dimensions: 68 x 24''
Specific features: 100% microfiber; machine wash and dry; 30 day money back guarantee.
Best use: Hot/Bikram yoga, yoga, pilates, various sports.
Sometimes simplicity is key, so if you are looking for basic and affordable option, the Yoga Mate Perfect Yoga Towel is the perfect choice for you. Made from 100% microfiber, just place over your yoga mat and go! There are no grippy dots or silicone layers in this baby, so it may shift around your mat a bit, but for the low price, we wouldn't expect fancy extra features.
This also makes it a versatile towel that can easily be adapted to other situations such as gym workouts or taken to the swimming pool. The microfiber fabric absorbs perspiration well and doesn't need to be sprayed down with water before your session.
Winning top marks for convenience, it can be machine washed and even tumble dried, unlike many of its competitors. For beginners, yogis on a budget or those just looking for a simple no-frills towel, this is a great choice to keep you dry, comfortable and hygienic on the mat.
Related: For sport or pop-culture fans, Yoga Mate has a funky selection of printed sports and yoga towels. Here's one for Harry Potter and another for Led Zeppelin. Have a look for your favorite band, book, movie or sports team.
The Hot Yoga Towel
Dimensions: 72 x 24''
Specific features: Microfiber; extra-strength whip stitching; non toxic; water based, non-fade prints; machine wash and dry.
Best use: Hot/Bikram yoga, travel, beachwear, sports.
The Yoga Design Lab has produced a line of towels which is both beautiful and practical, in their Hot Yoga Yoga Towel. This towel comes in a range of gorgeous prints, for the truly stylish yogi. Choose from a selection of geometric patterns, mandalas or natural scenes in a range of non-fade, water-based colours.
The material is a soft suede-like microfiber, which is absorbent which feeling plush on your skin. This towel is quite thin, so avoid slippage by spraying with water at the beginning of your session. This will prevent sliding of dry hands and feet. This is a very lightweight towel, which folds up small for easy portability.
It can also be machine washed and dried, which adds to the overall convenience of this towel. Some complaints have been lodged against The Yoga Design Lab for poor construction, but it looks like they've rectified this as they make a point of advertising the extra-strength whipstitching.
If aesthetics are a factor for you, this selection of towels is definitely one of the most beautiful we've seen.
Related: If you don't want to buy a separate towel and mat, Yoga Design Lab Combo Yoga Mat is a 3.5mm rubber mat, bonded to a microfiber towel layer. Get a plush towel and a cushiony mat all in one easy to manage, machine-washable product!
Cotill Hot Yoga Towel
Dimensions: 72 x 24''
Specific features: Microfiber, non slip skidless, quick dry, ultra absorbent, machine wash and dry.
Best use: Hot Bikram And Hot Yoga, sports.
Made by Cotill International, the Cotill Hot Yoga Towel is a solid product made of non-slip microfiber, ideal for maintaining grip when your palms and soles start to get sweaty. It comes with specially adapted pocket-edges to ensure perfect fit and minimal movement of the towel.
Because it is an eco friendly towel, it takes a shorter amount of energy to wash and dry. The Cotill towel is designed for extreme durability and as such it even comes with a 100% lifetime guarantee!
If that isn't enough for you, the Cotill also comes with an extra free towel that measures 15" by 24" just right for drying off after a good workout. Both towels come in a convenient and stylish carry bag
Related: Cotill has several other sports related products. If you're into more rigorous exercise, too, the Adjustable Speed Jump Rope is a high quality rope that can be adjusted to fit your personal exercise plan
Yoga towel vs a regular towel
You might be wondering if it's really necessary to buy a specific yoga towel when you have plenty of regular towels you use all the time at home. If your practice is relatively gentle, perhaps based around Restorative, Yin or even Hatha yoga, then it's true that you probably don't need a specific yoga towel.
Such practitioners may want a regular hand towel, but that depends on whether an individual feels they even need a towel or not. The Yoga towel is best used for yoga practices where you get an intense workout and are going to build up a sweat: perfect for Ashtanga, Vinyasa, Bikram or similar styles.
Towels made specifically for yoga have several advantages over regular towels:
They absorb moisture more quickly than an ordinary towel.
They dry faster than an ordinary towel.
They pack smaller and lighter, so they're easy to carry to and from class.
They are cut to the size of a yoga mat, so they're unlikely to be too short/small/large, etc.
They grip better to your mat and are less likely to move around during your practice.
It's really up to the individual yogi whether they feel a yoga towel is a necessary item to them: beginners may wish to forego it at the start of their practice, but more advanced or intense yogis will find it worthwhile.
Features to look for
There are several things to consider when choosing a yoga towel:
Absorption and drying
One of the main functions of a yoga towel is to soak up perspiration. Many are made from microfiber, which is an extremely fine synthetic textile with high absorption capabilities. Others are made from fabrics which have been woven into patterns, such as a waffle pattern, which increases the surface area of the towel, thus allowing for more absorption.
Your choice of material will largely depend on what texture you find pleasant against your skin; some people like microfiber, while others think natural fibers feel nicer. You probably don't want to carry around a sodden towel after your class, so think about how quickly you need your towel to dry.
Microfiber towels dry the fastest and they can also be also moisture-wicking, meaning that the material draws water away from your skin into the towel, where the moisture can then evaporate quickly. If you usually go straight home and throw your towel in the wash, however, a natural fiber might be fine.
Slip and grip
The main purpose of having a yoga towel instead of just a yoga mat is to avoid working on a slippery surface. To keep safe during your yoga practice, you need to be sure that you have a stable base to work on. Yoga towels should not be slippery for your hands and feet.
This is generally not a problem for woven towels, but microfiber towels are prone to being slippy. In fact, microfiber towels perform better when they are actually damp, so you need to be working up a sweat in order to use some of them safely and effectively. If you have dry hands and feet, you can bring a bottle of water and spray down your towel to make it less slippery.
Stability
Like we just mentioned, stability is key. Just as you don't want a mat which will cause you to slip, you also don't want one which will itself move around. It can be unsafe, not to mention distracting, to have a towel which is always sliding around your mat, bunching up or otherwise moving.
Some towels have technology which assists them in sticking to your mat, such as a non-slip silicone layer or grippy dots. Others have pockets sewn in, which allow you to tuck your mat directly into the towel. You may find that wetting down a microfiber towel will also help it stick to the mat, if it doesn't have any extra non-slip features.
Portability
If you carry your towel and other equipment to and from your yoga classes, then the weight and size probably matter to you.
Microfiber towels generally fold up the smallest and lightest. Some brands also provide a matching bag for storage and transport of your towel.
Size
Yoga towels are made to fit the size of a yoga mat, but yoga mats come in different lengths and widths. If you are considering a specific towel, compare the dimensions to that of your yoga mat.
This is particularly relevant to towels with in-built pockets, as for that feature to be effective, your mat needs to fit the towel properly. Some brands offer their towels in several sizes.
Versatility
How much of a hardcore yogi are you? If you don't practice that often, or you don't want to spend money on a separate towel for every occasion, get a more basic option. Towels that come with silicone dots or layers fused with rubber are not going to be at all useful to take to the swimming pool or anywhere other than the yoga studio.
A plain yoga towel can be used for other occasions and sports. If you visit the studio almost every day, though, a towel with yoga-specific features is a good investment.
In Conclusion
Whatever texture or level of stickiness you prefer, there's a yoga towel out there for you. From simple, yoga-mat-sized pieces of cloth, to fused silicone and microfiber creations, there are a whole range of options to suit any budget, aesthetic preference and yoga style.
We all know that yogis come in all shapes and sizes, but we also have different ideas when it comes to environmental topics, hygiene and health. Why not look for a brand which not only serves you in the studio, but fits into your lifestyle as a whole?
What matters to you when looking for a yoga towel? Let us know what kind of towel you use and your experiences with them in the comments section below.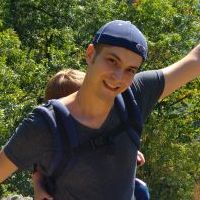 Daniel is a gear freak when it comes to hiking, climbing and camping. He went to REI Outdoor School to meet new people and learn best practices. Don't even try to argue with him about the latest backpack or ice axe, he tried most of them. Daniel's dream is to climb Mount Everest.