Paddle boarding is a relatively new leisure activity. Often getting confused with surf boards, they are designed a little differently. Paddle boards are usually wide and long, around 30 inches wide and from 8 to over 14 feet long.
There are many different types of boards including inflatable, foam, and hollow. When choosing from the best paddle boards, it is important to consider a few different aspects. All around boards mean they will perform well in flat water, like a lake, or choppy water found in the ocean.
Companies are constantly researching and developing the different elements used to make these boards in an effort to create the best stand up paddle board (SUP).
Top Products
Note: We get commissions for purchases made through links in this article
Advanced Elements Stiffy Stand Up Paddle Board
Weight Capacity: 230 lbs
Board Weight: 32 lbs
Length: 11'
Materials: Aluminum, high density foam
Fins: 3 removable tracking fins
Accessories: Pump, duffle bag, removable fins, repair kit
Description: This Advanced Elements Stiffy Stand Up Paddle Board is best used for touring. The length makes it ideal in both calm and choppy waters..Having five D rings allows you to secure materials, like a tent and sleeping bag, to the hull for extended getaways.
Being Inflatable means you don't have to worry about storing this 11 foot board and is great for apartment living. There's no need to worry about its integrity, as this board has a double layer skin, giving it the durability you need.
This solid board comes with a repair kit, should you need, and is a great option for all levels of paddlers. Included in the package is a repair kit, a duffle bag, and a pump.
Airhead AHSUP-1 Stand Up Paddle Board
Weight Capacity: 210 lbs
Board Weight: 39 lbs
Length: 10'6"
Materials: EVA pad, drop stitch technology
Fins: 3 removable fins
Accessories: Backpack with mesh panels, adjustable seat, high pressure hand pump, anemometer, valve wrench
Description: Airhead AHSUP-1 Stand Up Paddle Board is a unique 2-in-1 style board. Included in the package is an adjustable seat that can turn your board into a Kayak. This inflatable wonder has all the bells and whistles at an unbeatable price.
Included is 4 D rings that are great for storage so you can strap all your stuff to the board. High quality drop stitching ensures this board will stay whole together. The manufacturer recommends filling the board to between 15-17 psi for optimal use.
At this pressure the board should ride like a fiberglass paddle board leaving you to enjoy the great outdoors from an entirely new perspective.
BIC Sport SUP AIR Inflatable Stand-Up Paddle Board
Weight Capacity: 100 lbs, 200 lbs, 175 lbs, 200 lbs, 220 lbs, 240 lbs
Board Weight: a, b, c, 22 lbs, 23 lbs, 25 lbs
Length: 8'4", 9'2", 10', 10'6" 11', 12'6"
Materials: EVA pad, drop stitch technology, internal stringer
Fins: Removable center fin
Accessories: bag, high pressure pump, pressure gauge
Description: This stylish BIC Sport SUP AIR Inflatable Stand-Up Paddle Board is an all-around favorite. Coming in a variety of different sizes, this board provides great stability and the extra grip pad helps it to excel for SUP yoga and fitness use.
Great for touring and flat water paddling, this easy-to-carry board comes in a low weight and handles. It is easy to fill this board to the recommended 15 PSI with the included high pressure pump.
Jobe 10.6 Aero SUP Package
Weight Capacity: 265 lbs
Board Weight: 32 lbs
Length: 10'6"
Materials: PVC coated nylon, EVA foam grip pad
Fins: 8" inch single fin
Accessories: bag, aluminum paddle, pump
Description: As a package Jobe 10.6 Aero SUP Package is a nice bundle including a paddle and leash. This inflatable paddle board is perfect for lakes with still water. The high quality stitching, removable fin and carry bag are sure to impress you.
Easily store this board in a small space but impress your friends when you're on the lake. This board has higher buoyancy making it have a heavier weight capacity. Bring your pup on your next adventure or pack an overnight bag and try camping on your route.
Naish 2015 Glide Air Inflatable Paddle Board
Weight Capacity: 230 lbs
Board Weight: 24.5 lbs
Length: 12'
Materials: EF polymer, urethane
Fins: removable single fin
Accessories: n/a
Description: This family friendly Naish 2015 Glide Air Inflatable Paddle Board is incredibly versatile and packs a ton of rigidity for a smooth sail. It's easy to maneuver and incredible stability makes it a great board for beginners or those interested in SUP yoga.
Coming with 6D rings it provides you with a great amount of storage to bring on your next trip. You won't want to ever get out of the water with this incredibly smooth sail.
NRS Earl 6 Inflatable Standup Paddle Board
Weight Capacity: 200 lbs
Board Weight: 22 lbs
Length: 10'6"
Materials: PVC, double sidewall
Fins: 5 removable fins
Accessories: pump, fins
Description: With an easy-to-grab handle and a stylish design, this NRS Earl 6 Inflatable Standup Paddle Board is sure to impress. Its incredible light weight design makes it easy to transport on all your adventures. This SUP comes with multiple fins making it a great option for higher surf paddling.
Also performing well in steady water, this easy to transport board may have the answer to all of your questions.
Despite it being inflatable, its outstanding construction allows it to rival a hard board in terms of rigidity. Its suave lines and neutral design allow it to appeal to just about everyone.
Red Paddle Co RIDE 10'6 x 32″ (2016 Series)
Weight Capacity: 220 lbs
Board Weight: 36 lbs
Length: 10'6"
Materials: Polymer, composite, air-tight coating
Fins: three fin system
Accessories: pump, repair kit, backpack, waterproof phone case, pressure gauge, cargo tie-down
Description: Perhaps the most versatile and popular inflatable board, this Red Paddle Co RIDE 10'6 x 32″ (2016 Series) is sure to perform on smooth and steady water but can also hold its own expertly maneuvering across unpredictable surf.
This board is designed to keep you on the water as long as possible with a quick set up and take down you are sure to enjoy your paddle. The three-fin design allows it to expertly navigate through any water and its perfected rigidity glides it over surf without flex.
Starboard – Blend Astro Deluxe Inflatable Stand Up Paddle Board
Weight Capacity: 210 lbs
Board Weight: 24 lbs
Length: 11'2"
Materials:
Fins: three fin system
Accessories: wheeled bag, double action pump, bungee tie downs
Description: This unique Starboard – Blend Astro Deluxe Inflatable Stand Up Paddle Board 2017 is great for its ability to transform seamlessly from calm, still water to navigating through heavier waves.
Complete with a tapered nose which is great for getting speed through the water, its wider tail increases stability making it a truly versatile ride. The three-fin system allows for a powerful stroke to allow high speeds and straight paddling.
Vilano Navigator 10′ Inflatable SUP Stand Up Paddle Board Package
Weight Capacity: 250 lbs
Board Weight: 36 lbs
Length: 10'
Materials: PVC,
Fins: Single large fin
Accessories: pump with integrated pressure gauge, 3-piece aluminum paddle, removable fin, carry bag and shoulder strap
Description: This Vilano Navigator 10′ (6″ Thick) Inflatable SUP Stand Up Paddle Board Package is great for people that lack a ton of storage space. Deflated, this little gem folds down to be only one foot in diameter for easy storage and ideal transportation.
With a heavier weight capacity this board is ideal for still water and long distance rides. This board is great for beginners or for SUP yoga as its strong PVC build makes it feel like a hard board with loads of stability.
Factors You Should Consider When Buying A Paddle Board
The hull, weight capacity, length, materials, fins and accessories should all be on your radar:
The hull is the body of the board. The shape is the main factor in determining how the paddle board acts in the water. There are two main types of shapes, planing and displacement.

Planing paddle boards are the all-around, great-at-everything board. If you walk into a surf shop this is going to be the kind of hull you mainly see. Being flat and wide, these boards are very stable while performing great in flat or choppy water.
Displacement boards are designed for long distance paddles and racing. With a narrow body and a pointed tip they cut through the water with ease. They are less stable board and are not recommended for beginners or those looking to just cruise the beach.

Weight capacity refers to how much weight the board can handle. If the weight exceeds the number written, the board could be fully submerged in the water, making it very difficult to maneuver.
Weight capacity differs for different types of boards. Children's boards obviously have a lower capacity than adult boards. Materials also play an important role. Inflatable boards will usually have a lower tolerance than a foam or hollow core.
Each board will have a weight capacity labeled. Make sure that when buying your board you account not just for your weight but the full weight you want the board to accommodate for. If you are planning on bringing gear or dogs, on your board with you make sure you include their weight.
The length of the board is determined by a few things. For example, if you are riding in the ocean with big swells versus in a still lake the length will need to be different.
Also, a storage place and transporting should be considered. Storing and transporting a 16 foot board is more difficult than a 9 foot but can be resolved with an inflatable SUP.

Short boards (9 feet and under) are easiest to maneuver but generally provide less stability. Kids boards measure under 8 feet long.
Medium boards are between 9 and 12 feet. The majority of paddle boards fall into this category. This is an ideal length for calm lakes and ocean riding.
Long boards, usually 12 or 14 feet are designed for touring or racing. Typically narrower and long, these are more difficult to turn but are great for long distance paddles.

Materials: It is important that you equip yourself with the best paddle board for your use. These boards are made from a variety of different products all with their own pros and cons.
The biggest difference between materials used for boards is whether you are going to opt for foam or an inflatable board.

Inflatable – The main feature of these boards are their easy to store and lightweight characteristics. These boards don't sacrifice durability containing a strong PVC shell.
EPS Foam – Among the lightest of the boards, the interior of the board has a foam interior with a fiberglass or plastic outer shell.
Polyurethane Foam – Similar to the EPS boards but the polyurethane foam weighs in heavier. Most often seen used on beginner boards.
Hollow Core – These lightweight boards carry a hollow interior while standing out for their expert performance.

Fins are a critical part of the board. Without them the board slides side to side with each stroke of the paddle. These act as a guide in the water, and keep you pointed straight as an arrow and allow for easy maneuvering. Find come removable for easier storage.

Large single fins are best used for those with a powerful stroke as they provide more resistance in the water and will keep you from turning. This is also great for beginners as it provides you with a straighter paddle and holds up better in choppy water.
Small single fins are great for those with smaller, less powerful strokes such as kids. This will provide the resistance needed to go in a straight line while allowing you to glide through the water with ease.
Multiple fin set ups are great because often the fins are removable so you are provided with the option to use a singular fin, or add the extras depending on the surf you're in. The multi-fin set-up provides a powerful surf and are best used in a setting with harsher waves.

Accessories: While paddle boarding is fun, being in water means there are a few crucial safety options you will need to have with you. When looking for accessories for your board you should consider:

Paddles are usually sold separately and are made out of different material. Cheaper ones are made out of plastic, while higher quality ones have metal components. Paddles should be 6 – 8 inches taller than you and are normally adjustable in height.
Leashes ensure you and your board stay attached. While paddle boarding is a relatively easy sport to learn, in the beginning you can expect to take a few dives in the water. Also, in the ocean with a more unpredictable surf it is critical to make sure your board stays within arms reach as it can act as an additional floatation device for you.
Personal floatation device. It may not be desirable but just as life jackets are necessary for other non-motorized water sports, this is no different and could mean the difference between life and death. The coast guard classifies paddle boards as vessels and therefore require you by law to have a lifejacket when paddling. There are low profile jackets that won't interfere with your stroke. This should be a high priority, especially if you plan on venturing across the ocean.
Proper clothing: If you plan on using the board in the ocean it is highly recommended that you invest in a wet suit. Depending on the climate a 3 millimeter suit should suffice. Even in California the water can cause hypothermia, especially in the off seasons.
Car rack: Unless you have a truck or an inflatable board, getting your board to the beach can be difficult without a roof rack. They have gotten cheaper over the years and can be used for more than just getting your board to the water.
Final Words
Paddle boarding will help you to get a view of the world unlike any you have experienced. It also happens to be a great full body workout. Commonly used as a cross training exercise, this relatively new found summer sport has gained a tremendous amount of popularity.
This flexible routine of inner peace has moved to the boards but it is important you have the right type of board. If you are looking to do yoga we recommend getting a board with higher buoyancy and a slightly wider base.
This will give you more stability to move around on your board.
It may take you some time to get comfortable with the unnatural feeling of standing on water, but once you are comfortable anything is possible. When starting out it is common practice to start on your knees to get used to the movement of the board.
Whether you are a beginner paddler or you have mastered the art, you deserve the best. When looking for a beginner board, ensure you look for a board that can fully support your weight.
From there, we recommend a board with a wider base. More space = more stability. If you're looking for more of an all-in-one board, ensure it can transform from calm waters while also handling some light surf.
And don't forget to leave a comment below!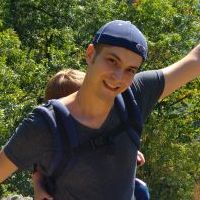 Daniel is a gear freak when it comes to hiking, climbing and camping. He went to REI Outdoor School to meet new people and learn best practices. Don't even try to argue with him about the latest backpack or ice axe, he tried most of them. Daniel's dream is to climb Mount Everest.