If you're interested in climbing or are an avid climber, then you know the importance of a quickdraw.Without a quickdraw, there would be no climbing, it's that simple. You probably knew this, however, you maybe don't know that there's a little more to it than just blindly picking one up at the store.
So, before you get your climbing shoes on and start climbing up that mountain, there are a couple things you need to know about quickdraws. So, let's get started in showing you all there is to know about the best quickdraws.
Top Product Reviews
Note: We get commissions for purchases made through links in this article
LiveWire
Weight: 4.8 oz
Dimensions: 9 x 4 x 1 inches
Specific Features: snag-free benefits.
Best Use: sport climbing
Description: Black Diamond is a reputable climbing company which creates supportive climbing equipment. The LiveWire Quickdraw gives users a secure connection between their rope and rock.
It's made of hot-forged nitrogen straight-gate on top and livewire wire gate has hood wire technology on the bottom. It's designed with a snag-free keylock top biner which allows the climber easy clipping. The draw-friendly carabiner surface keeps the runners where you want them.
In addition, it comes with a vari-width dogbone with straitjacket to keep the bottom biner oriented. It's a secure quickdraw and will be able to safely support you during your climbs. It comes in one color and is very simple in design which is what you want in a quickdraw – simple yet effective.
Related: If you want to make your own quickdraw, then you can use the Petzl Pro Attache Screw-Lock Carabiner. It's easy to use and is optimized for lightness and durability.
Petzl Spirit Express
Weight: 4 oz
Dimensions: 14 x 2 x 1 inches
Specific Features: secure clipping
Best Use: sport climbing
Description: The Petzl Spirit Express quickdraw is a spirit carabiner with an H-shaped profile that offers improved strength to weight ratio. The wider contact surfaces allow for better rope glide and reduce any potential wear on the carabiner.
The straight gate design gives for easy clipping due to the shape of the nose and keylock system. The express sling is ergonomic in shape which provides a sturdy grip. The lower end is equipped with string to hold the carabiner in a secure position while climbing.
What's great about this quickdraw is that it weight less than 100g, so you won't have to worry about the additional weight creating a strain on your body and affecting your climbing.
Related: Another good carabiner for making your own quickdraw is the HERAbiner screw lock. It's lightweight and pear shaped with a Munch hitch.
Wild Country Helium
Weight: 3.5 oz
Dimensions: 17 x 4 x 2 inches
Specific Features: no-hook gate
Best Use: sport climbing
Description: The Wild Country Helium quickdraw is another great option if you're looking for reliable support between you and your rock face. It's a clean wire no-hook gate with a 2mm wire gate and is even simplistic in design compared to its competitors.
It's extremely lightweight which is great if you're looking for a light load, however, if you're physically on the heavier side, it would be better to have a quickdraw with more heaviness to it for extra support.
It has an I beam back with a hot forged high gate opening and a 10mm Dyneema vice locator. It comes in two sizes: 10cm or 15 cm, so you'll be able to use it on long distance climbs as well.
Related: If you're looking to make your own quickdraw, Wild Country also has their Wild Country Helium 2 wire gate carabiner.
Wild Country Astro
Weight: 16 oz
Dimensions: 7 x 4 x 2 inches
Specific Features: light weight
Best Use: sport climbing
Description: The original quickdraw from Wild Country is the Helium, knowing how successful and well-designed that product was for the company, they decided to advance their technology and create a better and stronger version of the helium.
So, with that being said, Wild Country produced the Astro. The Astro was designed with the goals of creating a quickdraw with plenty of strength and will sustain the downward momentum of weight loss. It's small in size, however, is well designed to fit in your hand, making it easier to use.
If you have larger hands, you may want to test it out and see if you can maneuver it with your fingers without any problems.
It's built with the 'Tech-wire' easy clip wire gate, with a hooded nose that allows you to slickly clip on and off without a struggle. It comes in two sizes: 10cm and 15cm, so you'll be able to use it during long distance climbs.
What's different about the Astro is that it has a plastic sheath that grips onto the sling and holds the bottom biner securely in place giving you a better chance for clipping. If you're into the physical appearance of the quickdraw, it comes in two colors, red or green.
Related: If you're looking to make your own quickdraw, Wild Country has the Wild Country Ascent Lite Belay Locking Carabiner that you can use to create your quickdraw.
Camp USA Dyneema
Weight: 2.4 oz
Dimensions: n/a
Specific Features: 10mm Dyneema dogbones
Best Use: sport climbing
Description: If you're looking for a trendy design and just a good looking quickdraw, then Camp USA Dyneema is the one. In addition, it's also a well designed and strong device, so you'll be safely secured to your rock face.
Camp USA designed this quickdraw with a straight gate for bolts and a bent gate biner for the rope.
So, for this quickdraw, you'll be able to use it for relatively straight climbs where the rope isn't curving. It's extremely lightweight, which if you're looking to shed some weight from your load, this will certainly help you.
However, if you're concerned about it being too lightweight for you, then you should opt for a quickdraw with a little more bulk to it. It comes in three sizes: 11cm, 15cm and 20cm, so regardless of the distance of your climb, you'll be well supported.
Related: Camp USA has a quickdraw express pack which you can purchase and it comes with 5 ready-to-use quickdraws. We recommend that you buy 3-4 packs so that you're well prepared for your climb. Make sure to keep a couple extra hanging on your harness, just in case.
Black Diamond Positron
Weight: 16 oz
Dimensions: n/a
Specific Features: dual keylock
Best Use: sport climbing
Description: Black Diamond has been designing climbing equipment for quick some time and they came out with a lightweight quickdraw, the Positron. It comes with a straight-gate Positron carabiners on top and a bent-gate Positron on the bottom.
In addition, it's equipped with a 14mm Dynex dogbone that's lightweight, durable and easy to grab on to. The smooth-clipping design prevents your rope from snagging whether you're on your route or extending gear placements.
The Straitjacket insert assist in keeping the bottom carabiner properly positioned so that you won't be hesitating with climbing. It's a well thought out quickdraw and also comes with a dual key lock function that allows for easy clipping and cleaning.
Related: To make your own quickdraw, you can use your own carabiner like the Mad Rock Super Tech Screw carabiner.
Mad Rock UltraLight
Weight: 2.4 oz
Dimensions: n/a
Specific Features: One of the lightest quickdraws
Best Use: sport climbing
Description: If you want lightweight, well, this is lightweight. Actually, the Mad Rock UltraLight is one of the lightest quickdraws on the market. Weighing in a 2.4oz/30 gr, though it weighs practically nothing, it sustains 25kN strength. Pretty impressive, no? However, the difference between this quickdraw and the others that are designed to be lightweight is the size.
Usually, lightweight means that the physical size of the quickdraw is smaller, however, not in this case. Instead, the UltraLight is larger in size, making it more efficient and easy to use. So, if you have large hands, you won't have to worry about your fingers getting caught in the gates, you'll be able to easily use this quickdraw without hesitation.
The design of the UltraLight has a forged I-beam construction, anodized finish for corrosion prevention, smooth gate operation and a rubber gasket that allows the rope side carabiner from turning. With all the features, it makes the UltraLight a top competitor on the market.
Related: Another great quickdraw from the Mad Rock family is the Concorde. It comes in at 87 grams, so it's a little heavier than the lightweight ones, but very reliable and sturdy.
Petzl Djinn Axess
Specific Features: 2 Djinn carabiners
Best Use: sport climbing
Description: The Djinn Axess quickdraw is a highly reliable and durable option if you want a supported and safe climb. It comes with a string Axess sling and 2 Djinn carabiners with keylock noses. The Carabiners are h-shaped and offer exceptional strength-to-weight ratio.
The wide rope-bearing surfaces are designed to reduce wear and give the rope a smooth glide. The keylock noses prevent any snagging to occur during your climb, while the bent gate on the bottom carabiner lets you easily clip your rope while climbing.
A great feature on the Djinn Axess is the rubber protector at the bottom of the sling that reduces abrasion while also keeping the rope-end carabiner in the proper position. It comes in two sizes: 12cm or 17cm, which will support you in both short and long distance climbs.
Related: The Big Wall quickdraws by Big Wall are highly popular and are certified by the UIAA. It's very versatile and are great for long routes.
What Are Quickdraws?
If you're new to climbing, you may not have known the term of this piece of climbing equipment. A quickdraw is also known as an extender. It's the piece of equipment which is used by both rock and climbers to allow the rope to run through the bolt anchors while leading.
The quickdraws allow the rope to run freely without snagging and provides protection to the rope. The climber also uses quickdraws to help keep their path up the wall straight, making sure to avoid sharp rocks while they climb.
What to Look for in A Quickdraw
After you're done buying your harness and rock shoes, you want to look for a quickdraw. Make sure to buy a couple sets, as it's better to have too many than not enough, especially when you're in the middle of a climb. So when you're looking for quickdraws, you want to look at three main important factors:
Carabiner gates
Quantity
Sling length
Carabiner gates
There are three types of gates on carabiners which are straight, wire or bent. Let's take a look at each type of carabiner gate.
Straight-gate carabiner: Straight-gate carabiners essentially have straight gates from the pivot point to the end. They're very common on quickdraws.
Wiregate carabiner: Wiregate carabiners are designed with a loop of stainless-steel wire for the gate. The wire loop makes a spring as it pivots which decreases weight and removes the need for additional parts that usually seem in solid gates.
What is great about wire gate carabiners is that there's less vibration when opening the gate. Wiregates are also less likely to freeze up in cold temperatures, so if you're doing ice climbing or mountaineering, this carabiner is ideal for you.
Bent-gate carabiner: Bent-gate carabiners have a concave gate which gives ease when clipping rope. This means that they're only to be used for the rope-end of quickdraws.
Keylock carabiners: Have a smooth indentation where the nose of the carabiner and the gate meet. What this does is prevent the carabiner from catching onto your bolt hangers, slings and harness gear loop. It may cost a couple extra dollars, however, it's a nice feature to have.
Quantity
Remember when we said that you'll want to buy a couple sets of quickdraws? Well, it's an important factor when climbing.
You won't need to go out and buy out the whole store for quickdraws, first, you need to ask yourself a couple questions: where are you climbing, how long is your climb and what are you climbing.
Sport routes: You'll need around 12 quickdraws.
Long sport routes: Meaning it requires more than 30m of rope, you'll need 16 to 18 quickdraws.
Very long routes: If your route is even longer than opt for 24 quickdraws.
Look at the guidebook. Your guidebook may help you out by telling you how many bolts are on your route. This makes it even easier as you use that number for your quickdraw total.
Using it as an anchor? If you're going to be using quickdraws as a part of the anchor then you'll want to include that in your quickdraw count as well
Just in case: You never know what can happen when climbing. Maybe you drop a quickdraw – point is, it's never a bad thing to carry a couple extra on you.
Sling Strength
When considering a quickdraw, you need to also look at the sling strength. A sling is also known as a dogbone, just in case you haven't heard of this term. Though you may not think of it, the sling actually is very important as it can change the rope drag, weight and bulkiness.
There are two types of climbers: sport and trad climbers. These two both require different needs, so, let's look at the various slings that are available to climbers.
Sports climbers: For sports climbers, many quickdraws come with slings in a couple sizes.
10-12cm slings: These slings are short-length and are generally the normative sling for all-purpose climbs. They work well in most climbing environments as long as the route is relatively straight.
17-18cm slings: This is considered to be a medium-length sling which is ideal for climbers who aren't climbing on a straight route. They're great at reducing rope drag which if you're on a route that uses more than 12 quickdraws, you'll be wanting that feature.
If you're a sports climber, it's recommended that you have both short and medium-length slings on your harness, just in case your route suddenly changes, you're prepared.
Trad climbers: If you're a trad climber, chances are you prefer to make your own quickdraws rather than buying one. Of course, pre-made and handmade are really based on personal preference and neither is better than the other.
To make your own quickdraw what you'll need is take a longer sling and attaching it to two carabiners. Choose which sling is best suited for you and your climbs. These handmade quickdraws are usually called alpine or extendable quickdraws.
Are There Other Features to Look for?
In short, yes. The features listed above are the most important, however, as you become a more experienced climber there are other features you'll want to look at.
Weight: Typically, quickdraws weigh a total of 60 to 110 grams. Sure, it sounds light now, however, wait until you're fully loaded with all your gear and you'll wish you could shed a couple grams here and there.
Having a lightweight quickdraw is a nice feature. However, be warned that they are smaller in size. So, if you have larger hands, it may be difficult to clip.
Carabiner strength: When looking at strength, carabiners are rated in three areas: lengthwise, sideways and while open. You'll be able to see the rating on the spine of the carabiner. However, don't worry, all carabiners must pass the UIAA and CE standards which ensure that it's already very strong to begin with.
Carabiner gate opening: This is the width that the gate can open and the depth of the carabiner. The larger the gate opening, the more rope it'll be able to clear. In addition, if your gate opening is too small, your fingers may get stuck in the gate. However, too much clearance can also make it hard to clip. So, you'll need to test them out.
Carabiner shape: This isn't really an important factor, but it's more of a comfort issue. The carabiner shape is something you should look at when considering ease of use. You want a carabiner that'll be easy to clip on and off, so you'll want to test them out and pick one that's compatible with your hand size.
Now that you're up-to-date on everything you need to know about quickdraws, it's time you looked at the top eight quickdraws available on the market. Let's take a closer look.
Conclusion
You now know what quickdraws are and the features you need to look for. Above, we showed you the top eight quickdraws on the market. Go out and give each one a try, seeing which one fits best in your hand and is suitable for your climbing. Now, what are you waiting for?
And if you end up getting any of the products mentioned in this list, please share your stories with us in the comments section below.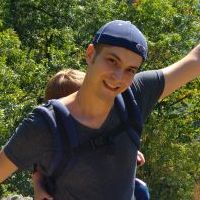 Daniel is a gear freak when it comes to hiking, climbing and camping. He went to REI Outdoor School to meet new people and learn best practices. Don't even try to argue with him about the latest backpack or ice axe, he tried most of them. Daniel's dream is to climb Mount Everest.