Do you have a hard time controlling your rope as you are climbing? Could it be because you are not using a quality belay device? Surely, you need one in order to keep the rope under control as you are climbing, whether indoors or outdoors, but have you got the best belay device the market offers?
Whether climbing an indoor rock wall or spending the day cragging, a belay device is a necessary piece of equipment. They can be used as a braking system to keep climbers from tumbling to the ground when the inevitable slip happens, and can also keep your descent smooth and controlled when you're ready to rappel back down to the bottom.
With so many different types of devices available, it is important to know what kind of climbing each is suited for, so you can safely choose which one of these is the best belay device for your favorite type of adventure.
Within this review, we are going to talk about the types of belay devices out there so you know your choices, show you the features of each device, and then give you several reviews that will help you choose your new belay device! This will definitely make climbing more enjoyable!
Note: We get commissions for purchases made through links in this article
Best Products on Today's Market
Below, you are going to discover some of the top belay devices on the market. Now that you have ready about the types and their features, you can look through the devices below and choose the right one for your next climbing excursion. Happy shopping!
Petzl GriGri 2 Belay Device
Weight: 170 g
Dimensions: 8 x 5 x 2 inches
Specific features: Aluminum side plates, stainless steel cam and friction plate, reinforced nylon handle
Best use: Sport climbing
Description: This compact, lightweight Petzl GriGri 2 Belay Device can be used with any 8.9 to 11 mm CE certified ropes, and includes an assisted braking system that has been designed to pivot the cam if there is tension on the rope.
The rope is then pinched enough to halt the climber's fall, so there is no risk of an unexpected descent to the bottom. You can also grip the brake side of the rope to prevent any sliding.
The GriGri 2 is also geared for maximum control when rappelling back down, with the climber holding the rope with one hand while unlocking the cam with the other. This allows for a slower release of the rope, giving the climbers an additional feeling of security when lowering themselves or their climbing partners.
For ease of use, this device also includes engraved diagrams on both the interior and the exterior for proper rope installation. The GriGri 2 comes in three colors, and includes a non-instructional climbing DVD as an added bonus.
PROS:
Strong and durable
3 color choices
UIAA certified
CONS:
Not for thicker ropes
Can catch
Metal can get hot if the weather is hot
Related: Be safe with a harness that gives you range of motion while still keeping you in place as you climb. The Black Diamond Momentum Harness has 4 gear loops, dual core construction and adjustable.
Black Diamond ATC-Guide
Weight: 88 g
Dimensions: 2 x 5 x 7 inches
Specific features: Machined windows, anodized aluminum construction
Best use: Sport climbing, multi-pitch climbing, indoor climbing
Description: This upgraded version of Black Diamond ATC-Guide has machined windows, which have decreased its weight significantly. There is also a larger auto-block release hole which can be used with a small carabiner. It has multiple friction modes that can be used for belaying and also give you the stopping power needed to rappel safely. The sturdy cable will never lose its shape, and will never be trapped between the ropes when climbing.
This belay device can be used with ropes ranging from 7.7 to 11 mm, and is perfect for ascending or descending with up to two seconding climbers using its guide mode.
This is the most versatile belay and rappel combo device that Black Diamond has produced, and is durable enough to last through years of use. It comes in 5 colors, including black, dark denim, ruby, green and platinum.
Overall, we trust this belay device and find it easy to use!
PROS:
Lots of color choices
Affordable
Long lasting
CONS:
Not for larger pieces of rope
Carabiner not included
Related: Since you will need a carabiner for this, the Black Diamond Rocklock Carabiner is a great choice. It has a square hinge, won't snag and has a screw gate sleeve.
Petzl Reverso 4 Belay Device
Weight: 59 g
Dimensions: 1.97 x 0.39 x 8.27 inches
Specific features: Hot forged aluminum body
Best use: Outdoor climbing, indoor climbing, multi-pitch climbing
Description: This ultra-light, yet high-quality, Petzl Reverso 4 Belay Device is versatile enough to be used with all rope types, including single ropes of 8.9 mm or larger and half and twin ropes of 8.9 mm or larger, though it is best not to go above 9.8 mm.
It is great for use when belaying a leader and up to 2 second climbers, and offers the ability for swapping leads with a quick and easy transition. The V-shaped friction channels have asymmetrical side grooves, and together, these offer higher braking on thinner ropes, and can even adapt the braking on larger ones.
There is a hole on one end designed to be used with a carabiner for an easy gradual release of the loaded device. The design of this device keeps the rope strands separate when belaying and rappelling, and will never twist them, no matter what mode you are using. It is available in three colors.
PROS:
Super light
Durable, made of aluminum
For all rope types
CONS:
Can be tight for large ropes
No carabiner included
Related: If you need a new anchor system, the Metolius Personal Anchor System is a great one that is CE/UIAA certified. It's versatile and safe, plus you can adjust it easily.
Trango Cinch Belay Device
Weight: 182 g
Dimensions: 2 x 11 x 6 inches
Specific features: Aluminum alloy and stainless steel materials
Best use: Sport climbing, traditional climbing, indoor climbing, tree service, snow and ice climbing
Description: The Trango Cinch Belay Device is best used by climbing experts who are familiar with the proper technique when using a device of this kind. It is for use with single ropes from 9.4 to 11 mm, but can be used with smaller ropes by more cautious and experienced climbers.
Its dynamic ability helps to reduce shock and provide a softer catch when the climber begins to fall, catching them well before they hit the bottom. When rappelling down, it lowers you easily and fluidly, with the security needed to keep you safe.
It is compact enough to fit in your hand, and though heavier than some other devices, it is still lightweight enough for easy use. It comes in three stylish colors, and is great for use in all seasons and numerous types of climbing, whether solo or with a partner.
We like this device because, while pricey, it does fit an array of ropes and is secure.
PROS:
For use with many rope types
Reduces shock
Looks good, works without kinks
CONS:
Feels jerky
Hard to feed the rope through
Hard to click up
Related: Keep your head protected with the Black Diamond Half Dome Helmet. It's made with EPS foam, is well ventilated and easily adjustable. Plus it comes in many colors!
Camp USA Matik Belay Device
Weight: 276 g
Dimensions: 2 x 5 x 9 inches
Specific features: Hot-forged aluminum main body, stainless steel components
Best use: Cragging, sport climbing, indoor climbing
Description: The Camp USA Matik Belay Device uses an innovative, camming design that makes its braking system safer and easier to use for all climbers. This system rotates the cam until it is in line with the rope before capturing it and halting the climber's fall.
It also has an Anti-Panic system that will automatically block the rope if the climber begins to lose control of the speed of their descent by disengaging the brake lever. This will then cause the cam to re-engage automatically if you start to fall too quickly.
The Matik also features a double-hinged lever and a straight rope path. Together, these help to keep your rappel smoother and easily controlled.
A carabiner can be used with the wide attachment hole, which is large enough to allow it to rotate as needed, and if the device is not closed properly, the carabiner cannot be attached, preventing any possible failure of your belay device.
PROS:
Nice assisted braking feature
Safe and durable
Double hinged for ease of use
CONS:
Quite pricey
No carabiner included
Related: While climbing, you may need a pick axe in some areas. The Camp USA Neve Axe has an indicator to tell you with the pick is getting too dull, and its got a comfortable grip so it won't slip out of your hands.
Edelrid Eddy Belay Device
Weight: 360 g
Dimensions: 2 x 4 x 7 inches
Specific features: Steel body, aluminum brake handle
Best use: Sport climbing, indoor climbing
Description: Though a bit heavy, the Edelrid Eddy Belay Device is one of the safest belay devices available, especially for beginners. It is suited for single ropes with 9 to 11 mm diameters, which can be easily threaded using its logical rope design.
There will be no uncontrolled descent, thanks to the emergency brake system that eliminates the need for any "panic pulling." This will keep climbers safe from harm, as well as giving them the extra feeling of security that will help them to stay focused on climbing.
The Eddy is also cleverly designed in that it recognizes the difference between an uncontrolled fall and a quick payout, locking when needed, but allowing the line to flow smoothly when just feeding the rope through.
This safe and solid belay device is CE Certified, and comes in black with a green release handle. We find that this belay device is easy to use and we would recommend it overall.
PROS:
Durable and safe
Comfortable and easy to use
CE Certified
CONS:
Somewhat pricey
No carabiner included
One color choice
Related: You may find that you need a tension lock while you are outdoors on an adventure. The Big Agnes Tension Lock TL 130 are adjustable, made of aluminum alloy and collapse easily.
Black Diamond ATC-XP Belay Device
Weight: 64 g
Dimensions: 10 x 8 x 3 inches
Specific features: Machined windows, anodized aluminum alloy construction
Best use: Sport climbing, indoor climbing, snow and ice climbing, rock climbing
Description: The Black Diamond ATC-XP Belay Device is an updated version of the original, and is 30% lighter, thanks to its machined windows positioned throughout the device, for a more comfortable use.
It has a high-friction mode that uses the toothed notches for more control when lowering your partner or rappelling to the bottom, as well as a low-friction mode that utilizes the smoother opposite sides.
It also has a rigid keeper wire that will never get tangled in the rope and get sucked into your device, so it will always keep its shape. The ATC-XP works with 7.7 to 11 mm ropes.
This belay device is great for beginners, or for those belaying partners who are heavier than themselves. There are five colors to choose from, including blue, anthracite, mocha, orange and black.
Overall, we would highly recommend this belay device because of its safety, ease of use and the fact that it works with many rope types.
PROS:
Affordable and light
Versatile, for use with many rope types
Machined windows
CONS:
Feels a little rough while rappelling
May rub against the rope sheath too much
Related: Do you want to go zip lining? You can get an entire kit that will allow you to zip through the air safely. The Outdoor Camping Zip Line Kit includes tree saver blocks, tools, wheels and all that you need to get the job done!
Petzl Ascension Ascender Belay Device
Weight: 165 g
Dimensions: 9 x 4 x 2 inches
Specific features: Aluminum body, stainless steel and plastic components, rubber handgrip
Best use: Big wall climbing, snow and ice climbing
Description: As its name suggests, the Petzl Ascension Ascender Belay Device was designed for ascending a rope. It has an ergonomic molded handle that gives you a secure, yet comfortable, grip.
The opening is wide enough to grasp the handle easily, even when wearing thicker gloves, and the upper section gives you the power needed when using both hands to pull.
The integrated safety catch prevents snagging, and the toothed cam has a self-cleaning slot, which is perfect for those climbing on dirty or icy ropes.
There is an upper hole for clipping a carabiner around the rope, and a wider hole at the base of the Ascension for an additional carabiner, a lanyard or a foot loop to be attached. This device has both black left-handed and yellow right-handed versions.
We have rated this belay device highly due to the safety, durability and overall ease of use. While on the more expensive end, this device is ergonomic and can be installed with one hand.
PROS:
Molded grip
Angled teeth
Great for all weather
CONS:
On the pricier side
Take some more work to use but get the job done
Things to Consider Before Buying
Because the types of climbing vary in surface and difficulty, it only makes sense that belay devices do so as well. Here is a list of the different types of devices, and what kind of climbing they are best suited for.
Tubular Belay Devices
These are the most common belay devices available and can be used for pretty much any type of climbing. They are designed to have the rope folded, pushed through the tuber and then attached to the belayer or an anchor using a carabiner.
The rope in the device can be slowed or stopped altogether when there is friction, which can protect the climber in the event of a fall. Some are also designed with ridges to create additional friction, and slow the rope's passage through the device even more.
The tubers are also handy tools to have when it's time to rappel. Because of the dual slot design, these can be used to accomplish the proper rappelling technique which uses two strands of rope, for a smooth and controlled descent.
Assisted Braking Belay Devices
This type of device goes by a few other names, including self-locking, auto-locking, self-braking, or auto-blocking. They are designed to help the belayer prevent a climber's fall by locking down the instant any sudden force is applied to it.
There are two types of assisted-braking devices to choose from. The first should be used when belaying a top-rope climber, a lead climber, or a follower on a multi-pitch climb. Because these devices can usually be used with only one line, they cannot be used for traditional rappelling on two strands of rope. They are also heavier than other types of belay devices.
There are also some types of assisted-brake devices that can pinch the rope between the belay device and an attached carabiner for a bit more braking power. These types are usually lighter and more versatile, since they can also be used to rappel properly on the necessary two rope strands, and can be used for any kind of climbing you choose.
Another type of assisted-braking belay device is similar to the tubular device, with the addition of a metal loop on the side that gives you the ability to attach it right to an anchor to be used in assisted-braking mode.
While having the same features, as well as the disadvantages, of regular tubers, these also allow you to belay up to two followers this way. But just because it has that extra metal loop doesn't mean you have to use it.
When you have to belay a lead climber, just use this belay device the same way you would use any other tubular design.
Figure Eight Belay Device
The Figure Eights get their name from their shape, which is essentially shaped like the number, with one loop larger than the other. Though these are mostly suited for rappelling, these types of devices can be used to belay a top-rope or a lead climber.
To rappel with one of these, there should be one bend of rope pushed through the larger hole and looped around the outer side of the smaller hole until it is resting on the center point that joins the two holes. You then clip the small hole to the harness's belay loop.
The way to use these devices for belaying varies depending on the make of the device, so there is no one way to do it. It is always best to read the included instructions to learn the proper way this should be done, to ensure there are no mistakes that could lead to accidents.
Components
A belay device consists of a metal plate that has a space to let in some rope that will pass into a carabiner and lock into place. You want these to be made of high grade materials like aluminum so that they will not only last you, but also not break when you need them most.
Safety
You need to be sure of a few things before you go climbing. First, you need to make sure the harness is buckled correctly and that you are buckled in at not only the waist but with each leg too.
Make sure the rope is tied right at the important points and that the knot is durable. Be sure that the carabiner is locked, as well.
Wrap Up
With the Petzl Belay device, we have reached the end of our article. At the end, keep in mind that no matter what kind of climbing you prefer, safety is always the most important thing to consider before you even head out to your chosen spot, and the proper belay device can mean the difference between life and death.
Whether you are climbing indoors or outdoors, a belay device is a necessity, and they are easy to use once you get the hang of it. Now that you have read up on belay devices, you cannot choose the correct one for your next adventure successfully. If you are ever unsure, you can have a professional help you learn how to use it properly.
Choosing the right one, and learning how to use it properly should always be your first step. Of course, there are numerous belay devices out there that are not on our list, so if you have a favorite you feel should have been included, please feel free to comment below.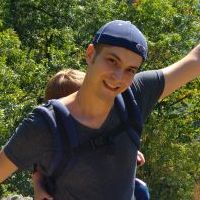 Daniel is a gear freak when it comes to hiking, climbing and camping. He went to REI Outdoor School to meet new people and learn best practices. Don't even try to argue with him about the latest backpack or ice axe, he tried most of them. Daniel's dream is to climb Mount Everest.