If you are you a mountaineer that loves getting to the top of the mountain, or you just want to get out in the snow and hike, you'll agree that crampons should be an essential part of your gear. Almost every hiker, rock climber and mountaineer will agree that they provide great comfort and safety, and that's why you should make bying the best crampons your priority.
Crampons are well-made, high quality fixtures that you can attach to boots or shoes. Mountaineers and rock climbers wear crampons to ensure sure footing, even on some of the most dangerous and slippery terrain. They also provide your feet with an extra level of protection so that you can avoid injuries.
Getting familiar with the unique types of crampons on the market will help you in deciding what pair will best serve you in your outdoor adventures.
In this article you will find out more about crampons and their most important features. Later, you will read reviews of some of the best models, so that you can figure out which style works best for you. Let's get started!
Note: We get commissions for purchases made through links in this article
[table "102nbspresponsivescroll" not found /]
Top Products on Today's Market
Here you will find a listing of some of the best crampons for ice climbing in the market today. There is a review of the product specifications and some of the positive attributes of each product. You can use the reviews to find the perfect pair for your needs.
Stubai Tirol Pro Crampons
Weight: 1,025 g
Dimensions: 18 x 10 x 4 in
Specific features: Bomb proof steel construction, step in binding, horizontal front point
Best use: Mixed terrain, steep ice
Description: The Stubai Tirol Pro Crampons are an Austrian-made product but are quite affordable. When it comes to the Tirol price does not define the overall quality of the product and the manufacturer has really made a safe, quality product of the mountaineer.
The crampons are fitted with horizontal front points: A feature that intensifies the stability the crampons provide when in use. Sold with Combi binding if you have welt-less toe boots, and the product is available in a Universal Binding so you can wear them with just about any kind of footwear you desire.
The crampons are made of bombproof steel, which further lends to their durability and corrosion resistant properties. These crampons offer additional safety during the climb with crooked side points for the purposes of preventing slipping.
This pair of crampons definitely works well in harsh terrain, so you should feel confident with this set.
PROS:
Durable and strong, adjustable
Corrosion resistant
Horizontal front points
CONS:
Plastic toe ball
Heel clip is only a semi-auto
Stubai Tirol Combi Crampons
Weight: 1,070 g
Dimensions: 8 x 3.9 x 3.9 inches
Specific features: 12 points, bombproof steel, adjustable
Best use: Steep ice, mixed terrain
Description: The Stubai Tirol Combi Crampons are selling for a decent price. To lend to the extreme durability of these crampons, the manufacturer has made them out of bombproof steel; this also adds to the longevity of the equipment in question.
The step in binding makes for a super secure fitting, and the pair has adjustable features making it easy to fit the crampons to any style boot imaginable.
These crampons truly are durable and are meant to last you a long time. Great for harsher terrain, you will not be disappointed by them. High performance, these crampons are strong yet lightweight so they are easy to carry around as well as wear through thick snow.
We like these crampons because they are affordable, light, easy to use, and simple to adjust. Overall, these are a great pair of crampons that are universal, so you won't have to worry about whether they fit your shoes or not, because they will.
PROS:
Adjustable
Durable construction
Great binding
CONS:
Bulky
Not for lighter terrain
Related: Do you want to capture your trip with photos? The PaceMaker Stix Camera Monopod Trek-cam is a camera monopod that is great for outdoor use. Made of aluminum, it is adjustable and folds down simply for storage.
Black Diamond Contact Crampons
Weight: 907 g
Dimensions: 5 x 5 x 15 in
Specific features: Stainless steel, 10 points, lightweight
Best use: Mountaineering
Description: The Black Diamond Contact Crampons are crafted out of stainless steel which makes them durable, long lasting, but even better, resistant to both snowballing and corrosion.
They are lightweight, and they are made with a profile than is lower than before to ensure greater contact with your boots. The toe straps are flexible, allowing for some wiggle room and will fit most footwear. These crampons are compact, easy to use, and the dual density ABS helps to keep snow from balling.
We like these crampons because they are affordable and truly live up to their name. While the toe strap fits most types of footwear, it does not fit all, so you must be aware of that. Otherwise, these crampons work well because they are easy to use and adjust, plus they are compact, so you won't feel like they are bulky.
PROS:
Corrosion resistant
Light and durable
Affordable
CONS:
Narrow
Not for all footwear
Not for hiking
Petzl Irvis 10-Point Crampon
Weight: 907 g
Dimensions: 5 x 5 x 13 in
Specific features: 10 point, dual wide front points, easy to use
Best use: Snow climbs, mixed terrain
Description: The Petzl Irvis 10-Point Crampon set is lengthened to provide the ultimate amount of stability when climbing and you can avoid having to high step when using these crampons too, so you improve your level of safety. The points are sharpened to the degree that they are suitable when walking on ice.
For purchase in a snow climb, there are two front points that are wide and this makes the crampons even more rigid. When front pointing, you get the benefit of relying on another row of angled teeth for security. For descending maneuvers, the crampons have two teeth for additional stability.
We love how light these crampons are and that the FlexLock bindings work well with all kinds of boots, no matter if they have front and rear welts. We also love that it has an anti-snow system so that snow does not build up under the crampon.
PROS:
Affordable
Anti-snow system
Easy to use, even on ice
CONS:
May not fit each boot
Snow can still build up a little
Related: Do you need new snowshoes? The MSR Denali Classic Snowshoe are affordable and have a light molded design. With steel traction blades, there is a nice grip.
Camp USA XLC Crampon
Weight: 1,134 g
Dimensions: 5 x 5 x 14 in
Specific features: 3D pressed frame; size adjustable tool free
Best use: Snow, mixed terrain
Description: The Camp USA XLC Crampon is a durable set of crampons because of the 3-D pressed frame: This feature lends to greater performance and overall strength.
The bindings on the boots are universal so they will easily fit on a pair of hiking boots or mountaineering boots. You can adjust the size of the crampons without having to use any tools. These crampons feature the unique CC4U wear indicators so you know when it is time to invest in another pair due to wear and tear through use.
We like these crampons because we have the option to get the Vibram anti-balling plates if we choose. We also enjoy that they are simple to adjust and since they are universal, they should fit any pair of boots out there. In the end, these are some great crampons that won't drain your wallet, leaving you money to spend on other gear you need.
PROS:
Wear indication
3D pressed frame
Universal bindings
CONS:
Heavier than some
Anti-balling plates aren't as durable over time
Not for light snow conditions
Related: The OutdoorMaster OTG Ski Goggles are incredible ski goggles that you can wear when you are enjoying many winter sports. With 100% UV protection, your eyes will not be bothered by the sun.
Black Diamond Raptor Crampons
Weight: 2,540 g
Dimensions: 15 x 5 x 5 in
Specific features: Stainless steel, rust resistant, bolt point action
Best use: Rock and light snow terrain
Description: The Black Diamond Raptor Crampons have a polished look and are available in one size. The stainless steel body promises corrosion resistance and durability.
The crampons also resist the balling of snow. The monopoint is replaceable and adjustable. The attachment has bolt on action.
While these are affordable, they are not stated to be universal. We love several things about these crampons, including the fact that they are simple to attach and adjust, which is great when we are ready to get up and go. While these do have a basic design, they still look good and do the job they are meant to do.
In the end, these updated crampons are great for lighter snow areas and in some rocky areas. They work well and you won't have to worry about rust, which is a huge bonus because crampons can get costly over time.
PROS:
Anti snowballing properties
Adjustable monopoint
Durable
CONS:
Too basic for some
Has a yellow color, no other option
Not for super heavy snow
Grivel G22 Crampon
Weight: 2,722 g
Dimensions: 15 x 5 x 5 in
Specific features: 12 points, mono-rail technology, steel construction
Best use: Snowy areas, mixed terrain
Description: The Grivel G22 Crampon set comes in the New-matic color, and are available in one size. The crampons are fashioned out of chromoly steel to ensure the durability of the gear, and the units are made with monorail technology promising a semi rigid crampon and help to distribute your weight through all of the points in the crampon.
The front points are numbered in two and are hot forged. The crampons fit a boot size of 38 to 48.Efficient, simple binding promising security, and sure footing. Harness made of Zytel DuPont plastic.
These crampons are great at their job because they are strong and durable, even if they are heavier than others. We like that they include the mono-rail technology that keeps us balanced while on rigid terrain. The construction is made from high quality materials, which means that these crampons are going to last you a long time.
PROS:
2 forged front points
Chromolly steel construction
Antibott includded
CONS:
Pricier than some
One yellow color option
Heavier than some
Related: Having gloves to keep your hands warm is a necessity. The Jam Master II Adjustable Over Glove have a glove wrist protection to keep you safe, and they are easily adjusted. They also fit over smaller gloves.
Edelrid Beast Crampons
Weight: 970 g
Dimensions: 4 x 5.2 x 14.3 in
Specific features: 10 points, stainless steel, adjustable
Best use: Icy areas, steep areas
Description: The Edelrid Beast Crampons sport 10 points with two front points for climbing ease and good traction. The front points are replaceable so you can get the most use out of the crampon set before having to replace them all together.
They are crafted out of steel to ensure durability, and they are size adjustable. The units come with climbing brackets.
These crampons come in a green and black color, which is different than the standard yellow. While they are more costly than many other crampon sets, they just may be worth the extra cash to you.
We like this set because they are size adjustable up to 34, very light in weight, and you can replace the front points whenever you need to.
Great in icy areas, you won't worry about slipping, as they are made for those steep and slippery terrains that you want to dominate.
PROS:
Very light
Great for ice
10 points
CONS:
Pricier than most
No other color options
Related: The Arctix SnowSports Cargo Pants are great at keeping you warm outside with the ThermaTech insulation. These pants are affordable and come in several color options, and won't scuff.
Features to Consider Before Buying
Crampons are special forms of gear that give you more force and traction. Some of the crampons are more flexible than others, while some more rigid, and the kind you need is dependent on the kind of boots you will use them with. Below, you will find out about the features that are important.
Crampon Styles
Some crampons are fitted with anti-balling plates made out of a material like ABS plastic. This is a unique snow-repellent feature that keeps the snow from actually balling up when the snow comes into contact with the crampon.
Alternatively, some manufacturers specialize in making crampons that you can use on a specific type of climb and thereby feature points that you can work into the tiny cracks in the side of a rock or mountain. Additionally, there are crampons fitted with special front points that help in breaking through ice compacted over a surface.
Crampons make it possible for you to enjoy a variety of terrain in the harshest of environments, whether you want to climb rocks covered in ice, if you want to cross a body of frozen water, or even climb snow-covered mountains.
For the most part, rock climbers, and mountaineers tend to wear leather boots or boots made out of some synthetic materials. If this is the case for you, you need to have crampons with horizontal frames and a partially rigid structure.
The crampons you buy will likely be durable and light. Today's manufacturers have started selling very specialized crampons for every condition imaginable and, as such, the crampons are classified or categorized thereby making it easier for you to choose the pair you need based on the activity you plan on engaging in when you wear them.
Crampon Classifications
Consider how you plan to use the crampons and what environment will you be in when you are using them. What terrain will you likely encounter? Knowing what you will likely encounter helps in choosing the right type of crampons for maximum comfort and personal safety.
Mixed Climbing/Waterfall/Ice Crampons – Typically, this set of crampons features a semi-rigid construction with steel modular vertical frontpoints. In terms of points, this set has them numbering in 14 or greater. Typically, the design has a step in or a hybrid method of putting the gear on your boots.
General Mountaineering – These crampons are a bit different as the framework is semi-rigid rather than flexible. They might have a strap on feature like the snow walking crampons, but some pairs of crampons for the purposes of mountaineering have a step-in system. These crampons usually have 12 points.
Technical Mountaineering – The technical mountaineering gear is for the type of hiking and icy outdoor adventure where you encounter glacial areas and heavy snow, but some technical mountaineering gear is equally suitable for rock routes and mixed terrain with icy bodies of water and frozen falls. The manufacturer makes these crampons with stainless steel materials for product sturdiness, dependability, and longevity, and sport the fixed horizontal frontpoints along with a semi-rigid structure. These crampons have a horizontal, steel, fixed design, and feature ten points. This type of crampon might have a hybrid, step-in, or strap-on design. Typically, these crampons have 12 points.
Snow Walking Crampons – The ideal crampons for walking in snowy terrain often feature spring center bars and a flexible design. The crampons will strap onto your footwear, and the manufacturer creates the gear out of corrosion-resistant stainless steel or aluminum materials to ensure product durability. The crampons will likely feature between 8 and 10 points for digging into small cracks and crevices.
Material
As noted above, today's manufacturers create crampons with different materials, primarily steel, stainless steel, and aluminum. So what material will serve you best?
Aluminum materials are less expensive, so you are likely to note some savings in price tag when buying aluminum crampons, and if you are planning to climb alpines or engage in ski mountaineering activities, they can prove to be ideal.
Bear in mind that aluminum is not as durable or long-lasting steel and, as such, aluminum crampons will wear out fast in situations where steel is best, like when scaling rocky surfaces and rougher terrain. You will want to stay away from snowy locations or rock/snow/ mixed terrain with aluminum crampons.
Meanwhile, if the crampons you buy are made of steel, they suit the purposes of mountaineering safety, and they are very durable when used repeatedly on icy, steep terrain. Finally, stainless steel metal adds the added property of corrosion resistance to the crampons you buy and extend the longevity of your investment.
One extra note about the frame of crampons; typically, you will have frames that are horizontally oriented. These types of frames are the standard for crampons today and offer some flex in the frame when you are walking.
The aluminum or stainless steel material lays down flat so this allows your footing to be nearer to the ground surface than would say vertically positioned frames. The closer proximity to the ground, makes your walk far more secure and steady, and the natural repelling of snow happens with the inclusion of flat bars in the frames.
Semi-Rigid Versus Flexible
The most popular choice in terms of crampon structure or design is the semi-rigid styles. It is still possible to get rigid, hinged crampons, but these are no longer preferred. The semi-rigid crampons are best because they serve well in a variety of different weather conditions. Thus, you can use them with equal confidence, in snow, or on ice.
Some of the crampon models feature a special bar spanning between the heel and toe – this is an adjustable linking bar so you can get the best of both flexible and semi-rigid crampons. The lattermost types of crampons are suitable for the avid hiker.
If necessary, center bars with an asymmetrical design are available for you if you have a boot design that has a curve and requires a special fit. Spring steel, longer flex center bars are available as well, so you can ensure the proper fit for your boot style and size. The orientation of the center bar will reveal if you are dealing with a left or right crampon.
Number of Points
The points on crampons are just beneath the instep of your foot and will run along the shape of the foot gear you are wearing; the crampons are likely to features between 10 and 12 points, but an occasional pair are fitted with as many as 14 points. There are bails on the front of the crampons that you can move about to ensure you end up with the point extension you desire.
If you really climb in some dangerous terrain, you can sometimes get crampons featuring unique design features like serrated sides for additional gripping. The number of points defines what kind of terrain the crampons can really handle, more points means more grip and traction.
If you are investing in crampons for just basic mountaineering, the distance the front points stick out should be less than if you are getting a pair for technical maneuvers; where in such a case you need the frontpoints to be lengthier. A number of the crampon sets featuring step in options come with varying positioning of the front bails thereby allowing you to adjust them to your needs, whether you are climbing rocks or walking a path.
The points on crampons are forward facing and modular or non-modular. The modular points have replaceable teeth and adjustable features, so they make a great pair for mixed climbing endeavors involving rocks, icy areas, and snow-covered climbs.
The non-modular points shorten over the course of use, but they can be sharpened to expand their quality and utility. The benefit of the non-modular points is that they are made of one body, screw-less pieces so they require little maintenance.
There are three chief types of front points including the horizontal, monopoint, and vertical styles. For ice, snow, and alpine climbing, horizontal frontpoints are best. For mixed climbs and frozen waterfalls, the monopoints work well, but so do the vertical points.
Crampon Binding Selections
Crampons are made with bindings that help attach the units to your foot gear. You will want a pair that fit properly to the foot gear you own.
The three chief types of crampon bindings include:
Hybrid binding – This type of binding is often considered a mixed binding. The boots you wear need to have rigid soles and a groove in the heel for the heel lever. The hybrid binding also comes with a toe strap. They are relatively easy to wear and put on, even if you are wearing gloves at the time.
Step-in binding – A tension lever and heel cable attached to the heel of your boot in this binding option, while a wire bail goes to holding the toe area. Extremely simple to put on when wearing gloves, and provided they are sized properly, you get a secure fit. The boots you own have to have rigid soles and a welt measuring about 3/8 inch on both the heel and toe to fit properly. These crampons come with a strap to secure around the ankle as well.
Strap-on binding – This type of binding comes with straps made of nylon webbing; the setup works fantastically with all boots and shoes. This binding is good for moderate climbs and they are perfect for the person with more than one style of hiking/climbing boots. You do sacrifice a bit of security however as they can wiggle a bit with movement between the crampon and boot.
Wrap Up
Determining how you will use the crampons before you buy them is critical in making sure you get a pair that can handle the type of terrain you will be dealing with during your excursions. With uses in consideration, you can then begin to compare the quality of the types of crampons that will suit your specific needs.
You want durable, secure crampons to provide you with the maximum amount of safety. The crampons have to fit over the boots you plan to wear and need to secure in a way that the binding system defines. With all this in mind, you can go forward with finding a suitable pair of crampons so you can enjoy hiking, walking, and climbing, even on rocky terrain, with confidence.
What kind of crampons do you use? Where is your favorite place to go with them? Tell us that and more in the comments section below!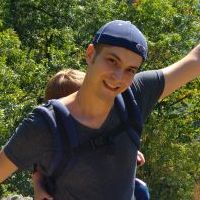 Daniel is a gear freak when it comes to hiking, climbing and camping. He went to REI Outdoor School to meet new people and learn best practices. Don't even try to argue with him about the latest backpack or ice axe, he tried most of them. Daniel's dream is to climb Mount Everest.