'Fun in the Sun' can turn into a very long, thirsty day and end with sunburned skin. If you enjoy the beach or the outdoors in cooler seasons, you'll love the convenience of a beach canopy.
Choosing the best beach canopy depends on where you're going, whether one of you is a space hog, and how long you will be out in the elements.
Some canopies are a little heavier than others or harder to set up, so if you or your companions love tangling with large nylon sheets or poles, your options are wide open!
When natural shade is out of reach, a portable shelter can make a huge difference between loving the experience or having a miserable time.
You can use them at all-day sports events, a beach or backyard party or create an outdoor dining area when you go camping, but there is no point in wrestling with one that takes 30 minutes to set up if you only need shade for an hour.
Also, if you know the canopy is heavy and you will regularly have to carry it for some distance, your enthusiasm for taking that weighty canopy along might decline drastically and you'll be better off carrying a small umbrella.
The best beach shelter will give you relief from the sun, wind and even rainy conditions. Beach tents should be easy to set up, light, and compact.
Top Products
Note: We get commissions for purchases made through links in this article
Texsport Sport/beach Shelter
Color: Brilliant Orange
Weight: 5.5 lbs.
Dimensions: 9′ x 6′ x 5.7′ high
Specific Features: The bright color makes it easy to spot your shelter after taking a walk on a packed beach! Set up is easy to figure out, with two shock-corded poles and a very practical pin and ring frame system that make it possible for one person to set it up fast.
Best Use: A day at the beach or outside event where you need good UV protection and shade. The Texsport shelter is very attractively priced, but if you expect breezy conditions, consider buying stronger stakes than the standard stakes provided.
Description: Texsport Sport/beach Shelteris made from heavy-duty (600mm) polyurethane coated taffeta with a silver coating on the inside for increased UV and heat protection. UPF 50+ protection is a boon, and the material is flame retardant to meet C.P.A.I.-84 specifications.
The canopy has three sides with cotton mesh netting windows, which offers good privacy and excellent ventilation. Three sand bags and a floor strap which reaches from side to side at the entrance provide stability on windy days.
The back slopes down sharply and prevents full use of the available surface, so it is recommended for four adults, with plenty of room towards the back for your gear, as headroom decreases towards the back of the canopy.
The TexSport canopy and all accessories are carried and stored in a 28" by 6" bag
Related: Texsport also makes the Hilo Hut II Outdoor Changing Room which is great if you spend a whole day outdoors and need to change clothes without resorting to huge, awkward towels and surreptitious wriggling.
Big Agnes Three Forks Shelter
Color: Yellow / Red
Weight: 7 lb. 11oz
Dimensions: 6' x 11' x 6.25' high
Specific Features: The unique webbing connection frame forms the canopy shape and greatly increases its structural stability.
You can purchase additional wall panels, which is recommended if you will be using the canopy as a camping accessory. The guy lines and corner webbing are highly visible due to a reflective finish.
Best Use: It's a great all-rounder which you can use at the beach, but as this canopy performs exceedingly well in rainy conditions, it is well worth considering it as a camping accessory.
Description: Setup is fast with three lightweight aluminum poles which you run through pole sleeves. The poles are set into the webbing pockets and bowed for sliding through the sleeves.
Big Agnes Three Forks Shelter is very stable when staked down, partly because of the dome-shaped top which provides less resistance to the wind, and ensures its superior performance in the rain as the water cannot pool on the top. All the seams are waterproof due to a solvent-free polyurethane tape.
There are two entry points and two open-sided walls for free ventilation, but the canopy comes standard with one loose wall panel, usually attached to the back, which you can move to any one of the four walls to cope with changes in the position of the sun.
If you intend using it in a camping environment or if you anticipate rainy conditions, it may be worth purchasing three more wall panels which will allow full closure of the canopy.
The domed shape has a slight draw-back; although the canopy has a 10×10 footprint, the useful space is slightly less than that, and it is comfortable for four people with gear.
The carry bag has room for the canopy top, poles, eight aluminum stakes and four sand bags
Related: If you love the Big Agnes quality but need a smaller canopy, you could try the Big Agnes Whetstone Shelter which has a floor area of 28sq ft. It's simple to set up but offers the same great protection against rain as its bigger brother.
Pahaque Wilderness Cottonwood LT 2012 Shade Shelter
Color: PahaQue Forest green color
Weight: 16 lbs.
Dimensions: 10′ x 10′ x 8′ high
Specific Features: Ingenious dome design for excellent headroom and a feeling of space. The side walls (not included in standard purchase) are easy to attach by clipping them into loops on the corners of the shelter
Best Use: Pahaque Wilderness Cottonwood LT 2012 Shade Shelter is a sturdy canopy made from quality materials and if properly staked, will withstand the wind, the sun, and light rain.
You can use it on a beach or at any outdoor event, but if you add one or more of the optional side walls, it can be a great addition to your camping equipment as an extra shelter area for various activities.
Description: The canopy roof is made from a strong polyester fiber and has a 1500mm waterproof coating, with durable mesh sleeves for the poles, made from light-weight aluminum.
It is spacious with a good eave clearance and plenty of headroom which provides a general feeling of spaciousness. Add a picnic table or some chairs and you have a portable dining room for camping! Recommended for four adults with gear.
It rolls into a very compact 10" x 30" and is easy to carry oversized heavy duty carry bag, with adjustable shoulder strap and individual bags for the poles and stakes.
Related: Add the optional sidewalls, or if you want to optimize shade, you could consider the PahaQue Cottonwood XLT with two additional awnings.
Kelty Shade Maker 2
Color: Grey / Orange
Weight: 9 lbs. 11 oz.
Dimensions: 10' x 10' x 7' high
Specific Features: The unusual asymmetrical shape gives this beach canopy an excellent resistance to wind, and the dome-like shelter provides extra head clearance and good protection in rainy conditions.
Color coded poles and straps make construction easy, and the poles are clipped onto the sleeves – much easier than threading the poles through sleeves, and it makes the take-down very fast indeed.
Best Use: This Kelty Shade Maker 2 is roomy and offers excellent protection from sun and rain. A good all-rounder for the beach or additional shelter when camping use.
Description: It is constructed from a rip-stop polyester with UV protection, and the seams are taped to prevent leaking in wet conditions. Strong and light aluminum shock corded poles are permanently attached to the rotating center fixture which allows you to raise the canopy fast.
The front opening has a good clearance, so be sure to position the lower wall with the correct orientation to the sun or wind to make sure you are protected the whole day. It provides comfortable shelter for four adults with gear.
Related: Although you cannot purchase loose walls for this canopy, it is a snap to improvise walls with a tarp. The Kelty Noah's Tarp Shelter is handy to keep around for this, or other shelter requirements.
Lightspeed Outdoors Quick Beach Canopy Tent
Color: Blue
Weight: 7 lbs.
Dimensions: 8′ x 8′ x 5' high
Specific Features: The bottom-pull hub system with pre-threaded, integrated poles allows for instant set up and tear down. The asymmetrical pole set-up of this canopy tent enables it to withstand stronger gusts of wind. The built-in floor is a boon if you are trying to keep loose sand at bay.
Best Use: Best for easy come, easy go days at the beach due to the fast set up system, but as there is no provision for extra wall sheets, Lightspeed Outdoors Quick Beach Canopy Tent can only be recommended for sunny conditions and light breezes.
If you have a large party, the closed back/open sides construction makes it ideal to group several of these canopies in a row for free communication.
Description: The wind-shedding design is constructed from 190T breathable polyester; light but durable, and offers UPF 50+ sun protection. The water resistant 450mm PU coating gives it an umbrella rating for wet conditions.
The floor is made of 110g PE which adds to the overall stability of the structure. The pole frames are made from a light, hard plastic which makes the tent lightweight and easy for one person to set up.
The canopy is open on three sides for excellent ventilation, with a mesh window on the back wall to provide 270-degree views. It offers excellent protection from the sun for 3 to 4 adults with gear, depending on the position of the sun, and will remain stable in windy conditions.
The oversized carry bag has a sturdy shoulder strap to manage the four sand pockets, guy lines, canopy top and stakes.
Related: If you prefer more privacy, you can also consider the Lightspeed Outdoors XL Sports Shelter, which has mesh windows on three sides.
Quik Shade Expedition EX100 10'x10′ Instant Canopy
Color: Black
Weight: Top only: 10.2 lbs.
Dimensions: 10' x 10' x 9.3' height
Specific Features: The one-piece steel frame is powder-coated for long-lasting durability. Push/pull latch sliders and push-pin leg extenders let you adjust the height, up to a peak height of 9 ft. 3 in.
Best Use: Quik Shade Expedition EX100 10'x10′ Instant Canopy is large and very adjustable, but quite heavy and bulky. The high eave clearance (6 ft. 6 in.) is a boon for tall people, and the overall height (9 ft. 3 in.) provides extra ventilation in hot weather.
However, it won't offer much protection in rain or windy conditions. It is ideal for backyard parties or a mild day at the beach and the large footprint makes it convenient for setting up a shelter for an outdoor market stall or event.
Description: The canopy top is made of 150D polyester fabric and provides 64 square feet of shade for 8 or more standing people or 4 seated adults with their gear.
Although there are no side walls, the high, open cathedral-type ceiling allows for a lot of headroom and a large activity area. The Aluminex-backed top provides outstanding UV protection and a cool interior. The material is water resistant but not waterproof.
The Quik Shade Expedition Canopy is very quick to assemble as it is simply a square, straight-leg structure. The patented Quik-Latch sliders are operated with a push/pull method and the push-pin leg extenders ensure a secure and perfect height adjustment. Pin the structure with a stake at each corner, using the holes drilled into the legs for this purpose.
A durable 300D polyester carry bag holds the frame, top, and four steel ground stakes.
Related: If you need just a little more floor space under the canopy, you could look at the slant leg version which will allow you to put more furniture under the canopy top. Look at the Quik Shade EX64 Slant Leg Instant Canopy
Kany Instant Quick Cabana Beach Tent
Color: Blue
Weight: 2.2 lbs.
Dimensions: 5.41' x 4.9' x 43.5' high
Specific Features: This Kany Instant Quick Cabana Beach Tent is an excellent example of the versatility of a pop-up design. No assembly is needed, and it can be set up or taken down in seconds. The durable 190T flame retardant nylon conforms to CPAI-84 standards and has a UPF 50+ rating.
Best Use: The sun protection and ease of use make it ideal for a day at the beach or outdoors event for families with small kids.
The easy setup combined with a low weight and compact carry case won't add an extra burden to the normal large load of necessities when you take a young family outdoors for the day, and this canopy comes at a price that would be hard to beat.
Description: The all-in-one structure has a wide entrance, two closed sides, and a large mesh window at the back end for ventilation with privacy.
The stitching is even and sturdy, and there are sandbag pockets on both sides to help weigh it down. The dome slopes to the back end of the canopy which decreases the usable space slightly.
The built-in floor extends out in front and outside of the canopy, which is handy if you have a lot of gear. Recommended for mom & dad and few young ones, and the price makes it a very good deal.
The full-size carry bag has a long carry strap and comfortably accommodates six metal ground stakes and the integrated pole.
Related: If you just need a very lightweight tarp and don't mind setting up guy ropes, you could also consider Kany's Lightweight Water Resistant Sun Shelter.
Features You Should Look for in The Best Beach Tent
When it comes to beating the heat and sun, you have to invest some time into finding the right beach canopy for you.
You may think it's as simple as picking up the one with the most coverage, but there are actually a lot of features that you need to consider.
UV protection: Good shade does not guarantee sun safety, and it's wise to wear sun protection even if you spend most of your time in the beach shelter.
Protection from the environment: determined by the material and coating. If you expect to use the canopy only on the beach in sunny conditions, a canopy with an 'umbrella' rating is fine. If you need a multi-use canopy that you can take along whenever you hit the road into the unknown, look for a waterproof canopy.
Lightweight: It should be light, even if you won't usually have to hike long distances before you use it. Thicker poles mean extra weight, and while careful use will preserve the condition of your lightweight canopy poles, if you intend to use the canopy frequently in unpredictable weather and in different situations, do consider the trade-off.
Easy to set up: Although a single person can configure most canopies, you must account for the hassle factor. It can be sweaty work to tussle with a canopy single-handedly, and if you need thirty minutes to set it up for a 90-minute event, it is probably not worth the bother.
Headroom: It's fine to duck down slightly as you enter a canopy, but you expect full clearance once you are in the shade.
Floor space: A domed shape can decrease the amount of useful standing and sitting room, although you can compensate by stuffing gear into the corners where you have less headroom.
Durability: Beach canopies are designed to be lightweight, and careless treatment or incorrect usage can bend the poles. If you prefer sturdier poles, you will need to sacrifice some portability by purchasing a product that is much heavier than the norm.
Ease of Setup
There are three main types of beach shelters, and each offers different advantages.
You can choose between a traditional pole tent, continual pole popup, and hybrid versions.
Traditional pole canopy: Like many tents, this type of beach canopy comes with corded poles which you must assemble before slotting them through guide attachments on the body of the canopy. These poles provide the necessary rigid structure to your shelter. This is a good solution when there is more than one person available for setting up.
Continual pole popup: the canopy is twisted and folded into a particular shape for a super-compact storage format, and springs open when you set it up. This is a great solution for smaller individuals and people who must set up the canopy without any help.
Hybrid versions: Hybrids combine the two designs. Although they look like traditional pole style tents, they are easier to assemble by just pulling a string to activate its telescoping poles. The canopy will then pop up by itself.
Coping with Windy Conditions
A quick online search will reveal that people complain about canopies getting swept away by strong winds.
Well, a beach canopy is really a huge, ultra-light umbrella and it is the nature of umbrellas to take off in a sudden gust of wind.
Remember to stake it down properly even if there is no wind when you set it up. A sudden gust of wind while you are off testing the waves can blow the canopy away and damage the poles.
Avoid taking an involuntary parachute trip! Two people are better than one to set up a beach canopy in very windy conditions; first, secure the canopy by staking down the front portion (entrance) before you fully open the top, to prevent it from flapping off into the distance.
It only takes a few minutes to stake and weigh it down properly. Use the stakes provided (or purchase an extra set of augers) to anchor the stake loops, set up the guy lines properly, and fill the pouches with sand.
Now that you're aware of some of the features to keep an eye out for, here are some of the top rated products on the market for your consideration.
Final Words
We've listed 7 great beach tents to cater for every budget and need, and hope you will find it useful when you start shopping around for yours. If you choose the best beach canopy for your needs, it will provide protection from the elements, and can turn a nice day into an awesome experience.
Add privacy with extra side walls, pick mesh windows for good air circulation, make life cleaner and easier with a built-in floor, and add to your storage and activity areas when you go camping.
There are many more uses for beach shelters; let us know what you use yours for in the comments below!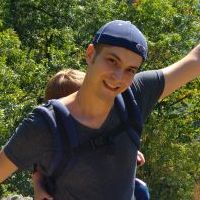 Daniel is a gear freak when it comes to hiking, climbing and camping. He went to REI Outdoor School to meet new people and learn best practices. Don't even try to argue with him about the latest backpack or ice axe, he tried most of them. Daniel's dream is to climb Mount Everest.