After a long day of hiking through rugged hills, winding trails, and thick underbrush, it's a relief to have a comfortable seat to relax in to rest your weary body. That's where a sturdy, lightweight backpacking chair comes in handy.
These chairs come in a variety of shapes and sizes, so it can be a bit confusing when trying to decide which one is the best backpacking chair for your personal needs.
To make it easier for you, we've compiled a list of some of the best products in the market and what features you should be considering when looking for a backpacking chair that is not only comfortable, but easy to carry around.
Note: We get commissions for purchases made through links in this article
Best Products on Today's Market
Now that you're aware of what you should be keeping an eye out for, here are some of the top rated products in the market for your perusal. Some of these you may not have heard of before, while others you may be familiar with. In either case, we hope this review section opens your eyes to the possibilities that are out there.
Crazy Creek Hexalite 2.0 Powerlounger
Weight: 29.8 oz
Specific features: 8mm high-density cored EVA closed-cell foam, 210D coated ripstop nylon outer shell, 70D coated custom ripstop nylon inner surface, carbon-fiber stays
Best use: Backpacking, camping, lawn concerts, beach
The Crazy Creek HexaLite 2.0 PowerLounger rolls up to a compact 5.5 inch diameter, small enough to fit nicely into a large backpack or you can strap it onto a smaller one for easy carrying.
The high-density foam gives you more insulation when on the cold ground, and the water-resistant nylon surface keeps you dry all day and night. The stays are almost indestructible, and the reinforced wing connection will keep your chair upright with great back support.
This chair can hold anyone up to 250 pounds comfortably, though the width is a bit tight for anyone who is a bit larger. There is a bottom flap that unfolds for the perfect lounger when relaxing with friends, and the back drops down when it's time to hit the sack. And when you're ready to move on, roll it up tight and secure it with the handy strap. This chair comes in blue and black.
PROS:
Very versatile
Extremely stable
Lightweight
Easy to pack away
CONS:
Not suitable for larger customers
Could be cushier
Related: If you want just a little more support for your back while using this chair, you could consider adding the Therm-A-Rest Compressible Pillow to your list. It comes in a wide variety of colors to match your style, and the foam can be compressed to a small size so it can more easily fit in your backpack. The texture of the fabric used on the exterior is also extremely soft to the touch, so you can lean back in comfort and enjoy your camping trip in style.
Crazy Creek Hex 2.0 Original Chair
Weight: 21.9 oz
Specific features: 8mm high-density cored EVA closed-cell foam, 210D coated ripstop nylon outer shell, 70D coated ripstop nylon inner surface, carbon fiber stays
Best use: Backpacking, camping, playing video games, beach
The Crazy Creek Hex 2.0 Original Chair will keep your nether regions dry when sitting on the damp ground after a long day of hiking.
Its foam core is insulated for added warmth, and gives you a comfortable seat to relax on with the back support you need to continue with your journey. The nylon webbing is extremely durable, as is the reinforced wing connections.
It sets up easily with each use, thanks to the handy lettering on the straps that keep the guesswork to a minimum. The surface not only keeps the water out, but is also sealed to keep out any dirt or sand, and can be easily wiped clean.
This model is Crazy Creek's most compact chair, rolling up to a tiny 4 inches in diameter. Secure it with the roll-up straps, and tuck it in your pack, or use the added loop to hang it from an outside strap. This chair comes in four colors, so you will able to find the right one for your particular style.
PROS:
Packs away easily
Lightweight
Versatile
Very compact
CONS:
Too small for larger users
Could be cushier
Related: In addition to packing away your chair, it helps to have a bag large enough to carry the rest of your gear as well. The Blitmore Camp Soft Trunk could be exactly what you're looking for, as it can hold up to 306 liters. The water-resistant polyester will also keep your gear dry, so you won't have to worry about wet clothes when you get to your site.
Therm-A-Rest Lite Seat
Weight: 3 oz
Specific features: Urethane foam, 30D rip polyester top fabric (on pumpkin model), 50D mini hex rip polyester (on poppy model)
Best use: Backpacking, plane or bus trips, camping, stadium events
The Therm-a-Rest Lite Seat rolls up to a compact size that can be easily carried in a pack or even a handbag when traveling in the outdoors or even by plane. When you're ready to sit, simply turn the nozzle to inflate it to the proper firmness.
Because it is only a cushion, there is no setup needed, but it also does not offer any type of back support, so is best used with other chairs for an extra bit of comfort.
There have been a few issues with this seat leaking near the valve assembly, but those who experienced this problem have had great experiences with Therm-a-Rest's excellent customer service.
This seat comes in either pumpkin or poppy, and both are rather bright when walking through an airport, but perfect for locating in a shadowy area or a nighttime campsite.
PROS:
Light
Very easy to set up
Compacts to a small size
CONS:
No back support
Care must be taken not to pop the product
Related: When you need back support the most, the Therm-A-Rest Lumbar Pillow will be there to help you out. This polyester pillow will breathe against your skin, so no sweat marks, and it's self-inflating to save you having to do any more work just to get comfortable. The dice-cut foam promises to stay in place and won't lose its shape over time, guaranteeing that you're always comfortable with each use.
Coleman Stadium Seat
Weight: 20 oz
Specific features: Water-resistant vinyl on back and bottom, mesh seatback pocket
Best use: Backpacking, camping, sporting events, concerts
At just over a pound in weight, the Coleman Stadium Seat is a handy and lightweight seat to take with you on long backpacking trips, as well as countless other events on your calendar.
The water-resistant material keeps you dry no matter where you sit, and the convenient mesh pocket lets you empty your pockets for extra comfort when seated. The backrest offers a bit of support, though it is not solid, and will bend further with heavier people.
The side straps are adjustable, and can be left open and laid flat to create a longer pad for a two-person seating option.
When ready to move on, this seat rolls up easily. There is even a handy storage pouch that includes a handle, making it even more convenient to carry on any trip.
PROS:
Versatile
Comfortable
Easy portability
CONS:
Not as cushioned as expected
Initially a bit hard to sit on
Related: Having a little more cushioning for your rear never hurts, so consider adding the NEP Outdoors Therm Cushion to your purchase. It comes in a wide variety of colors, won't absorb any moisture, and won't get hard over time so it's always soft against your bum. And the easy handle on top makes it very easy to carry around.
Therm-A-Rest Quadra Chair
Weight: 46.49 oz
Specific features: Reinforced 600D polyester sling, composite base with non-skid feet, 7000-series aluminum poles, mesh side pocket
Best use: Backpacking, camping
Though a bit heavier than some other backpacking chairs, the Therm-a-Rest Quadra Chair more than makes up for it in comfort. The large seat can fit those of any size easily, and is made of durable material that will last through numerous trips without fail.
With a bit of recline in the seat, you can sit back and relax after a long day of hiking. The mesh pocket is large enough to hold a book, a phone, keys, or even a much needed beverage.
The chair include four legs for the base, four poles to attach the base and seat, and the seat itself. It is simple to put together in only a couple of minutes. The skid-free base your chair in place with you safely in it, and also turn into a handy storage case that is sturdy and convenient, with integrated closure and carry handles.
PROS:
Well-built and sturdy
Light
Compact
Easy assembly
CONS:
Does not do well on soft surfaces, such as sand
Related: Therm-a-Rest also has another model similar to this, the Therm-A-Rest Treo. Though it is the same size and is made of similar materials, it only has a capacity of 250 lbs, so it may not be suitable for those of all sizes. It also only has a tripod base, which is sturdy, though may not offer the stability of the Quadro's four legged base.
Therm-A-Rest Trekker Chair
Weight: 20 inch chair is 9.5 oz; 25 inch chair is 13 oz (chair alone, without self-inflating mattress)
Specific features: Nylon material for body, sewn-in composite stays
Best use: Backpacking, camping, music festivals
The Therm-A-Rest Trekker Chair can easily be turned into a comfortable chair with the addition of any Therm-a-Rest mattress of the same width, including their new NeoAir mattresses.
The adjustable side straps keep you upright, though the more weight on the back, the more it will curve inward, so keep in mind that this chair is not made for reclining.
It comes in two sizes, is easy to put together with the mattress, and is just as simple to take apart again when it's time to hit the sack or pack up and move on. Though it fits multiple mattresses, none are included with the chair sleeve, so be sure to find the proper mattress to fit before beginning your backpacking journey.
The sleeve itself is rust colored and folds small enough to tuck into your pack, without adding too much additional weight.
PROS:
Comfortable
Very lightweight
Adjustable
CONS:
Can be annoying to set up
Have to disassemble to use the sleeping pad for slumber
Related: The Therm-A-Rest Compact Chair Sleeve is a bit lighter than this one, but only comes in the 20 inches width, which means it can only fit that size of mattress. Those who have a wider frame may find the Compact model a bit tight of a fit, and may not want to compromise their comfort for those few less ounces.
Alite Designs Monarch Chair
Weight: 20.8 oz
Specific features: 210D ripstop nylon fabric, 7000 aluminum legs
Best use: Backpacking, camping, picnics
The Alite Designs Monarch Chair uses their tent-pole seating, and is the lightest chair the company produces. The legs are color coded for simple assembly, and allow you to balance yourself easily while still having the ability to lean forward or back.
It even sits firmly on uneven terrain, so there is little fear of toppling over. The nylon chair is breathable, keeping you at the perfect temperature, and is durable enough to last for years with minimal damage.
If there ever was an issue with your chair, Alite also has excellent customer service, which will replace any damaged part regardless of the cause of the damage. When packing up, this chair folds into a compact size, and fits into the handy carry sack that can be attached to your pack or tucked inside it, as needed.
PROS:
Compact
Comfortable
Very lightweight
Durable
CONS:
Not freestanding; requires effort to keep upright
Related: Staying hydrated is very important when you're out camping, as you don't have a readily available source of drinking water. But bringing a hard bottle of water can end up being too bulky. That's why the Platypus Platy Bottle could be the solution to all your problems. It's lightweight, and can be rolled up easily to fit in your backpack. It's also BPA-free, so there's no leeching into your water to affect the taste.
Things to Consider Before Buying
To ensure that you're getting a bang for every buck, you should be aware that not all backpacking chairs are built the same. In fact, what you may be looking at may not be a backpacking chair at all! It's easy to be confused by many of the chairs you find in an outdoor sporting goods store, but we're here to put those confusions to rest.
Knowing your Chair
A backpacking chair should not be confused with portable-style and traditional style camping chairs. They may all serve the same purpose, but they do so with very different mindsets and construction.
Backpacking chairs: Designed with light weight in mind while sacrificing comfort. They're also easier to pack away in a backpack, leaving your hands free to carry other, more important equipment.
Portable-style camping chairs: Although these chairs are lightweight and portable, they are much lower to the ground when it comes to the legs of these chairs. They're a little less comfortable than the traditional models, but do well if you have limited space in your backpack and at your campsite.
Traditional style camping chairs: These are the most comforting as they provide excellent back support, and have longer legs that save you from having to stoop so low. They're typically one piece that folds up and have cupholders, but they do not easily fit in a backpack. Instead, many of them have their own stuff sack that they can be carried and stored in.
Seeing the products explained above, however, many would question why you'd even want to choose a backpacking chair over any other kind of camping chair. Well, there are several benefits for investing in this kind of chair:
Easy to assemble and disassemble
Lightweight and easy to transport
Keep you dry when sitting on damp ground
Versatile enough to be used for multiple purposes, such as backpacking, hiking, camping, sporting events, picnics, music festivals, and many more
Come in a variety of styles, including padded seats, seats with backrests, full chairs with legs, and loungers
Some provide insulation when sitting on the cold ground, keeping your temperature at a comfortable level
Some models can also double as a sleeping mat
Can be quite affordable, especially since the good ones are made of durable materials that won't be damaged easily, and can last for years
Backpacking chairs are made to be as minimal as possible so that you can maximize on the gear you can carry in your backpack. If you can keep this in mind, then you'll have an easier time of differentiating the chairs you find on the market.
Versatility
Do you want a chair that you can only use during camping or one that can be taken to various venues, such as the beach and the park? The versatility of a backpacking chair means you'll be getting more for your money, as you'll be able to use your chair more often. As this is also a matter of preference, it is really up to you, but you'd be better off finding a seat you can take everywhere.
Comfort
When determining comfort, you mostly have to look at the material that the chair is made from and the dimensions of the seat. A majority of backpacking chairs are made to be inflatable in order to provide cushioning for your derriere, while others use a layer of foam to get the job done. Which you choose is all dependent on whether you want to spend the time inflating the seat of your chair.
Dimensions are also important, as the larger and taller seats tended to be more comfortable, as there was more surface area to sit on. Again, larger and taller seats will be just a little bit bulkier when you're packing it away.
Stability
The last thing you want to do after a day of hiking is to do more work just to take a break. Look for a chair that doesn't require a lot of balance to keep upright. Look for the more stable chairs if you have a history of back problems or know you'll be too tired to maintain its position on your own.
Keep in mind that if you get a versatile chair that can also be taken to the beach, you'll have a harder time of keeping it upright, so you may still have to dig the legs in just to make your chair work for you.
Weight
The point of going camping is to focus on light weight and compact gear, and that's why you should focus on the chairs that aren't burdensome to pack away or carry. You'll be able to keep your hands free, and you can even sneak your comfy chair into sporting events so that you can actually enjoy the game instead of having to sit on those uncomfortable bleachers.
Setup
You've spent all evening putting your tent together, getting a campfire going, and have your dinner cooking. Do you want to have to set up your favourite seat as well? You want a chair that is easy to pull out of your backpack and is already rearing to go. Many of the popular ones in the market only take a few minutes to set up, and it's because of this convenience that makes them big hits for customers.
Now that we've discussed the various features you should look out for, and the great benefits a camping chair can bring to your hiking experience, it's time to look at what customers are considering to be the best products in the market.
Overview
Now that we've shown you what's out there in the market, do you feel any better about making your purchase? When heading out on your backpacking trip, no matter the length or the type of terrain, comfort is the most important thing. This doesn't just mean having a soft chair to sit and relax in after your day of hiking is done, it also includes the comfort you feel throughout the day.
This is why choosing the right backpacking chair – one that is lightweight, as well as padded for luxurious seating – is important to keep you going throughout the hike.
Of course, there are numerous other backpacking chairs available for those in need, so if there are any that we missed, or one you feel should have been included in our list, please feel free to let us know why your chosen chair is the best in the comments section below.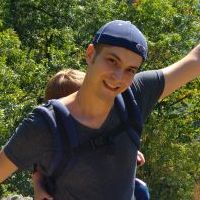 Daniel is a gear freak when it comes to hiking, climbing and camping. He went to REI Outdoor School to meet new people and learn best practices. Don't even try to argue with him about the latest backpack or ice axe, he tried most of them. Daniel's dream is to climb Mount Everest.