When you're camping you have to bring along lots of stuff so that the trip will not only be enjoyable but comfortable too. Aside from tents, food supplies, water and extra clothing, you also need to lug around a sleeping bag so that you get a good night's sleep when you're outdoors.
If you want a sleeping bag that won't add much to your packing weight, it's in your best interest to get the best ultralight sleeping bag.
However, how does one shop for an ultralight sleeping bag? With the number of products and brands out there, it's easy to become overwhelmed.
Lucky for you, we have prepared a guide on determining the best features for an ultralight sleeping bag. While we're at it, we have thrown a number of recommended bags that you can check out.
Note: We get commissions for purchases made through links in this article
| Brand | Temperature rating | Season type | Waterproof or water resistant | Fill power | Price |
| --- | --- | --- | --- | --- | --- |
| Nemo Tangotm Solo Down Comforter | 30 ºF / -1 ºC | 3 season | Waterproof | 700 fill power | Check price on Amazon |
| Mountain Hardwear Mountain Speed 32 | 32 ºF / 0 ºC | 3 season | Water resistant | 850 fill power | Check price on Amazon |
| Western Mountaineering Summerlite Sleeping Bag | 32 ºF / 0 ºC | 3 season | Water resistant | 850+ fill power | Check price on Amazon |
| Big Agnes Pitchpine Sleeping Bag | 45 ºF / 7 ºC | 3 season | Water resistant | 850+ fill power | Check price on Amazon |
| Mountain Hardwear Hyperlamina Spark 35F Sleeping Bag | 35 ºF / 1.7 ºC | 3 season | Water resistant | Synthetic filled | Check price on Amazon |
| Nemo Nocturne Sleeping Bag | 30 ºF / 1 ºC | 3 season | Waterproof | 700 fill power | Check price on Amazon |
| Sierra Designs Dridown Backcountry Bed | 32 ºF / 0 ºC | 3 season | Waterproof | 800 fill power | Check price on Amazon |
Best Products on Today's Market
Now that we know the different types of sleeping bags, their features and how to pick a bag, consider these sleeping bags for your next adventure.
Nemo Tango Solo Down Comforter
Weight: 2.32 lbs
Temperature rating: 30 ºF / -1 ºC
Specific features: Waterproof, with hood, lightweight and roomy
Best use: For winter and wet climate conditions
Description: The Nemo Tango Solo Down Comforter features a hood and foot sleeve which helps to secure the comforter to the pad to keep you warm and warm to temperatures up to 30 ºF or -1 ºC. It's be coined to be more like a bed than a sleeping bag which says a lot about the comfort and quality of this sleeping bag.
The secret to this is the 700-fill-power down that helps trap heat for better retention. This sleeping bag also has stretch stitching so that the bag retains its shape no matter how you move without losing any heat. The Nemo Tango is rectangular in shape and only weighs around 2 pounds. You'll be able to have full mobility so that you don't feel like you're a mummy in a tomb. In addition, according to users, this sleeping bag is best used for spring, summer and early fall weather despite its temperature ratings.
PROS:
Comfortable
Good for tall people
Lightweight
Related: If you're looking for something to store your sleeping bag, you should consider the Granite Gear AirZipsack Ultralight Zippered Pouch. It's a see-thru-silNylon fabric pouch with zippered access to your belongings. Easy to carry, lightweight – a great bag.
Mountain Hardwear Mountain Speed 32 Sleeping Bag
Weight: 1 lb
Temperature rating: 32 ºF / 0 ºC
Specific features: Down insulated water resistant fabric, lightweight and compact
Best use: Harsh weather conditions – including wet climates
Description: Designed for camping above the snowline; the Mountain Hardware Mountain Speed 32 Sleeping Bag lives up to expectations for many users. Backpackers, campers and mountaineers will love this sleeping bag because it is lightweight and can be packed to a small size. The Q Shield™ 850 fill down helps prevent heat robbing.
The 5-chamber hood helps prevent heat loss around the head. This sleeping bag also features a draft tube to prevent heat loss through the zipper. The zipper is a half-length #3 zipper which allows you easy entry and exit from your sleeping bag. It also features a comfort foot box so the natural foot position can be accommodated for extra comfort.
This sleeping bag from Mountain Hardware looks cool especially for a mummy shaped bag but it is expensive with many users have complaints regarding the zipper which broke frequently. In addition, if you need more space while sleeping, you may find this sleeping bag to be too snug and tight for your body.
PROS:
Minimalist design
Soft interior fabric
Good compressibility
CONS:
Down won't insulate when wet
Limited venting options
Related: You may be interested in moving away from the traditional tent and go for a hammock instead. Emerald Mountain Outfitters have an EMO Camping Hammock which is made of lightweight ripstop parachute material and comes with everything you need to set it up. It's easy to use and extremely lightweight.
Western Mountaineering SummerLite 32 Sleeping Bag
Weight: 1.3 lbs
Temperature rating: 32 ºF / 0 ºC
Specific features: 850+ fill power from high quality goose down
Best use: 3 seasons sleeping bag, backpacking and camping.
Description: The Western Mountaineering SummerLite 32 Sleeping Bag is one of the best ultralight sleeping bags because it has everything: a warm hood, full-length zipper, draft tubes and is perfect for 3-season backpacking. If you're concerned about the weight of your bag, then we suggest a sleeping bag like this – you won't even notice it's in your backpack.
This model is long enough to accommodate people up to 6 ft tall and side sleepers will love the extra wiggle room which many sleeping bags don't offer. If you're worried about it being lightweight, don't think that it won't be able to keep you warm. It's insulated draft tube protects you from the cold air that could seep through the zipper's teeth.
It is a bit light for a hooded mummy sleeping bag but at 19 oz, this bag is best for camping but not for extended backpacking. Another downside is the expense since the bag is a bit expensive.
PROS:
Durable
Comfortable
High quality
CONS:
Can be expensive
Down can shift
Related: The Western Mountaineering UltraLite Sleeping Bag is another great option from this company. It's made of 850+ fill power down, so you'll be kept cosy and warm during the chilly nights. The soft taffeta lining soothes your tired skin.
Big Agnes Pitchpine UL 45 Sleeping Bag
Weight: 1 lb
Temperature rating: 45 ºF / 7 ºC
Specific features: Built-in pillow pocket, recycled mesh storage sack
Best use: Spring or summer seasons, no ideal for cold weather
Description: Ideal for spring or summer use, the Big Agnes Pitchpine UL 45 Sleeping Bag is made with 850-fill down. This bag has a generous girth, making it perfect for side sleepers and tossers. If you add a liner, you can turn this sleeping bag into a 3-season sack. With 850 fill down power, it has excellent warmth-to-weight ratio.
It is also good to note that the Pitchpine was not designed with cold weather in mind, rather manufacturers wanted users to have roomy comfort for roomy backpacking.
There are some things we don't like about this sleeping bag. First, it can only accommodate people below 5 ft 10 in. Taller people need to buy the long version that can sleep people up to 6 ft 6 in. Secondly, it is expensive for a 850-down sleeping bag that can only be used for 2 seasons. At 20.5 ounces it is also a bit heavy.
PROS:
Provides complete enclosure
High fill power down
Lightweight
CONS:
No hood
Not the lightest available
Related: If you suffer for back issues but also love camping, you need extra support for your back. The Klymit Static V Lightweight Sleeping Pad is an inflatable pad and relieves the pressure off of your back when you're camping. It's easy to use and extremely lightweight.
Mountain Hardwear HyperLamina Spark 35 Sleeping Bag
Weight: 1.2 lbs
Temperature rating: 35 ºF / 1.7 ºC
Specific features: Thermal Q installation, Lamina construction for loft and cold spot elimination
Best use: 3 season use – summer, spring, fall; backpacking, camping
Description: The Mountain Hardwear HyperLamina Spark 35 Sleeping Bag makes it to our list because it is constructed not only to be light but also to be very warm for a synthetic-filled bag. The HyperLamina Spark is built for 3-season camping and backpacking thanks to its Thermal Q insulation. The secret is in the fibers are long and circular in shape while shorter fibers fill up the spaces in between. The welded Lamina construction also enhances the loft while eliminating cold spots.
Another cool feature of the Spark is the 2-way center zip which makes it easy for the user to do simple camp chores without going outside of the bag. Zip the bottom of your sleeping bag during cold weather so you can hop around camp in your T-Rex arms. This bag has a small number of seams inside so its interior feels like silk against your skin. It may be too snug in fit, however, you it depends on the person.
PROS:
Versatile
Packs small
Lightweight
CONS:
Yellow color may turn some people off
Related: The cold nights outdoors can really do a number on your body. With the Therm-a-rest Z lit Sol Mattress, it provides you with radiant heat, making your nights warm. It's extremely durable and highly compressible.
Nemo Nocturne Sleeping Bag
Weight: 2.13 lbs
Temperature rating: 30 ºF / 1 ºC
Specific features: Box quilted to help trap heat; spoon shaped providing additional comfort and weight savings, dual fill power for heat retention
Best use: Backpacking, camping, 3 season use
Description: Most lightweight sleeping bags feel like you're sleeping in skinny jeans. But the Nemo Nocturne Sleeping Bag is not like any other sleeping bag in the market. First of all, it is spoon-shaped designed to fit the different contours of the human body. It is 15 ounces so it is light enough for extended backpacking trips. It also features a 700-fill DownTek and has a 30-degree rating.
The inner shell is made of nylon so it feels like slipping on silk pajamas. Many people toss and turn when they sleep and this bag will enable you to do so without difficulty. It also features an oversized hood so your head won't feel constricted when you zip it up.
Because the Nocturne is roomy, this means it is also bulky. The bag does have some extra volume but many users find that the comfort is worth it after a long day hiking and backpacking.
PROS:
Packs down to size
Good for side sleepers
Related: If you're camping, you'll want to keep your sleeping bag packed tightly away. The Sea to Summit eVent Compression Dry Sack pushes air out to compress the sleeping bag. It's waterproof, so you don't have to worry about water damaging your sleeping bag.
Sierra Designs DriDown Backcountry Bed
Weight: 2.03 lbs
Temperature rating: 32 ºF / 0 ºC
Specific features: 800-fill duck down, integrated comforter for extra warmth when needed, insulated arm and hand pockets, catenary shaped opening to keep drafts out
Best use: short backpacking or camping trips
Description: Sierra Designs made Sierra Designs DriDown Backcountry Bed in response to the deficiencies of a normal sleeping bag. This makes it to the list of best ultralight sleeping bags because this bag was designed so that the user sleeps as he or she does at home: with a comforter.
The oversized comforter is not just for comfort, though. It also functions as a heat sealer so that heat does not leave when you open the bag. This bag is best used during mild to cool night-time temp for camping and backpacking. Because of its design, tossers and side sleepers will be able to sleep comfortably in this sleeping bag. However, this bag is a bit heavy and does not compress very well. It is not suitable for extended or backpacking trips.
If you like comfort over weight or want to a versatile bag that you can easily adjust according to temperature then this sleeping bag is for you.
PROS:
Versatile
Good amount of room
Comfortable
CONS:
Not as warm as many people would like
Related: Campers always complain about their necks when camping. Many sleep without a pillow and the next morning, they can really feel it. Sierra Designs DriDown Pillows are synthetic pillows combined with down to give you proper support and durability. A great option if you need neck support.
Consideration When Buying
When shopping, here are the features that you should take into account to make sure that you end up with a bag that best fits your needs.
Season Ratings
The best lightweight sleeping bag to bring along with you should be able to keep you warm and comfortable no matter the weather. In most cases, sleeping bags are classified by seasons. Generally speaking, a season 1 rating is for the summer, season 2 for summer and spring, season 3 sleeping bags are for summer, spring and fall while a season 4 rating is good for year-round use.
Rating should only be used as a guide only when choosing the best ultralight sleeping bags to take along with you. This is because temperatures differ from country to country. For example, winter in Australia is not as cold as winter in the United States.
There are also adventurers who camp and backpack in extreme weather conditions. In this case, their sleeping bag needs to have an extreme rating for survival purposes. These kinds of sleeping bags are able to insulate users to temperatures up to -28 ºC without frostbite or hypothermia.
Insulation
The best ultralight sleeping bags for you should have good insulation to keep you warm and comfortable. Sleeping bags today usually have synthetic, down or a combination of both for insulation.
Synthetic sleeping bags usually have polyfibers while down lining is composed of duck and geese feathers. Synthetic insulation is usually more common because these types of bags are generally cheaper. Another advantage to owning this kind of sleeping bag is the low maintenance since these bags are easier to launder and dry than down sleeping bags. However, synthetic lining does not retain heat well compared to down lining and are usually bulkier and heavier.
Down sleeping bags are lightweight, are lofty and are more expensive than synthetic bags. However, they are more efficient in trapping heat and compress better so they are less bulky when packed. The warmth-to-weight ratio of a down sleeping bag cannot be topped by synthetic sleeping bags. The downside to a down sleeping bag is its tendency to retain moisture. When this kind of bag gets wet, the feathers inside lose their heat-trapping abilities. They also take a longer time to dry compared to bags lined with synthetic fibers.
Combination sleeping bags are a mixture of two kinds of fibers. You can say that you have the best of both worlds when you buy a combination-fiber sleeping bag. It won't be as warm as using an all-down bag; but at least it will be toastier compared to using a polyfiber sleeping bag. Combination sleeping bags are also priced in between synthetic and down bags.
Shape, Weight and Size
We are all familiar with the typical sleeping bag. They are usually rectangular in shape with one side featuring a zipper. These types of bags are usually roomier compared to "mummy" sleeping bags that look like a cut-out of a human shape. Rectangular sleeping bags can also be opened fully and used as a blanket.
An advantage to using a rectangular sleeping bag is size. These types of bags come in single and double. For adults, double sleeping bags are ideal since two people can share bag and body heat for extra warmth. Small children can also use a double sleeping bag.
When shopping for a lightweight sleeping bag, you will notice that the mummy sleeping bag tapers and gets narrower in the leg and foot area. This is narrow spacing makes it easier for the user to retain heat. There are also mummy bags that have hoods so that the user can use it to protect the head and retain heat as well.
If you want maximum heat for your backpacking or camping trip, bring a mummy sleeping bag so that you will retain heat easier. Try to find a sleeping bag with narrow shoulder and hip specs. They might be uncomfortable for those who have not used a mummy sleeping bag before but you will be warm come night time.
The best lightweight sleeping bag will be easier to carry when backpacking or even camping. Before buying a sleeping bag, consider the packed size and weight info before checking out.
Features
Of course, it won't hurt to have a sleeping bag that includes a lot of neat features. These are the ones that you should keep an eye on.
Zipper compatibility. Couples can choose 1 right-hand zip sleeping bag and 1 left-hand zip sleeping bag and join them together. It should be noted that sleeping bags can only be mated if the size of the zippers and length of the bags match. Mating sleeping bags is an efficient way to stay warm.
Hood. Some mummy sleeping bags feature hood to keep the head warm and help with heat retention. These are ideal sleeping bags to sleep in when you're camping in a cold environment because some hoods have cords so you can clinch the hood around your head for more heat.
Draft Tubes. Draft tubes are insulation-filled tubes designed to fit around the zipper of your bag. They are there to prevent heat from escaping.
Draft Collars. Not all the best lightweight sleeping bags feature a draft collar because they can usually be found in sleeping bags rated for 0 ºF or colder. The draft collars are actually tubes positioned just above the shoulders for insulation and to prevent heat from escaping.
Stash Pocket. Stash pockets differ for every sleeping bag model or manufacturer. They are usually small pockets where you can keep your phone, Chap Stick or insect repellent. Other features that can make your sleep more comfortable include a trapezoidal box for more foot space on your sleeping bag and pad loops to prevent your sleeping bag from rolling up.
In Conclusion
It can be hard to enjoy nature and the wilderness when you're freezing and unable to sleep. Anybody who has spent a night with chattering teeth know that the top-rated ultralight sleeping bags are not only designed to keep off the cold but also to provide comfort to the user.
So do you now have a better idea on how to shop for ultralight sleeping bags? Did you find anything good on our featured products? Let us know your thoughts in the comments!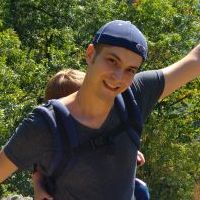 Daniel is a gear freak when it comes to hiking, climbing and camping. He went to REI Outdoor School to meet new people and learn best practices. Don't even try to argue with him about the latest backpack or ice axe, he tried most of them. Daniel's dream is to climb Mount Everest.