Have you ever wanted the best ultralight backpack because you thought that your current pack was too big? It isn't easy to find something that's light but still capable of holding all your gear. But look no further; this article is designed to help make the process a lot easier for you.
If your'e a weekend trekker or world traveler and need a comfortable pack to store all of your belongings, then having an ultralight backpack is essential for the success of your expedition or hiking adventures.
The truth is, most of the hiking backpacks today come available with the flexibility of space to ensure that all the necessary ingredients needed for the complete hiking vacation can be carried in your backpack.
As the popularity of the backpacks is increasing, many people are searching for a wonderful gift to present to their friends or dear ones. An ultralight backpack for backpacking trips and thru-hikes is quickly becoming a popular choice as it's not only durable and lightweight, but it is also adaptable on various kinds of trips.
7 Ultralight Backpacks That Hit The Mark
Note: We get commissions for purchases made through links in this article
Osprey Packs Exos 48 Backpack
Product Dimensions: 6 x 14 x 22 inches
Shipping Weight: 2.4 pounds
Capacity: 45-51 liters, depending on size
Specific Features: nylon, internal sewn-in back panel that holds 3 liters of fluids, 6065 aluminum alloy frame, sewn-in hipbelt with added foam, removable top pocket, zippered mesh pocket, internal key clip, multiple cord points for securing additional gear, available in two colours.
With a one-of-a-kind ergonomic design AirSpeed suspension, and specific torso sizing, the Osprey Packs Exos 48 Backpack is a spacious, lightweight, comfortable backpack designed for exceptional comfort and easy loading. The aluminum alloy peripheral frame with internal suspended cross strut support, seamless layered mesh covered foam, and removable floating top pocket makes this ultra lightweight backpack a must have for hiking enthusiasts in need of both performance for comfort.
This backpack is also available in two stylish colours that make it stand out, so you won't confuse your bag with someone else's. If you're looking for a bag that's durable and comfortable to carry, this is the one for you.
REI Flash 22 Pack
Product Dimensions: 18 x 10 x 8 inches
Weight: 14.5 oz
Capacity: 22 liters
Specific Features: available in four colours, padded, shoulder straps, breathable mesh back, removable waistbelt and sternum strap, zippered pockets on the lid and the front, side pockets, internal sleeve for a hydration reservoir, port for drinking tube.
The REI Flash 22 Pack delivers a streamlined ultralight pack with additional carrying capacity for storing backcountry essentials on extended outings. Fitted with an internal sleeve for a hydration reservoir, detachable waist-belt and sternum strap, and lightly padded stretch-mesh shoulder straps the REI Flash 22 is a great for all-mountain and hiking activities.
With functionality and increased carrying comfort, it is the perfect fit for all types of outdoor sports where lightness and speed count. The extra pockets and tool loops make it easy for you to carry all of your gear with you without placing too much strain on your back, and the backpack is sleek and stylish enough to be worn anywhere.
Granite Gear Virga 2 Backpack
Product Dimensions: 12.8 x 26.2 x 14 inches
Weight: 4.8 pounds
Capacity: 52 liters
Specific Features: nylon, roll-top closure, frameless suspension, internal hydration hanger, compressible for easy carry.
The Granite Gear Virga 2 Backpack – 52L is undoubtably a favorite for backpackers. However don't let the sleek look fool you, this ultralight backpack is packed with the features to enable you to cover long distances on the trail.
Lighter than it's predecessor and weighing in at only 4 pounds, give or take an ounce, the Granite Gear Virga 2 Backpack has redesigned shoulder straps, and a true "roll top" closure that allows you to comfortably carry your precious so you can hike in comfort all day long. The bright straps make it easy for you to pick out your bag from a crowd, or for others to see you when you're on the trail.
Mammut Creon Light 45 Backpack
Product Dimensions: 25 x 14 x 6 inches ; 3.2 pounds
Weight: 3.2 Pounds
Capacity: 45 liters
Specific Features: EVA foam straps, waist belt, 4 Stream suspension system, ripstop nylon, available in two colours.
Weighing in at only 3.2 pounds the Mammut Creon Light 45 Backpack is perfect for day hikers who subscribe to lightweight backpacking principles. Flexible and stable, the Mammut Creon Light 45 Backpack is a light-and-fast overnighter with a lot of room to stash your extra gear.
Featuring a 4 Stream suspension system, this backpack not only offers extreme comfort but also keeps your pack exceptionally breathable as you stay glued to the trail. The external mesh pocket also makes it easy for you to carry just about anything and everything, as it stretches to any shaped object without breaking. That means more hands-free hikes and never leaving any gear behind.
Granite Gear Crown VC 60
Product Dimensions: 29 x 15 x 5 inches
Weight: 2.2 Pounds
Capacity: 60 liters
Specific Features: Vapor Current Internal Frame, Lineloc compression, tool loops, interchangeable belts, hydration ports & internal hydration sleeve, stretch side and front pockets, padded rolling stay, overflow crossover straps, available in three colours.
This technical backpack, through the use of lightweight materials and well thought-out design, is ideal for all types of hiking and outdoor sports, especially where lightness and speed count. The ventilation system with dotted mesh padding, mesh shoulder straps and innovative design makes for direct body contact and good ventilation, so you won't get that wet spot in the middle of your back.
Compared to its predecessor, the Granite Gear Vapor Trail, the Granite Gear Crown has a simple lidless design for top loading, dual density padding and redesigned webbing straps, hydration system and detachable frame, which make this pack very comfortable to wear and ultra lightweight.
Ultimate Direction Fastpack 30 Hydration Pack
Dimensions: 10.4 x 24.4 x 11.4 inches
Weight: 1.6 pounds
Capacity: 20 to 31 liters
Specific Features: seamless back panel, comfortable shoulder strap system, water bottle-compatible, stretch-mesh pocket for smaller items, adjustable sternum and side straps, removable foam back panel,
This multifunctional lightweight backpack equipped with all the relevant features, such as a patent-pending InfiKnit harness and shoulder strap system, dual adjustable sternum straps, expandable main roll-top compartment, compatible front pockets, and several attachments.
Despite the size of this bag, it's completely collapsible so it's even suitable to bring as a carryon bag on your flights. The bright colours make it easy to spot this bag, and it's compact enough to not feel too bulky against your back.
JanSport Katahdin 40
Dimensions: 27.5 x 10 x 11 inches
Weight: 1.2 Pounds
Capacity: 40 liters
Specific Features: polyester, breathable and perforated EVA shoulder straps, access for hydration tube, padded hipbelt, padded back panel, top-loading with compression lid,
Designed so that the wearer has maximum comfort, this backpack features minimal bulk and maximum breathability, especially with the shoulder straps and hydration tube. You can take a sip while you're on the go, so you can stay cool and hydrated.
This versatile backpack is perfect for trekking long tours despite its compact size. It's a great choice for those who are shopping on a budget, but still need something big enough to carry a majority of their gear.
Tips to Consider When Purchasing an Ultralight Backpack
Cost
Whether you're planning an epic thru-adventure or weekend backpacking trip choosing a durable and lightweight backpack shouldn't cost too much. In short, several features such as price, brand, individual's lifestyle and persona should be considered so as to make an effective purchase.
In today's economic situation, it's imperative to get the most out of every dollar you spend. So there's no reason to over pay for backpack when you'll find lots of them available online.
Frame
Basically, backpacks fall into two categories: internal and external frames. The presence of pack frames in backpacks is better, since it serves in easy distribution of the weight across the body. This is generally done by transferring the weight to the legs and the hips.
This prevents the imposition of weight on the straps, which would otherwise result in restriction of motion by causing damage from the strap pressure. Most straps have the capability of being closed with either a zipper or a buckle mechanism, although some models take the help of a drawstring for the main compartment.
The simplest designs for backpacks are a normal bag attached to a shoulder strap set. These packs are normally used for general transportation, especially by students. The simplest designs include a main pocket having cordage and webbing straps, extra pockets, padded shoulder straps, waist straps, padded backs and, in some cases, reflective materials for safety purposes, in case the wearer is out during nighttime.
Let's take a look at both:
External Frame Backpacks
These are the more conventional type of backpack and normally take the help of a rigid external frame, which is back strapped.
Conventionally, external frames were used for carrying heavy loads, which gave more protection and support to the weight distribution than a frameless and simple strapped bag.
Typically an external frame backpack comprises of a system of pads and straps to keep the frame and the sack from maintaining contact with the body as well as offers the added benefit of decreased sweatiness and improved ventilation.
Looking closely at an external frame backpack ,you will notice that part of the frame's length is occupied by the fabric part. However, it typically protrudes below and above. These parts of the frame permit the strapping of bulky items such as thermal pads, sleeping bags and tents and the reason why the internal frame pack is larger than the main compartment.
Internal Frame Backpacks
Internal frame backpacks have a slim shape that enhances free movement of the hiker's arms allowing more flexibility and the reason for the popularity of this version when looking for an ultralight backpack.
The compression straps found in such backpacks helps keep your equipment intact while on the move. Balance is the most crucial element of hiking. Internal frame backpacks helps to maintain better balance by keeping the backpack closely attached to the body of the hikers.
Size
The internal size of the backpack can vary between 1,000 cubic inches and 7,000 cubic inches. The exact size of the hiking backpack depends on the duration of the expedition of hiking vacation that they intend to go on, as well as how much gear one is carrying with them.
Before purchasing a lightweight backpacks for hiking, care has to be taken to determine the exact size, torso length, material, waist and hip length, weight of the backpack, the hydration compatibility, and the number of required pockets of the backpack. Your backpack should be capable of carrying your tent, hiking clothes, water and food, and the sleeping bags.
Strap
The straps are very important, as they're going to be the means by which you carry your bag. If they're cheaply made or uncomfortable, then you're going to have a miserable time. Generally, straps come in two different kinds.
Sternum Straps: The recommended shoulder strap should be padded, broad and curved. A sternum strap prevents the shoulder strap of the hiking backpack from being ripped. It also enhances the weight distribution in an equal manner.
Equipment Straps: Many of the backpacks for hiking come with equipment straps or bungee cords, while some are manufactured with both. This helps the campers to fix their camping equipment without having to take off their backpacks.
Material
For serious travelers looking for the best lightweight backpack for hunting, camping out, or even in rock climbing, they're going to want a lightweight backpack that will endure even the harshest journeys.
That means considering the different materials backpacks can be made from, which have their own strengths and weaknesses:
Leather: Perfect for use in the workplace, leather backpacks are more durable. Custom leather backpacks have become a trend in the fashion world. To increase the beauty, a person can bear something which will look good, last longer and will also be efficient in hauling your hiking gear. If properly treated a leather backpack can last for several years. However if the backpack is not treated and maintained properly, then there is a possibility that the bag will shrink after getting wet. Elsewhere, there is no other material that will beat it.
Nylon: Among all materials that are available, nylon is said to be the one of the most useful and popular materials obtainable for making a quality lightweight backpacks. It's quite strong, even stronger than leather, and is also quite waterproof, so the belongings in your backpack remain dry. Ripstop nylon is a bit different, and is evident from the grid pattern on the fabric, which prevents the material from tearing easily. This gives you a backpack that lasts a really long time, even after the grueling punishment of a hiking trip.
Waterproof Cuben fiber: Lightweight and waterproof a hybrid cuben fiber backpack offers much greater water resistance than nylon and leather backpacks. It is constructed from a grid of Dyneema threads that makes it stronger than steel on a weight-by-weight basis. However, it does have a very low stretch, so care should be taken when stuffing your backpack, as you're going to be constricted by the bag's capacity.
Safety
You need to consider several options when it comes to the safety of your backpack. As the name suggests, a heavy backpack can stress an individual's joints and muscles and even cause serious problems in the spine, especially if they are very heavy or utilized improperly.
There are various steps that can be undertaken, in order to ensure a proper safety while using a backpack and avoiding pain and other problems associated with incorrect use of backpacks.
Backpacks with stiff narrow straps will likely dig into the shoulders and obstruct blood circulation. They may even contribute to numbness, weakness and tingling in hands and arms.
People who carry larger sized backpacks are mostly not aware of how much space the packs consume for keeping your belongings. Having a heavy backpack may also change the manner of walking, thus increasing the chances of falling, especially when climbing a steep hill.
Significant Measures to Avoid Backpack Problems
The below mentioned are the some of the effective measures, which can prevent the problems caused by backpacks:
Lightweight Backpack: When it comes to backpack safety, lightweight backpacks are the ideal option to consider, as they does not add any unwanted weight into the pack. It is necessary to ensure that your lightweight backpack has both kinds of enlarged shoulder straps and padding attached to them. Not only do they offer increased comfort to your shoulders, but they also protect from being stabbed by any sharp object placed inside. A waist belt will assist to dispense the load in the pack more consistently across the body.
Minimum Weight: This is undoubtedly one of the primary backpack safety measures so as to avoid the consequences created by having bulky loads. It is necessary to try and pack only the things that you need. Often, people have a tendency to fill their packs with heavy loads that are unnecessary for their trips. This ends up in adding extra weight into backpacks which can result in developing back pain and other problems.
Now that you're aware of the features and precautions that you should take when looking for and using a backpack, here are some of the top rated products on the market.
In Conclusion
With all that in mind, you're now on the right road to finding the best ultralight backpack for your needs. It doesn't do you any good to go with a cheap school backpack, as they're not going to have the versatility and carrying power that you need.
Be prepared to spend a little more so that you can have a backpack that will last you a lifetime. And please don't forget to leave a comment below. We'd love to hear from you.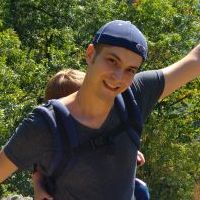 Daniel is a gear freak when it comes to hiking, climbing and camping. He went to REI Outdoor School to meet new people and learn best practices. Don't even try to argue with him about the latest backpack or ice axe, he tried most of them. Daniel's dream is to climb Mount Everest.