Choosing the right sleeping bag isn't easy at any time of year, but finding the best summer sleeping bag adds a whole new dimension of things to think about. This is one of the most important pieces of outdoor gear that you're going to buy, if you plan on spending nights under the stars.
Many a camper has lamented a poor choice of sleeping bag when they were huddled up freezing, soaked or cramped all night long. To make the most out of any trip, you need to be rested and bright-eyed when you wake up in the morning, not struggling to sleep and uncomfortable during the night.
When looking for a summer sleeping bag, consider the nighttime temperatures you'll endure – even the hottest deserts have steep temperature drops at night, as well as the humidity and the type of trip you're taking. Will you need a heavier bag for cold nights or a light one for summer heat?
TOP PICKS: PRODUCT REVIEWS
Here are our top choices for sleeping bags, picked to include options for summer anywhere in the world, whether it is polar or tropical.
Note: We get commissions for purchases made through links in this article
MONTBELL SUPER SPIRAL DOWN HUGGER #1
WEIGHT: 2lb 5 oz (regular); 2lb 8oz (long).
DIMENSIONS: 12 x 12 x 27in packed; 6ft length (regular); 6ft 6in length (long).
SPECIFIC FEATURES: Thermal Guideline: 14 degrees F/-10degrees C; 650 Fill Power Goose Down; 40-denier multi-filament nylon; Super Spiral Stretch system; Multi-Tube construction with Flow Gate technology; bias cut; cotton storage sack; heat saving Tunnel Hood; neck baffle; Draw cord for face hole adjustment; Auto Locking Zipper to limit zipper "slip" during the night; Double draft tube for increased zipper draft protection.
BEST USE: Camping, backpacking, lightweight backpacking, cold or warm weather.
It's hard to say a bad word about Montbell's Super Spiral Down Hugger #1. It's just a fantastic sleeping bag plus a few stand-out features that set it apart. The main selling point is the spiral stretch system, which makes more of a difference that you would expect.
"Cut on the bias" patterns have been long used in the fashion world to create clothing that clings to the body; now the outdoor industry has taken the idea and created a sleeping bag that will 'hug' to your body, making the name of this "Hugger #1" literal. Bias cutting means cutting fabric on the diagonal which allows for the fibers to stretch and contract more than when cut straight.
This has created a sleeping bag which will both stretch around your movements and melt into a cozy cocoon when you sleep. The seams have been stitched with elastic thread, adding to the stretchiness, making this a very flexible bag which allows for easy and comfortable movement without a claustrophobic or cramped feeling. You can even sit up in the bag with your legs crossed without straining the material.
The contraction of the bag around your body means there is less air to heat, and the spiral goose-down baffles are efficient, making this a very warm bag – but if you get too warm, the full length zipper can be partially undone for ventilation around your feet.
RELATED: Since we are talking summer sleeping bags here, you may want something a bit lighter. In that case, consider the SSP Down Hugger #3. It is made for warmer temperatures, with a lighter fill weight. It also packs smaller and lighter than the number one.
MOUNTAIN HARDWEAR HYPERLAMINA FLAME 20
WEIGHT: 2lb 10oz / 1.18 kg
DIMENSIONS: 17 x 16 x 13 in packed
SPECIFIC FEATURES: Proprietary welded Lamina construction; Thermal Q insulation; Performance mummy cut; Thermal.Q 100g Thermic Micro insulation; 22D Dobby shell; synthetic fill; draft collar; adjustable hood.
BEST USE: Wet weather, vegans.
The HyperLamina Flame 20 from Mountain Hardwear is one of the best synthetic sleeping bags around, while remaining budget-friendly. It has an unusual front-zipper design which some people love and others don't, so it's probably wise to go to a shop and try out a front-zipper bag before you purchase.
The half-length front zipper means that you can get into and out of the bag easily if you don't mind sliding a bit, and a lot of people appreciate the intuitive positioning. It also eliminates any cold spots on your side where zippers usually go.
There is a double zipper which allows for you to adjust your core insulation well, but which may not be enough if you're prone to hot feet. The HyperLamina is named after its laminate constitution, which is designed to prevent cold spots.
Instead of stitching, which pinches materials and creates weak spots, Mountain Hardwear has developed a process of welding the insulation to the shell without compressing it, thereby avoiding cold spots and increasing the overall warmth of the bag. There is also a draft collar which can be velcroed in place to increase insulation and the hood can be adjusted using two drawstrings for a cozier fit.
While this is a reasonably warm bag, the star feature is actually its ability to stand up to the wet. The laminate construction means that there are no stitches for water to seep in through, making this model more water-resistant. This bag has a 'warm when wet' construction, which means that you will never wake up soaked and cold in the middle of the night.
RELATED: The Mountain Hardwear Hyperlamina Spark 35 is very similar, but without the draft collar; instead it has a Velcro fastener at the top of the zipper. It also has different insulation weights mapped around the top of the bag to provide more concentrated warmth around the core and feet.
RAB EXPEDITION 1400
WEIGHT: 3.73lb
DIMENSIONS: 15 x 21 x 43in packed
SPECIFIC FEATURES: Pertex Endurance outer fabric; Pertex Microlight inner fabric; Pertex Endurance inner fabric in hood and foot; 850FP European goose down; Rab fluorocarbon free Hydrophobic Down developed in conjunction with Nikwax; close fitting neck baffle; Longitudinal chest baffles with internal Flowgate technology; Mummy shape; Longitudinal foot baffles; internal YKK 3 coil; zipped stash pocket; 3/4 length YKK 5 coil main zip; left hand zip; anti snag zipper; webbing tape; internal collar and hood draw cord; angled foot box; internal draw cords; dry bag compression; cotton stuff sack.
BEST USE: Camping, hiking, backpacking
We might be talking summer here, but Arctic summers are still cold! If you are planning a trip in extremely cold temperatures, consider the RAB Expedition 1400. This is a high altitude and polar expedition bag of professional quality, although beware: it also has a professional price tag.
Designed to withstand some of the harshest climates on the planet, this bag is made for warmth. The down used is 1400g of high quality 850+ goose down, placed into trapezoid shaped longitudinal baffles for even distribution of heat. Each baffle is hand-filled for consistency. The down has been given a hydrophobic treatment to stop you getting wet from snow and frost.
The outer material is water-resistant and durable Pertex Endurance material. The footbox and hood also feature an inner Pertex Endurance lining to avoid internal moisture from wetting the down. This bag has a larger fit to allow for extra down clothing layers. It has a mummy shape for thermal efficiency, plus extra baffles around the neck and face.
The draw cord hood also helps when you need more insulation or even if you want to cool down a bit. This obviously isn't the most lightweight sleeping bag, but it isn't meant to be: it's made to keep you warm. Made with some of the best quality materials available, its price is far from affordable. But if you're sleeping in the coldest temperatures on earth, you will be grateful for this cozy bag.
RELATED: Don't be turned the RAB brand if you can't afford this bag. They make plenty of cheaper bags like the Neutrino 400 and the Ascent 900, all hand-filled in Derbyshire, UK.
NEMO TANGO DUO SLIM 30 2 PERSON SLEEPING BAG
WEIGHT: 3.8lb
DIMENSIONS: 10 x 10.1 x 18in packed
SPECIFIC FEATURES: The backless design sleeps two; a head and foot sleeve; snap off hood; pairs with most 25 x 76″ pads; waterproof/breathable footbox; compression stuff sack, cotton storage bag; constructed using box baffles.
BEST USE: Two-person camping or backpacking trips.
We had to include a two-person sleeping bag for all you lovebirds and camping duos out there. The Nemo Tango Duo Slim 30 feels almost more like a bed than a sleeping bag. It has a rectangle shape and a removable top which can be used as a blanket according to your preferences.
This is a lightweight down bag, which can significantly bring down the overall weight of your luggage, compared to carrying two individual sleeping bags. To further decrease the weight, it has a backless design. On the other hand, this does make it necessary to use sleeping pads which tuck into the base of the bag.
This is a down sleeping bag with box baffles to keep the insulation evenly distributed. The down is also treated with a DownTek waterproof coating which will keep you relatively warm when it gets wet, as well as repelling water for longer and drying out quickly.
The shell is also treated with a water repellant DWR coating, and the foot has an additional waterproof material to resist absorption of tent-wall condensation. This is a lightweight, compressible bag which gives you the value of two sleeping bags for close to the weight and price of one, not to mention the added body heat.
RELATED: This bag also comes in a single person model, in the Nemo Tango Solo 30. It is essentially the same as the two-person bag but it fits one 25 inch wide sleeping pad, making it a good option for larger campers.
EDDIE BAUER UNISEX ADULT AIRBENDER 20°
WEIGHT: 3lb 1oz (regular), 3lb 5oz (large).
DIMENSIONS: 32.5in x 84in (regular); 32.5in x 90in (large).
SPECIFIC FEATURES: 15-denier Pertex® nylon shell; top of the bag is insulated with 850 fill StormDown™ powered by DownTek™; DWR technology moisture resistance; bottom of the bag is insulated with ClimaShield® HL synthetic; a patent-pending design integrates an inflatable, insulated pad that's sewn directly into the bag; built-in hand pump for inflation.
BEST USE: Non-technical mountaineering, camping, backpacking.
The Eddie Bauer Adult Airbender 20° is a high-end sleeping bag, named for its built-in, inflatable sleeping mat. Rather than buying a separate sleeping bag and mat, you can now get them in one neat package, which takes out the weight of the entire bottom of a normal sleeping bag.
The sleeping mat portion has vertical baffles and is bonded with 80g/m2 Climashield insulation to trap air inside. It includes two air valves, one unidirectional and one bidirectional for fast inflation and deflation. The stuff sack comes with a hand pump for easy inflation, although you can also use your mouth to blow directly into the valves if you don't want to carry the pump.
While the sleeping bag-mat fusion might be seen as a gimmick by some, there is no denying that the rest of the construction is top of the range. The upper part of the sleeping bag is made with high quality down, treated with DownTek for water resistance.
The baffles are positioned depending on the body area: horizontal on the legs for trapping warmth and vertical on the torso for even distribution of heat. There is a full length zip, a hood and a nifty pocket sewn in.
The Airbender was initially designed for mountain expeditions, but could be used almost anywhere you can find a flat surface. The high price tag makes this a fairly inaccessible sleeping bag and will suit people who want a serious upgrade on their existing gear, or who don't mind shelling out for new tech and good quality.
RELATED: If you aren't looking for a high-tech option, or if you have a smaller budget, Eddie Bauer offers a range of more normal down sleeping bags. The Kara Koram 20° StormDown Sleeping Bag has the same 850 fill down, minus the whole sleeping mat thing.
MARMOT ALWAYS SUMMER
WEIGHT: 2lb
DIMENSIONS: 6ft x 62inshoulder; 41in foot unpacked
SPECIFIC FEATURES: Bag Loft: 3; Fill Weight: 11oz (312g); Insulation Material: 650+ Fill Power Duck Down with down defender for moisture resistance; Lining Material: 30d 100% Nylon DWR 1.27 oz/yard; Main Materials: 30d 100% Nylon Ripstop 1.5 oz/square yard, 30d 100% Nylon DWR 1.18 oz/yard; anatomically designed footbox with wraparound design; full length locking two-way zipper with anti-snag slider; 40°F/4°C temperature rating;
BEST USE: Warm weather backpacking, summer.
The Always Summer is a relaxed warm-weather sleeping bag with a reasonable price. Marmot presents a good-value bag with a range of features. The duck down provides a bit of extra warmth for cool summer nights, without too much insulation.
On chilly nights, you also have an adjustable hood for extra insulation and neck collar. The mummy cut is also helpful for warmth, but this isn't one of those super tight bags that you can barely move in. The shape is a bit looser, with a wider foot box and more flexible cut for extra air and movement in warm weather.
A full length, two way zipper is included, so you can unzip for ventilation if you get too hot at either end of your body. If you have dealt with the frustration of constantly snagging zippers, you might like the plastic covered zip on this bag, which doesn't catch quite soften.
The down is treated with Marmot's Down Defender for moisture resistance to keep you dry during summer humidity and even rain. It also dries quickly if it happens to get wet at any point. This bag isn't the smallest or lightest on the market, but if you want a tiny, ultralight bag, you will have to look in a higher price bracket.
This bag actually packs pretty small into its stuff sack and is still lighter than most winter sleeping bags. This is a very affordable bag with great features and quality for a good price.
RELATED: The Marmot Nano 35 is a good option if you prefer synthetic sleeping bags instead of down. While the Almost Summer is rated for 40°F, the Nano is suitable for temperatures down to 35°F, so it's suitable for slightly cooler nights.
SEA TO SUMMIT SPARK SP III
WEIGHT: 1lb
DIMENSIONS: 6 ft long, unpacked
SPECIFIC FEATURES: ULTRA-DRYDown™ 850+ Loft 90% Down Cluster Premium European Goose Down with 55/45 fill ratio; differential fill to gradually concentrate warmth over body core; contoured mummy shape; box wall baffles over torso; contoured hood with draw cord; tapered footbox; 1/3 length YKK 3 side zip; 10D Pertex ® Quantum shell; 5D Ultra-Sil ® compression bag; mesh storage cell and laundry bag; EN Tested: Lower Limit 25F / -4C.
BEST USE: Summer alpine trekking, lightweight touring.
The Sea to Summit Spark SP III is an uber-light, minimalist sleeping bag. There isn't much more to it that a tube of high quality 850+ loft down. The down has to be good, because it's really the main feature of the bag. The shell is a thin 10 denier ripstop fabric which is basically see-through.
Everything possible has been done to reduce the weight of this bag. The baffles are graduated so that down is concentrated around your core, minimizing the amount of down included. Some people have complained about cold spots in other areas, while others haven't had these problems.
Since everyone's body is different, you might want to think about whether you're a cold or hot sleeper and if you need the extra down around your legs. The down has been treated with an Ultra Dry Down for moisture resistance. There is a one third length zip, which is long enough to allow for easy entry or exit, but which limits ventilation especially around your lower body.
This is a mummy shape bag, but not overly tight and it is generally comfortable if you don't mind lack of ventilation. It also has a adjustable hood, although it lacks an extra neck baffle. The main advantage of this bag is the light weight and tiny pack size: its stuff sack fits into the palm of your hand when full!
This bag will take up virtually no space in your bag and is basically light as a feather – which makes sense, because that's pretty much all it's made from. It also comes with a storage sack and a wash bag to keep the down in good condition and retain loft. This is a specialty bag for people who need something ultra light and packable, with a reasonable price for such a specialized bag.
RELATED: The Spark SP III is rated for the lowest temperatures in the Spark series, at 25°F. If you will be sticking to warmer climes, consider the Spark SP II (35°F) or the Spark SP I (46°F).
THINGS TO CONSIDER
There are a few things to look for in a sleeping bag, and our choices will depend on where you will be sleeping. Are you going solo or can you share with a partner? Will you be in a humid rainforest, a rocky desert or even alpine snows? Summer weather varies just as much as camping destinations do. Let's have a look at some features to look out for:
Insulation: There are two choices here: down or synthetic. Down is made from feathers, usually of geese or ducks. It's lightweight and provides a lot of warmth, as well as being easily compressible for packing, and, of course, very soft. Synthetic insulation is normally made from polyester and provides less warmth for its weight, although it handles water better.
Synthetic insulation doesn't pack as small as down and it tends to lose its loft quicker. It is a good option for vegans though, or people who are concerned about animal welfare. When looking at down bags, keep an eye out for companies that follow the Responsible Down Standard, a voluntary standard that ensures the ethical treatment of the birds.
Synthetic is generally cheaper than down, making it a good option for beginners or budget conscious campers, while down is more of a long term investment.
Water-resistance: Synthetic insulation absorbs less water than down and keeps its shape and warmth better when wet. It also dries faster than down. These days, however, some companies treat their down with a water-resistant coating to prevent soggy insulation. Some sleeping bags also have a water-resistant shell, so look out for that if you are traveling in a moist environment.
Temperature Rating: Even in summer, temperatures drop quickly when the sun goes down. Sleeping bags are graded on a temperature rating system, which is a guide to the lowest temperature the bag can handle, while still keeping you warm. So, a bag with a temperature rating of 30°F should be able to keep you warm in temperatures down to 30°F at the coldest. There is no standard rating, though, so take these claims with a grain of salt. A good method is to estimate the lowest temperature you're likely to endure, and then choose a bag with a rating 10 degrees lower than that. If you expect nights to be 40°F, choose a bag with a 30°F rating and you should be safe from chills.
Ventilation: If you're prone to overheating in your sleep, look for a full length or a two-way zip which can be undone to let air in. Zips can create cold spots though, so if you are a cold sleeper you might want a short zip.
Weight & Size: Your needs here depend on the type of trip you're taking. Sleeping bags can take up a lot of space in your pack, as well as weight for something you only use for sleeping. A lot of people are choosing lightweight down bags with tiny packing sizes, especially for summer trips.
IN CONCLUSION
There is a huge range of sleeping bags around, with something to suit any climate and any budget. Even just summer options vary hugely. The best advice is to choose a bag that will suit most of your trips.
Sleeping bags are bulky and can be expensive, so it's hardly practical to buy a separate one for every occasion, unless you're very lucky. Think about whether you need a separate one for winter and summer, or can you get away with one versatile bag if you prefer to stick to mild climates?
Do you need extra down insulation for freezing weather, or a synthetic bag for summer rains? Will an ultralight bag do or will that leave without enough heat when the summer season's over? What is your favorite summer bag, and can you use it during the rest of the seasons? Let us know in the comments.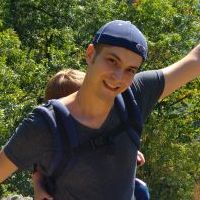 Daniel is a gear freak when it comes to hiking, climbing and camping. He went to REI Outdoor School to meet new people and learn best practices. Don't even try to argue with him about the latest backpack or ice axe, he tried most of them. Daniel's dream is to climb Mount Everest.