Looking for something to keep you updated on the weather, news and music while you're on the go? The best solar radio will come equipped with all the bells and whistles. Not only that, but these types of radios aren't JUST a radio.
They offer USB hook ups, flashlights, and best of all, they are solar powered. Solar power radios are not only environment-friendly, but are easy to use. There are a variety of different types of solar radios, which you can read about below.
Note: We get commissions for purchases made through links in this article
Top Products on the Market
Esky Solar Radio
Dimensions: 5.9 x 3.1 x 2.5 inches
Weight: 7.8 oz
Specific features: NOAA weather channel, flashlight, multiple chargers
Best use: Camping, outdoors, emergency use
The Esky Solar Radio is great for emergency use, but also great for on-the-go activities. The best feature of this radio is that it can be powered by solar energy, charged by a USB cable or kept going by the hand crank option. This radio has a working voltage from 2.7 – 4.2 V and is reasonably priced. Fitting easily wherever you need it and even able to be stored away, this solar radio is definitely a good find.
RunningSnail Radio
Dimensions: 2.1 x 6.2 x 2.9 in
Weight: 0.89 lbs
Specific features: 1-Watt flashlight, 4-6 hour radio time, NOAA weather channel
Best use: Camping, outdoor activities, emergency use
The RunningSnail Radio is best used for emergency purposes. Not only will it keep you up to date on the latest weather for current and upcoming storms (tornadoes, hurricanes, etc.) but it will also tune you in to the most current weather with the NOAA channel. The radio itself can also be used as a table light or flashlight in case of loss of power.
Even better, this radio gives off an SOS alarm with a red flashing light, allowing others to see the radio in dire situations and extreme emergencies. This radio also offers a rechargeable battery that, when fully charged, offers up to12 hours of light or 4-6 hours of radio time. This is the radio that keeps on providing. Can't beat that!
iRonsnow Radio
Dimensions: 1.6 x 5 x 2.4 in
Weight: 0.4 lb
Specific features: Compact, 3 charging options, torch light
Best use: Hiking, camping, survival & emergency use
If you're cell phone dies and you need the emergency contact with the outside world, the iRonsnow Radio is your meal ticket. This small, light and easy-to-carry solar radio can be charged by the hand crank option (1-minute cranking for 5 min of usage), solar exposure and USB connectivity.
What's the catch you ask? If you're stuck in the wilderness, or lost without power, the USB connectivity option for charging is not the best. You may not always have your computer handy with you on the go, so that leaves you with the solar option & if it's night time, you're kind of out of luck. Better get those arms cranking! Otherwise, this radio is a great deal for what you're getting.
ELECLOVER Radio
Dimensions: 5 x 2.4 x 1.8 in
Weight: .49 lbs
Specific features: Hand crank option, USB charger, LED flashlight
Best use: Emergency use & survival, outdoor use
The ELECLOVER Radio should be used for emergency purposes only. Though it could serve for good entertainment, if need be, on a camping trip or outdoor excursion, the design is archaic and the features are basic. It gives you the power options of: hand cranking, USB charging and solar.
These power options are pretty standard, and so is this radio. The best part about this radio is that is has a lifetime support guarantee, which could be helpful in those emergency situations.
The Friendly Swede Radio
Dimensions: 1.77 x 5.04 x 2.36 in
Weight: 7.05 oz
Specific features: Multiple charging options, water-resistant, emergency flashlight
Best use: Outdoor activities, emergency use, survival
The The Friendly Swede Radio is great for on-the-go purposes, or even when you get stuck in a bind for an emergency situation. Not only is this radio offered in a package of two, but it also comes equipped with three LED lights for emergency use, and when you leave it in the sunlight for 10-12 hours, voila! It's charged.
If solar charging isn't an option, you can also plug the USB charger into the nearest computer. No access to power? No need to worry. This bad boy can be charged by your own muscle power with the hand crank, charging option. Have no fear, this radio can be your sidekick just about anywhere you go.
Kaito KA332W Radio
Dimensions: Small
Weight: Lightweight
Specific features: LED flashlight, NOAA, solar & crank charging
Best use: Hiking, camping, emergency use
The Kaito KA332W Radio is great for your next hiking excurison or family camping trip. Not only is it equipped with AM/FM stations, along with the NOAA weather alert channel, but it also offers a LED flashlight and a headphone jack for private listening.
This amazing device can be charged five different ways: solar power, hand crank, USB, standard cord and batteries. Not only will this radio be everything you're looking for, but it's also budget-friendly. Buy this radio on a whim and it still won't break the bank.
Ambient WR-111B Radio
Dimensions: 5.5″ x 3.0″ x 2.0″
Weight: 0.5 lbs
Specific features: NOAA alerts, LED flashlight, 5-way charger
Best use: Hiking, Outdoor excursions, emergency use, survival
The Ambient WR-111B Radio is one sturdy radio and definitely looks like its built to last. With a weather-protected, highly durable case, you won't be worried about taking this radio with you in the wilderness. Not only will it keep you on the radar and up-to-date on the latest weathers and need-to-know news alerts, but it will provide you with the entertainment you need when you're headed off the grid.
It offers you five charging options and even a port to charge your cell phone, if need be. A LED flashlight is built in to this radio and the best part is that this solar radio offers you with a high quality radio tuner that won't fail you on the go. Not a bad investment if you're looking for a solar radio that will last you for the long haul.
Safe-T-Proof Radio
Dimensions: 3.5 x 7.5 x 4 inches
Weight: 10.9 oz
Specific features: No batteries, solar-charging, emergency radio & crank
Best use: Outdoor activities, emergency use, survival
When viewing the Safe-T-Proof Radio at a glance, you might just think that it comes from the future. Though it looks like your everyday dust buster, its unique design is compact and practical. This emergency radio offers you with the solar charging and hand crank option, and even has an additional port for cell phone charging.
Built out of durable plastic and reliable metal, this is a great radio to store away for future us or keep handy in case of an emergency. Though its not top-rated or recommended as the best choice for your next solar radio, it has definitely made the list.
Types of solar radios
Thinking of hitting the trails or planning that next camping trip with your family and want to stay entertained (or informed) throughout the trip? Having a solar radio handy is a good way to listen to your daily news, hear the latest weather reports and keep that music playing all day long.
While most solar-powered radios are to be charged by arm power via a crank system, the sun is also a huge help to keeping the radio going longer than expected. Below are the types of radios that you might see in today's market.
Crank radio
Most solar-powered radios have the hand crank option. This type of radio is pretty standard across the board, because it is the simplest way to keep your radio powered on the go. One crank radio to the next, however, does sometimes vary.
While some crank radios offer one minute of crank time for five minutes or so of play time, the more time you crank, the more play time you get. This will also vary based on the type of sun exposure you have going for you that day as well. On the plus side, the radio will give you all the weather updates you need to keep you in the loop.
Emergency radio
The solar radios are pretty much designed for emergency purposes. Though most of the solar radios have the emergency features built into the radio itself, some are designed just for emergency situations. These specific radios are typically more compact and come equipped with the NOAA weather alert radio for all updates.
They also often offer rechargeable batteries and specific strobe light features with an SOS option to send help if truly in an emergency. One great part about the emergency radios, is that they offer multiple ways to charge the radio, in case of said emergency. These options usually include the USB charger, rechargeable batteries and the alternative, hand crank option.
All-Purpose radio
This type of solar radio encompasses all of the features mentioned above, and them some. This radio will have your emergency options, your weather channel necessities (and some extras), and multiple charging options, other than the solar energy of course. These radios will most likely feature flashlight options, flares and sometimes even a fire starter.
Some of the best radios out there will also be water-resistant, which is an important factor when dealing with emergency weather situations, or even just the outdoors in general. Though many people may bring these radios along for outdoor activities, others may just have them on deck for emergency situations in the home.
Weather radio
With it being a radio and all, tuning into the weather is pretty much always an option. However, on these specific radios that are focused on getting the best, and most important weather updates, they are programmed to feature the NOAA and all weather channels, specifically the ones in your general region.
Seeing as though the weather can vary from day to day, having a radio that gives all the crucial updates is nice to have on hand, whether you're stuck at home in a storm, or on the road with family or friends.
Specific Features
When searching for any product to invest in, you want to make sure that you have a list of the most important features of what to look for in that product. What are important features that come to mind for you? It seems to be that price, size, quality and longevity are some features that are sure to make the top of that list.
Below are some important features to keep in mind when shopping for your next solar radio. Remember that you want this to last for the next emergency situation that you might be in!
Size
This feature really depends on the type of activity, environment and intention of use that you're using the solar radio for. The more compact radios are great to store away for later (emergency) use in the house, or even in the car when headed out on the road.
The larger radios won't be too convenient in dire situations, but would be more helpful for entertainment purposes and to be used for larger groups or crowds. For the emergency and weather options, having a smaller radio is definitely recommended and much easier to navigate.
Thankfully, most of the solar radios are going to be around the same general size. This makes it pretty easy to choose which is best for you.
Charging Options
For a solar powered device, this is definitely an important feature, especially when that device is to be used for everyday and emergency purposes. While some radios may only have one or two charging options, others have three or four charging options.
Some of these options may include a USB plug-in option, rechargeable batteries, the hand crank power option, standard AAA batteries and even the solar option. However, the more charging options that your solar radio has, the more reliable that it becomes.
Durability
Durability is an important feature, across the board, for most products. Of course you want to invest in something sturdy that has the longevity you're looking for. When investing in a product like a solar radio, you want to make sure that it is reliable for the dire situations when you may need it most.
Most solar radios are compact and are made of thick, durable plastic and other materials. While some are not recommended for all weather situations, others are built for the outdoors and are even water-resistant, which adds another level to the durable factor.
Keep in mind that having a durable, reliable product is extremely important when you're counting on that product to get you through emergency situations. Sometimes it helps to spend a little more money, to invest in the quality.
Extras
In this day and age, when it comes to gadgets or tech savvy products, the supplemental accessories or additional features to a product can sometimes make or break your choice whether or not to invest. As mentioned, many of the solar radios offer "all the bells and whistles" which may include, but not limited to: LED flashlights, strobe lights (or emergency lights), SOS messaging system, fire starter and USB charger for other portable electronics.
If you're looking for a product that satisfies the purpose of an emergency radio only, you want to go with a more simple solar radio; however, if you're looking for a radio that does its job, and helps with other tasks along the way, maybe a radio with all of the extras in your next best investment.
That's the overview of everything that you need (or should) know about your investment in solar radios. Take a look below at some recommended products! Feel free to leave a comment if you have questions or have used a product yourself.
It's all about being prepared
Isn't it nice to know that when you're gearing up for your next big camping trip, having one of these solar-powered radios handy is only going to enhance the experience as a whole. Not only will you have access to all of the latest news, weather alerts and music, but when you and your family or friends get stuck in a bind, these types of radios can give you the means to seek help, if needed.
Of course, all the added features are great to have as well. I mean, LED flashlight, blinking strobe lights, cell phone charger and even a fire starter? And the good news? They are all generally the same when it comes to what they are offering.
Sure, some of the radios come with more charging options, but the truth of the matter is, all of these radios will give you a bang for your buck (and are great to have in tow).
Happy camping and don't forget to leave a comment down below!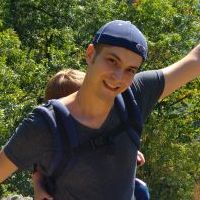 Daniel is a gear freak when it comes to hiking, climbing and camping. He went to REI Outdoor School to meet new people and learn best practices. Don't even try to argue with him about the latest backpack or ice axe, he tried most of them. Daniel's dream is to climb Mount Everest.