Tablets, smartphones, GPS, and GoPro devices all have rechargeable batteries. Even our headphones, watches, headlamps and water purification systems aren't left out; they also require charging so they can work efficiently.
Do not fear, though: technology has provided new ways to ensure that all our valuable gadgets are charged up and working properly even when we are far away from home. That's why it pays to consider getting the best portable power supply to take with you on your camping trip.
Note: We get commissions for purchases made through links in this article
List of the best portable power supply for the money
Here's a list of the Best Portable power source for camping.
Suaoki Powerhouse
Weight: 2.52 kg
Dimensions: 250 x 86 x 160 mm
Specific features: SINE wave, LED indicators, USB ports, 20,000 mAh, Battery Management System.
The Suaoki Powerhouse has a lightweight design in a portable powerhouse. Also, it is designed with two USB ports as well as five LED indicators to ease its use. You can charge a USB/5 V, AC, and DC/12 V appliance wherever and whenever you want. The presence of its SINE wave helps you to power all electronics in a safe way.
It does so by preventing crashes in computer systems and reducing noises in TVs, fans, and other camping devices. The capacity of 20,000 mAh of this power source is impressive. It is sufficient to power up a smartphone over 20 times. Power banks, tablets, laptops, refrigerators, TVs and other electronics also can be charged by it.
It is a relatively safe device to use. It offers a good battery life because it uses a Battery Management System. Additionally, the system helps to enhance battery utilization when in use. The device comes with great recharging options, and you can recharge it easily from a wall outlet or using solar energy.
Celestron Power Tank
Weight: 8 pounds
Dimensions: 12-inches x 10-inches x 6-inches
Specific features: Red LED light, multiple power outlets.
The Celestron Power Tank is the second on this list because of its outstanding features. It has a red LED Light which helps you to get all the required light outdoors without disturbing your night vision. If you have spent some hours letting your eyesight adjust, there is nothing worse than being temporarily blinded by a flashlight. This is where the device comes in handy.
The power tank's 12 V supply of power has a circuit breaker which was built-in to trip if off where there's a risk of power spikes that could damage your camping equipment or even hurt you. Having this unique feature on a portable power pack gives you some peace of mind as you use the device.
The power tank provides users with so many ways to power their accessories and gadgets. It has 3, 6, 9-V outputs for much smaller accessories. You can rely on the portable charger to power your device for several hours. The rechargeable power pack has a black finish and red buttons. Also, it has a nighttime red LED light.
The device is best suited to powering up astronomy equipment such as a telescope. It also serves as a charger for smaller appliances and gadgets.
Rugged Geek INTELLIBOOST
Weight: 6.3 x 1.3 x 3 inches
Dimensions: 15.5 ounces
Specific features: Mini jumper cables, LED flashlight, universal charging cable, laptop ports.
The Rugged Geek INTELLIBOOST is covered with a hard-wearing tire-tread material, to help it to withstand extreme heat and cold. It is built in a case loaded with accessories, such as an air compressor, mini jumper cables, a universal charging cable that works for both iOS and Android devices, different laptop ports, as well as a car charger. The device has an added bonus of a strobe and super-bright LED flashlight.
A display feature on the device's face can tell you the percent of the battery charged, and operating it is really simple. In fact, when jumper cables are connected to the device, they are idiot-proof. They can detect when they're properly connected, and when they are not, it'll cut off the power and sound an alarm to alert the user.
The IntelliBoost RG600 can be used to jump start a car battery, inflate a tire, and charge a mobile phone or laptop.
Schumacher XP2260
Weight: 24 pounds
Dimensions: 12.2 x 12.5 x 12.1 inches
Specific features: Analog pressure gauge, air compressor, USB ports.
Best use: The device is ideal for jump starting an inflating a car tire.
The Schumacher XP2260 offers 1200 peak amps as well as 185 cold crank amps. This is more than enough power to jumpstart a dead car battery. It is ideal for users who reside in the cold regions. You can easily switch between USB and jump start modes to use it. All you need to do to change the mode quickly is turn the shared knob. It is quite easy to operate.
The device also has a 150 PSI air compressor and this dual function allows the user to inflate car and bicycle tires easily. The devices' analog pressure gauge is indicated by a LED light. This comes in handy when you have to inflate your tires at night.
It also has a simple digital display that indicates the current charge level. It's sealed lead acid battery also allows you to store it in any place you prefer without having to bother about your battery fluid spilling.
It has a bright work light which is useful especially if you are using the device in a camping tent at night. The device has three outputs namely: 120 V AC, 12 V and USB port. These three outputs are practical as they allow users to charge all their portable devices and accessories. You can connect cell phones, jam boxes and more.
Some users of this product complained about it being slow to charge. This can be solved by charging it often even when you wouldn't be using it soon.
100-Watt Portable Solar Generator
Weight: 3.3 pounds
Dimensions: 6.5 x 6.9 x 3.1 inches
Specific features: AC wall outlet, inbuilt lithium battery, LED display.
The 100-Watt Portable Solar Generator is another top-notch device for outdoor camping power supply. It is easy to charge because it adopts a smart power control processor, which includes over current proof, overcharge-proof, over power proof, over discharge proof, and short circuit proof.
Furthermore, it is powered from an AC wall Outlet, a solar charger or a DC car charger. This makes the charger easier to use during an outdoor adventure. The charger also has an inbuilt lithium battery. It uses a 40800 mAh first-rate battery that is characterized by long lifespan, slim size, high-temperature resistance, and portability.
Its LED display shows information to the user about how to control the unit, as well as its power consumption status. It's built-in ultra-bright LED light is another impressive feature to watch out for. It lights up the place and provides a warning light as well. It is built for camp, room, and outdoor illumination.
The portable generator can be used for emergency power backup at home, and also for camping.
Stanley Professional Power Station
Weight: 13 pounds
Dimensions: 15.9 x 13.5 x 6.5 inches
Specific features: 120 PSI piston-driven compressor, LED emergency light, 500 amps and 1000 peak amps.
The Stanley Professional Power Station has a 900 amperes peak with an air compressor for bikes and car tires. It comes designed with metal clamps as well as some six gauge cables. It's a portable power outlet, and it has 500 watts of power supply. The device comes fully equipped with a piston driven compressor for tires.
This device boosts of an ultra-bright LED light for emergencies and camping. The 12 Volt DC outlet, as well as USB port, allows the user to charge different appliances and devices. It has a low profile, with an anti-roll design to give it more stability during transportation.
Antigravity Batteries AG-XP-5
Weight: 3.3 pounds
Dimensions: 10.5 x 2 x 10 inches
Specific features: 6000 mAh Lithium Ion battery, MICRO-START XP-5 Unit, Mini Jump Start Clamps.
The Antigravity Batteries AG-XP-5 can charge various devices, such as tablets, cellphones, laptop computers, MP3's, PDA's, GPS's, cameras, Bluetooth devices, and everything else you could think of. This makes it a versatile product to purchase for camping. When it isn't charging your vehicle's battery, it can be used to keep your mobile device running on during a camping trip.
You can take it along when you go camping to make sure that you always have a charged smartphone. The charger kit comes with 18 different adapters with some jumper cables. Apart from all of this, the kit contains a bright LED flashlight which helps you to jumpstart your car especially in the night.
Stanley J5C09 1000
Weight: 18 pounds
Dimensions: 11.2 x 8 x 13.5 inches
Specific features: 120 PSI Compressor, 500 Instant Starting Amps, 12 V, USB outlets.
The Stanley J5C09 delivers 1000 peak amperes with 500 A. This gives it a strong and superior performance to jump-start any car battery. The portable charger has an inbuilt 120 PSI air compressor which enables it to inflate tires or other inflatable items.
The device has both USB and DC charging plugs along with an efficient rotating LED light. This LED light was also built with a 270 degrees' rotation angle. The jump starter has visual and audio reverse polarity alarm built in it for a higher safety level. This alarm alerts the user where there is a reverse polarity connection.
Also, the unit's handle is rubber molded and also top mounted. This feature gives it a better grip. It comes with some heavy duty metal clamps and 6 AWG cables. It also has a power and charge indicator. At 18 pounds, the device provides superior functioning with portability for a camping trip.
Deciphering Portable Chargers for Camping
If you are planning to get a portable charger, you'll most likely see different terms that may be difficult to interpret for a person who isn't a mechanic. Unless you know about mechanical devices, such terms may be confusing.
It's a lot easier for you to find what you are looking for immediately you can decipher some terms used in listings for battery chargers. Our table below will provide some insight into what you should know:
| | | |
| --- | --- | --- |
| Mechanical Term | Meaning | What to note |
| Amps | The Amps of the charger is the amount of power it offers. | With a higher number of amps comes a faster charge as well as more charging time. |
| Trickle Charger | The trickle charger uses low amperage and charges the battery quickly without having to overcharge it. | Many battery chargers make use of the trickle charge technology in charging car batteries efficiently. |
| Surge Protected | A surge protected battery charger is protected against any high voltage spikes. | This feature is quite common on battery chargers and helps keep them safe to use. |
| Solar Panels | The solar panels use the energy of the in power creation. | They offer fewer amps but charge efficiently when the sun is up. |
| USB/DC | This implies that the charger can be used for different peripherals. | Items such as tablets, phones, and electronics, can be charged with these ports. |
When you get familiar with the terms associated with portable chargers, picking the right one becomes a much simpler task. Now here's a list of some of the best portable chargers you'll find in the market.
Power sources for portable chargers
Power chargers come in different forms and are powered by various energy forms. Before selecting a portable charger for your camping trip, you must know the different types, their power sources, charging capacities, and other factors. Some sources include:
Solar Energy – This is one of the most popular off-the-grid power sources today. Hikers can use a solar powered portable charger if they need to power up camping equipment and charge mobile devices. Solar energy is a good option because it is environmentally friendly. However, they have one major drawback: they don't work when the sun is unavailable.
Hydrogen Fuel Cells – Another recent innovation in portable power sources involves creating electricity from hydrogen. The process uses a consumable hydrogen cartridge. Even though the voltage it generates is relatively low, it is available whenever it is needed.
Main Features of Portable Power Packs
Storage capacity – The storage capacity tells hikers how much charge their power source can store to be used later to charge all other camping devices. When you compare the portable battery's storage capacity to the battery in the device you plan to recharge or power up with it, you'll have a clue about how many recharges are available for use later. It is stated in milliAmp-hours or mAh.
Power output – The charger's output has to be equal to your device's input battery voltage requirement. If it is lower, it may drain the battery instead of charging it.
Battery technology – Portable chargers vary in output and capacity as well as size, technology, and weight. Some of the battery types include NiMH (Nickel Metal Hydride), Lithium-ion, lithium polymers and lead acid batteries.
Portability – One impressive thing about portable chargers is that they are lightweight and fairly compact, making them easy to carry when you're on the road. A majority of battery charger models have a top handle for easy transport and don't take a lot of space.
Battery Level Indicator – A lot of battery chargers were built with light-up indicators and these lights allow the user to see the level of the battery while charging. It also indicates to the user when it's time to recharge the pack.
Shopping for a Portable Power Supply: What to Consider
While most portable chargers work in the same way for the same results, they vary in price because of the basic features they possess. You should be able to shop for portable chargers according to your individual needs.
Amps and Wattage
Lots of battery chargers work with 12-volt batteries, which is normal. The wattage of the devices varies, though, and there are other options, which include six amps of chargers that offer about 10 or 20 amps.
Chargers that are higher in amps are those that last longer and the charging times are a lot faster when they have more amps. Also, chargers that with more amps are most expensive than those with lower amps.
Solar Battery Charger
For environmentalists, there's an eco-friendly way to charge your mobile devices as well as other camping gears using a solar battery charger. It is also a low-priced option, and it allows users to charge camping devices using the sun's power. This device also works in the cigarette lighter outlet like other battery chargers.
It sits on the vehicle's dashboard to charge its battery. Though the disadvantage of the solar charger is that it's not useful when the sun isn't visible, a majority will work when the weather is cloudy.
These chargers offer a lower amount of amps, so they may take some time to charge the battery of the devices fully. For camping alone, these battery chargers may be ideal, and some charge a lot faster than others.
A majority of these chargers have built-in lights and indicators and many ports for convenience. They're usually high amp models and are capable of carrying out many tasks, and they also work efficiently and quickly. For users who are skilled in using all these features, it is an excellent option. It is also quite convenient for a camping trip or road trip.
Conclusion
As mentioned earlier, the best portable power supply depends on your particular need. Do you want one strictly for powering up gadgets and camping appliances? Or you would prefer one that jumpstarts a vehicle, and inflate tires as well?
You should also consider the Amps, trickle charging, air compressor capacity and more before picking out a portable charger. Do you think some awesome products were left out? Please let us know; we love your comments.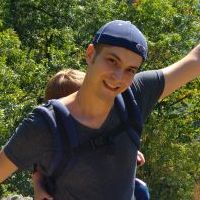 Daniel is a gear freak when it comes to hiking, climbing and camping. He went to REI Outdoor School to meet new people and learn best practices. Don't even try to argue with him about the latest backpack or ice axe, he tried most of them. Daniel's dream is to climb Mount Everest.